By Jeff White (jwhite@virginia.edu)
VirginiaSports.com
CHARLOTTE, N.C. — With Nick Jackson sitting a few feet away, University of Virginia head football coach Tony Elliott extolled the senior linebacker's virtues Thursday morning at the ACC Football Kickoff.
"Team captain. Leader. He does everything right, on and off the field," Elliott told the camera crew from the ACC Digital Network.
A few minutes later, player and coach traded places on the set. "I'll pay you your 20 bucks later," Jackson said as he passed Elliott.
Elliott smiled. "It might be 100 now."
UVA sent four representatives to ACC football's annual media day—Elliott, Jackson, quarterback Brennan Armstrong and wide receiver Keytaon Thompson—and they remained in good humor throughout a marathon event marked by one question-and-answer session after another.
"It's exhausting," Elliott said. "It's a lot of talking, but it's a great opportunity to praise the program, praise the players, and then also give folks an inside look at what the program's really about."
Armstrong and Thompson were part of the Cavalier contingent at last year's ACC Football Kickoff, too. For Jackson and Elliott, this was their first time in this setting, but they came across as seasoned veterans.
That Elliott handled himself with aplomb was no surprise. Before taking over at Virginia, he spent 11 years on head coach Dabo Swinney's staff at Clemson. Elliott was the Tigers' associate head coach in 2021. He knows the ACC well and has done more than his share of interviews over the years.
"I've been very blessed to be in a position that prepared me well," Elliott said.
At this time last summer, he had no reason to believe he'd be running the Wahoos' program in 2022. But Bronco Mendenhall unexpectedly stepped down as head coach at the end of last season, and UVA hired Elliott eight days later.
During his appearance on the Sirius XM show hosted by Chris Spatola and Tom Luginbill, Elliott was asked Thursday how he's managing the transition to head coach. He laughed.
"If my body could talk, it would tell you I have not managed it well," Elliott said. "Right now, I'm drinking from a fire hydrant, trying to catch as much as I can."
The process, he said later, is "exciting, it's exhilarating, it's frightening, but the biggest thing is, it's a blessing."
Elliott knew from others in the profession that with his new position would come constant demands on his time. Still, he said, "I think you have to experience it to appreciate it. You're not going to be fully prepared until you get into this seat, and it's going to be beyond what your expectations are, in a good way. But you have to be comfortable being separated from football and becoming more of a CEO and understanding that you have to be hands-on initially in the implementation of your program, and that hopefully will allow you to become more football-focused in the future."
In six seasons at UVA, Mendenhall helped the program reach several milestones. In 2017, the Hoos advanced to a bowl game for the first time in six years. In 2018, they won eight games, the last of which was a 28-0 victory over South Carolina in the Belk Bowl. In 2019, they snapped a 15-game losing streak to Virginia Tech, won the Coastal Division for the first time, and made their first appearance in the ACC championship game.
The Cavaliers leveled off in Mendenhall's final two seasons, finishing 5-5 in 2020 and 6-6 in 2021, but he left Charlottesville having returned the program to relevance.
"It was an honor to play for Coach Mendenhall," Jackson said. "He brought the program out of a really dark time, and I was fortunate enough to be able to play for him, and I think Coach Elliott is just going to do a tremendous job of building on what Coach Mendenhall started. It's now Coach Elliott's era, and I'm excited for it."
With a coaching change often comes uncertainty for a team's returning players, Jackson acknowledged, "but realistically, this has been seamless. It's been easy, it's been a smooth transition. Coach Elliott has done a great job of just captivating the program and making it electric, making it fun, making it energized, and he's looking out for us every single day.
"Everyone is just on the same page and aligning with his vision on where he wants to take the program. As a veteran, as a guy who's coming back, I just want to assist and help kick-start the vision, so when I come back in 10 years he's got the program in the best shape possible and on the highest stage."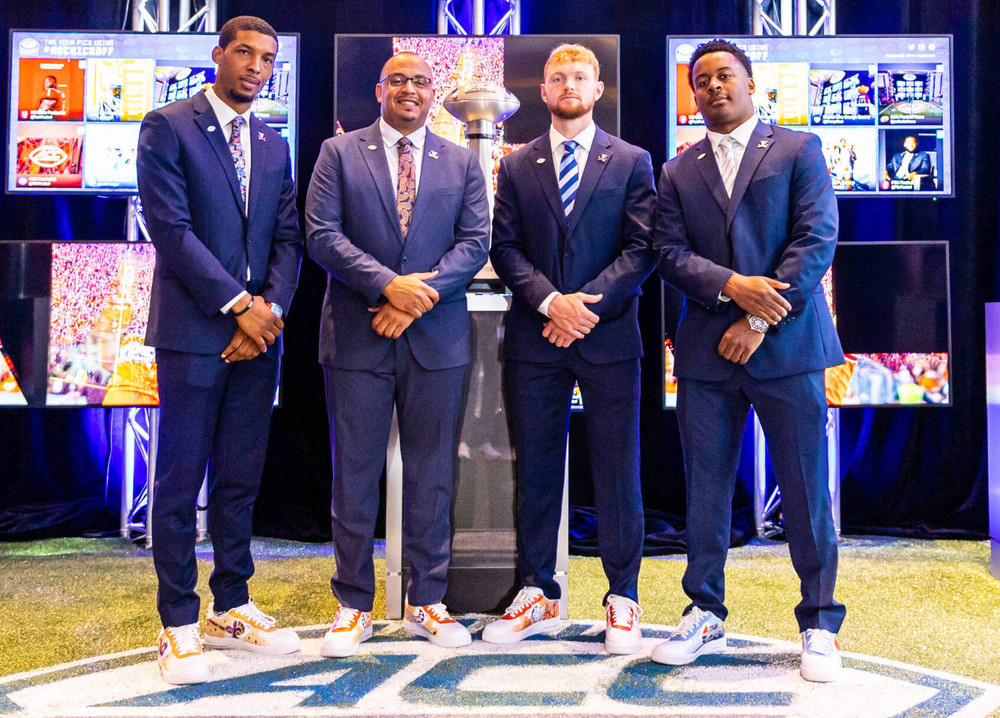 Elliott, who worked as an industrial engineer for about two years after graduating from Clemson, had opportunities before 2021 to become a head coach, "but I just needed to find the right place," he said Thursday.
Duke also courted him last year, but Elliott was drawn to UVA, in no small part because of his bond with UVA athletics director Carla Williams.
"It started there," Elliott said. "The alignment was established through those off-the-record conversations [with Williams], and then there's a lot of similarities between where I was coming from and UVA. It's a college-oriented town. It's in the ACC, and I believe that this is the best conference in college football. I've experienced it at the highest level, so I knew I had a chance to compete for championships.
"Then the last thing is, I wanted to be somewhere where I could build what I believe is the model program, that shows you can win at the highest level, but you don't have to compromise anything from a character standpoint, an academic standpoint and player development standpoint."
Swinney, his position coach at the end of Elliott's playing career at Clemson, advised him along the way. "He told me wanted me to be an old head coach, not just a head coach, which means that you go somewhere where it's the right fit," Elliott said.
From Swinney, "I learned a lot about how to build a culture and what protecting and establishing a culture will do for a program if you want to sustain it," Elliott said. "He was instrumental in helping me develop, but he also taught me that, hey, you don't have to be in a rush. You can enjoy the moment, be present where your feet are as you prepare, and then look for confirmation."
UVA opens Sept. 3 against Richmond at Scott Stadium. In addition to a new head coach, the Cavaliers have three new coordinators: Des Kitchings (offense), John Rudzinski (defense) and Keith Gaither (special teams).
Virginia lost its top six offensive linemen from last season, and Elliott understands why that position group is the team's biggest question mark this year. But the Hoos returned one of the nation's most prolific quarterbacks in Armstrong as well a deep, talented collection of wide receivers, including Thompson, Dontayvion Wicks, Billy Kemp IV and Malachi Fields.
At ACC Football Kickoff, media members peppered Elliott with questions about Armstrong's decision to put his NFL dreams on hold and return for a fifth season. They wanted to know, Elliott said, what impressed him most about the 6-foot-2 left-hander, who passed for 4,449 yards and 31 touchdowns last season, both program records.
"It's easy," Elliott said. "It's his confidence, his moxie, his unselfishness, his blue-collar mentality, his desire and eagerness to get better and improve."
The Cavaliers led the ACC in total offense last season. Kitchings' system is not identical to the one UVA ran under offensive coordinator Robert Anae, but Armstrong will continue to play a leading role.
"Everything goes through him," Elliott said. "The great thing about Brennan is, he's battle-tested."
So is Thompson, who's heading into his sixth college season. He transferred to UVA after graduating from Mississippi State in the spring of 2020 and has lined up at various times at quarterback, running back, and wide receiver. The Cavaliers will continue to take advantage of Thompson's versatility, but he'll primarily play wideout this year.
"He was my project this spring," said Elliott, who played receiver at Clemson.
"He is not lying about that," Thompson said, smiling. "He is on me every day for sure. Now, I really can appreciate it and see where it's coming from … With him just pushing me to be great, it's really helped me, especially this past offseason throughout the summer. Just really focusing and trying to get better each and every day, and I think as long as I do that, everything else will take care of itself."
Thompson caught a team-high 78 passes for 990 yards and one TD last season, and he rushed for 247 yards and four TDs.
"He has everything he needs to be dominant and successful at this level," Elliott said, "but I desire for him to accomplish his goals beyond the University of Virginia, and I don't just want him to get to the NFL. I want him to stay in the NFL. He needs to just continue to improve the small technical aspects because he has all the big things."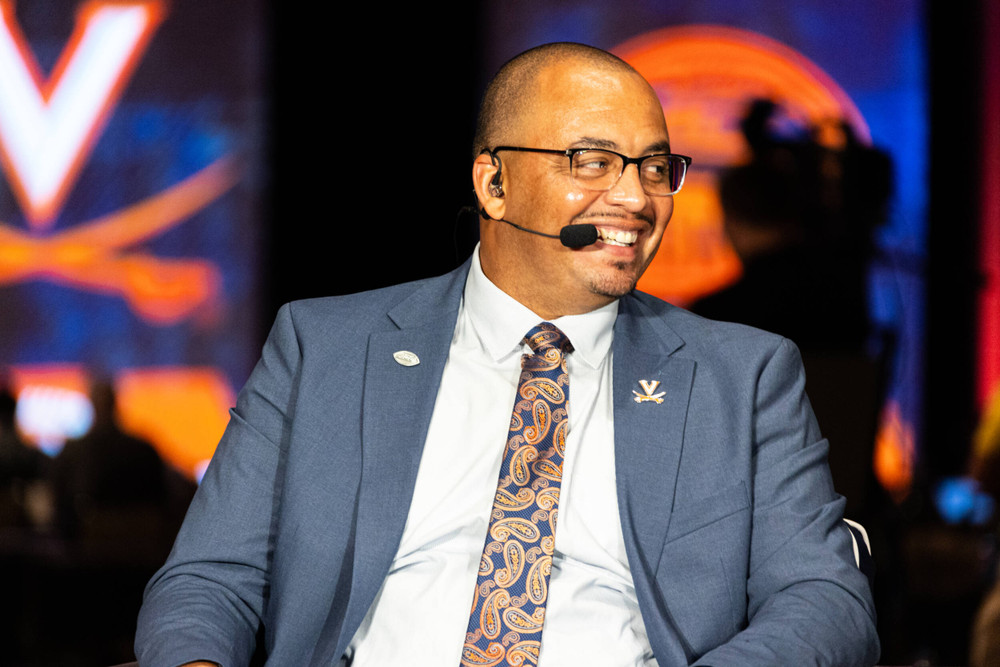 Football wasn't the only topic Elliott and the players discussed Thursday. They fielded numerous questions about the specially designed Nike shoes they wore Thursday. They were the creations of UVA alumna Lindsay Huff, whose husband, Jay, was a standout in head coach Tony Bennett's basketball program, and they attracted oohs and aahs from everyone who saw them in Charlotte.
"Each pair of shoes tells the story of the individual," said Elliott, whose design included the names of his wife, Tamika, and their two sons, A.J. and Ace, and had symbols that reflected his engineering and coaching careers.
The shoes were "a great opportunity for each one of these young men to have some talking points about who they are," Elliott said, "because a lot of times you come to different events and you get into different situations where you're only seen as a football player. But Lindsay did an unbelievable job of telling their stories as individuals, which ultimately in my opinion makes you who you are as a football player."
During an event that lasted about eight hours, Elliott and the players met with representatives from ESPN.com, ESPN GameDay, ACC Marketing, ACC Features, CBS and Bally Sports/RSN. They posed with props, including swords, a plumed hat and a Commonwealth of Virginia flag. They did radio interviews and appeared on ACC Network Live. They took questions at a press conference and in breakout sessions with media members, and by the end they were about talked out.
ACC Football Kickoff gave Elliott a chance to see the players think on their feet away from the field, and he came away impressed.
"I think they represented the institution well, represented the program the right way," he said. "They were authentic, and the great thing about them is their authenticity is what you want young men to be about: to be unselfish, to be about the team, to do whatever is necessary to help the team win and talk up their teammates, their coaches and give credit to others, as opposed to using the opportunity to make it about themselves."
To receive Jeff White's articles by email, click the appropriate box in this link to subscribe.