By Jeff White (jwhite@virginia.edu)
VirginiaSports.com
CHARLOTTESVILLE — For most of the practice, Virginia's kicking specialists honed their skills away from the offensive and defensive units. But for the last period Saturday night, Team Kick took center stage in the George Welsh Indoor Practice Facility.
The Cavaliers' roster includes two place-kickers, and with their teammates encircling them and raising a ruckus, senior Brendan Farrell and true freshman Will Bettridge each attempted three field goals.
Both connected on 43-yarders. From 46 yards, however, Bettridge saw his kick bounce off the left upright, and then his attempt from 50 went wide left. Farrell, meanwhile, finished 3 for 3 in the latest chapter of his battle with Bettridge for the starting job.
Two nights later, first-year head coach Tony Elliott put Bettridge on the spot. If Bettridge made a 48-yard field goal, practice would end. If he missed, the Wahoos would run.
"He didn't know it was coming," Elliott said, "and he walked out there and he hit it."
Bettridge is a graduate of Gulliver Prep in Miami, where he played for former UVA linebacker Earl Sims.
"We call him Little Walk-Off Will," Elliott said, smiling. "At first I didn't know if I was going to use that nickname for him. But I tell you what, it looks like he's got pretty good nerves about him."
The same is true for Farrell, who's looking to retain the job he took over in the second half of UVA's fourth game last season, after an injury to Justin Duenkel. Farrell's debut as a Cavalier came 1,029 days after his final game for the Marist School in his hometown of Atlanta, but if he was nervous, it wasn't apparent.
In nine games, he made 11 of 13 field goals and all 34 of his extra points, and 37 of his 45 kickoffs were touchbacks. Farrell finished the season with a team-high 67 points.
"I was very pleased," said Drew Meyer, UVA's analyst for special teams. "Brendan worked very hard for that moment. But he understands that fall camp is where jobs are won and there's competition, and the past in the past. Something Coach E is always preaching is the windshield mindset: always looking towards the future and not worrying about what happened last season. And a lot of people would say the same thing about [record-setting quarterback] Brennan [Armstrong]. Brennan had a great season last year, but that's in the past and so I think it's a similar mindset for Brendan."
Farrell said: "I'd waited a long time for my shot. You have to have that belief in yourself, but to be able to go out and prove to myself that I could do that, that was a big growing point. And coming into this year, it sets a higher bar to go and keep continuing to grow. You don't want to plateau. You want to keep growing. You have that growth mindset."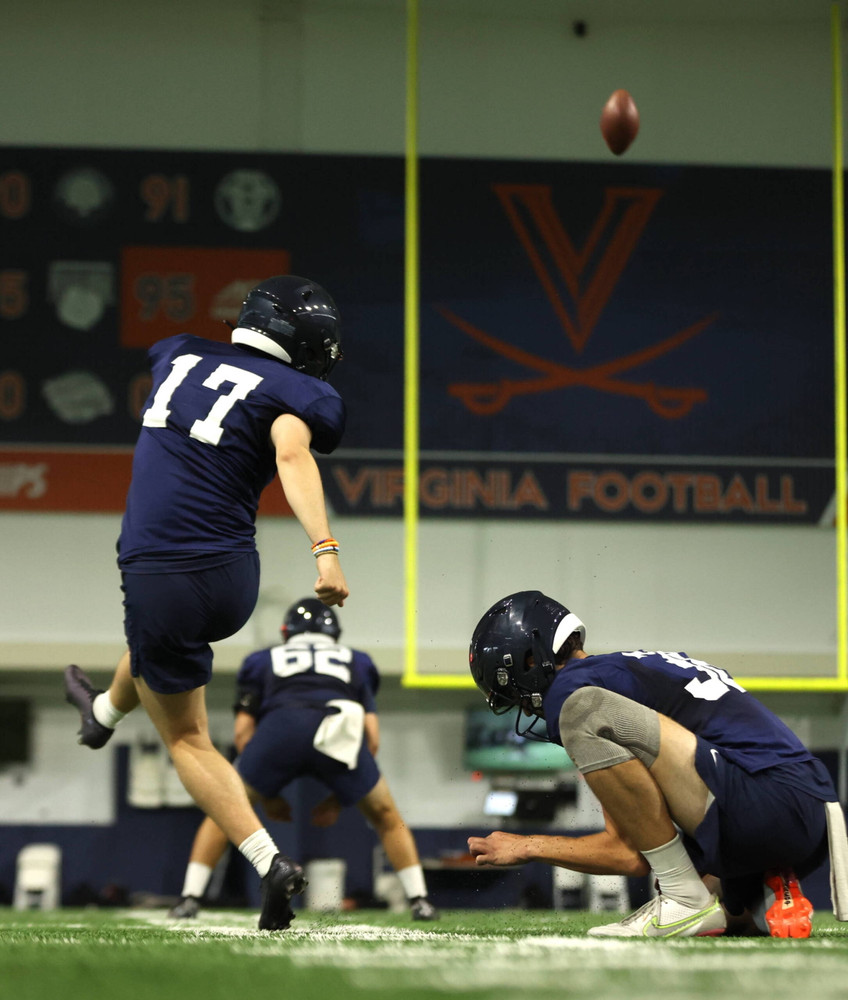 Bettridge arrived at Virginia after the spring semester ended. So did punter Daniel Sparks, a transfer from the University of Minnesota. In the spring, Farrell was the Cavaliers' only punter and only kicker.
"It was crazy," said Meyer, a former All-Big Ten punter at Wisconsin. "I was trying to map out his schedule to make sure we weren't going to over-kick him."
Farrell enjoyed the workload, even if it taxed his right leg.
"He actually had some soreness," Meyer said, "but he was battling through. He was like, 'I'm the only leg, so I'm going to fight through some soreness.' He's just a warrior."
Farrell said: "It was good to get in the reps, and we have new guys out here, with new formations and everything, so it was good to get used to that. I took a few weeks off after the spring, though. I definitely needed that."
Jacob Finn, a graduate transfer from the University of Florida, handled the punting for Virginia last season, but he's out of eligibility. Late during practice Monday night, with their teammates looking on, Sparks and Farrell alternated punts, and each "got some good hang time," Elliott said. "Sparks has definitely increased the competition level at punter."
As for Farrell, he's "looked go so far," Elliott said. "He's getting back into his groove punting the ball, still having to do both for the time being. Hopefully, with the three of those guys, we can distribute some of the workload and maybe let those guys hone in a little bit more on one particular aspect of the kicking game."
Meyer said: "If one guy can do them all, then he can do them all, and then that's something that we just manage as we get into it. But I think every decision that we've got to make [comes down to] what's best for the team. Doing all three, is that what's best for the team? Will his leg eventually kind of die out as the season goes on? So that's always something that we're trying to monitor. But you never necessarily go in saying, 'Hey, we want to split it up.' Because if guys are outplaying others at certain positions, you want to play the best guy that's going to help your team."
Through their first five practices, the Cavaliers hadn't practiced in full pads, and the kickers had yet to test themselves against on-rushing defenders.
"So once the bullets are really flying full speed, I'll be anxious to see how they perform under the pressure," Elliott said. "But we've been trying to create distractions and noise there at the end of practice, just to get those guys used to kicking under pressure."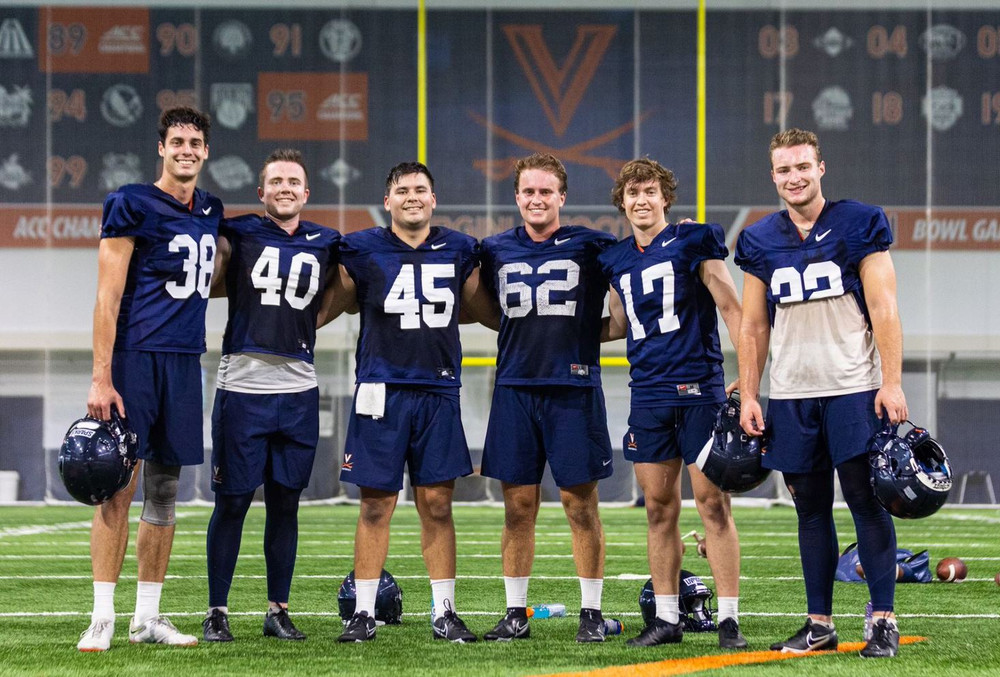 With Duenkel recovering from a season-ending knee injury, Team Kick's active roster in training camp consists of Farrell, Bettridge and Sparks, plus long-snappers Lee Dudley, Luke Byrne and Aidan Livingston. The holders are Sparks and reserve quarterback Jared Rayman.
The newcomers—Bettridge, Sparks and Livingston—"have been great," Meyer said. "They've added health to the room obviously, but they're great kids, too, and the coaches love them and they work hard. They put in a lot of time outside of practice working on their craft. They do a really good job and will help hopefully elevate us and make our unit better."
The Hoos also have a new special teams coordinator, Keith Gaither, about whom Farrell raved.
"The way he interacts with all the players is phenomenal," Farrell said, "and he's bringing all the other coaches into it, too. He has the special teams coordinator label, but we have meetings and he'll call the other coaches out to coach the technique and help the other guys out, which I love. That means everyone's bought into special teams, and that's really important for us to succeed."
Elliott's staff also includes an assistant strength coach, Drew McDuffie, who works exclusively with the quarterbacks and kicking specialists. McDuffie came to UVA from Duke, where he spent five years as an assistant director of sports performance.
"He's been phenomenal," Farrell said. "We've done a lot of kicking-specific things that are new, but I'd heard of him in the past when he was at Duke, and he has a big social media presence. I'd found some of the stuff [online], but it's been great to be able to work with him and bounce ideas off of him, and we work really well together."
Farrell, who wore jersey No. 53 last season, is in No. 40 this year.
"New start," he said, smiling.
To receive Jeff White's articles by email, click the appropriate box in this link to subscribe.