By Jeff White (jwhite@virginia.edu)
VirginiaSports.com
CHAMPAIGN, Ill. — For the University of Virginia football team, where there was jubilation a week earlier, there was frustration on Saturday.
"Rough day at the office right there," Tony Elliott said after UVA's road opener. "But you live and you learn and you grow. We're gonna find a way to get better."
Two games into Elliott's first season as a head coach, Virginia is 1-1. The Cavaliers opened Sept. 3 with a 34-17 victory over Richmond, which competes in the Football Championship Subdivision, but their second game brought stiffer competition and an unsatisfying result.
In front of 33,669 at Memorial Stadium, UVA fell 24-3 to Illinois. The Wahoos mustered only 222 yards, their fewest in a game since 2017, and 62 came on one play: a completion from quarterback Brennan Armstrong to wide receiver Lavel Davis Jr. The Fighting Illini sacked Armstrong five times and harassed him on countless other plays.
"It was a bad day, bottom line," said Des Kitchings, Virginia's new offensive coordinator. "Bad day across the board. We were unable to run the football, unable to throw and catch it down the field."
Elliott said: "Hats off to Illinois, but it's gonna be a hard film for [UVA's players] to watch, because they're gonna realize there were so many things that they could have done better to give themselves a chance to be in the game in the fourth quarter."
At Scott Stadium last season, the Wahoos totaled 556 yards in a 42-14 rout of the Illini. The rematch, in Big Ten country, bore no resemblance to the game in Charlottesville. The Hoos' defense forced four turnovers Saturday, but their offense was unable to capitalize on those takeaways or generate any momentum.
"I'm obviously frustrated," said Elliott, a former offensive coordinator at Clemson. "Don't like losing. I felt like we definitely could have played better and made it a much better ball game. Would we have won the game? I don't know. But I would love to have been in that position to find out."
The Cavaliers had their chances. On the second play of the game's opening possession, cornerback Anthony Johnson intercepted a pass by Illinois, and Virginia took over just inside midfield. Three plays later, the Hoos punted.
The Illini's second series ended in a turnover, too, this one a fumble caused by UVA's Antonio Clary. Fellow safety Langston Long pounced on the ball at the Illinois 32, but again the Hoos' offense sputtered. After a first-down run lost four yards, a penalty moved Virginia back five more yards, and an incompletion followed. Armstrong's 17-yard completion to wideout Keytaon Thompson on third-and-19 left the Cavaliers shy of the first down, and they had to settle for Brendan Farrell's 42-yard field goal.
"Our defense gave us the ball in plus territory twice," Armstrong said. "What else could you ask for? If we get two touchdowns there or just 10 points, that's a quick jump on right off the rip, especially coming into this stadium. That's kind of what you want to do when you're away: jump on them quick, get the crowd out of it, kind of put their momentum down, just keep that momentum on our side. We didn't do that."
Virginia, which finished with 13 first downs, had only four through three quarters.
This marked the second game in the past two seasons in which UVA has failed to score a touchdown. In the first, though, a 28-3 loss to No. 7 Notre Dame at Scott Stadium, Armstrong was out with an injury. Armstrong, a fifth-year senior who holds multiple program passing records, played Saturday, but his inexperienced offensive line gave him little protection and opened few holes for the Cavaliers' running backs.
UVA gained only 42 yards on the ground. Armstrong finished 13-of-32 passing for 180 yards, with two interceptions. His program-record streak of 18 consecutive games with at least one touchdown pass ended in Champaign.
Illinois applied relentless pressure every time Armstrong dropped back to pass, and "you could see that it wore on him as the game went on," Elliott said. "He didn't trust his protection, he was moving in the pocket too much, he was throwing off his back foot. He had some wide-open guys and just felt the pressure and never could get settled to be able to go through his progressions. So overall, offensive line-wise, I was disappointed in how they played. Again, in games like this, to come up here and play this defense that's going to play you with a five-man front, you've got to win in the trenches, and we did not."
The Illini hadn't forgotten how Virginia had humbled them last year at Scott Stadium, and they "definitely came out with something to prove, a chip on their shoulder," Armstrong said. "Kudos to them. I mean, what we did last year, the whole week I'm just harping, 'That does not matter, does not matter, does not matter coming into this game.' I don't know what happened with us mindset-wise, but they came out ready to play and the five guys up front got after me a little bit. Those guys in the back end [of Illinois' defense] did their job. It's hard playing man all the time, but they did a heck of a job. too."
The game provided a "good eye-opener of what we need to actually work on," Armstrong said, "because, shoot, [other] teams could see what just happened there and come out and play us man every time. That's a possibility. So we better figure out how to protect and how to get the ball out and how to get open in man."
Special teams were an issue for the Cavaliers, too. UVA led 3-0 in the first quarter when, after fielding an Illinois punt, Billy Kemp IV tried to run. Kemp fumbled at the Cavaliers' 6-yard line, and the Illini recovered in the end zone for a touchdown that put them ahead to stay.
"Was Billy trying to fumble?" Elliott said. "No, he wasn't trying to fumble, but he was trying to press too hard and make a play in that instance, and it backfired on him. So now we gave them seven points."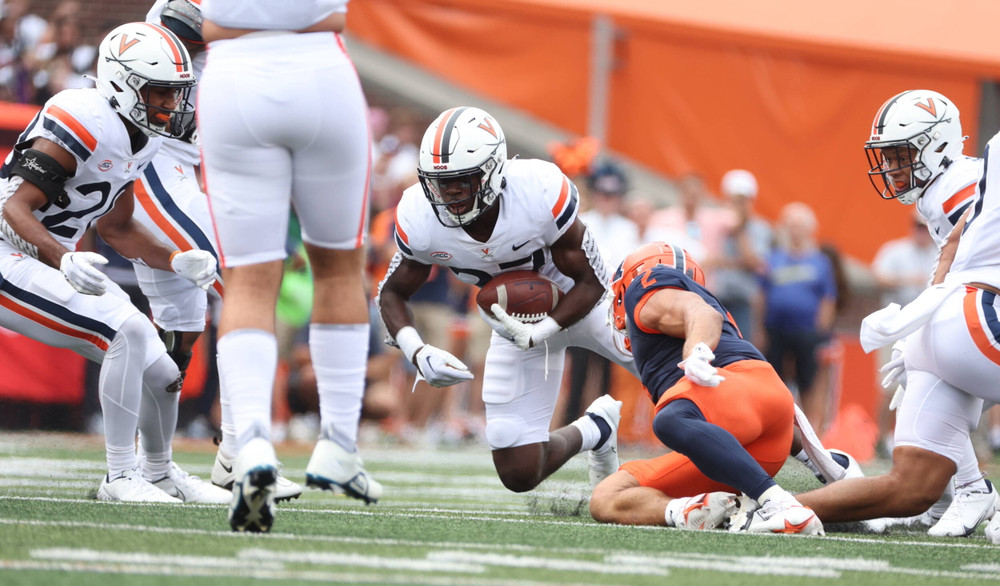 UVA struggled in the kicking game, too. Farrell missed a 41-yard field goal midway through the second quarter, and starting punter Daniel Sparks suffered an injury that kept him on the sideline in the second half.
A transfer from Minnesota, Sparks averaged 46.2 yards on his six punts Saturday. Pressed into service, Farrell punted three times for an average of 30 yards. If Farrell has to continue in that role, Elliott said, true freshman Will Bettridge will probably take over some of the kicking duties.
"That's gonna be way too much for [Farrell] to have to do field goal, kickoff and punt if it's an extended deal," Elliott said.
Long, a sophomore, led the Cavaliers with a career-high 13 tackles, and senior linebacker Nick Jackson added nine. Virginia recorded three sacks: one each from Jackson and defensive ends Chico Bennett Jr. and Kam Butler. Sophomore safety Jonas Sanker forced a fumble, as did Butler, a graduate transfer from Miami-Ohio.
Chase Brown, one of the Big Ten's top running backs, carried 20 for 146 yards, but overall Virginia's defense showed improvement from the opener.
The defense "played great," Armstrong said. "I think they shouldn't hang their heads at all. I think it's the offense that's really got to look in the mirror and get ready for next week. The defense, they just [need to] keep on what they're doing. You can't ask for much more than those guys."
Elliott said the Cavaliers' defenders "made some key stops when we needed to have to have stops. They gave the ball back to the offense with opportunities and some short fields, and I felt like defensively they played all four quarters. I felt like offensively, they continued to play, but their mindset, they kind of conceded the victory to Illinois, and that was disappointing.
"I can stand losing a game, but we're going to fight till there's no more time on the clock. And we're not going to concede the victory, and when we do lose we're going to tip our hats to the opponent, congratulate them and then we're going to move on."
UP NEXT: The Cavaliers are back home next weekend. At 2 p.m. Saturday, in a non-conference game to air on ACC Network, UVA hosts Old Dominion (1-1).
This will be only the second football game between these schools. In 2019, Virginia rallied for a 28-17 win over ODU at Scott Stadium.
The Monarchs, who defeated Virginia Tech 20-17 on Sept. 2 in Norfolk, lost 39-21 at East Carolina on Saturday night.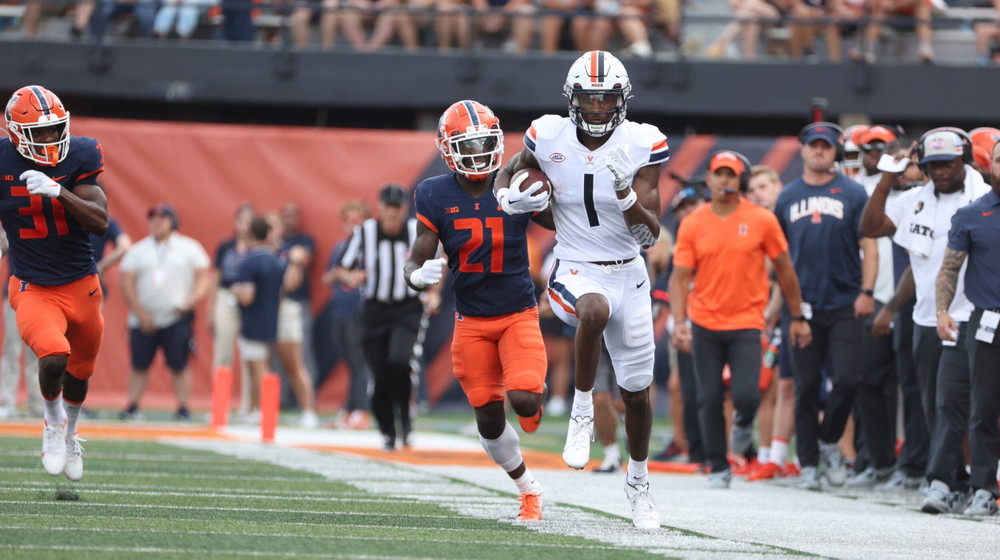 SOUND BITES: Virginia fell to 1-3 all-time against Illinois. Among the postgame comments Saturday at Memorial Stadium:
* John Rudzinski, Virginia's new defensive coordinator: "I think you're always learning, and this is an opportunity to learn. We're never gonna accept the ultimate result that we had here today. Our goal is to play great complementary football."
* Illinois head coach Bret Bielema: "For us to be where we are now coming out of this Virginia game compared to last year, especially defensively, tells me a lot about where we are as a program."
* Kitchings on Illinois' defensive scheme: "It was a lot of man coverage, and no matter what, we've got to win versus man, we've got to protect and we can't kick ourselves in the foot at the start of the game with a penalty, the bad snap, those kind of things. We control that. Illinois didn't control that. We control that. It's more about us and just getting some things cleaned up moving forward with that."
* UVA cornerback Anthony Johnson on the Illini: "They did a really good job just coming out playing fast. They had a lot more energy and we just had a slow start as a team together, I feel like, collectively."
* Johnson on the offense's struggles: "We just have to be there for each other as a team. We uplift and support. It's a team game … Whether the offense capitalized or not on the turnovers, we still have to go out there and stand firm and be steadfast as the defense."
* Elliott said: "Unfortunately, today we didn't have the right mindset, and that's all on me as the head coach. I didn't have the offensive guys ready to play. So I've got to go back and evaluate the things that I did this week from a preparation standpoint and make sure that I correct those and give these guys the best chance to win by having them ready to play."
* Elliott: "All the things that I saw in the game are correctable. It's just a matter of making sure that throughout the course of the week that you have the right mindset from a preparation standpoint and understand that the separation is in the preparation, and obviously we didn't do a good job as coaches in having them prepared. And I've got to challenge the staff, myself and the players all, to make sure that we own the mistakes, that we don't point fingers, that we don't try and pass the blame on anybody else, but look at the man in the mirror. And if we do that, then we'll learn from this experience, and hopefully it'll make us better going forward."
To receive Jeff White's articles by email, click the appropriate box in this link to subscribe.