By Jeff White (jwhite@virginia.edu)
VirginiaSports.com
CHARLOTTESVILLE — It's too soon to know how hard Hurricane Ian—or at least its remnants—will hit Duke's Wallace Wade Stadium on Saturday night. But the forecast calls for heavy rain in Durham, N.C., which could affect the ACC football game between Virginia and Duke.
UVA linebacker Hunter Stewart, for one, wouldn't object to sloppy conditions.
"I've played in downpours before, so it will be a fun one," Stewart said Tuesday. "It gives you that old football feel."
The Cavaliers' quarterback has a different perspective.
"Everyone says it's football weather," Brennan Armstrong said Tuesday, but it's "not the greatest, I'll tell you that, especially as a quarterback trying to throw the ball. But we're doing some stuff out here with [wet] footballs, just kind of replicating that, what it could be like.
"The main thing is just securing that ball, all game long, this coming week, because that's honestly going to be the tale of probably who wins: who can secure the ball, because it's just going to be probably a mess out there, so we've just to make sure we do that."
At 7:30 p.m. Saturday, UVA (2-2 overall, 0-1 ACC) meets Coastal Division rival Duke (3-1, 0-0) at Wallace Wade Stadium.
"We started practicing with a wet ball today," Virginia head coach Tony Elliott told reporters Tuesday at John Paul Jones Arena, "making sure that the guys get used to catching the ball. The receivers have got to be comfortable with taking the shields off to make sure they can see, being prepared when their gloves get wet to take those off and catch the ball.
"But we'll have a plan for all different weather conditions, whether it's no rain [or a monsoon] … It will be adjusted once we actually see what the conditions are when we get there. But we're prepared."
SIDELINED: The Wahoos will be without senior linebacker Nick Jackson, their leading tackler and one of the team's leaders, for the first half against Duke. Jackson was called for targeting and ejected in the third quarter of UVA's game at Syracuse on Friday night.
With Jackson out, Virginia's top options at linebackers are Josh Ahern, D'Sean Perry and James Jackson and Stewart.
"They've all got to be ready to go," Elliott said. "Once we're able to turn Nick loose in the second half, we're excited about getting him back for the second half of that game."
Stewart replaced Jackson against Syracuse and was involved in a momentum-changing play late in the fourth quarter. Stewart grabbed Garrett Shrader's facemask while sacking the Syracuse quarterback for a 6-yard loss on a key third-down play. That resulted in a first down for the Orange, extending a drive that ended with the game-winning field goal.
"It was just an effort play," Stewart said Tuesday. "I was coming in for the tackle, and he just happened to duck his head. If you watch the tape, you see me try to move my hand as quick as possible. I just tried to get my hand out of there."
Has he reviewed the play multiple times? "No," Stewart said. "You watch it once, you get to corrections on it, and you just gotta move forward."
ONE EXTREME TO THE OTHER: For the second straight season, Virginia's record after four games is 2-2. At this point last year, however, the Hoos were averaging 35.3 points and 546.0 yards per game, and Armstrong had completed 120 of 180 passes (66.7 percent) for 1,705 yards and 13 touchdowns, with three intercepts.
Four games into this season, their first under Elliott and offensive coordinator Des Kitchings, the Cavaliers are averaging 18.3 points and 381.8 yards per game. Armstrong has completed only 73 of 140 passes (52.1 percent) for 848 yards and three TDs, with four interceptions.
Armstrong said Tuesday that completion percentage "kind of tells the tale of how you're doing, how you're clicking as an offense, especially the receivers. And so it's a combination of everything, from the protection, to me throwing a good ball off, to them catching it, to us being on the same timing, same page. That little stat tells a lot."
The Cavaliers are averaging 169.8 rushing yards per game, so that part of Kitchings' offense is progressing well.
"We've just got to figure it out on the outsides," Armstrong said. "We're just not clicking right now. We're trying to figure out everything timing-wise, protection-wise, me getting the ball out of my hand, what really works best for us in the passing game. So I think once it finally clicks, it'll be good, but a lot of teams had respect for us [last year]. Now they're just coming in with no respect for us in the passing game, because they've seen the past four games. So we've got get respect back and just start making plays. That's what it comes down to."
Elliott noted that Virginia came close to connecting on several big pass plays in its 22-20 loss at Syracuse.
"I think it's starting to come together," Elliott said. "It is a transition. It's a change. We're challenging Brennan to throw on rhythm, which is a little bit different than what he's used to. He's used to kind of sitting back there, being able to let things unfold. Some of the things we're asking him to do is to throw on rhythm … We're not far off. The guys got to just continue to work, continue to believe, to have confidence in the direction that we're going. "
A former offensive coordinator at Clemson, Elliott said there were a couple of play calls by Kitchings in the Syracuse game "that I thought might have been a little bit too aggressive. I understand that. I've been in that position. When you're trying to get something going for your guys, trying to manufacture the play, you're going to be aggressive … We learned as a staff from that. We'll get better."
Tailback Mike Hollins, asked Tuesday about the offense, said: "Every day is a learning process. There's new things and new tweaks and new things that we have to implement to become better, new schemes. I know that's everywhere, but with a new offense, you have to take it with a different approach, because it's not just adding on something that you've known or been running for years. It's adding on to a new concept that you just learned this season. So just learning how to adjust to that has been one of the biggest challenges, but it also has been fun to learn something new and execute it on the weekend."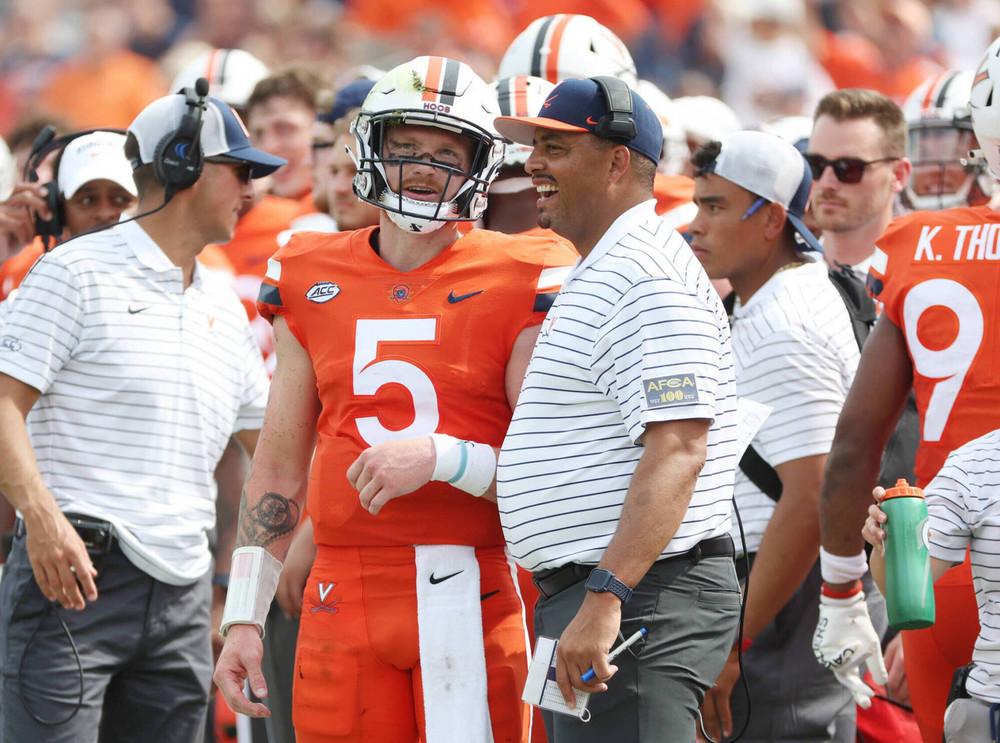 GROWING PAINS: Elliott has high expectations for Armstrong, a three-year starter who broke multiple program records in 2021.
"He's challenged me a lot," said Armstrong, a fifth-year senior. "It's been tough. I wasn't expecting it to be this tough. I expect a lot of myself. I'm probably the hardest person on myself. So when we're playing like that, when I'm playing like that, there's a lot that I'm trying to overcome mentally, confidence-wise, just getting back into a good state of mind and good rhythm, and it's gonna come. Everything happens for a reason, whether it's bad or good. So he's just been challenging me to stay positive and keep trucking along. That's what I'm going to do, no matter what … We're not where we want to be, but we still have eight games [left in the regular season], and we could still make a heck of a season out of it."
REINFORCEMENTS: Billy Kemp IV, an elusive wide receiver who's also the Cavaliers' No. 1 punt-returner, is back at practice this week after missing the past two games with an illness.
"Excited to get him back going," Elliott said.
In the secondary, safety Coen King remains sidelined with a knee injury and is unlikely to play against Duke. But Elliott said he hopes to have another safety, Antonio Clary, back for this game. Clary started UVA's first two games but missed the past two with a stinger.
CLOSE CALL: During his long tenure on Dabo Swinney's staff at Clemson, Elliott had several opportunities to leave and become a head coach. Not until last year, though, did he feel the time was right.
UVA and Duke both pursued him, and Elliott seriously considered each one. He wanted to work at an academically prestigious school where the president, athletic director and head football were aligned, and both met that standard.
Ultimately, Elliott said, he used "history as an indicator. There was more history and tradition here, so to speak. Not to say that Duke doesn't have. When [Steve Spurrier] was there, they had success. You knew it had been done before, it could be done again."
But he concluded, after praying on his decision, that "there were more things in place right now here to be successful in the short-term," Elliott said.
The Blue Devils ended up hiring Mike Elko, who's "one of the good guys in the coaching profession," Elliott said.
"I'm a big fan of Coach Elko. I want them to be successful except for one game a year, and that's when we play them."
The Hoos are seeking their eighth straight win over the Devils.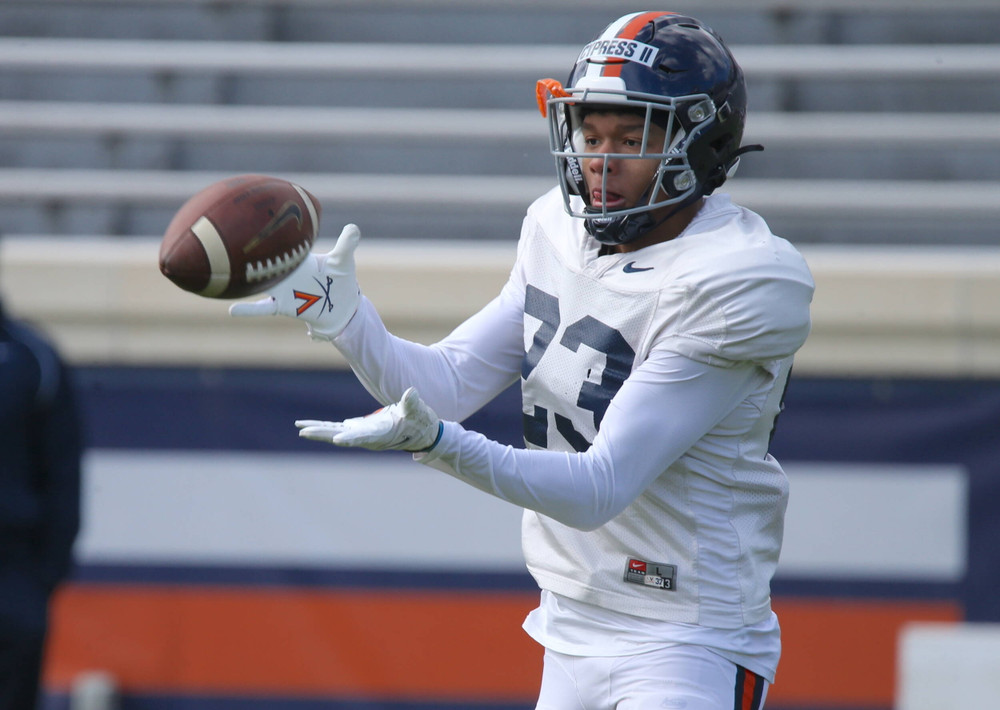 NEW LOOK: Senior Brendan Farrell will continue to kick off for the Cavaliers, but true freshman Will Bettridge will handle extra points and field goals in Durham, Elliott said.
Against Old Dominion, Farrell's field goal as time expired lifted UVA to a 16-14 victory at Scott Stadium on Sept. 17. For the season, though, he's 4 for 8 on field goals, and he missed both of his attempts (from 50 and 48 yards) against Syracuse.
"I know he's trying, but he's got to work through it," Elliott said. "Right now with Will, that's what we brought him in here to do. I've got to give him a shot and see if he can be a little bit more consistent for us."
ALL BUSINESS: Junior cornerback Fentrell Cypress is having a breakout season for UVA. Cypress started all six games in which he appeared last season but did not distinguish himself in the secondary.
This season, he leads the team with six pass breakups. No other Cavalier has more than three. The soft-spoken Cypress, who's from Rock Hill, S.C., also has made 21 tackles and has a fumble recovery.
"What you're seeing is he's continuing to gain confidence week after week," Elliott said.
"Fentrell has just been solid. He's there every single day, shows up, same person, goes to work. No issues. You don't hear him. You don't have to call him out, which is a positive thing."
To receive Jeff White's articles by email, click the appropriate box in this link to subscribe.