By Jeff White (jwhite@virginia.edu)
VirginiaSports.com
CHARLOTTESVILLE — For years, Thursday night football generally meant one thing: a college game on ESPN. Since the NFL expanded its schedule to include Thursday night games, college football has more competition for viewers, but the ESPN showcase is still special for those involved.
"I think it's always fun to be able to play on a national stage and be one of the only games on TV that day," Virginia safety Antonio Clary said after practice Monday. "Prime time TV: You can't ask for anything better."
With its 30-28 win over ACC foe Miami at Hard Rock Stadium last season, UVA improved its record in ESPN's Thursday night games to 7-6. The Cavaliers are back on that stage this week. At 7:30 p.m. Thursday, Virginia (2-4, 0-3) meets Coastal Division rival Georgia Tech (3-3, 2-1) at Bobby Dodd Stadium in Atlanta.
Clary said he tunes into ESPN most Thursday nights.
"Absolutely," he said. "I love football. Football is everything to me. So if I'm not doing schoolwork, I'm watching football, I'm doing something football. I even watch NFL [on Thursday nights]. I watch Thursday, and then I get ready for college games on Friday."
Virginia, which is in its first season under coach Tony Elliott, has dropped three straight games since rallying to defeat visiting Old Dominion at Scott Stadium on Sept. 17. The Wahoos had this past weekend off, and the break, they believe, came at an opportune time.
"I think middle of the season is always a great time to have a bye week," Clary said, "because you get to reflect on the first half of the season and then get everybody healthy for the second half."
Chico Bennett Jr., who plays the Bandit, a hybrid position in the front six of UVA's defense, echoed his teammate.
"It was a good reflection point, because we're at the turning point in the season," Bennett said Monday. "We've got six more [regular-season] games left. The goal is to get to seven, get to [a bowl game] So I think we're at a good point right now. I think guys took a step back to understand that we've still got time left. We can win the rest of the games that we've got left, there's no doubt in my mind. Nobody scares us who we've got left, and we've just got to go out there and show what we can do."
At his weekly press conference, Elliott said Monday at John Paul Jones Arena that the bye week helped his team get healthier, "because we had a lot of guys that were nicked up … But it was just good from an overall standpoint for the guys to have a chance to get away for a little bit, have a couple days off, to re-energize as we go forward trying to attack the second half of the season. It came at a good time, and I think we're close to getting back to where we need to be [from a health standpoint], but not quite all the way there."
Wide receiver Billy Kemp IV, who missed UVA's Oct. 8 loss to Louisville, practiced at close to full speed Monday morning and is expected to be available Thursday night. One of the Cavaliers' starting linebackers, Josh Ahern, is still banged up and probably won't play in Atlanta, Elliott said, but the other one, Nick Jackson, who hurt his knee in the Louisville game, has really "attacked his recovery" and is back at practice.
"He's progressing day to day, moving around better than I anticipated considering the injury that he's coming off of," Elliott said. "But I anticipate he'll go out there, lay it on the line and give everything for this program."
With Ahern out, true freshman Stevie Bracey has been backing up Jackson at middle linebacker. Both are graduates of The Lovett School in Atlanta and will have sizable cheering sections at the game.
NEW CHAPTER: Elliott's message to his team as the Cavaliers head into the second half of the regular season?
"You've got six opportunities," he said, "and if you just look at college football, we've got an opportunity to win all six of our games. We can't get ahead of ourselves. We've got to play well on the road. We've got to get our first road victory. We have to focus on getting our first road victory and from there building momentum."
The regular season ends in about six weeks, so "the days are going fast," Elliott said. "You can't waste a day. And [it's important that the Hoos are] being honest and realistic with ourselves and owning the fact that we have underachieved based on what our talent is. … We've got to come together, and we've all got to do our job. We can't put all of the pressure on one side of the ball. It takes all three units. But we've got an opportunity. We've got four home games. We've got two road games, and in my opinion all those are winnable games with the team that we've got."
Clary said the Cavaliers aren't stressing about becoming bowl-eligible. "We're worried about going 1-0 this week … The goal is always to have that 13th game, but we're focused on winning this week, and that's our mindset right now."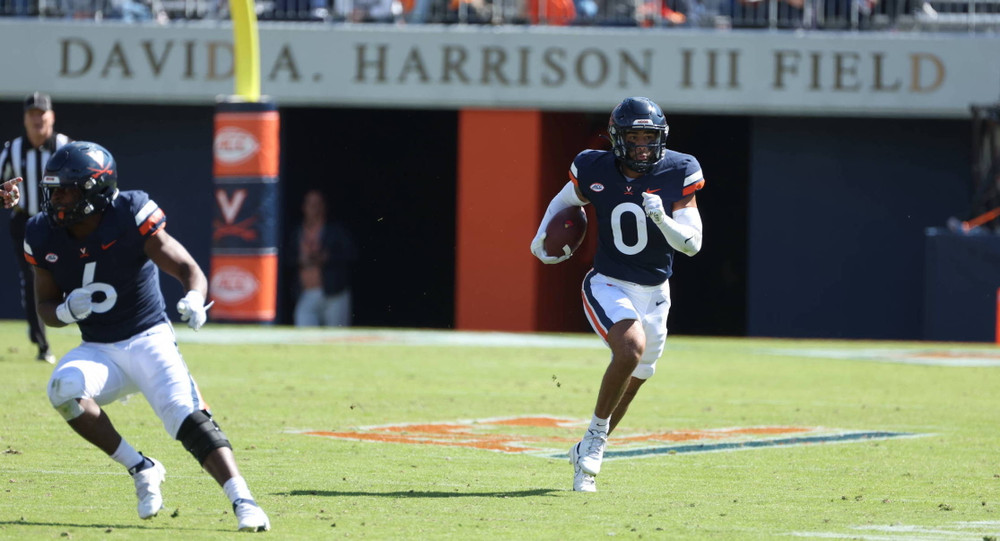 FAMILIAR SURROUNDINGS: Bennett spent two seasons at Georgia Tech before transferring to UVA in January 2021. He missed last season while recovering from a knee injury and so didn't play in the Cavaliers' victory over the Yellow Jackets at Scott Stadium.
Bennett still has a lot of friends at Georgia Tech, and he's been looking forward to this game. "I don't try to put too many eggs into the basket," he said, "but it's a great opportunity to go back to where you formerly played and just show what you can do."
The 6-foot-4, 252-pound Bennett leads the Hoos with four sacks (for 27 yards in losses), and he's also forced a fumble and recovered a fumble.
Bennett played for the Jackets as a true freshman in 2019 before suffering a season-ending shoulder injury. In 2020, he appeared in nine of Georgia Tech's 10 games.
DUAL THREAT: The Jackets' quarterback, 6-foot-4 Jeff Sims, is talented runner who's also completed 104 of 177 passes (58.8 percent) for 1,068 yards and five touchdowns. He's been intercepted only twice.
Sims is from Sandalwood High School in Jacksonville, Fla., where his teammates included Clary.
"That's my guy," Clary said Monday, smiling. "I was actually just talking to him the other day."
Sims is "a problem" for opposing defenses, Elliott said. "He throws it much better than you want him to, and he's shown some accuracy on some down-the-field balls." Moreover, when Sims tucks the ball and runs, it takes "two, three guys to tackle him," Elliott said.
After the Jackets lost to Central Florida on Sept. 24, Geoff Collins was dismissed as their head coach. Since then, under interim head coach Brent Key, Georgia Tech has won two straight, stunning Pitt 26-21 and knocking off Duke 23-20 in overtime on Oct. 8. Duke was coming off a 38-17 rout of Virginia in Durham, N.C.
"They're playing with a lot more confidence," Elliott said of the Jackets. "I think their mindset is to take advantage of the situation and not let it be a detriment to them.
"We know they'll come out, play hard. They'll be excited. But we've got to make sure that we focus on us and we come out with a mindset that we want to play our best game from start to finish."
ADDITIONAL WEAPONS: Tight ends played a prominent role in Virginia's passing game in 2020, when Tony Poljan caught 38 passes for 411 yards and six touchdowns, and again last season, when Jelani Woods had 44 receptions for 598 yards and eight TDs. (Woods has caught three TD passes for the Indianapolis Colts this season.)
Grant Misch and Sackett Wood Jr. have taken most of the reps at tight end for the Cavaliers this year, and neither is the threat that Poljan or Woods was. Still, Misch has 12 catches (for 95 yards), and Wood caught three passes for 48 yards against Louisville.
Elliott said he'd also like to see Josh Rawlings break into the rotation at tight end, "and the more those guys can do, the less predictable you become … We need to see [Wood] continue to emerge, Misch as well. And hopefully with the way that Josh has been practicing, we can get him some opportunities to see what he can do."
To receive Jeff White's articles by email, click the appropriate box in this link to subscribe.