By Jeff White (jwhite@virginia.edu)
VirginiaSports.com
CHARLOTTESVILLE — Any list of the top tailbacks in college football has to include Pittsburgh's Israel Abanikanda. A 5-foot-11, 215-pound junior, Abanikanda rushed for a program-record 320 yards and six touchdowns last month in Pitt's win over Virginia Tech, and he's averaging 5.9 yards per carry this season.
Abanikanda and the Panthers will be at Scott Stadium on Saturday for a noon game against Virginia, one of their rivals in the ACC's Coastal Division. UVA's tailbacks include Mike Hollins, a 5-foot-9, 208-pound junior from Baton Rouge, La.
He has yet to stake a claim as one of the conference's best at his position, but Hollins is coming off perhaps his strongest back-to-back performances as a Cavalier, and first-year head coach Tony Elliott has consistently talked up No. 7's potential.
Against the Miami Hurricanes on Oct. 29, Hollins had a 64-yard reception and carried twice for 16 times. Last weekend against North Carolina, he rushed 16 times for 75 yards.
Perris Jones, UVA's starting tailback for most of the season, missed the UNC game with an injury, and he'll probably focus on special teams against Pitt, Elliott said Tuesday. Hollins, Xavier Brown and Ronnie Walker Jr. split the tailback duties against the Tar Heels, and Elliott expects them to do so Saturday as well.
"I think that was big for Mike," Hollins said. "Mike's a guy that when he's fresh and he's rolling, he's good to go. But any tired back is a back that potentially could put the ball on the ground … I expect we'll roll forward with the rotation. If one of them gets super hot then you feed the guy that's super hot. Otherwise let those guys complement each other, roll as a committee and keep each other fresh."
Fumbles were an issue for Hollins early in the season, but he's improved his ball security since then.
"I try not to think about it [during games]," he said Monday. "I think about it throughout the week during practice. I emphasize ball security throughout practice, watch film and try to make tallies for every time I see the ball poking out, but as long as I focus on it throughout practice, I get to the game and I'm just full speed and I know that I trust my preparation throughout the week."
Elliott is a former Clemson assistant who's worked with running backs, and his staff includes offensive coordinator Des Kitchings and running backs coach Keith Gaither. They know how good Hollins can be, and they haven't always been pleased with his practice habits.
"We coach these guys hard because the game is hard," Elliott said. "Life is hard. And to win, you have to train a certain way, because when you get into the fourth quarter, you get into those must-have-it situations, what you revert to is your training.
"We push these guys hard. And to be honest, there's probably nobody that's been challenged more than Mike. And that might not be fair, but you've got myself, you've got Des and you've got Keith, so you have a running backs coach and a coordinator and a head coach that have coached running backs throughout the course of the years. He's very talented, and I think you're starting to see that. But it's not just talent at that position to be consistent. And you've got to bring everything together."
Hollins said: "The biggest transition for me from high school to college is on those tough Monday, Tuesday practices, or Wednesday practices, just grinding it out, and not really taking any plays off or reps off in practice, and just running full speed."
Technique is crucial, Hollins has learned. "[Elliott] wants it perfect every play because he knows and I know now, after weeks of being coached by him and Coach Gaither, that if you practice well throughout the week, it'll show up in the game and the game slows down for you," Hollins said.
Elliott said he's "really proud of [Hollins], the way he's practiced, the way he's responded, the way he's persevered. I'm excited to see him down the stretch. Hopefully he can step into that role that we all anticipated as being the feature guy."
Hollins has carried 45 times for 192 yards and two touchdowns this season. He's caught five passes for 92 yards.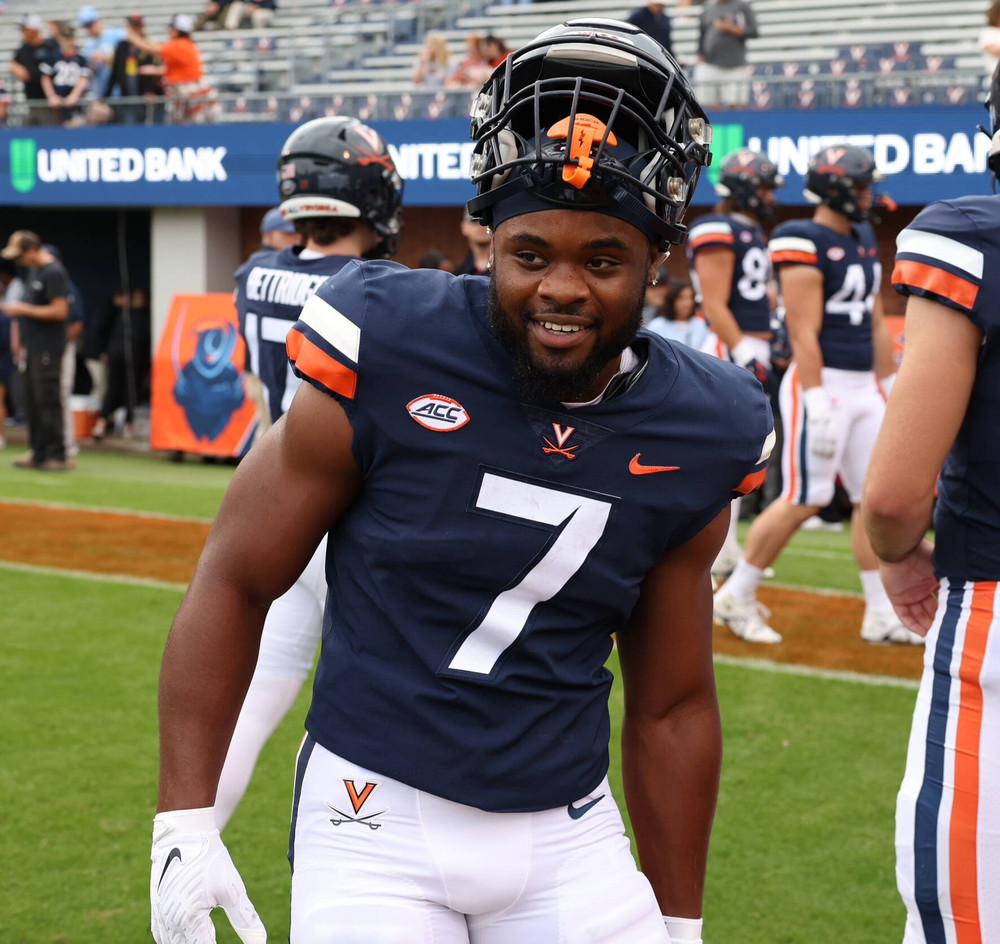 SLOW PROCESS: Late last season, UVA lost 48-38 at Pitt at Heinz Field despite a spectacular performance by Brennan Armstrong.
Armstrong, who'd missed the previous game with a rib injury, completed 36 of 49 passes for 487 yards and three touchdowns. He had many such outings in a record-setting season, but Armstrong's statistics are more modest this year.
He's running a different offense and has a new head coach in Elliott, a new coordinator in Kitchings, and a new quarterbacks coach in Taylor Lamb.
Quarterback Kedon Slovis, a graduate transfer from Southern California, has gone through a similar learning process at Pitt, head coach Pat Narduzzi said Monday.
"I think any time there's change, it's hard," Narduzzi said. "Nothing is instant. We'd all like it to be instant."
For the season, Armstrong has completed 168 of 306 passes (54.9 percent) for 2,058 yards and six touchdowns. He's been intercepted 10 times.
For the Panthers, who won the ACC title last season, Slovis is 137-of-231 passing (59.3 percent) for 1,737 yards and five TDs, with six interceptions.
SIGNS OF PROGRESS: The Cavaliers lost their six offensive linemen from 2021, and that position group, not surprisingly, has struggled at times this fall to protect Armstrong and to open holes for the running backs. But the line played well against North Carolina and is looking to build on that performance Saturday.
"I thought I saw for the first time on Saturday kind of what the chemistry potentially could look like," Elliott said. "I felt like the energy on the sideline was great. Those guys were a lot more vocal than I've seen in the past. So I think they're becoming more comfortable and embracing the opportunity to lead … I'm excited to see these guys come out and compete this week, especially with this challenge that we have with the D-line that Pitt has."
Virginia's starting offensive linemen against UNC included three sophomores, none of whom has redshirted. Guard Noah Josey is one of them.
"It's about building momentum and not resting on your laurels," Josey said Monday, "and being able to handle success well. We saw that we could do it last week, and it's about doing it again this week."
It's inability to consistently turn red-zone opportunities into touchdowns has hurt the Cavaliers this season, but they were 4 for 4 against UNC.
"That was awesome, being able to do that," Josey said. "Really we haven't done that this year much. And so being able to do that and be with the team and everybody being able to celebrate together and having a good time on the sideline, laughs, smiles, all that, it was a big deal. It helped the team morale a lot."
The key against Pitt, Elliott said, will be winning the battles up front, on both sides of the ball.
The Panthers are "going to play Steel City football," Elliott said. "That's what I told these guys: Be ready for a fistfight, more similar to Miami than [UNC]."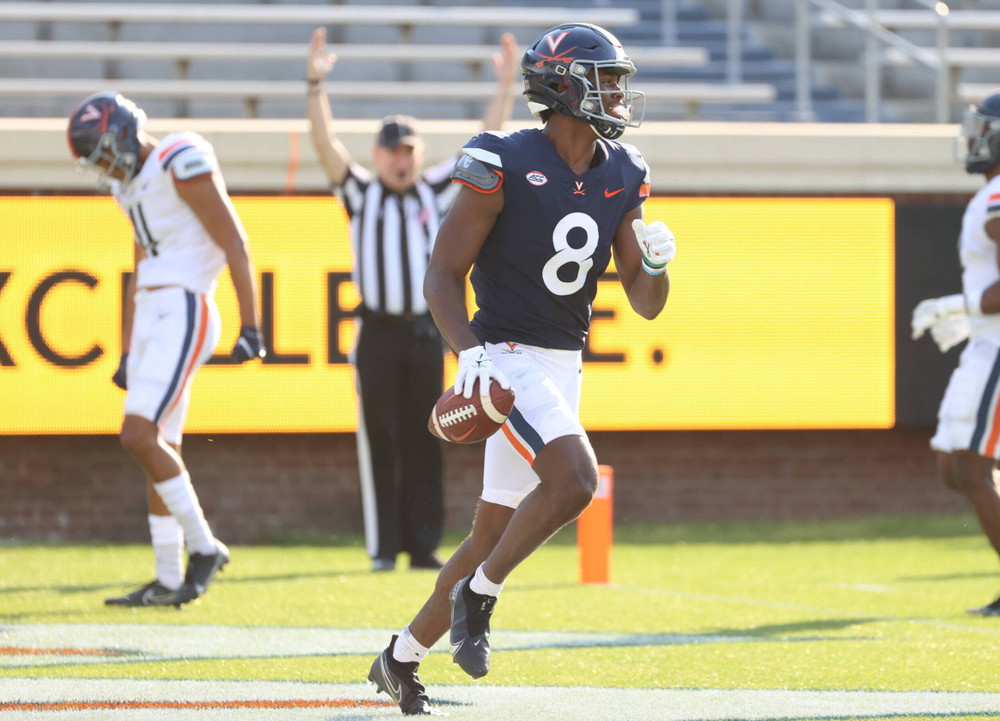 WELCOME ADDITION: For the second straight Saturday, the Cavaliers are expected to be short-handed at wide receiver. Lavel Davis Jr., Keytaon Thompson and Dontayvion Wicks missed the UNC game for medical reasons. Of that group, Elliott said, Thompson is probably the most likely to play against Pitt.
That's not ideal, but the return of Malachi Fields will bolster the corps of wideouts. Fields, a 6-foot-4, 214-pound sophomore, suffered a foot injury during training camp in August and has yet to play this season. But he's been cleared to make his 2022 debut on Saturday.
Elliott said Fields, a graduate of nearby Monticello High School, will probably be limited to 20 or fewer plays against Pitt.
"It's going to be a game where there's going to be a lot of press coverage, a lot of bump and run," Elliott said. "You don't want to overwork him and try to do too much. Plus, conditioning-wise, he's been running and preparing on the side doing his rehab, but he really hasn't been in game shape or getting himself in game shape."
As a true freshman last season, Fields caught 11 passes for 172 yards, and he might have been Virginia's most productive wideout during spring practice this year.
"We're excited to have him back," Elliott said. "I think he brings another element to the group that we've been missing. But at the same time, too, we want to make sure that he stays healthy. So we're going to manage his load on Saturday in hopes of picking that up throughout the course of the season."
SCHEDULE CHANGE: The Cavaliers usually practice on Tuesday mornings, but Elliott gave the players that day off this week so they could vote. Leading up to Election Day, he had speakers address the team about "some of the challenges that people had to overcome to be able to secure the right to vote and the importance of why we need to vote," Elliott said.
The goal, he said, was to "get these guys to understand and have an appreciation for the rights that they have and to be able to use their rights to have a voice and a say within this country."
To receive Jeff White's articles by email, click the appropriate box in this link to subscribe.