By Jeff White (jwhite@virginia.edu)
VirginiaSports.com
CHARLOTTESVILLE — Amid the tears and grief, there was also joy and laughter Saturday as thousands of members of the University of Virginia family gathered at John Paul Jones Arena to celebrate the lives of three beloved students.
UVA football players Devin Chandler, Lavel Davis Jr. and D'Sean Perry were shot and killed last Sunday night after returning from a field trip to Washington, D.C. Injured in the shooting were two other UVA students: Marlee Morgan and Mike Hollins, a running back on the football team. A fellow student has been charged with the murders of the three players.
"It was a shocking event that reverberated around Grounds and around the world," UVA president Jim Ryan said at the memorial service, "especially among our Black students, faculty, staff and alumni … It changed our world."
More than 9,000 people, including scores of former UVA football players, as well as Virginia governor Glenn Youngkin, came to JPJ to pay their respects Saturday, and thousands more watched the service online or on television. The families of the victims sat in the front row.
"I hope we can take a measure of solace from being together to honor them," Ryan said.
In addition to Ryan, UVA rector Whitt Clement, athletics director Carla Williams and head football coach Tony Elliott, speakers included about a dozen UVA football players. One of those players, linebacker Hunter Stewart, read the Langston Hughes poem "Life is Fine." There also were video tributes to the players, who were remembered for their big personalities and bigger hearts. Davis, Chandler and Perry wore jersey Nos. 1, 15 and 41, respectively.
"You were my earthly protector, and now I have no doubt you're my heavenly protector," Nick Jackson said in his message to Perry, a fellow linebacker who grew up in Miami.
Another linebacker, Josh McCarron, said he grew up hearing stories about the great men in his father's life. "From the day I got to the University of Virginia, it was evident that D'Sean Perry was one of those great men my dad used to speak about."
Running back Cody Brown read a letter he wrote to Chandler, who was from Huntersville, N.C., and began his college career at Wisconsin before transferring to UVA in January.
"Your smile alone was enough to brighten up anyone's day," Brown said.
Williams told stories about Chandler's passion for dancing. "His rhythm was suspect, but his confidence was never in doubt," she said, smiling.
Cornerback Elijah Gaines smiled, too, as he recounted Davis' immense pride in his hometown of Ridgeville, S.C., whose population is less than 2,000.
"He always made Ridgeville sound like the biggest city in the world," said Gaines, who's from Queens, N.Y.
In a video, associate head coach Marques Hagans spoke of his family's relationship to Davis, a 6-foot-7 receiver who enrolled at UVA in 2020.
"I'm grateful for the example you set for our two boys, Jackson and Christopher," Hagans told Davis. "We're going to do our best to make sure your legacy lives on forever."
Freshman kicker Will Bettridge, like Perry, joined the Cavaliers' football program after graduating from Gulliver Prep in Miami.
"I saw the man you had become, and I wanted to be like you," Bettridge said.
Perry stood up for the people and causes he cared about, and "I now fight for you, D," Bettridge said. "Everything I do is for you, and I promise I'll make you proud."
Williams said the tragedy has pushed her to her limits, but her faith in God sustains her.
"We are better, and we will do better, because of Devin, Lavel and D'Sean," Williams told an audience that included Hollins' mother, Brenda. "To the families, we love your sons, and we will make sure their legacy never fades at the University of Virginia."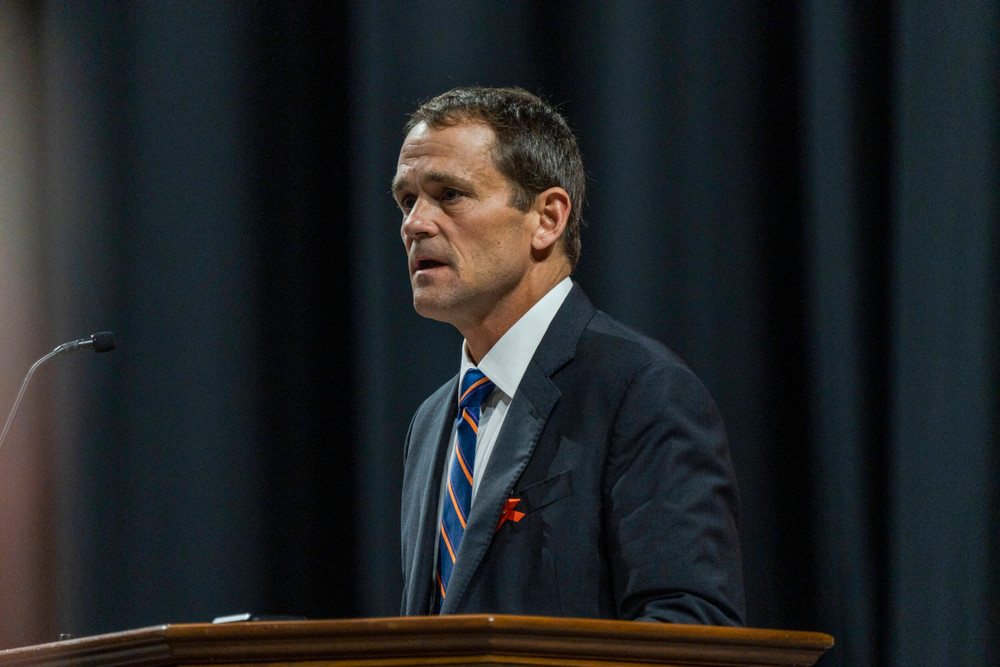 The memorial service included musical performances from the Virginia Gentlemen (whose members include UVA safety Langston Long), the University Singers, the Martin Luther King Jr. Community Choir, the Cavalier Marching Band and Grammy Award winner CeCe Winans, who sang a stirring version of "Goodness of God."
Defensive end Chico Bennett Jr. spoke about his friendship with Davis. They spent countless hours rehabbing the knee injuries that forced them to miss the 2021 season, forming an unbreakable bond. Bennett also paid tribute to the two students injured in the shooting.
"For Mike and Marlee, I think it's safe for me to speak for all of us to say we're grateful you're still here," Bennett said. "We love you, we got you, and the journey begins."
Elliott, who's in his first year at UVA, was the final speaker. He opened his remarks with condolences to everyone who was on the field trip and gave thanks for the continued healing of Hollins and Morgan.
"Mike and Marlee, your bravery and strength are an inspiration to us all," Elliott said.
Like Williams, Elliott is deeply religious, and he read a Bible verse that includes each of the players' numbers—1 Corinthians 15:41: "The sun has one kind of splendor, the moon another and the stars another; and star differs from star in splendor."
Elliott then shared memories of his time with each player. A former Clemson assistant, Elliott had known Davis for years. He had less time with Chandler and Perry but quickly grew to love each of them.
"You felt and heard Devin before you ever saw him," Elliott said, smiling.
Perry was the Cavaliers' "Renaissance man," his teammates liked to say, and he was a talented artist.
"There was not a prouder day for me as a coach than the day he shared his art with me," Elliott said.
The memorial service started at 3:30 on a cold, sunny November afternoon. It was nearly 5:30 p.m. when Elliott closed his remarks.
"To everyone here I say, we will turn today's tragedy into tomorrow's triumph," Elliott said. "Devin, D'Sean and Lavel have displayed the highest form of love by giving their lives. We have a mission going forward, and that mission requires a tremendous amount of responsibility. Amidst the pain and suffering, there is hope … Weeping is going to last for the night, but great joy is coming in the morning. Because of 1, 15, 41, we have the responsibility to rebuild this community and program on the legacy of their stars, and do so in such a way as to bring light unto the world."
To receive Jeff White's articles by email, click the appropriate box in this link to subscribe.