By Jeff White (jwhite@virginia.edu)
VirginiaSports.com
CHARLOTTESVILLE, Va. — Not long after he was hired to coach the wide receivers on the University of Virginia football team, Adam Mims texted the man who preceded him in that position.
Marques Hagans left UVA last month to become offensive recruiting coordinator and wide receivers coach at Penn State. Hagans was a cornerstone of the Cavaliers' program, first as a player under Al Groh and then as an assistant coach under Mike London, Bronco Mendenhall and, finally, Tony Elliott.
Mims served as a senior offensive analyst at Virginia in 2022, Elliott's first year as head coach, and worked closely with Hagans.
"I learned a lot from him," Mims said last week in his McCue Center office. "You're talking about somebody who essentially became the face of UVA football, just for what he's done for this program, for this university, not only as a player, but as a coach, as a community leader."
In his text message to Hagans, Mims said, "I just thanked him for everything and I told him, 'Man, I've got some big shoes to fill.' I'm gonna do my very best, that's for sure. But I can't speak highly enough about him and the role that he played and what he's done for this program and for this university."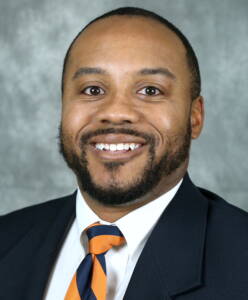 Mims, a native of Birmingham, Ala., joined the Wahoos' staff in January 2022. He was new to Charlottesville but needed no introduction to Elliott or several of UVA's assistants.
At Furman, where Mims starred at wideout, his position coach for his final three seasons was Elliott. UVA offensive coordinator Des Kitchings was Furman's tight ends coach during Mims' freshman season. Furman's head coach during Mims' college career was Bobby Lamb, whose son, Taylor Lamb, is Virginia's quarterbacks coach.
"So I've known Taylor since he was itty bitty," Mims said.
Moreover, Mims coached at Presbyterian College with Joey Orck, who's now an offensive analyst at UVA, and Mims knew UVA defensive line coach Kevin Downing as well before coming to Charlottesville.
"That's another thing that has made working here and this transition here a lot easier," Mimis said, "being around familiar people. But besides them being really, really good ball coaches, we've just got good people on this staff."
After graduating from Furman, Mims pursued a professional career, signing free-agent contracts with the NFL's Pittsburgh Steelers in 2011 and the CFL's Montreal Alouettes in 2012. Elliott joined the staff at Clemson, his alma mater, in 2011, but he and Mims stayed in touch over the years.
"We've had a pretty good relationship ever since the day that we met," Mims said, "so whether it was me working Clemson camp in the summers and going to see him or just talking on the phone and checking in with one another, we've stayed in constant contact for a long time now."
As an analyst, Mims was not allowed to work on the field with players, "so I was heavy into the game-planning, film breakdown and opponent breakdown stuff," he said. "That was the majority of what I did last year. The good thing for me is that I've been on the field before, for the majority of my career. So kind of stepping into this role is not necessarily new for me. It's just kind of getting back on the bike again."
Mims coached wide receivers at Presbyterian in 2016 and '17, at Tennessee Tech in 2018, and at UT-Chattanooga in 2019, '20 and '21.
When the opportunity for him to join the Cavaliers' staff as an analyst arose last year, Mims was ready for a new challenge.
"Really, the biggest thing was just the relationship that Coach E and I had for so many years," Mims said. "He coached me at Furman, and I've known him and his family for so long. They've always been good to me, and we've really cultivated our relationship over the years. He's honestly more like family to me than anything else. So having the opportunity to work under him was that was already attractive enough. On top of that, there was just the opportunity to learn and to grow and mature in this business."
Mims said his boss is "the same Tony Elliott that I met right years ago [at Furman]. Really, what I love most about him and his family is that I've never had to guess who he's going to be, and he's shown that day in and day out. Now, of course, his role has changed, being the head man now, but he's still the same genuine guy that I met years ago. So that made the transition for me coming here so much easier."
Elliott said he thought "long and hard" about his options after Hagans took the Penn State job. Not only did he feel comfortable with Mims, but Mims "also had a year to work alongside Marques as well," Elliott said. "And so he had relationships with the guys that were on the roster. He was a part of the process of recruiting the guys that we brought in, alongside Marques."
Mims said he believes his familiarity "with it all—with the players, with this group, with our offense and what we're doing with Coach Kitchings and the rest of the staff—I think that's gonna make it a lot easier. Not saying that the process is going to be easy, but the transition is going to be a little bit easier, especially for the kids, and that's what's most important. I can already tell over the last two weeks that it's helped out with communication and expectations, that kind of stuff."
The group has changed dramatically since last season, in part because of the tragedy that shook the UVA community in November. Shot and killed Nov. 13 after returning to Grounds from a class field trip were three players: defensive end D'Sean Perry and wideouts Lavel Davis Jr. and Devin Chandler.
Three other receivers—Keytaon Thompson, Dontayvion Wicks and Billy Kemp, who combined for 99 catches last season—have moved on. Kemp transferred to Nebraska after graduating from the University, and Thompson and Wicks are pursuing pro careers.
Returning wideouts include Malachi Fields, Sean "J.R." Wilson, Demick Starling and Ethan Davies, and two receivers enrolled at UVA last month: Malik Washington, a graduate transfer from Northwestern, and Jaden Gibson, who graduated from high school in December. Another wideout, Dakota Twitty, continues to recover from a knee injury but should be ready for training camp in August, Mims said.
"I'm excited about this group," Mims said. "I think we've got a lot of guys that are eager and hungry to work, to kind of get their name out there, just good kids. I think that we have a talented room. It's going to take a lot of work from now until the season, there's no doubt, and that's going to be the case every single year. But I'm excited about the guys that we have coming back. I think Malachi is going to be a really, really good football player. Demick Starling, I think his potential is through the roof. We bring in Malik Washington, who has already had success at a high level, somebody that's an older guy that brings in leadership. And then we just got younger guys all around that are hungry and ready to compete. J.R. Wilson is nowhere near his ceiling. We had to play him early as a freshman, but his potential is through the roof."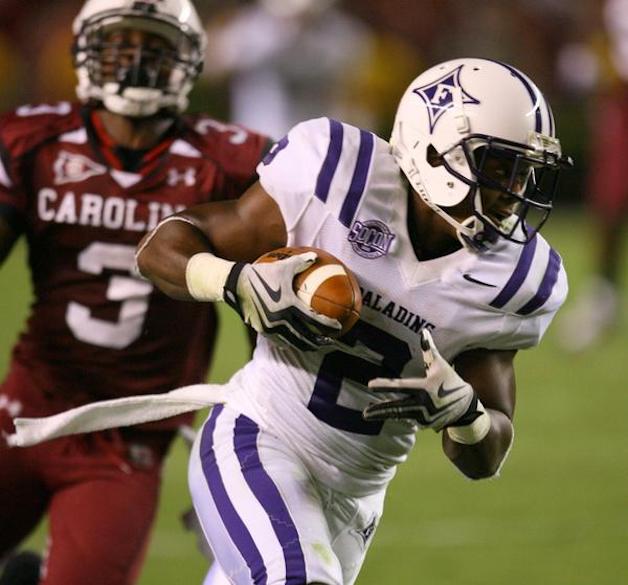 UVA's receivers were probably the strength of the team in 2021, but they struggled with drops in 2022. The returning wideouts, Mims said, are determined to make amends.
"I think this group is ready to take ownership for everything that happened last year," he said. "We didn't play up to our potential. I think that they know that, so the workmanlike attitude that they've already taken since being back has been so encouraging. It's gonna take time. It's gonna take a lot of work and a lot of practice to correct some of the stuff that happened this past year, but the great thing is, each and every day you get a brand-new opportunity, and what they do with that opportunity, what we do with that opportunity, that's what's going to matter most."
Fields, a graduate of nearby Monticello High School, missed most of last season while recovering from foot surgery. But he returned for what turned out to be Virginia's final game and caught five passes for 58 yards and one touchdown.
"Expectations of Malachi are going to be pretty high," Mims said. "He's been in the group for some time now, and he's shown the ability to make plays on Saturdays. So guys are naturally going to look up to him, as they should, because he does it right, on and off the field. He's going to step into a leadership role, whether he likes it or not. I think that just kind of comes with the territory, especially when you've been here for two, three years and you've had some success, so I'm sure that he'll attack it head on. He's a low-maintenance guy, and those are the kind of kids that you absolutely love, being low-maintenance and then being talented."
This is Mims' first time recruiting for an FBS program, but he's confident he'll be able to successfully make the transition.
"I tell people this all the time, football is a people-to-people business," he said. "Relationships are so key on every level. I feel recruiting is the lifeblood of any program, so the importance of it is huge. But even in the landscape of NIL and social media and everything going on, I think at the end of the day, relationships really win. So my biggest thing is to identify kids early, create and cultivate relationships throughout the process, and hopefully they find comfort in the University of Virginia and their families find comfort in the University of Virginia and ultimately what we're trying to build here. At the end of the day, I think that's what's most important: building relationships with these kids, because all the other stuff is really fleeting."
Spring practice starts March 14 for the Cavaliers. To get back on the field with players as a coach will "be exciting," Mims said. "I'm kind of itching for that moment, just to get back out there with them and try to lead them as best I can and teach them everything that I know. I'm just eager to see them succeed. That's what I want, ultimately."
To receive Jeff White's articles by email, click the appropriate box in this link to subscribe.