By Jeff White (jwhite@virginia.edu)
VirginiaSports.com
CHARLOTTESVILLE, Va. — On Tuesday morning, the University of Virginia football team returned to the practice field for the first time in four months. That alone represented a triumph for a program that was struck by tragedy in November, when three UVA players were shot and killed after returning to Grounds from a class field trip to Washington, D.C.
The sight of tailback Mike Hollins in uniform, running through drills at full speed, made a good day even better for the Cavaliers. Hollins was wounded in the Nov. 13 shooting that killed Devin Chandler, Lavel Davis Jr., and D'Sean Perry, and he spent a week in the hospital before being released.
"They call him Iron Mike for a reason," fellow tailback Perris Jones said after the first of UVA's 15 spring practices.
"His strength and his spirit, his character, it really shows through every day out here throughout workouts and throughout practice," Jones said. "It's just motivating … Mike is actually my roommate, so I spend a lot of time with him outside of the facility as well. And just the way he's carried himself throughout this tragedy and how he continues to carry himself, it's surreal. He is strong, man, and his fight every day encourages all of us to continue to fight and to do the best that we absolutely can, because if he can do it, we can as well."
Hollins, who's from Baton Rouge, La., rejoined the team for its winter strength and conditioning program in January, "and every single day he's just progressed and looked even better and better and better," safety Antonio Clary said. "So seeing him out here today, it just brought joy to my eye just seeing him play football again and doing what he loves to do."
Head coach Tony Elliott, too, has marveled at Hollins' recovery.
"He could easily have made excuses, could easily have overthought things," Elliott said, "but he's taken it upon himself to respond and show perseverance and be resilient. And I think a lot of it is for himself, but a majority of it is for his teammates. So just to see him [practicing is special], because there was a time when we didn't know if he'd ever have a chance to play football again."
There's no rush with Hollins, Elliott said. "Obviously, we want to be smart with his progression back in, but he did everything in winter workouts … His status is, he's full go, but we'll be smart as well as we transition him into some of the full contact stuff, because we want to be mindful of where his body is and let him kind of go at his pace. He's a guy that's played a lot of football, so it's not something where we have to throw him right into the fire to figure out what he can do."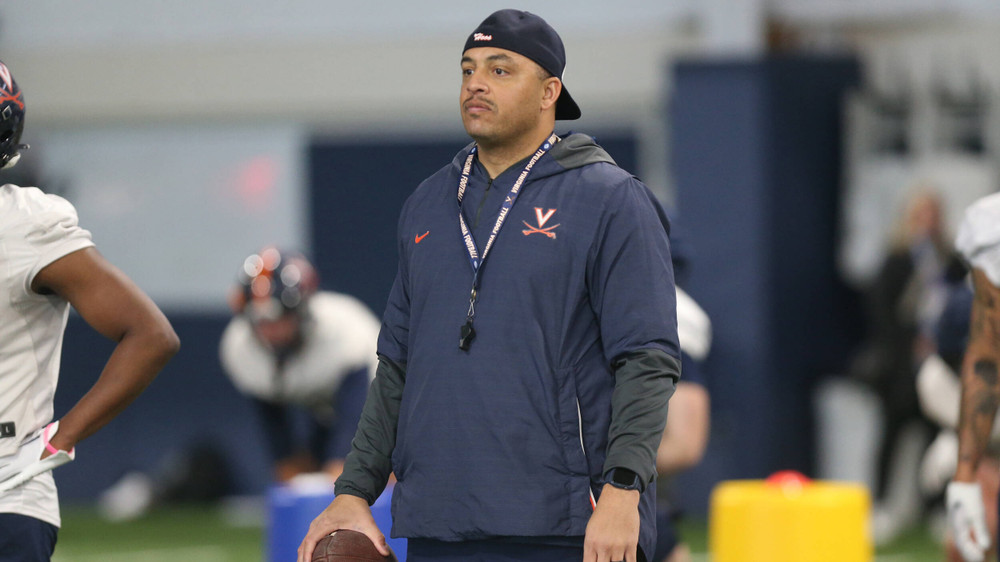 The 2022 season was the Wahoos' first under Elliott, a former Clemson assistant. The Hoos were 3-7 when the shooting occurred, and they chose not to play their two remaining regular-season games.
When the players reconvened in Charlottesville in January, Elliott said, "I was a little bit nervous, apprehensive, because they had been gone for such a long time and obviously everything was still really new. But the guys came back with just an unbelievable sense of urgency and an unbelievable spirit about them. And so they carried that right into the weight room, and the strength staff did a great job of just fostering that energy."
Elliott's message to his players: The Hoos were not moving on from Chandler, Davis and Perry; they were moving forward.
"And Mike, he is the epitome of that," Jones said. "He lives it every day, and you can only imagine how he's feeling being back out here. I can't begin to comprehend it for him. But the way he carries himself, it motivates us, and it shows us that there is a path forward, and we just have to put one foot in front of the other each day, which is what we try to do."
Elliott said: "I'm just grateful to be on the grass, grateful to have an opportunity to be here at the University of Virginia, lead this program, lead these young men, all the guys that decided to come back and pick up the pieces and turn this tragedy into triumph. So it's really a blessing for me to see all these guys running around, but in particular I'm just so happy for Mike."
The players' mindset, Clary said, is "we're gonna come out here and step on the field and honor those guys every single day [with] the way we practice, and we had that energy in the locker room this entire winter workout. And then going into spring ball, it really showed today. The energy was great today on the first day."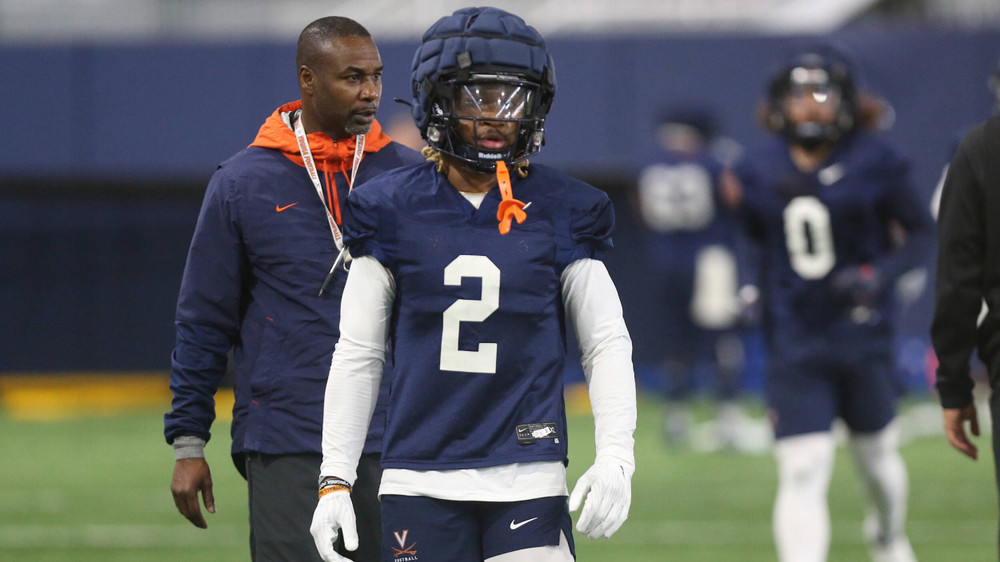 Virginia added six transfers in January: offensive tackle Ugonna Nnanna (Houston), quarterback Tony Muskett (Monmouth), tailback Kobe Pace (Clemson), wide receiver Malik Washington (Northwestern) and defensive backs Cam'Ron Kelly (North Carolina) and Tayvonn Kyle (Iowa State).
"Those guys have done an unbelievable job of just becoming part of the team," Elliott said. "They understood what they were signing up for. They understood the situation in the locker room that they were walking into, and they've just become one of the brothers. You've already seen some leadership out of those guys. Again, I'm not going to make something more than it needs to be for them, but I think they understood coming in the door, and they also accepted the challenge. They wanted to be a catalyst that helped these guys that went through that to be able to move forward and respond and rebound and carry the legacies forward."
Elliott was thankful to be back on the field with his team.
"That was the message that I closed practice with, and that's the spirit that I came out with, and it was matched by the players," Elliott said. "Just grateful to have an opportunity to get to play football again. It's been a long time, and definitely guys still have got heavy hearts for everything that we went through as a program. Still grieving and, and supporting the families of Lavel, Devin and D'Sean, but just really, really just grateful to be on the grass is the big picture for me. I was excited to see these guys have a ton of enthusiasm to start today. I thought it was a really, really good first day. Not a ton of practice fundamentals that I had to correct, so there was a lot of carryover from the last time. You worry about those things when you've had a long break, how much of just the fundamentals and the core values that you're going to have to coach, but I thought the strength staff did a great job of preparing them."
The Cavaliers' spring game is April 15 at Scott Stadium. What impact the tragedy will have on them this fall is uncertain, Elliott said, "because there's still a lot of milestones that we've got to get to. As I told the guys, we're not moving on, but we do have a responsibility to move forward, and we believe that the spirits and the legacies of the three young men that we lost would want us to move to move forward. But there's going to be some times where there's going to be some emotional milestones that we're going to have to get through."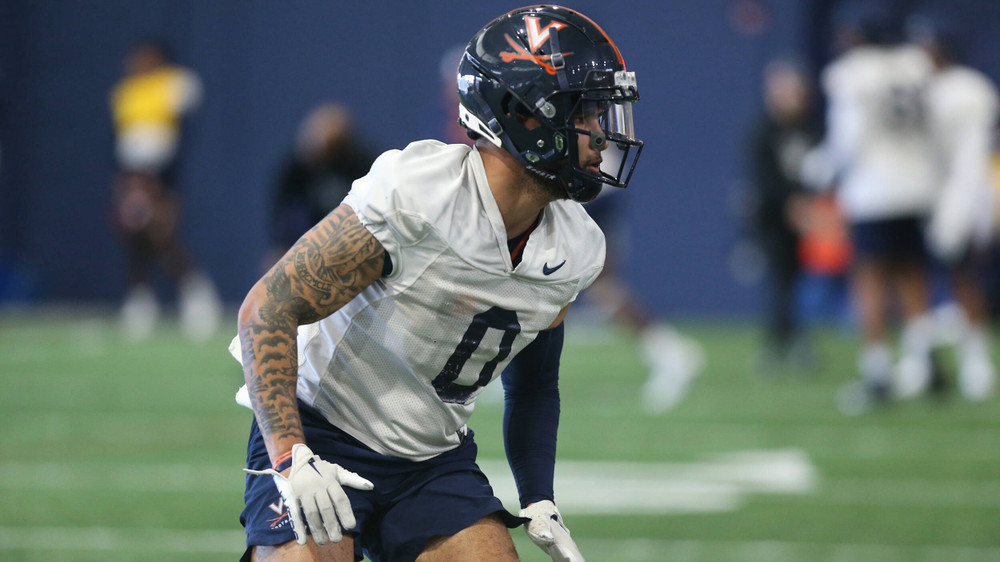 The Hoos' goal this spring, Clary said, is to "go out there every day and know who you're playing for. Those guys would want us to go move forward and honor them the right way, and that's what we're going to continue to do this spring ball. There's going to be tough times. Stepping on the practice field definitely today was a tough time, just because [it was] the first time we stepped on the practice field since the tragedy happened. We're just continuing to honor them the right way and taking every rep the right way and not taking anything for granted, because they wouldn't want us to take anything for granted."
Their return to the practice field produced a wide range of emotions among UVA's players, Jones said, "but overall I think there was a large excitement amongst the group. Everybody was kind of happy to be back together and be back on the grass. It's been a long time."
The best way to honor their slain teammates, Jones said, is for the Cavaliers to try to be "the best that we can absolutely be every day. Whether that be in class or in your day-to-day interactions, just doing everything you can to make sure that you embody who they were and ensure that it carries on and lives on. Those guys, the way that they lived, was emblematic of who we believe people should be. So we try to pay that forward and continue to do it day in and day out in the little things."
Chandler, Davis and Perry will forever be part of the program, Elliott said, "because for us to be able to get to where we want to go as a program, we are going to lean on those guys at times, draw our strength and our motivation, inspiration from them."
To receive Jeff White's articles by email, click the appropriate box in this link to subscribe.