By Jeff White (jwhite@virginia.edu)
VirginiaSports.com
CHARLOTTESVILLE, Va. — After entering the transfer portal late last fall and weighing his many options, quarterback Tony Muskett selected the University of Virginia. His decision delighted many in his home state, including Anthony Parker, the head football coach at West Springfield High, and UVA wide receiver Ethan Davies, who played with Muskett at the Fairfax County school.
"As a local guy who wanted to go see him play, I was happy he chose UVA," Parker said, "because I can go see him and Ethan at the same time. It was great for our West Springfield community."
When Muskett, who was a three-year starter at Monmouth University in New Jersey, began looking at other schools after the 2022 season, Davies brought him up with the Cavaliers' coaches, who were already intrigued by him.
To Muskett, Davies said, "I would just give him any advice he wanted, because I wanted what was best for him. But obviously I was hoping he'd come here. I knew it would be a lot of fun and he'd enjoy it here."
Muskett was a year ahead of Davies at West Springfield, but that didn't stop them from forming a bond that's grown stronger over the years.
"It's just a blessing to be out here with him," Muskett said after a recent practice.
Davies, whose mother teaches at West Springfield, enrolled there in 2017-18. He made the varsity football team as a freshman and saw time that season at cornerback, with mixed results. Davies remembers a game against arch-rival Lake Braddock in which he had to cover a receiver, Quentin James, who went on to play at Davidson.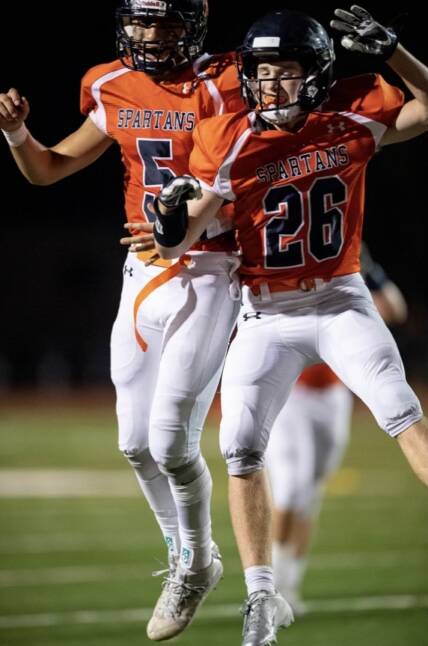 "Let's just say I didn't necessarily know what was going on for the most part, and I was playing coverages that I wasn't supposed to play," Davies recalled, smiling.
"When you're a freshman on varsity, it gets hectic out there," said Muskett, who'd played on special teams as a ninth-grader at West Springfield. "I couldn't even imagine actually playing a position as a freshman. It must have been overwhelming. But Ethan did a good job for the most part. The experience paid off for him, I think, getting to be on the field that early."
In 2018, Davies won a starting job at wideout and become one of Muskett's favorite targets.
"That's when we started finding the groove and started clicking," Muskett said, "and I think that's when West Springfield's offense started going up to another level."
They lifted weights together in a P.E. class. After school, Davies would run routes, and Muskett would throw to him.
"I was with Ethan almost every day of high school," Muskett said.
Their extra work paid dividends. In 2019, Muskett's senior season, the Spartans advanced to the playoffs for the first time in several years.
"On any play, Tony or Ethan could take the ball to the house," Parker said. "We were always in the game with those guys. Just super talented. I'm just amazed at what they were able to accomplish. If you watch our team highlight film from that year, every other play is one of those guys doing something amazing."
Muskett passed for more 7,000 yards and 69 touchdowns in his high school career but attracted scant interest from FBS programs.
"I was shocked at his recruiting," Parker said. "I didn't know if it was his size. He's not 6-5, but he's 6-2. But I thought a lot of teams were missing out on him."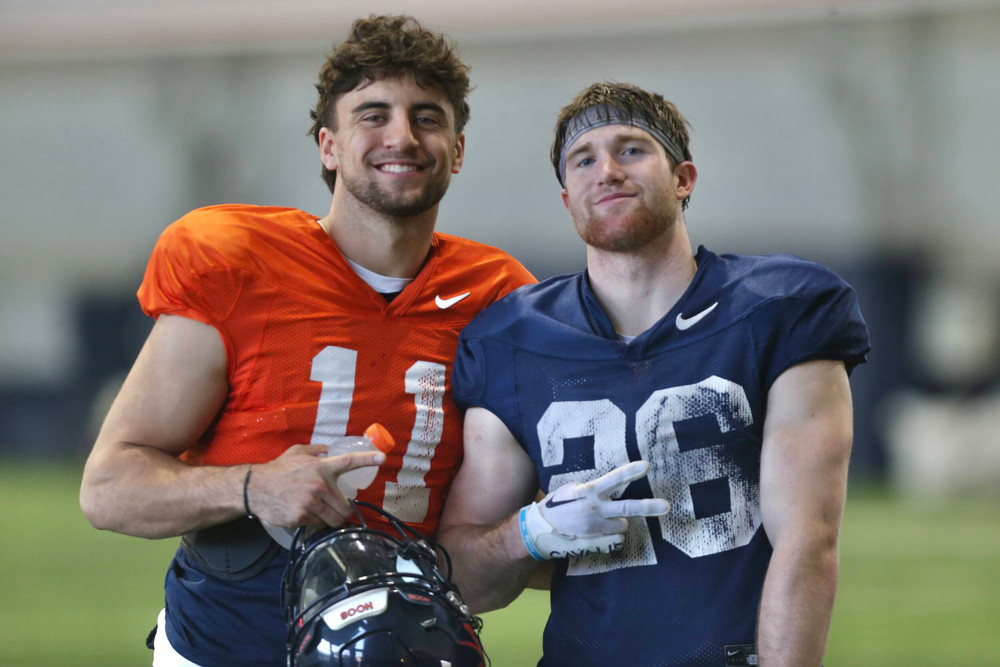 Muskett made the most of his time at Monmouth, an FCS program. He was named the Big South Conference's offensive player of the year as a freshman and made the All-Big South first team in each of his next two seasons.
"I've always had the utmost confidence in myself," said Muskett, who has two seasons of eligibility left. "Coming out of high school, I felt like I was under-recruited, so I went out, and I felt I proved myself at the FCS level."
Numerous FBS programs contacted Muskett once he entered the transfer portal, but UVA was at "the top of my list," he said. "It's my home school, it's my home state, so it means a lot to come back and play for them."
UVA head coach Tony Elliott noted that Muskett "has a little bit of a chip on his shoulder, but he just loves football. He loves football. He's eager to have an opportunity to compete at a higher level, and I'm just grateful that he chose the University of Virginia."
Muskett and Davies remained close after Muskett enrolled at Monmouth. They'd text each other regularly, and when Muskett came home to Northern Virginia, they would resume their training sessions. Davis saw how his friend was evolving as a quarterback.
"He always had a strong arm," Davies said, "but I definitely could tell after maybe a year at Monmouth, his arm was really strong. In the offseason, the balls were coming in with a little more heat than usual. And just the accuracy. He's gotten a lot more accurate over the years. He's on the money. I know where the ball is going to be, and on the rare chance, it's off, I'll make it right."
Despite starring at both receiver and defensive back, Davies received less interest from major-college programs than Muskett had. Davies is only 5-foot-10, "so I think a lot of [recruiters] underestimated him," Parker said, "but when you watch him on film, he jumps out like nobody else. He's probably one of the most explosive guys I've ever coached."
Until his junior season at West Springfield, Davies said, he hadn't thought much about playing beyond high school. "Right about December of 2019, that was when my dad was like, 'What are you plans for college?' And we started reaching out to people, seeing what the next steps were."
The COVID-19 pandemic hit in March 2020, "and that's when I really started to transform," said Davies, also a standout in track & field at West Springfield. "I was lifting twice a day. I put on a lot of weight, got up to eventually 190 going into senior year."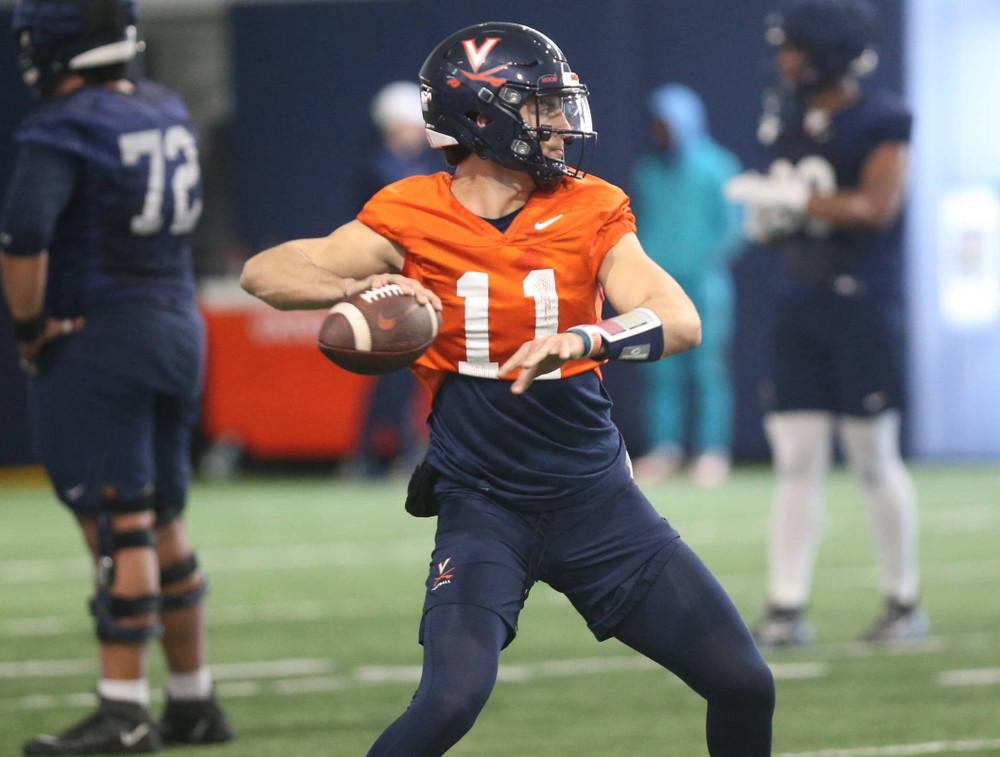 If not for the pandemic, Davies might have earned scholarship offers by showing off his skills at college camps in the summer before his senior year. That wasn't an option in 2020, which forced him to get creative.
The Virginia High School League did not play football in 2020, and so Davies joined a seven-on-seven team, the Virginia Spartans, and played with them that fall. Moreover, he played running back for a travel team that played tackle football against private school teams from the D.C. area.
West Springfield finally returned to the field in the spring of 2021, and Davies had an exceptional season. By then, he'd committed to join the team at Virginia, his father's alma mater, as a preferred walk-on.
"I'd always been a UVA fan growing up," Davies, who also had PWO offers from Virginia Tech and Old Dominion, among other schools.
In 2021, Bronco Mendenhall's final season as the Wahoos' head coach, Davies redshirted. In 2022, Davies played in six of the Hoos' 10 games. He totaled 28 yards on on five punt returns and caught one pass, against North Carolina, for a 7-yard gained.
Davies figures to have larger roles on special teams and at receiver in Virginia's second season under Elliott. At quarterback, the candidates to succeed three-year starter Brennan Armstrong, who's now at NC State, include Muskett and Jay Woolfolk, who's splitting time before football and baseball this spring.
The Cavaliers' Blue-White game is April 15 at Scott Stadium, and it will cap a spring in which Muskett has rediscovered the joy of throwing to Davies.
"It's definitely cool," Muskett said, "because we have all these memories of playing high school together, and when certain route concepts marry up, it's always like you have that flashback of when you ran it before. That's part of the reason I love being here: It reminds me of my home, growing up with guys like Ethan."
To receive Jeff White's articles by email, click the appropriate box in this link to subscribe.