By Jeff White (jwhite@virginia.edu)
VirginiaSports.com
CHARLOTTESVILLE, Va. — Ant Fisher walked into George Welsh Indoor Practice Facility and spotted half of the University of Virginia football team—the half that will be wearing white jerseys on Saturday—meeting at the other end.
"Ya'll gonna need more than that!" yelled Fisher, a cornerback who's not short on bravado.
The Cavaliers held the 14th of their 15 spring practices Thursday morning. The finale will be the Blue-White game at Scott Stadium, for which Virginia's roster has been split into two teams. Linebackers coach Clint Sintim is in charge of the White team, and defensive line coach Kevin Downing is overseeing the Blue.
The spring game isn't until 2 p.m. Saturday, but the trash-talking has already begun, and not only by Fisher, who'll play for the Blue team.
"I love you, bro, but I don't know you Saturday," White defensive end Ben Smiley III told Blue safety Donovan Johnson as they left the indoor facility Thursday.
The Blue-White game is free to the public. So is parking at Scott Stadium and normal football game day lots. Gates will open at 1 p.m.
The formats for UVA's spring games have varied over years, usually based on how many players at each position are available, but fans should have no trouble following the proceedings Saturday.
"We're playing a game," head coach Tony Elliott said. "We're going to have the Blue team and the White team and we're going to have live special teams. There won't be any fakes or anything like that, because some guys might be playing slightly out of position, but we'll split the teams as even as possible.
"It's going to start with a coin toss and we're going to go play ball.  The first half will look just like a football game. The second half, later in the game, we may go with a running clock just because of the depth we have."
Several specialists, including punter Daniel Sparks, kicker Will Bettride and long-snapper Aidan Livingston, will play for both teams Saturday, but "it's going to look as close to a game that we can simulate because for us at the college level, we don't get any preseason games," Elliott said.
"We don't get the chance to play anybody outside of ourselves, and we only have three live scrimmages in the spring, so it's a great opportunity for us to put the guys in as close to a game environment as we possibly can so we get a sneak peek about how they're going to respond before we get into fall camp."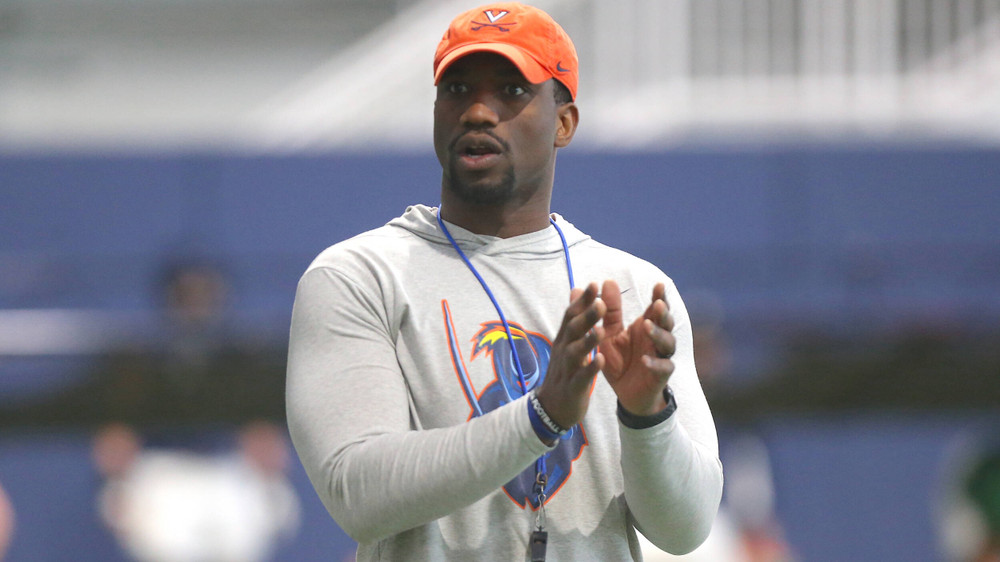 The Wahoos are in their second year under Elliott, a former Clemson assistant coach. His first seasons at Virginia ended on a horrific note, with the Nov. 13 deaths of three players—Devin Chandler, Lavel Davis Jr. and D'Sean Perry—who were shot and killed after returning from a class field trip to Washington, D.C. Another player, running back Mike Hollins, was wounded in the shooting, but he was cleared to play and has impressed during spring practice.
In the wake of the tragedy, the Cavaliers canceled their final two regular-season games. The bonds among players and coaches have tightened during the healing process, and that's carried over to practices this spring.
"Coming off of how the season ended, it just gave everybody a different perspective on what we get to do every single day, a different perspective on life," Elliott said. "I know it challenged me to think about how I approached every single day and having a gratitude and appreciation just to be able to get up every morning and go do what it is I love to do.
"A lot of it is the response of the players. The players have come back, as I've said all spring, with a great spirit. They have an unbelievable spirit. They're competing, they're having fun. It's year two, so there's not as much thinking about the process and the organization, because it's kind of starting to become part of our DNA. But I think it's a combination of everybody has a different level of appreciation and gratitude just for life in general. And then the guys lead the way with the energy and they're making it fun for us as coaches."
The Cavaliers finished 3-7 last season, in large part because of their struggles on offense. Virginia will have a new starting quarterback this fall and a revamped offensive line, but Elliott likes what he's seen on that side of the ball this spring.
"Offensively, I feel like just the general operation and procedures [are] a lot smoother, a lot faster," he said. "Guys have a much better understanding of the system. There's not a whole lot of correction from alignments, so now we can really focus on technique and build the fundamentals that we need to build in order to execute at a high level."
The system that Elliott and offensive coordinator Des Kitchings installed last year differed significantly from the one Virginia ran during Bronco Mendenhall's tenure as head coach, and the transition was anything but smooth.
"I think it was such a drastic change," Elliott said, "and not just from the philosophy and the terminology, but just from a cultural standpoint, from a program standpoint. Offensive football is all about chemistry, cohesion, timing, and it takes time for those things to come together. Not to say that you don't have to have it on defense, because you certainly do, but offensive football is all 11 on the same page every single play. And so I think where we are now is, you're just seeing that the guys are a lot more comfortable and they're not thinking about just the basic things, like how do I line up, what's my stance, what's my split?
"Now they're able to get into a situation where that's part of their DNA. They can start to scan the defense to see how the play needs to be executed as opposed to what we're doing. So I think last year was more just figuring out what we're doing. Now you're starting to see growth from the standpoint of why we're doing what we're doing. And then if you understand why, you know what you're doing, then you figure out the how, and the how is what allows you to be successful at a high level, because you're now playing the game within the game, so to speak."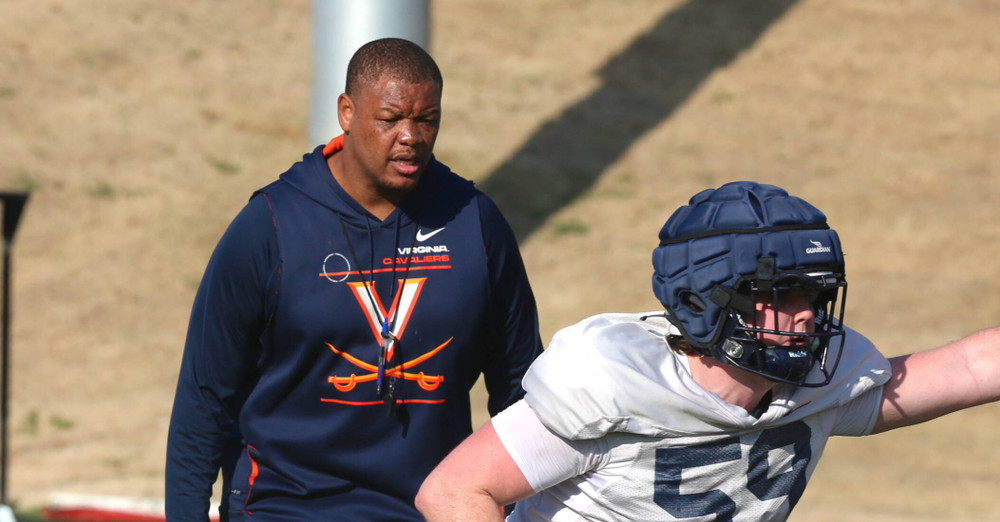 Elliott came to UVA from a Clemson program that won six ACC championships and two national titles during his 11 years on head coach Dabo Swinney's staff.
"I was very fortunate to be a part of a system where you had horses," Elliott said. "You had more horses than the other team so you can kind of line up and just do what it is that you wanted to do. Whereas right now, we're working to be there, and that's the vision. Once we get there, then we'll be able to line up and say, 'Hey, come stop us, and we'll give it to you any way that you want.' But we're building that, and so in order to get there we've got to put the guys in a position to be successful based off of where they are from a development standpoint and skill-set standpoint."
This will be the first opportunity for UVA fans to see quarterback Tony Muskett at Scott Stadium. Muskett transferred to Virginia in January after three seasons at FCS Monmouth University, where he twice made the All-Big South Conference first team.
Muskett, who starred at West Springfield High School in Northern Virginia, has taken most of the snaps with the first-team offense this season, but it's not a given that he'll succeed Brennan Armstrong as UVA's starting quarterback. Armstrong's backup last season, Jay Woolfolk, also plays baseball at Virginia, and he's had a limited role during spring football.
On the days when Woolfolk practices with the football team, Elliott said, he'll typically "get 40 throws, and we'll manage those, and he's really, really taking advantage of those. He looked good throwing considering he's also working on his baseball throwing motion, which has been the most impressive thing to me. And then when he's not throwing, he's taking mental reps. He's standing back there, and sometimes he'll stand next to me when the offense is out there so he can see everything from a quarterback perspective, and just to see the growth in the conversations we're able to have about what's going on offensively tells me he's taking advantage of it."
Woolfolk won't play in the Blue-White game, Elliott said. When baseball season ends for the Cavaliers, who are ranked No. 7 nationally, Woolfolk will shift his focus to football. Virginia opens the season Sept. 2 against Tennessee in Nashville, Elliott doesn't expect to name a starting quarterback until August.
Elliott wants to build interest in and excitement about his program. For their six games at 61,500-seat Scott Stadium last season, the Hoos averaged 40,681 fans.
"My hope is that as we get into the season this year, people will see the progress that we made and it'll encourage them to come out and support," Elliott said. "The guys need the support, regardless, and they want to play in front of a packed stadium, and these guys are working extremely hard. I think the results last year, nobody wanted those results. Nobody was intending to have those results. But it was where we were, so we've got to own those results, and I think these guys have really taken heart to owning those results, and they're excited to be able to show you the progress that they've made once we get to the season. And we've still got a lot of work to do, but I think you'll see progress, which will indicate that we're going in the right direction."
To receive Jeff White's articles by email, click the appropriate box in this link to subscribe.