By Jeff White (jwhite@virginia.edu)
VirginiaSports.com
CHARLOTTESVILLE, Va. — The first wave of 2023 transfers—a group that included offensive lineman Ugonna Nnanna (Houston), cornerback Tayvonn Kyle (Iowa State), quarterback Tony Muskett (Monmouth), tailback Kobe Pace (Clemson) and wide receiver Malik Washington (Northwestern)—joined the UVA football team in January.
A second wave arrived on Grounds late in the spring. This group consists of offensive linemen Jimmy Christ (Penn State) and Brian Stevens (Dayton) and cornerbacks Malcolm Greene (Clemson) and Sam Westfall (SMU), and the newcomers fielded questions Thursday morning in the George Welsh Indoor Practice Field after a team meeting.
All will compete as a graduate students this fall, and all four entered the transfer portal with connections to UVA, some stronger than others. Christ's brother Tommy played for the Wahoos. Stevens' new offensive line coach, Terry Heffernan, also is a former Dayton standout.
Greene roomed with Pace at Clemson, the perennially powerful program in which Tony Elliott worked as an assistant for 11 years before taking over as UVA's head coach in December 2015. Moreover, Greene's brother Miles is a first-year defensive lineman at Virginia.
Westfall, who grew up in Utah, transferred to SMU from Mesa Community College after the 2018 season. The strength and conditioning staff at SMU included three coaches who previously were at UVA—Shawn Griswold, Richard Burney and Dwayne Chandler—and Westfall's teammates last season included former Cavalier offensive lineman Joe Bissinger.
In December 2021, Virginia and SMU were scheduled to meet in the inaugural Wasabi Fenway Bowl in Boston. The game was canceled, however, after the Hoos withdrew because of COVID-19 issues in their program.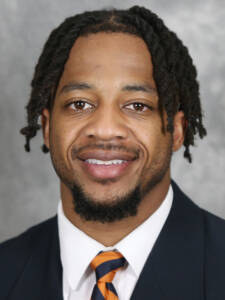 "It kind of goes full circle," Westfall said Thursday. "Me and the guys [who remain from that UVA team] joke about it all the time, just talking about who'd have won that game if we would have played."
Westfall started 11 games last season for the Mustangs, who finished with a 7-6 record. At UVA, he's been impressed with defensive coordinator John Rudzinski and secondary coach Curome Cox, who also worked together at the Air Force Academy.
"The way that they approach teaching the defense, how detail-oriented they are and what they've been able to do with the defense last year and the corners, that really attracted me, and I think they can do the same thing with me."
Westfall said he and Greene, who started two of the seven games in which he played for Clemson last season, have formed a strong relationship.
"We've been using this time to push each other," Westfall said. "We've both had a lot of time in college football, so that's a lot of knowledge that we could use to bounce off of each other. We meet with Coach Cox in our free time just to learn the defense, and I think we both have very similar ideas on how we want this year to go."
Like Westfall, Greene aspires to play professionally and believes Rudzinski and Cox can help him achieve that goal.
"They're geniuses," Greene said. "I love them."
Greene, a graduate of Highland Springs High School, started two of the seven games in which he played last fall before suffering a season-ending injury. He received a bachelor's degree in marketing from Clemson in December, and in April he entered the transfer portal.
"It wasn't too much of a tough decision," Greene said. "I have a lot of love for my former teammates and definitely the coaches at Clemson, and I really value the experience that they allowed me to have at the university, but this year I want to get the most out of my opportunities and out of this year."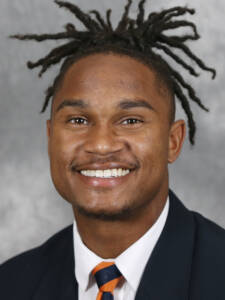 After Pace transferred to UVA midyear, he urged Greene to follow him to Charlottesville. Initially, Greene said, he didn't plan on leaving Clemson, "but opportunity presented itself and it was an opportunity I didn't want to let pass, coming home, playing with my little brother, playing with my former roommate, being an hour away from home, playing in the ACC."
His brother recruited him for Virginia as well, but Greene didn't rush into a decision. He researched the coaching staff and the depth chart and the educational opportunities at UVA before committing to play for Elliott.
His experience so far, Greene said, has "been amazing. I've been growing some great bonds within the team … We've been hanging out outside of workouts and ball and we've been coming in to get extra work. I really love the team. I love the atmosphere."
The football team's head strength and conditioning coach, Adam Smotherman, came to UVA from Clemson after the 2021 season, and Greene has enjoyed training with him again.
"Coach Smo, he has us putting that work in," Greene said. "That's something I really value."
From its 2022 team, Virginia has lost its starting cornerbacks, Anthony Johnson and Fentrel Cypress, and "I feel like I coujd have a great impact," Green said. "I feel like I could bring a great level of energy to the team that people aren't really used to from a cornerback. People are usually used to a corner just being a trash talker and [focusing on] himself, but I'm a guy that wants to get the most out of everybody else around me. If we're in workouts on the field, I'm gonna push you, I'm gonna push myself also, and I'm gonna just try to demand excellence out of everybody else around me at all times."
Greene said he's rooming with safety Antonio Clary, who's "making sure that at all times I'm up to date on what the team should be doing and what I should be doing personally."
The Cavaliers came into 2022 with a new-look offensive line, and there was more turnover after the season. Four linemen with starting experience departed, and assistant coach Garett Tujague left to take the same position at NC State.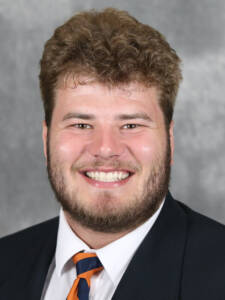 In January, Elliott hired Heffernan, who'd coached the offensive line at Stanford in 2021 and '22, to replace Tujague. Nnanna's arrival bolstered the O-line, and adding Stevens and Christ has made the Cavaliers deeper and stronger up front.
Stevens, who grew up in the Cincinnati area, will work at guard and center at UVA. At 6-foot-2, he's not tall for an FBS lineman, but he's exceptionally strong. He started eight games at Dayton in 2021 and 11 last season, when he was one of the team's captains.
Some of the staffers at Dayton remembered Heffernan from his days as a Flyer, and that piqued Stevens' interest in Virginia. So did the chance to play two seasons in an FBS program.
"It was hard to leave Dayton," Stevens said, "but this is a once-in-a-lifetime opportunity. A lot of guys don't make it to Power Five and don't have this opportunity. So coming here and seeing Coach Elliott, seeing the program, everything was kind of spot on of what I want."
Christ, like Greene, is a Virginian. He grew up in Sterling and starred at Dominion High School. Late in his junior year at Dominion, Christ committed to UVA, but he changed his mind about seven months later and withdrew his commitment. He ended up signing with Penn State, where he spent three seasons before entering the transfer portal in April.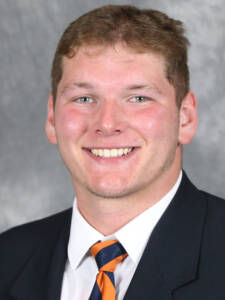 It took him a while, but Jimmy Christ finally is a Cavalier. The coaching staff has changed since his brother played at Virginia, but Christ was familiar with the school and the football program, and that made his decision an easy one.
"I saw a great opportunity here and I went with it," he said. "To be honest with you, it was nothing against UVA in the first place—these were my top two schools all along—and there was obviously a great opportunity very close to home."
An imposing figure at 6-foot-7, 316 pounds, Jimmy Christ graduated from Penn State in three years with a bachelor's degree in supply chain management.  He's enrolled in a master's program in UVA's Frank Batten School of Leadership and Public Policy.
"My goals are to help out the O-line, to go out there and prove myself every day," said Christ, who played in 10 games for Penn State last season. "And I definitely think there's a lot a lot more for me to prove."
To receive Jeff White's articles by email, click the appropriate box in this link to subscribe.