By Jeff White (jwhite@virginia.edu)
VirginiaSports.com
CHARLOTTESVILLE, Va. — The sight of McKale Boley's new physique prompted double-takes from his teammates and coaches in the University of Virginia football program.
Boley weighed 337 pounds when he enrolled at UVA last year, and the roster listed him at 331 last season. After spending holiday break with his father, former NFL linebacker Michael Boley, the younger Boley weighed about 290 when he returned to Grounds in January.
"When I came back, everybody was like, 'Boley's looking skinny!' " he recalled with a smile after a recent practice.
"He looks like a different guy," offensive coordinator Des Kitchings said. "That's what they're supposed to look like."
The Cavaliers' offensive line coach, Terry Heffernan, was on Stanford's staff last year, but he's seen videotape of Boley's first college season.
"It's funny," UVA offensive guard Noah Josey said. "Coach Heff refers to last season's Boley as Fat Boley, and this season's as Skinny Boley."
Boley was a little too lean for an FBS offensive lineman when he returned to Charlottesville last winter, and he's back up to about 305 pounds. He plans to stay in that range.
"It definitely makes a difference," Boley said. "I feel way more explosive. I actually got stronger. I lost a lot of fat, but I gained more muscle. So my power clean went up from like 290 to 320, my bench went up like 40 pounds, my squat got heavier."
Josey said: "He's so quick now and he moves very well, which is awesome, especially in our offense. We've got to move, so that's been a huge asset for us, for him to have his body like that right now."
Boley grew up in Hattiesburg, Miss., where he attended Oak Grove High School. After originally committing to Colorado, he had a change of heart and re-opened his recruitment. He committed to UVA in January 2022.
From their 2021 team, the Wahoos had lost their top six offensive linemen, and they didn't have the luxury of redshirting Boley last season. He became only the second true freshman in program history to start a season-opener at offensive tackle.
The Hoos won that game, defeating Richmond 34-17 at Scott Stadium in Tony Elliott's debut as their head coach. Boley started their second game, too, but this one didn't go as well for UVA. On the road, the Hoos lost 24-3 to Illinois.
The Cavaliers played eight more games last season, and Boley appeared in four of them. He said he's better for the experience he gained as a true freshman, however challenging it might have been at times.
"I know the physicality now," Boley said. "I know what to expect. When I first got thrown in, especially the Illinois game, it's Big Ten football, it's very physical, and I wasn't mentally ready for that. But now I know what I need to do and where I need to be able to compete in an actual game."
Carrying so much weight last year made him feel sluggish, Boley said, and Ross Ferrell, one of the football team's dieticians, laid out a nutrition plan for him to follow in the offseason.
For the holidays, Boley went to see his father, who lives in Arizona. They worked out regularly together and ate sensibly.
"I just finally followed a diet," Boley said. "Before I got up here, I was just eating whatever. Whatever my mom cooked or whatever was on the table, I was eating. Once you get [to college], you've got to take it seriously. You've got to eat the right stuff."
His father understands the importance of good nutrition, Boley said, and he "kind of kept me to a standard. He wasn't making extravagant meals. He was making good meals."
Michael Boley, who starred at Southern Miss and won a Super Bowl with the New York Giants, helped his son keep his first season at UVA in perspective.
"He knew it was going to be hard, and not many people get that opportunity," McKale Boley said. "So I had to take my chance, go out there and do the best I can, and if I'm not doing the greatest, don't put my head down. I've still got room to improve. That was my floor, and right now I can only improve."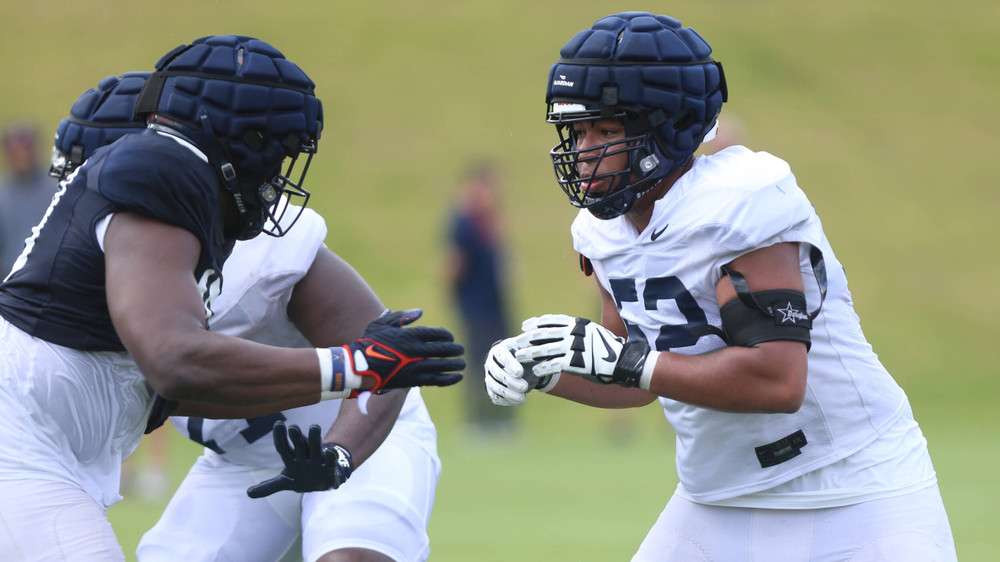 The Hoos opened training camp last week, and Boley is competing for a starting job at tackle on a line that has added three transfers—Ugonna Nnanna (Houston), Jimmy Christ (Penn State) and Brian Stevens (Dayton)—since the end of the last season. Returning linemen include Boley, Josey, Ty Furnish, Jestus Johnson III, Charlie Patterson, Noah DeMeritt, Noah Hartsoe, Snoop Leota-Amaama, Blake Steen and Jack Witmer.
"I really believe that we're going to be a great group," Boley said. "With the new guys we've brought in, we're all super close. We've gotten very tight over the past few months, and the closer you can get outside of football, the better you can play football. If you're able to trust the guy next to you, you can play faster, and I feel like we all have this level of trust to where we can go out and just focus on our jobs and know that the guy next to us is doing his."
Josey agreed. "Last year everybody was in so many different places that nobody really connected and everything flew by. So in the offseason, me and Ty and Boley and all these guys, we really focused on coming together as a unit and doing things together outside of football, just because we want to have that connectedness."
Kitchings has seen changes not only in Boley's body, but in his demeanor.
"Last year he was a first-year kid," Kitchings said, "probably uncertain of himself, got thrust into action probably before he was ready, even though physically he handled it. And now he's more confident, because now he's actually smiling, he's talking, he's jovial, and beforehand he was very unsure of himself … His body's changed from the weight room, and his conditioning is better. So you see him playing with a lot more power out there at practice, and a lot of that is because he's got more athletic confidence about himself."
His bloodlines notwithstanding, Boley is a relative newcomer to football, at least the American version. Growing up in Hattiesburg, "I liked soccer more," he said. "I played soccer for 14 years, up until my senior year of high school."
Boley didn't try football until he reached Oak Grove High. As a ninth-grader, he was spotted playing soccer in a physical education class by a teacher who coached football and who noted Boley's size and athletic ability. The coach suggested that Boley, a defender in soccer, come out for football, and Boley quickly established himself as a standout in his new sport. Now he dreams of becoming the second member of his family to play in the NFL.
"That's definitely a goal," Boley said.
He's a key member of an offensive line that should improve as it grows. None of Heffernan's linemen will be out of eligibility after this season.
"We're all going to be playing together for a quite a while," said Boley, who wears jersey No. 52. "I think that's a good thing. We're young, so we still have a lot of stuff to learn, but we're all going to be learning together."
He's loved working with Heffernan, who also has NFL coaching experience. "He'll grill into you a lot, but he'll also have positives for you," Boley said. "He's not just a coach who'll yell at you just to yell at you. He wants you to be better, so if he's yelling at you, he actually cares about you."
Josey described Heffernan as a "coach-you-hard guy, love-you-hard kind of guy. He's real into meetings, and you've got to be locked in, but there's a lot of laughs. It's a good time. It's serious, but you're not holding your breath the whole time."
Boley continues to monitor his nutrition and his weight in meetings with Ferrell, who's in his second year at UVA. Ferrell is from England, and he knew little about American football before coming to the United States, but he and Boley bonded easily.
"It was kind of cool," Boley said, "because I like the sport of soccer, so he was easy to talk to, because that's what they do over there."
His favorite English soccer team? "It used to be Man City," Boley said, "but I feel like now I can't say that anymore, because everything thinks I'm a bandwagon [supporter], so I can't do that. But I support Everton too. That's my next team."
To receive Jeff White's articles by email, click the appropriate box in this link to subscribe.