By Jeff White (jwhite@virginia.edu)
VirginiaSports.com
CHARLOTTESVILLE, Va. — Ben Smiley III doesn't need to consult a calendar to know on which spring day he walked the Lawn with his fellow graduates of the University of Virginia's College of Arts & Sciences.
"May 20th," Smiley said Thursday in the George Welsh Indoor Practice Facility.
Final Exercises are special for everyone who receives a degree at the University. The day was even more memorable for Smiley, who this year became the first member of his immediate family to graduate from college.
After graduating from Indian River High School in Chesapeake, Smiley enrolled at UVA in the summer of 2019 on a football scholarship. He was a celebrated defensive lineman who'd also been offered scholarships by such schools as Clemson, Oklahoma and Alabama, but his parents were more concerned with how he fared in the classroom than on the field.
"My mom and dad didn't have a college degree," Smiley said, "so their main goal when they had me was to make sure they put me through college and made my life better than how they grew up. When I first decided to come to UVA, they knew how prestigious the university was. They knew I loved football, but they knew the degree could carry me forever in life."
Smiley, who received a bachelor's degree in American studies, said he remembers walking the Lawn on May 20 and reflecting on "how much hard work I've put in, sleepless nights doing homework, trying to balance football and school, just seeing all of it pay off and just seeing the looks of my family's faces seeing me be the first one to actually graduate in the family. It gave me a really loving and caring feeling, and more importantly I appreciated a lot. I appreciated my coaches. I appreciated my professors, my teachers. I appreciated my teammates for pushing me on and off the field in the classroom and things like that. Many times, when I was facing injuries, I wanted to give up. I didn't know if I wanted to go to school any more or if I wanted to find something else. So I was just very thankful for the opportunity I had at the University of Virginia to finally walk across that Lawn."
His football career at UVA has been marked by more setbacks than breakthroughs. In 2019, an asthma attack limited Smiley to two games. In 2020, a season played under strict COVID-19 protocols, he again played in only two games, this time because of a knee injury.
His role grew in 2021, when he played in eight games, with three starts, and Tony Elliott, who succeeded Bronco Mendenhall as head coach at the end of that season, raved about Smiley's potential last year. But No. 10 had a modest impact in 2022. He  appeared in eight of Virginia's 10 games and totaled 13 tackles, including 1.5 sacks.
"In fairness to him, he played out of position last year," Elliott said Monday.
Smiley bulked up to play defensive tackle, and "I didn't feel like I was in the right place at the right time," he recalled. "But I knew I just had to give all I had into that position. That's where they needed me at on the field, and I'm a team player. So if the team needs me to play defensive tackle, defensive end, I'm going to play there. I made some positive plays, I did some things, but it wasn't the expectations that I set for myself."
Kevin Downing coaches Virginia's defensive tackles, and Chris Slade oversees the defensive ends. In meetings with them after the season, the 6-foot-4 Smiley said, he received some welcome news: He was moving back to end.
"Last season I was 288 pounds, almost 290, and now I'm down to 270, at a weight that I feel comfortable at," Smiley said. "I'm able to move better, I'm able to bend, I'm able to do certain things I couldn't do at defensive tackle. I feel like I'm back in my prime position. I always played defensive end and I was always kind of an edge guy, even in high school. So I just feel like I'm in place. And having Coach Slade has been a real, real help to me, with him being a legend in this program and playing years in the NFL."
Slade, who was an All-America defensive end at UVA and still holds the ACC record for career sacks (40), said Smiley has excelled in training camp this month.
"He plays so hard, it doesn't take much for him to get tired," Slade said, "but he's in good shape. He takes pride in what he does. He's very coachable. Football is important to him."
The defensive line, the Hoos' most experienced and talented position group, suffered a blow last weekend when Chico Bennett Jr. suffered a knee injury that will sideline him temporarily. Bennett started at end last season and recorded a team-best seven sacks.
Bennett had shoulder surgery after last season and didn't participate fully in spring practice. Elliott said he feels for Bennett, because "I know how hard he's worked and how much he put in to getting himself back right."
Still, Elliott said, "the unfortunate reality of football is the next man has to be ready. Regardless of whether it's two weeks, four weeks, two months, four months, the next guy has to be ready the next day, in that moment."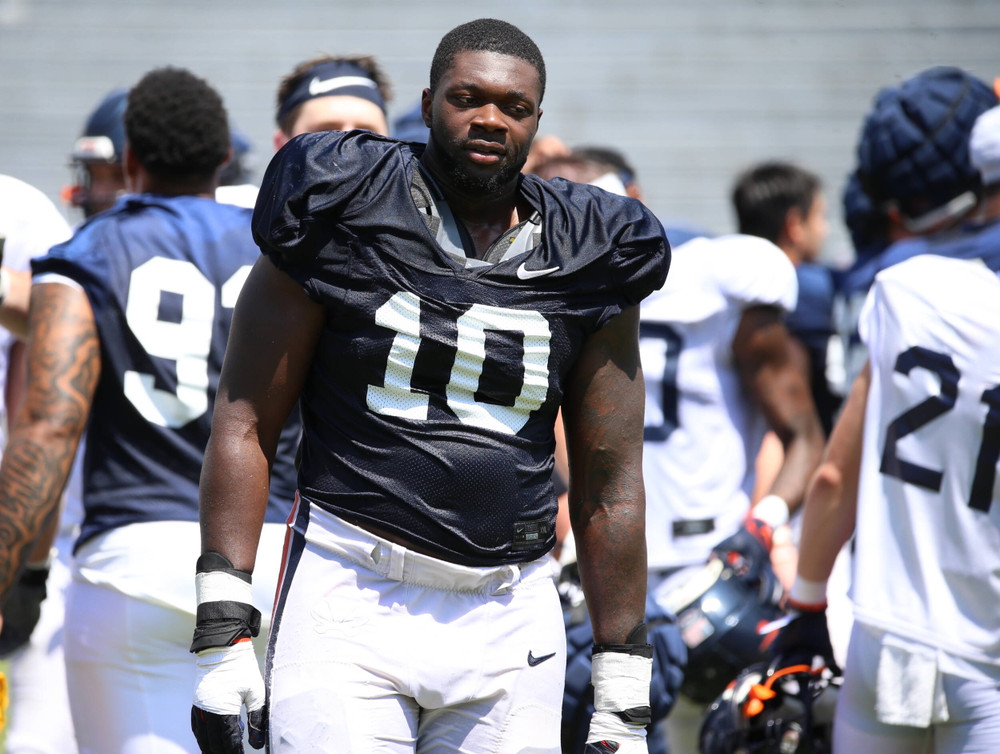 Even without Bennett, Virginia has three veteran defensive ends in Smiley, Kam Butler and Paul Akere, and they'll be expected to take on more responsibility with Bennett out.
Asked after practice Monday about Smiley, Elliott smiled and said, "I told him today, 'Doggone it, Ben, you've got to do something. I've been calling your name since the day that I got here. I'm telling everybody that you're the most athletic, the twitchiest guy that I have.' "
Slade believes Smiley is ready to shine. On the eve of camp early this month, Slade said that "there's no one on our team as explosive as Ben Smiley up front," and his assessment hasn't changed. But he wants Smiley to expand his repertoire of pass-rushing moves. Smiley often relies too much on bullrushing, Slade said, referring to a pass-rushing technique that emphasizes raw power more than quick hands and superior footwork.
"Coach Slade knows there's going to be some [offensive] tackles that I face that I can bullrush, and there's going to be some tackles I face that I can't," Smiley said. "He knows I can win by bullrushing. He told me to try different things, because as the games go on and I'm playing, bullrushing gets you very tired, very fast. So I'm going to try to open up my mind to new things, get my body ready to do new moves on the field and take the coaching that they're giving me."
Smiley said the sight of Bennett on crutches at practice is a reminder "that we lost a brother on our defensive line. We don't want to ever see anybody go down on our team in general, but more specifically in our room. Coach Elliott, Coach Slade, all of our coaches, instilled in us that next-man-up mentality. When somebody goes down, somebody's got to step up and carry the weight. Just having Chico go down, it really impacts our room, because that's our brother, he's with us each and every day. But moving forward, we've just got to step up and carry that weight. We've just got to step up and fill that void."
Virginia opens the season Sept. 2 against Tennessee at Nissan Stadium in Nashville, Tenn. That will be the Hoos' first game since the Nov. 13 shooting in which defensive end D'Sean Perry and wide receivers Lavel Davis Jr. and Devin Chandler were killed on Grounds.
"Losing the players that we lost has really changed my perspective on things," Smiley said. "It made me appreciate a lot of stuff more. It made me appreciate coming on the practice field, it made me appreciate different things, like just coming in the facility.
"Last season we didn't have the season we wanted, but this team is bonding well mentally, physically and emotionally. We're more of a brotherhood, so I feel like with us going down to Tennessee that first game, we just want to set the tone for the season. We want to make sure that we're good in each and every aspect, and most importantly we want to have each other's back and play for our fallen brothers."
In 2019, Smiley's first season in the program, UVA reclaimed the Commonwealth Cup, won the ACC's Coastal Division for the first time, and played in the Orange Bowl. That Virginia team often faced big, strong, talented opponents, Smiley said, "but we had a brotherhood and we had the culture. We played for each other. That's why we were able to pull out so many wins that season. So it's just up to us, and one thing that we've got to do more is take our coaching and just trust the coaching. I feel like that's something that we didn't do last year, trust the coaching. The good thing about us now is that we're taking coaching, we're seeing it, we're believing, so I think that will help us throughout the season."
Smiley won't be in a master's program this fall, but he plans to take classes "that I can carry with me throughout my life. If I go on to play [professional] football, that's cool. But more importantly, I want to be able to use the tools that I have here, and UVA is a great place. It has a lot of tools. So I'm just using my resources to try to better my future and better my family's future."
To receive Jeff White's articles by email, click the appropriate box in this link to subscribe.