By Jeff White (jwhite@virginia.edu)
VirginiaSports.com
CHARLOTTESVILLE, Va. — Nearly 300 days have passed since the University of Virginia football team last played a game, a stretch that will end Saturday in Nashville, Tenn.
Since the Nov. 12 game that turned out to be their 2022 finale, the Wahoos have had to deal with the tragic loss of three players—Lavel Davis Jr., Devin Chandler and D'Sean Perry—who were shot and killed after returning to Grounds from a class field trip.
The Cavaliers returned to Scott Stadium in April for the Blue-White spring game, but that was an intrasquad scrimmage played in front of several thousand fans. Virginia plays on a much grander stage Saturday. At sold-out Nissan Stadium in Nashville, UVA faces No. 12 Tennessee at noon in the nationally televised (ABC) season opener for both teams.
At the memorial service for Davis, Chandler and Perry last fall, UVA head coach Tony Elliott vowed that the football program would work to turn tragedy into triumph. The Hoos' coaches and players have strived to do so every day since reconvening in January, and "now we have an opportunity on a national stage to show just how resilient the human spirit is," Elliott said Tuesday at John Paul Jones Arena. "And that's what I'm looking forward to, just seeing the guys play in a way that inspires people, because we know the responsibility that we have to the legacies of the ones that we lost, and we've got a great opportunity, because football is a great unifier … People are going to be watching. The situation's going to come back up, it's going to be right in front of us, and we have a chance to say, 'You know what? We're going to accept the challenge, and we're going to be the ones that's going to triumph every single day.' "
Elliott said that if the Hoos "play in a way that inspires others, then they're going to give themselves a chance in each game that they play, to be in it all the way to the end. And we've got to learn as a program how to win football games. I think that's not an easy thing. It's a mindset, it's a mentality, and it takes experience going through the process to be able to develop that mindset. So I'm really, really excited for our guys to play. Definitely we're going to be carrying the Davis family, the Chandler family, the Perry family with us when we step on the field, knowing their sons should have been with us, and we're going to try and use that energy and channel it the right way to play in such a way that everyone says, That's a triumphant bunch of individuals, considering everything that they've been through."
The Volunteers' head coach, Josh Heupel, was asked during his press conference Monday about the Nov. 13 shooting's impact on the Cavaliers.
"It's obviously a horrific tragedy that took place there on their campus," Heupel said. "They've had a long time to try and grow through that. We also recognize what happened. There will be a moment of silence before kickoff, and we'll wear a decal of the three individuals that lost their lives on the back of our helmets."
The Vols ended last season on an impressive note, crushing ACC champion Clemson 31-14 in the Orange Bowl, and they're expected to be Southeastern Conference title contenders this season. The large majority of the crowd at the Tennessee Titans' 69,143-seat stadium will be pulling for the Vols on Saturday, and the Virginia coaching staff's focus since the end of training camp, Elliott said, has been "trying to prepare these guys for the environment, because it's going to be loud. There's going to be a lot of excitement."
A bigger challenge than the crowd, Elliott believes, will be "just the anticipation of wanting to play. This football team hasn't played in a long time, and it's been a very, very long offseason."
Elliott spent 11 years as a Clemson assistant coach before taking the UVA job in December 2021, and he's been part of countless high-profile games. As the opener approaches, Elliott said, he's trying to help his players "understand how to channel that emotion, not to play the game before you actually show up to the game. Don't play the game in the locker room."
The players must realize they have only so much fuel in their tanks. "You've got to manage it," Elliott said. "You can't use it all in the first quarter, in the first five minutes. You got to be able to use it each quarter, each play and not be too emotionally involved in the game, because what I've learned in games like this, the emotions are high early, and then it comes down to who can lock in, who can focus. And then you get into the course of the game where there's momentum changes, can you stay steady so that you can continue to do what you need to do to give yourself an opportunity to be in position?"
Virginia posted a 3-7 record last season. There were positives, most notably the defense's improvement in its first year under coordinator John Rudzinski, but the Cavaliers never meshed on offense, and their special-teams play was uneven, too.
In his second season, Elliott said, he wants to see his team "be competitive and be consistent and not beat ourselves. I'd like to see us, from a special teams standpoint, show a better understanding schematically of what we're doing. And we spent a lot of time on fall camp, really, really emphasizing the fundamentals of special teams. I'd like the defense to continue to show the consistency that they had. When I refer to consistency, I was talking more about the offensive side of the ball. Those are the areas that I'm looking for, and then effort, not improved, but consistent effort as well. I thought the guys played hard [in 2022], but we need to continue to do that in order to be able to get to where we want to go."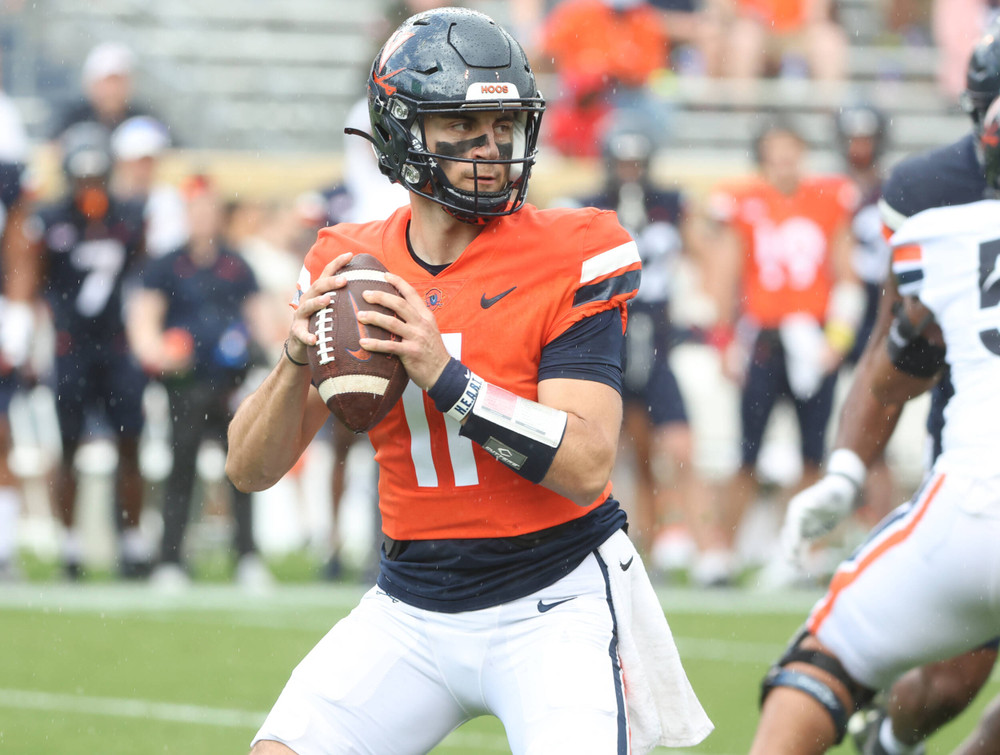 The Cavaliers will be without defensive end Chico Bennett Jr., one of their top players, on Saturday. Bennett, who recorded seven sacks last season, is recovering from a freak knee injury but should be available for the Sept. 9 home opener against JMU, Ellliott said. Bennett has company on the list of UVA's injured players, but overall the team is healthier than it was at the end of training camp, especially on the offensive line.
With left tackle McKale Boley and right guard Brian Stevens back from injuries, the Hoos "feel good about the five we're going to run out there," Elliott said, "and we've been able to have them the last several practices working together."
Joining Boley and Stevens on the line are left guard Noah Josey, center Ty Furnish and right tackle Ugonna Nnanna.
"There was a stretch during camp at all positions where guys were up and down," Elliott said, "just because the nature of the game, but I feel better about where we are with Boley being back at left [tackle]."
Stevens and Nnanna came to UVA this year from Dayton and Houston, respectively. Three other transfers figure to play prominent roles against Tennessee, too: quarterback Tony Muskett (Monmouth)), wide receiver Malik Washington (Northwestern) and tailback Kobe Pace (Clemson).
This will be the FBS debut for Muskett, who spent three seasons at Monmouth. His coaches' advice to Muskett ahead of the opener: Be yourself.
"At the end of the day, it's about just playing your game, doing what it is that has always made you successful, not trying to do too much," Elliott said. "For him, our message is don't need to be Superman, don't need to be a superhero. Just go on yourself and have fun and enjoy the moment."
Asked Tuesday about the atmosphere the Cavaliers can expect at Nissan Stadium, Muskett said Elliott "spoke about it [Monday] in the team meeting. When you go out there, take a look around and be thankful for the opportunity. But then you got to lock in, because at the end of the day, it's still football between the white lines."
To receive Jeff White's articles by email, click the appropriate box in this link to subscribe.