By Jeff White (jwhite@virginia.edu)
VirginiaSports.com
CHARLOTTESVILLE, Va. — Barry Word's first season as a University of Virginia running back was George Welsh's first as the Cavaliers' head coach, and to say the program experienced growing pains that year would be an understatement.
UVA lost its first five games in 1982 and finished 2-9. But happier days soon arrived for the Wahoos. They posted a 6-5 record in 1983 and then improved to 8-2-2 in 1984. In that program's first-ever bowl appearance, the Hoos capped that season in Atlanta with a 27-24 win over Purdue in the Peach Bowl.
Players from a wide range of backgrounds "meshed together to create a team with one common goal," Word recalled, "and for George to be able to pull all those people together was phenomenal. It really was."
Word laughed. "We just did what he told us to do. We were definitely afraid of him, but he called us on everything we did wrong. He'd stop practice in a heartbeat."
There was no transfer portal in those days, and most players didn't see leaving UVA as an attractive option, Word noted. So they pushed through their discomfort and eventually saw their persistence rewarded.
"Sometimes it doesn't happen for you right away, and then all of a sudden the light bulb comes on," Word said. "All of us have a lot more respect for George, as we become older, than we did when we were 20, 25, because you're learning things. You understand that the things that he taught us we've been able to use in so many different instances in our lives since that time, and I'm so glad that I had that."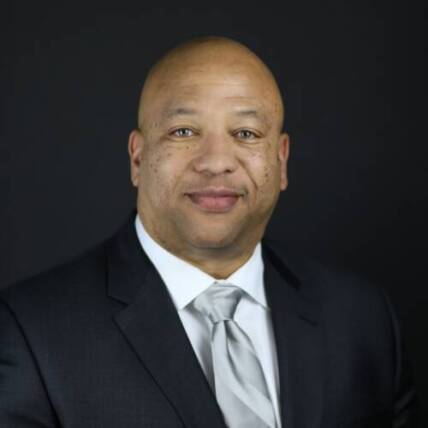 Word sees parallels between the program's current struggles—Virginia is 0-5 heading into its game against William & Mary at Scott Stadium—and what he and his teammates went through in 1982. The Cavaliers are in their second year under head coach Tony Elliott, whose first season was cut short by a tragic shooting in which three players were killed and a fourth wounded.
"So I hope that these young men can see their way through this," Word said. "It's so hard right now, because some of the pieces that they're missing are so needed in order to turn the corner, but I see the improvement."
Word, who played seven seasons in the NFL, lives in Haymarket, a town in Prince William County. His neighbors in Haymarket include his brother Kenny. Word still has strong ties in his alma mater, from which he graduated in 1986 with a bachelor's degree in English. He and his wife, Amy, are empty-nesters, "so I have time to come to [UVA] games and talk about football now," Word said.
He's on the board of directors of the Cavalier Circle mentor program, in which he's paired with wide receiver JR Wilson, a sophomore from Brooklyn, N.Y.
"We touch base pretty much every week," Wilson said. "Barry checks up on me, asks how I'm doing, makes sure to try to ask if I need anything. I'm very appreciative. He's like a father figure to me. I can't ask for a better mentor. He's been at this university, he's been in the league, he has a lot of knowledge about the game. He just really tries to pour what he's learned into me to help me better succeed."
Word said: "I feel for the guys, because, obviously, whenever you're in a situation where you haven't won any games, it's very easy to lose focus on the things that are necessary to turn it around. With all the things that they've been through [in the past year], I just want him to know that I'm out here and I understand most of it."
A graduate of Halifax County High School, Word has two older brothers, Corwin and Kenny. Both preceded him at UVA and also played football there. Even so, Word admits, he did not grow up dreaming of playing for the Cavaliers.
"I grew up a big-time Carolina fan," he said, "because we were so close to the North Carolina border. My high school colors were Carolina blue and white. I was a huge Amos Lawrence, Lawrence Taylor fan."
Virginia's program wasn't as successful as UNC's when Word was in high school, but he visited his brothers in Charlottesville often, and "that made a huge difference," he said. "And one of the things that really changed it for me was, when I was actually being recruited, I saw the type of guys that were being recruited with me, and I had a ton of respect for the players that were there before I was there."
Welsh's predecessor as head coach, Dick Bestwick, had only one winning season, but he recruited well late in his tenure at UVA. "There were some players, there really were," Word said. "They just didn't have the discipline and the type of coaching that was required to make that change, and George came in with that."
Word's teammates at UVA included Antonio Rice, Charles McDaniel, Howard Petty, Jim Dombrowski, Bob Olderman, Harold Garren, Ron Mattes, Jim Huddleston and Lester Lyles.
"If you look back at the successful teams that have been at Virginia, they're full of pros," Word said. "I felt I was a good back. Rice was a good back. Petty was a good back. But we had Jim Dombrowski up front. We had Bob Olderman up front. Bob Olderman was freakishly good. So it's really hard as a coach if you just don't have the people, the dudes. It becomes a whole different thing if you don't have those dudes."
Word has been vocal in his support of Elliott, who came to UVA in December 2011 after 11 seasons on head coach Dabo Swinney's staff at Clemson.
"I understand what he's trying to do," Word said. "I understand why he's doing some of the things he's doing, and that's hard to get some other people to understand."
The Cavaliers' on-field struggles have been frustrating to watch, but there are "many things that I see headed in the right direction, little things," Word said. A new operations center for the football program will open next year, and that figures to help recruiting.
"I think Tony Elliott is the right guy for the job. I really, really believe that," Word said. "I understand the decisions that he's made. I understand the things that we can't do and would like to do. We have to run the ball. It drives me nuts that we can't get a half-yard when we want to, but I understand why we can't. I also understand why you have to keep trying."
In his four seasons at UVA, the 6-foot-2 Word averaged 5.6 yards per carry and rushed for 2,257 yards and 17 touchdowns. When he left for the NFL—New Orleans selected him in the third round of the 1986 draft—Word ranked fifth all-time in career rushing yards at UVA, behind John Papit (3,238), Tommy Vigorito (2,913), Frank Quayle (2,695) and John Bahktiar (2,434). He's now 11th on the list.
Word didn't limit himself to football as a student-athlete. He loved track & field and had also starred in that sport at Halifax County High. Welsh wanted him to focus on football in college, but Word did so until 1984, when he accepted a challenge from a hurdler on the UVA track & field team. "I went out and I practiced for a few days, and I did really well," Word said.
How well? In the 110-meter hurdles, Word set the UVA record that spring with a time of 13.88 seconds. That mark stood under 2011, when Adams Abdulrazaaq (13.66) broke it, but Word still ranks second all-time in that event at Virginia.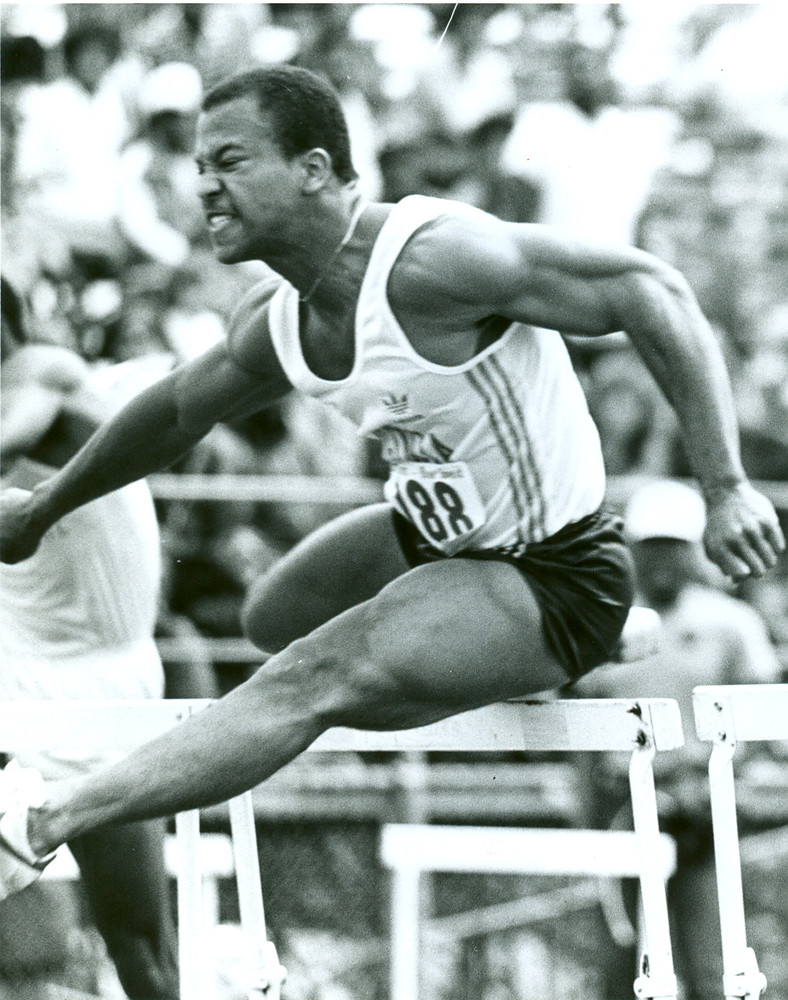 In 1984, he competed at the Penn Relays, at the ACC meet, at the NCAA championships, where he placed 21st in the 110m hurdles, and at the U.S. Olympic Trials in Los Angeles, "where some of the people that were my heroes were running," Word said. "Greg Foster was there. I knew that [track] wasn't in my future, but to be able to do that, it was a big deal."
Word finished his NFL career with 705 carries for 2,897 yards and 16 touchdowns. He played for four teams—New Orleans, Kansas City, Minnesota and Arizona—and his best years were with the Chiefs. He was named the NFL's Comeback Player of the Year after rushing for 1,015 yards in 1990.
When he looks back on his professional career, Word said, "I feel really blessed. I really enjoyed it. I'm really just grateful to have had that opportunity, because of the type of people that I met, the places that I was able to go."
Word remains connected to the NFL. He's part of a group of retired Kansas City players called Chiefs Ambassadors. They participate in charitable events around the Kansas City area and regularly return for the Chiefs' games at Arrowhead Stadium. Members of the group received Super Bowl rings after the Chiefs edged the Eagles in Super Bowl LVII last season.
"That's really cool stuff," Word said.
Word's son Landan started two games at linebacker for UVA as a true freshman in 2016, the first of Bronco Mendenhall's six seasons as the Cavaliers' head coach. The younger Word didn't enjoy his experience in the football program, however, and transferred in 2017 to James Madison University, where as a senior he was named to the All-Colonial Athletic Association third team.
Landan Word now teaches and coaches football at a high school in Sherman, Texas, and "he loves it," his father said. "He's doing probably what he should be doing, because the kids love him. He's got a great personality, so it's good for him."
Barry Word, 59, is a sales account executive for JDP, a company whose services include pre-employment screening and background checks.
He treasures his time at UVA, and Charlottesville remains a big part of Word's life. That's where his wife is from, and the University is "where I grew up," Word said. "And so it means a lot to me. My best friends are from UVA, to this day."
To receive Jeff White's articles by email, click the appropriate box in this link to subscribe.