By Jeff White (jwhite@virginia.edu)
VirginiaSports.com
CHARLOTTESVILLE, Va. — Cornerbacks Dre Walker and Malcolm Greene, both injured in Virginia's loss to ACC foe Boston College in Chestnut Hill, Mass., won't be available Saturday at Scott Stadium. Neither will defensive end Kam Butler, who had season-ending surgery last week.
Not all the medical news, however, is so grim for the Cavaliers (0-5), who host William & Mary (4-1) at noon Saturday. During his weekly news conference at John Paul Jones Arena, head coach Tony Elliott said Virginia's injury-ravaged defense hopes to get some players back this week, including ends Paul Akere and Ben Smiley III and, perhaps, safety Lex Long.
On the depth chart released Tuesday, graduate students Coen King and Sam Westfall are listed as the first-team cornerbacks. King had started all five games this season, and Westfall, a transfer from SMU, has started two. Behind them, however, are senior Elijah Gaines and junior Will Simpkins, and neither has played much the Wahoos' secondary.
"Next man up, and they've got to go," Elliott said. "We can't make any excuses."
Elliott said he believes the 6-foot-2, 179-pound Simpkins has "a ton of ability. This will be a great opportunity for him to kind of seize the opportunity to get more reps."
Virginia's offense has stayed healthier than the defense, but the quarterback who won the starting job during training camp, Tony Muskett, to a shoulder injury in the Sept. 2 season opener against Tennessee. A transfer from Monmouth, Muskett missed the next three games but took all the snaps this past Saturday in UVA's 27-24 loss to Boston College.
Muskett completed 22 of 34 passes for 247 yards and three touchdowns, with one interception, and he also showed the ability to run when the pocket collapsed, as it did often at BC's Alumni Stadium.
"Just really proud of him," Elliott said. "You're talking about a guy that had a shoulder injury that was pretty serious, but he battled through, and I thought he ran the ball hard in the first half. I thought he was pretty sharp throwing the ball. He's a competitor … He made it through healthy and looked good in practice [Monday], so I'm excited about going forward with him."
The Hoos head into their non-conference finale knowing they have two capable quarterbacks. In Muskett's absence, true freshman Anthony Colandrea directed the offense and displayed quick feet and a big-time arm. His decision-making hasn't been impeccable, as witnessed by his six interceptions, but Colandrea has completed 63 of 102 passes for 923 yards and five TDs.
"I feel good in what we have in him," Elliott said, "and I'm also excited about Tony having an opportunity to get out there and lead. Prior to this past game, [Muskett] played 45 snaps in that first game. So really he doesn't have a huge body of work, but based off of what I saw the other night and then seeing how he's responding to some of the areas where he can improve, I'm really, really excited about his future as well.
"The competition is going to make them both better. That's the beauty of having guys that can compete at a high level at the same position. You've got to manage the situation, just like you do at any other position. So far, based off of what we thought, we feel good about what we've got, now that we've seen a little bit of Tony's work and we've also seen a sample size that's encouraging with Anthony."
The Hoos are 0-5 for the first time since 1982, George Welsh's first season as head coach in Charlottesville. They broke through that year with a win in their sixth game, and the current Cavaliers have an opportunity to do so the same thing against a W&M team that's become an FCS power under head coach Mike London.
London, of course, held that position at Virginia for six years, and his staff includes multiple former Cavaliers, among them Ras-I Dowling, Darryl Blackstock, Keenan Carter and Matt Johns.
The Tribe had won 11 straight regular-season games before losing 14-6 last week at Elon. In a season full of challenges for the Cavaliers, W&M will present another one.
"There's no fear of failure," UVA linebacker Josh Ahern said. "We're already 0-5, so go out there and play your butt off, execute what you need to execute, and hopefully we'll get the result we want."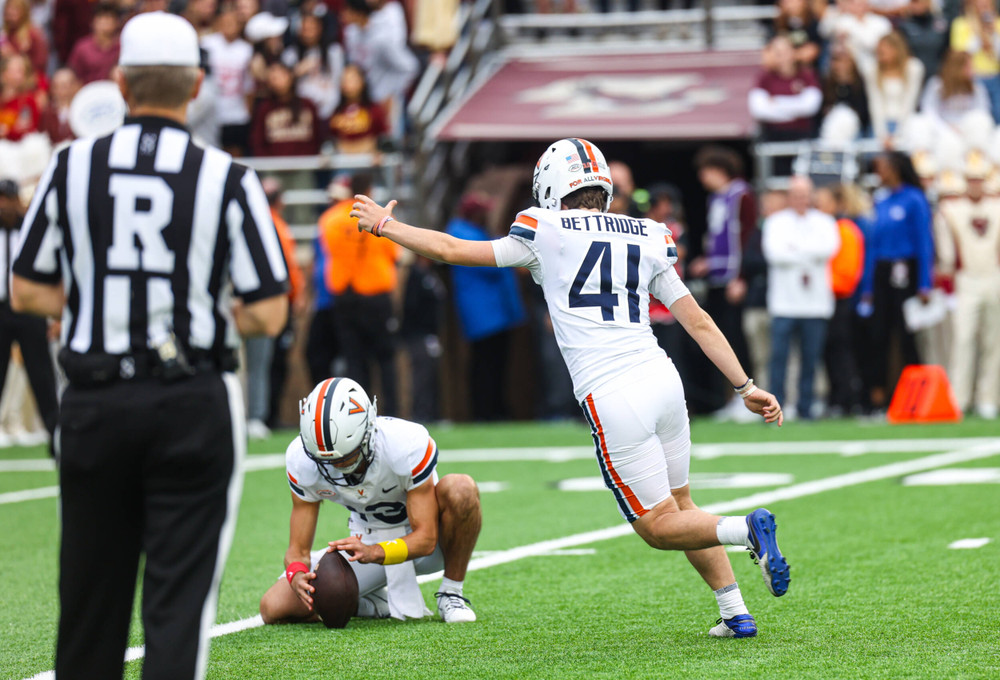 Virginia led 21-7 at intermission against Boston College, but the script flipped in the second half. The Eagles ran off 17 straight points before UVA sophomore Will Bettridge made it 24-24 with a 44-yard field goal midway through the fourth quarter. But BC responded with a drive capped by a 42-yard field goal with 2:11 to play, and then the Hoos turned the ball over on downs.
Elliott said he told his players that "whether you win or lose, you've got 24 hours on Sunday to kind of enjoy it or kind of sulk in self-pity. Then when Monday comes, you've got to lock back in and focus on the next opponent because that is the biggest game of the season.
"For us, it's a 1-0 mentality. We just need to focus on correcting the things we can correct as we look at the game. Got to credit [the Eagles] for doing a great job, especially in the second half. They came out, and they took it. But we've got to focus on what we can control. If we control the things we can control, we're going to be in good position. So we can't start pressing, because part of what you saw in the second half, especially for us offensively, was guys were pressing. They were trying to do a little bit too much, trying to do more than their job.
"When you do that, you lose your fundamentals, you lose your technique, and in essence, you feel like you're getting your job done but you're really not getting your job done because you're pressing too hard and playing outside the control."
The Cavaliers' strength last season was their defense, and coordinator John Rudzinski's group was expected to be solid again this year. Injuries to such players as Butler, Olsasunkonmi Agunloye, Antonio Clary, Donovan Johnson, Smiley, Akere, and Long have depleted UVA's defense, but linebacker James Jackson said the group's mindset hasn't changed.
"It's football," said Jackson, Virginia's second-leading tackler. "It's a violent, physical game. People are gonna get hurt. You know that coming into the season. You know you're gonna lose somebody. It's unfortunate when it happens, but next man up, next player mentality. And as a defense, I feel like that's kind of how we approach that, and we've got guys that are capable at each position. So next guy up, step up, fill the role. I feel for those guys, love those guys, miss 'em. But next man up."
It's difficult, Jackson acknowledged, "when you put in so much work and then you kind of get the same result. We've had five chances to get a win and we haven't found it yet. So we're learning those lessons each week."
Elliott reminded his team this week the Hoos will be defined by how they respond to adversity.
"We have a huge opportunity to really grow right here and learn from this," Jackson said. "It's a horrible situation, but I really feel like we're going to take advantage of it and grow from it.
"Coming off a loss, you're obviously upset for a day, a couple of days after. Right now, I'm excited because we've got an opportunity to respond. I'm excited to get back to work."
Elliott's staff added an unofficial assistant coach this week in Butler, a sixth-year senior who transferred to UVA in 2022 after graduating from Miami University in Ohio. Butler, was back at practice Monday and Tuesday, encouraging his teammates from the sideline.
"This is what I love about him," Elliott said. "He's a committed guy. He loves the program. He loves the team … I'm sure he's still in pretty much some pain, and he was out there trying to help signal. So just extremely grateful for him. Hopefully he can still bring that juice and that excitement and that energy, even though he may not actually step on the field."
To receive Jeff White's articles by email, click the appropriate box in this link to subscribe.