By Jeff White (jwhite@virginia.edu)
VirginiaSports.com
CHARLOTTESVILLE, Va. — At the end of his post-practice remarks Tuesday morning, University of Virginia head football coach Tony Elliott turned to Chico Bennett Jr. and asked the veteran defensive end to share some thoughts before breaking down the team.
As one of the captains for UVA's upcoming game with Georgia Tech, Bennett had an idea this request was coming. Elliott chooses a player to give the final word after each practice, and so Bennett knew to come prepared to talk. This time, though, he chose to reiterate Elliott's message: that the Cavaliers are close to breaking through.
Of Virginia's six losses this season, four were by a combined 10 points. With better execution and more focus, any or all of those four games might have been UVA victories.
"I was like, 'Listen, we're four or five plays away, and it's that simple. It's all about the details, and it starts in practice,' " Bennett recalled later that morning.
At his weekly press conference Tuesday afternoon at John Paul Jones Arena, Elliott said, as countless other coaches have, that football "is a game of inches, and you have to be able to focus. That's the key, and that was a message after practice today. We've been in some four-quarter games and they've come down to the last play, the last drive, and it's about four or five plays. You never know when those plays are going to come, so you have to be able to focus in, play in and play out."
In its first game at Scott Stadium since Oct. 7, UVA (2-6 overall, 1-3) hosts Georgia Tech (4-4, 3-2) at 2 p.m. Saturday. The Wahoos are coming off an overtime loss to ACC rival Miami. Virginia drove into the red zone six times and came away with four field goals and two touchdowns. Had the Hoos not settled for field goals on one or two of those possessions, they might well have left Hard Rock Stadium with a win.
"Nobody is trying to have a play where they're not successful," Elliott said, "but it's just a game of inches, and you have to focus play in and play out."
Like the Cavaliers, the Yellow Jackets are coming off an eventful game. In Atlanta late Saturday night, Georgia Tech rallied to defeat then-No. 17 North Carolina 46-42. The Jackets scored 22 points in the fourth quarter and finished with 635 yards in total offense, 348 of which came on the ground.
"It doesn't surprise me," Elliott said, "because Tech has been putting up a lot of yards and scoring a lot of points all season versus everybody that they've played."
The Jackets employed an uptempo offense against UNC, and Bennett knows from experience how frustrating that can be for a defense. "Really they just kept preventing [UNC] from being able to line up and get set," he said, "and once you have that, those explosive plays come in, and then that's really when you start to see everything unfold."
Bennett spent two years at Georgia Tech before transferring to UVA in January 2021. He suffered a torn ACL that spring and didn't play against the Jackets in the fall. In  Atlanta last season, however, Bennett recorded two of UVA's eight sacks in its 16-9 win over Georgia Tech. That was Virginia's third straight win in a series that dates to 1965.
"Last year it meant a lot more," Bennett said Tuesday, "just because it was my first time playing them." This time around, he said, the Jackets are "just another opponent we've got to face, and that's that."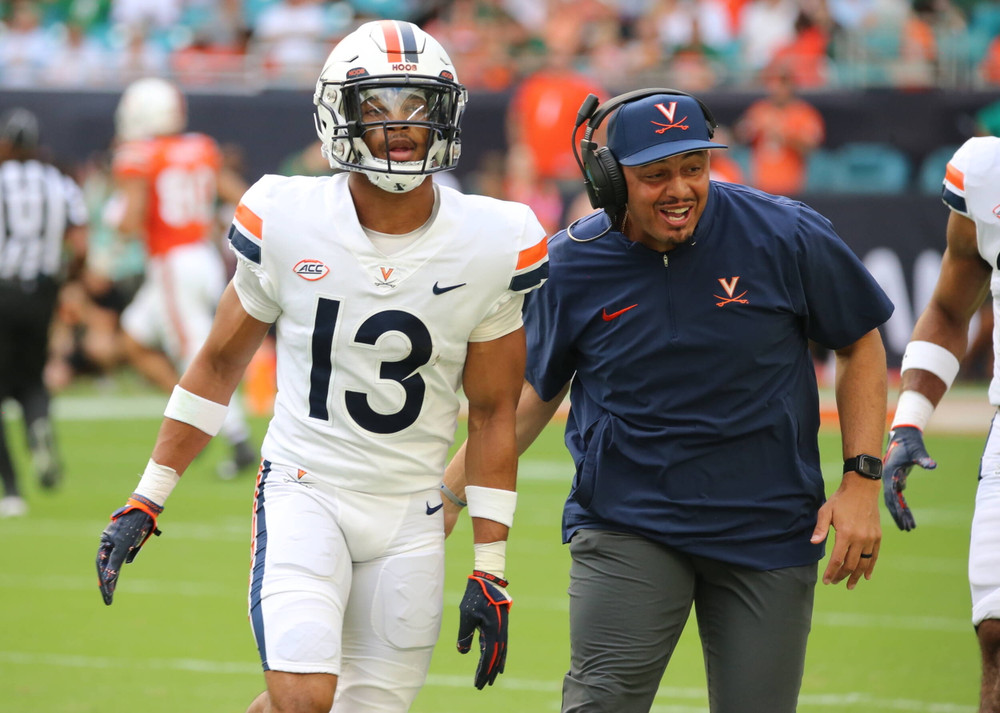 Bennett finished UVA's abbreviated 2022 season with a team-high seven sacks, and he came into this year expecting to build on that performance. It hasn't happened. He missed spring practice while recovering from shoulder surgery and then suffered a knee injury in training camp.
After missing the season opener, a loss to Tennessee, Bennett returned for the Cavaliers' second game, but he hasn't come close to matching his 2022 productivity. In seven games, he has 17 tackles and is still looking for his first sack.
"A couple times I've been [right] there," Bennett said. "That's the part about it that's been frustrating. But each game is a new week and you've got to come back and just know what things … to work on, and obviously I know now, so I'm gonna get that straightened out."
Elliott said he spoke Monday with Bennett and shared that he too knows what it's like to be "really, really pushing hard for something and being on the cusp of feeling like it was time for it to happen and then it doesn't happen … What I told him is, 'Don't press, just play,' because a lot of times when you want something so bad, you can push too hard to where you're not playing free, and so when you think that you are, you're actually not necessarily playing with the technique or the pad level to give yourself a chance to be successful."
What he's appreciated most about Bennett this season, Elliott said, is "his leadership through it all. This is a guy who obviously has a lot of expectations, both externally and internally, [and things are] not going the way that you want it to go, but he showed up every single day and accepted the challenge, and he just comes back to work."
To hear Bennett's words to the team at the end of practice Tuesday "was comforting for me as a coach and reassuring," Elliott said, "because he's echoing the same message when he easily could have said something different. He's saying, 'Hey, I'm staying the course. I'm just focusing on what I can control and taking it one play at a time, and we all need to do the same if we're going to change the outcome.' "
This is the Cavaliers' second season under Elliott. They're still seeking their first ACC home win, "and it's time," he said. "If we're going to take the next step as a program, then you've got to start with defending your home turf, especially when you have your fans, your crowd, you're used to the environment. You know the routine inside and out in terms of the preparation process. You've got to defend your home turf. It's a big point of emphasis and one of the things that was put in front of them from the opening meeting [Monday morning]."
SHOW OF SUPPORT: The record crowd that turned out to watch UVA's volleyball match with Virginia Tech at John Paul Jones Arena included Elliott. The Cavaliers' volleyball team is in third season under head coach Shannon Wells, who texts Elliott after every football game, "regardless of the result," he said.
After dropping the first two sets Sunday afternoon, the Hoos won the next three to secure their third straight victory over the Hokies.
"Shout-out to Shannon and volleyball's big win," Elliott said. "It was fun to watch. Great turnout, too, in JPJ, so it was great to see."
To receive Jeff White's articles by email, click the appropriate box in this link to subscribe.