By Jeff White (jwhite@virginia.edu)
VirginiaSports.com
CHARLOTTESVILLE, Va. — For the University of Virginia football team, a week that ended with a gratifying victory started on a somber note.
On Monday, the University observed the first anniversary of the horrific shooting that claimed the lives of three football players last fall. Events were held throughout the day on Grounds to honor the memories of Lavel Davis Jr., Devin Chandler and D'Sean Perry.
If that didn't weigh heavily enough on UVA's current players, they were keenly aware that a beloved teammate, tailback Perris Jones, wasn't with them in Charlottesville. Jones was recovering from spinal surgery in a hospital in Kentucky, where he'd been injured during the Cavaliers' game against Louisville on Nov. 9.
Through it all, though, his players showed up every day ready to work, head coach Tony Elliott said, and their efforts were rewarded Saturday, when UVA defeated ACC foe Duke 30-27 at Scott Stadium.
As the game approached, the Wahoos talked about playing for something bigger than themselves, and that "started with 1, 15, 41 and 2," Elliott said, referring to the jersey numbers of Davis, Chandler, Perry and Jones, respectively.
At his postgame press conference, Elliott saluted his players' resilience. "Those players in [the locker room] are gonna go do great things, because of the adversity that they've had to persevere through …  I know people are gonna judge us by scores and stats and wins and losses, but that's a group of winners in there that are going to do great things in life. It was a tough week, but the guys took it in stride and took ownership of it and had a really good week of practice, and that allowed them to be able to play the way they did today."
Against Duke (6-5 overall, 3-4 ACC), which hasn't won at Scott Stadium since 2013, UVA (2-5, 3-8), never trailed. It was 10-10 at halftime, but the Hoos built a two-touchdown lead early in the fourth quarter and held on for a 30-27 win.
The Cavaliers' mission this week was to attack, sustain and finish, and they succeeded on all three fronts.
"It's a big-time win for Coach Elliott and the whole program," said UVA quarterback Anthony Colandrea, a true freshman who coolly directed an offense that totaled 448 yards and didn't turn the ball over.
This is Elliott's second season with the Cavaliers. Before Saturday, they hadn't won an ACC home game during his tenure, and they've often struggled in the fourth quarter this year. Of Virginia's losses, five were by a combined 17 points. Still, Elliott has seen progress that might not always be apparent to those outside the program.
"I told the guys in the locker room, we've had to deal with some adversity that's not normal to college football, and the guys have taken it in stride," Elliott said. "Everything that they've been challenged with, they haven't back down from, they've learned from it. They missed some opportunities, but they've showed up every single day."
The team's leaders include wide receiver Malik Washington, a graduate transfer from Northwestern who's in his first season at Virginia. Washington came into the game on the verge of breaking two UVA records, and he left with both marks.
Washington caught eight passes for 112 yards and two touchdowns Saturday, and he now holds the program records for receptions (96) and receiving yards (1,311) in a season. He's had nine games with at least 100 yards receiving this season, the most of any player in the nation.
"I wish he had him for another year," offensive coordinator Des Kitchings said. "I love the kid, and not just because his statistics. I love his day-to-day [approach] and how he attacks it."
After the game, Washington fielded questions from reporters in the Scott Stadium media room. In his hands was a football commemorating his school records.
"I'm probably gonna sleep with this thing tonight," Washington said, smiling. "I probably won't let go of it for a little bit, man. It means a lot to me … I just know the work that I put in and the work that we put in offseason, all throughout the winter, it's paying off, and I love to see that."
Washington wasn't the only Cavalier who had a big game against Duke. Wideout Malachi Fields had four receptions for 74 yards and a TD, and tailbacks Kobe Pace and Mike Hollins rushed for 54 and 50 yards, respectively. Washington's understudy, true freshman Suderian Harrison, had three catches for 42 yards.
And then there was Colandrea, who's filled in capably for the injured Tony Muskett. Against the Blue Devils, Colandrea completed 21 of 30 passes for 278 yards and three touchdowns, with no interceptions, and ran nine times for 66 yards.
"At some point we gotta stop calling him a freshman," Washington said. "He's just our quarterback. He's balling right now. He's been balling all season, and he grew up today, and I think it'll be really good to carry that over into next week and over into next season. I'm proud of him."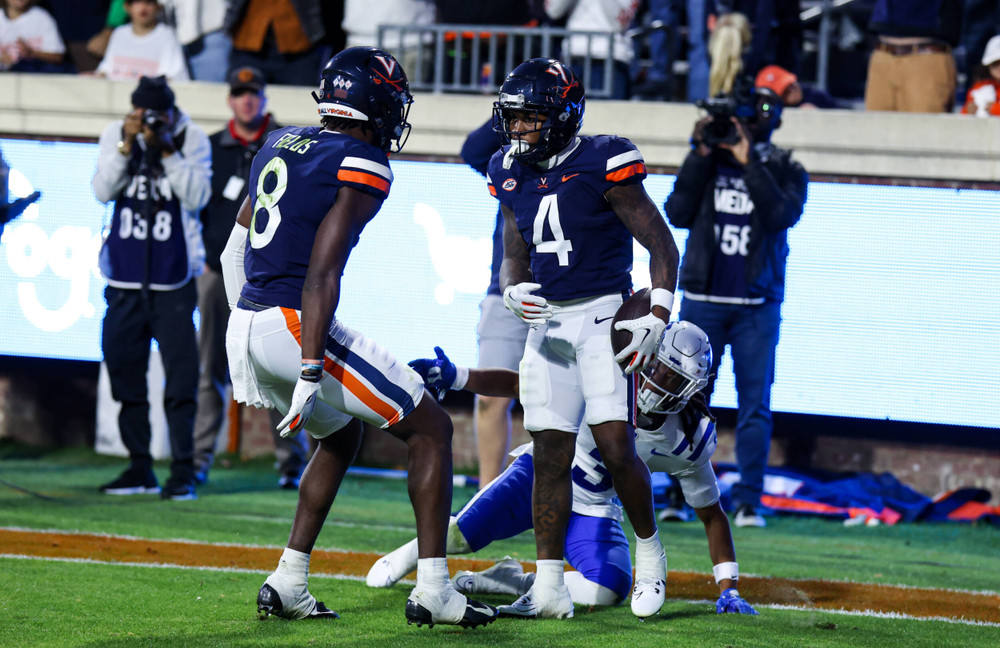 Injuries have forced many of the Hoos' true freshmen to take on significant roles this season. Members of that class who shined Saturday included Colandrea and Harrison on offense and end Mekhi Buchanan, linebacker Kam Robinson, cornerback Dre Walker and safety Caleb Hardy on defense.
Robinson led Virginia with 11 tackles, and Hardy came up with two takeaways. In the first quarter, fellow safety Jonas Sanker forced a fumble that Hardy recovered. In the third quarter, Hardy snared a pass thrown by Duke quarterback Grayson Loftis.
"Super excited to see some young guys emerge throughout this season," UVA defensive coordinator John Rudzinski said.
Colandrea's second TD pass, a 29-yarder to Fields, put the Cavaliers ahead to stay early in the second half. His third TD pass, a 7-yarder to Washington, came with 6:33 left in the third quarter, and Will Bettridge's extra point made it 24-10.
Bettridge was 3 for 3 on field goals, connecting from 46, 21 and 30 yards.
Virginia was coming off a 31-24 loss to then-No. 11 Louisville. The Hoos led 24-17 midway through the fourth quarter of that game, only to give up two long touchdowns. Early in the fourth quarter Saturday, Duke scored on a 58-yard touchdown to cut its deficit to seven, but there was no collapse this time. UVA answered with a drive that ended with Bettridge's third field goal, which made it 30-20 with 3:43 remaining.
"It was huge," Colandrea said of that possession.
The Devils scored a touchdown with 73 seconds left to make it a three-point game, but UVA cornerback Tayvonn Kyle calmly corralled the ball on the ensuing onside kick. With the Cavaliers in victory formation, Colandrea knelt twice after taking snaps, and the celebration began at Scott Stadium.
"It's fun to be in the locker room and see the joy that those guys have," Rudzinski said.
GRAND FINALE: In the annual battle for the Commonwealth Cup, UVA closes the season Saturday at 3:30 p.m. against Virginia Tech (5-6, 4-3) at Scott Stadium. The game will air on ACC Network.
This will be longtime rivals' first clash since 2021. Their game was canceled last season after the Nov. 13 shooting.
The Hokies hoped to become bowl-eligible in their home finale Saturday, but they lost 35-28 to NC State at Lane Stadium.
SOUND BITES: Virginia has won eight of its past nine games with Duke and leads the series 41-34. Among the postgame comments Saturday:
* Duke head coach Mike Elko on the Cavaliers: "They did the things you need to do to win football games, and they certainly deserved to win."
* Washington on Perris Jones: "That's our guy right there. We love that guy through thick and thin and we're worried about him, we're thinking about him. And he just adds another thing that we're playing for."
* Elliott on Washington's feats: "Things have been progressing in all aspects of the offense to be able to give him an opportunity to do that. And if there was a young man that I would say has earned it and deserved it, it would be Malik Washington."
 * Elliott on his team's 12 penalties (for 117 yards): 'We crossed the line a little bit and so that's on me. I gotta do a better job as a coach to make sure my guys understand exactly what that line is and [that] we can't cross it. So several of the penalties were warranted. It wasn't like they weren't warranted."
* Sanker on the defense's play Saturday: "I think there's a lot of things we can take away from it that we did well, forcing turnovers, getting off the field, early on especially, but also I think it shows that we still need to finish games [and not] giving up those big plays at the end of the game, if it's a tighter game, who knows which way the game goes? Leaving it up to chance is not where we want to be at, especially with all the close losses we had this year. So I think that's one area I want to see our defense improve going into this last week, being able to  not just finish the game, but just dominate the fourth quarter."
* Kitchings: "That's what we've been talking all week about: chasing our best game, not only offensively, but as a team."
* Elliott on winning an ACC game at Scott Stadium: "We've got to defend our turf. Doesn't matter who's coming in here. This is our house, and we've got to be ready to defend it. And I thought the guys took a step forward in that direction."
* Sanker: "Things are headed in a really great direction. The team this year was challenged in more ways than I've ever seen on any team I've ever been on. Early on, we saw so many guys with injuries, and we have guys playing positions for the first time, young guys who are forced to play early on. I think it says a lot about the heart of this team as well as the future for UVA."
To receive Jeff White's articles by email, click the appropriate box in this link to subscribe.