Story Links
May 31, 2015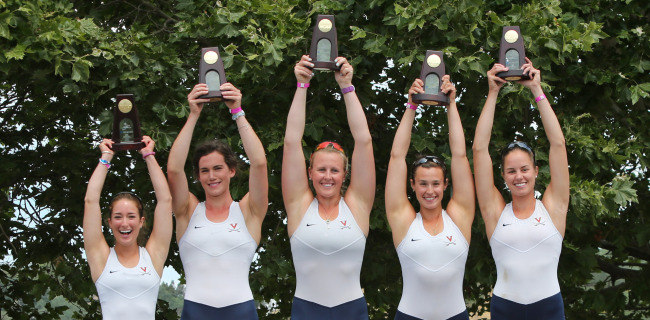 Results | Facebook | Twitter | Instagram
Final Standings
Rank
Team
Points
1.
Ohio State
126
2.
California
114
3.
Brown
112
4.
Washington
110
5.
Virginia
104
6.
Stanford
100
7.
Texas
99
8.
Washington State
92
9.
Yale
86
10.
Michigan
84
GOLD RIVER, Calif.–The Virginia rowing Varsity Four captured the NCAA title as the Cavaliers finished fifth in the team standings on the final day of the NCAA Championships Sunday (May 31) on Lake Natoma.
Virginia placed fifth with 104 points, behind champion Ohio State (126), California (114), Brown (112) and Washington (110). It is the third-consecutive year UVa has placed fifth at the national regatta and it is the ninth-straight season the Cavaliers have placed in the top six.
"For the team, fifth is disappointing because we know we could have done better," UVa head coach Kevin Sauer said. "The Varsity Four and Varsity Eight did really well, but our Second Varsity Eight did not do as well as they could have. It takes everyone to do well to do well in the team standings and even though we did not accomplish what we wanted to do, we gave our best effort and it just did not happen this weekend for the 2V8. This will fuel the fire for our underclassmen, which we have a lot coming back and that is what we are looking forward to."
The UVa Varsity Four claimed the national title in a very close race, finishing in a time of 7:12.760, just ahead of Yale (7:12.920) and Brown (7:13.070). The Cavalier boat, which consisted of senior coxswain Julia Roithmayr, senior stroke Maggie Bowman-Jones, sophomore three-seat Marijane Brennan, junior two-seat Hannah Solis-Cohen and sophomore bow Ellen Pate, led throughout the race, fending off multiple Brown attacks before holding off the Bulldogs and the Bruins at the finish line.
"Today we knew everyone was going to step up, so we went out guns blazing for the first minute and then were in control from there," UVa assistant coach Joshua Gautreau said. "We were able to fend off Brown's moves throughout the race and then were able to hold off a hard-charging Yale at the end. Our senior leaders, Julia (Roithmayr) and Maggie (Bowman-Jones) as the coxswain and stroke have been tremendous assets to boat's success."
"It is surreal to be a national champion," Solis-Cohen said. "It has not fully sunk in yet, but I am on cloud nine because this boat has worked so hard. Our chemistry has been great and we all have each other's backs, all five of us. I am so happy to be able to share this with such a great boat and coach."
"It was the best fours race I have ever seen at the NCAA Championships," Sauer said. "Having it that tight all the way down the course was incredible. We got the win barely in front of Yale and Brown, but we did what they had to do. I am very happy for Julia and Maggie to end their careers with a national title. What a way to go out! Josh (Gautreau) did a fantastic job with those guys and has done a great job all year so I'm really excited for him as well."
It is Virginia's ninth boat national championship and the Cavaliers' fifth time they have won the Varsity Four (2004, 2005, 2007 and 2010). Virginia won the Varsity Eight in 2012 and the Second Varsity Eight in 1998, 1999 and 2005. The Cavaliers have now won the Varsity Four more than any other school, as Brown and Washington have both captured the event four times each.
In the Varsity Eight, the Cavaliers placed third in a time of 6:24.348, behind only Ohio State (6:18.144) and California (6:18.608), but ahead of Texas (6:27.165), Stanford (6:28.018) and Washington (6:28.528). It is the Cavaliers' highest finish in the V8 since they won in 2012.
"Coming in sixth and losing a lot of times this year, to get third from lane four was a fantastic effort for our Varsity Eight," Sauer said. "Two of those times we lost this year were to Ohio State and Cal, who finished first and second, but we were able to avenge all of the rest of the losses. A big shoutout to Hemingway Benton and Lizzy Youngling, two fourth-years who showed a lot of great leadership with that boat, holding people accountable and helping me as a coach. They did a fantastic job."
The Cavaliers finished sixth in the petite final of the Second Varsity Eight to place 12th overall in 6:39.770.