By Jeff White (jwhite@virginia.edu)
CHARLOTTESVILLE –– The University of Virginia football team is scheduled to open the season Sept. 7 against Georgia in Atlanta. The Cavaliers are preparing as if the Chick-fil-A Kickoff game will be played as scheduled, but head coach Bronco Mendenhall is realistic. As the country continues to grapple with the COVID-19 pandemic, Mendenhall knows fall sports are in limbo.
It's imperative to "acknowledge the brutal facts," Mendenhall said Monday on a videoconference with reporters. "Could there be a delayed season? Yes. Could there be a shortened season? Yes. Could there be a conference-only season? Yes. However, until then, we're preparing to play Georgia."
Of the UVA players who were able to return to Grounds on July 5, only two chose not to join the team for voluntary workouts, Mendenhall said. The Wahoos enter the next phase of workouts Wednesday, when they begin a period in which they'll spend eight hours a week on weight training, conditioning and film review.
Starting July 26, the Cavaliers will be allowed 20 hours per week of team activity. Training camp is scheduled to begin Aug. 9.
Until they're told otherwise, the Hoos "have to anticipate and prepare as if we're opening on time," Mendenhall said. "So, it might be like a Special Forces unit or a unit that's training and preparing and ready to get a green light to be called on the mission, but you're never sure if the green light's actually going to go on. It might stay red. You have to be ready as if it's going to go off at any time … It's always easier to ramp down than ramp up. So we're going to prepare as if we're opening with Georgia, and we'll prepare as if the season will happen."
Among ACC teams, UVA was one of the last to bring its players back for on-campus workouts.
"Our plan along the way was very intentional and conservative," said Mendenhall, who's in his fifth year at Virginia.
The Cavaliers, coming off a season in which they won the ACC's Coastal Division for the first time, had yet to start spring practice when the University shut down sports and switched to online classes in March. Upon returning to Grounds this month, players were tested for COVID-19.  In the initial round of testing, two of the 110 players tested positive, the athletics department announced Friday.
That result "was a real testament to them," Mendenhall said, "considering the time they were away. I think they've handled the masking, the social distancing, the hand washing and some of the other protocols we have in place, at a strong level. It's not habitual yet and it's not truly a part of our culture yet, but I do believe the information that we gathered along the way from other programs, not only internally but externally, as our players were viewing it, as we were viewing it and adapting and applying it in our program, has allowed a really strong return and a strong initial starting point. And I'll say initial, because there's still a lot of work to do."
Of the UVA teams that compete in the fall, football was the first to return to Grounds. The players are staying in dormitories where strict safety measures are in place.
"There's one exit, one entry into the dorms," Mendenhall said. "Anything that's after hours, you have a checkpoint there monitoring anyone in and out. Players are masking and social distancing. They're staying with others that they'll be staying with later in the year when the rest of the students arrive in terms of their off-Grounds housing, so those accommodations have already been made. There's no visitors to their rooms, family or friends or even other players, so once the players are in their rooms there's no visitors. Common spaces are outside, and those, like picnic tables or chairs, are already spaced appropriately. They pick up all their meals from outside in the tent and take those back to their room."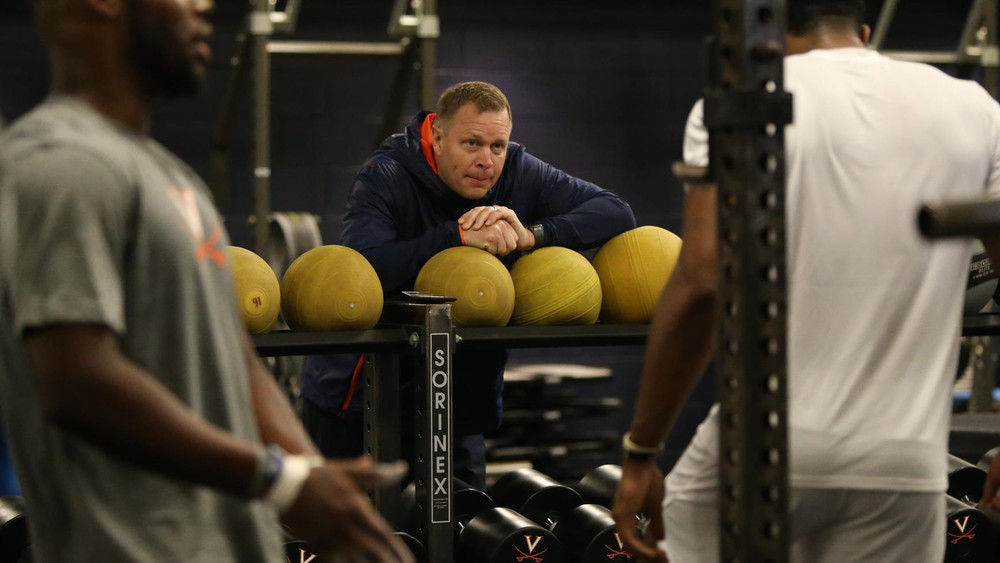 Before entering the McCue Center, each player has his temperature checked by an athletic trainer. If there's no problem with his temperature, the player is given a wristband with that day's color.
"You go through the protocol again the very next morning," Mendenhall said, "and you do that every day, as we continue. The players, they have no access to the locker room. They show up to the facility already dressed, they leave the facility and go back to their rooms and shower there. Laundry services are picking up their equipment at an outside drop-off to make sure that's not spreading any virus contaminants. It's a giant operation we have going. Our support has been amazing. We're adjusting as we go. It's taken a lot to this point, but I'm really encouraged by the people we have and the effort they're putting in."
From 6 a.m. to 6 p.m., small groups of players are allowed into the McCue Center weight room to lift. The players wear gaiters that cover their necks, mouths and noses.
"It's more challenging," Mendenhall said. "A lot of times, that's how you train for altitude training, but it's harder to breathe and it's hotter, and so we're working hard to keep our players safe and have them become fit at the same time.
"What will look different is the gaiters. What will look different is the players waiting in line. They're socially distanced. What will look different is the transitions. There's chairs and spaces where they have to stand that are separate from each other, and at the same time it's really unique … It's very challenging right now to acknowledge the threat of the virus, acknowledge the possible risk the players we love and care about are under, and then ask them and ask them appropriately to condition and become ready for this game that's challenging to prepare for even under normal circumstances. We're all feeling kind of an internal turmoil of asking, but not asking too much, and trying to keep players safe, but not at the expense of being prepared. There's a lot of things going at the same time [with] which I feel kind of an internal friction point that I'm still wrestling with and working on the right approach."
After each group finishes its session in the weight room, the equipment is sprayed down and allowed to dry before another group begins.
"It's an amazing operation that's happening here," Mendenhall said.
The coaching staff is leaning heavily on the team's leadership to make sure players follow the protocols. Those leaders include senior linebacker Charles Snowden and senior wide receiver Terrell Jana, who are "exceptional in every way," Mendenhall said.
"With so much of our current protocol, including nightly check-ins, our players are checking in with leaders on our team, and it's amazing the accountability they're having, and they're being much more effective, I think, than if they were checking in with coaches," Mendenhall said. "This is going to be player-driven, because when we start on Wednesday, [the coaches] have the players two hours per day. There's 22 more hours that have to be managed. The individual and social choices and commitment of our players to each other is what will drive the success or failure of this initiative. This can't be managed into success. This is personal choice, based on commitment to team and empathy, maybe even more than science, will drive the outcome to this … And so Jana and Snowden are driving that and asking for that at the very highest level, and our team is responding. Those kinds of initiatives have the best chance to hold and galvanize. Sometimes coach-led isn't nearly as effective as player-led, and so I'm trying hard to empower the leadership of our team to galvanize this team, and for them to ask for player involvement, rather than it only coming from me."
Two Power 5 conferences––the Big Ten and the Pac-12––recently announced that their teams will play only league games this fall. Mendenhall said he would favor a similar policy in the ACC.
"By playing teams only in our region, only in our conference, we have a better chance to have standardized protocols in terms of testing," Mendenhall said. "We have a better chance to lessen cross-country travel. We have a better chance to mitigate any concerns about lack of consistency, because we are in conference.
"There's already been suggested models about how that might work, but anything that reduces travel, reduces air travel, increases proximity play and keeps our players safer, I'm for that. And we have a better chance to control that with in-conference [games] than out-of-conference. That's why I'm for it, because I think it gives our student-athletes their best chance to be safe and continue to play, knowing that's what they want to do."