4TheHoos Initiative | Jeff White on Twitter | UVA Football on Twitter 
By Jeff White (jwhite@virginia.edu)
VirginiaSports.com
CHARLOTTESVILLE –– In the midst of a global pandemic, she started a new job at a school she'd never seen in person, in a state she'd never visited, in an athletics department whose leaders she'd seen only on Zoom calls. Then she worked remotely for six weeks before ever setting foot in Charlottesville.
However unconventional the start of this chapter of Enza Ranallo's professional life has been, none of it has fazed the University of Virginia football program's dietitian. The heat and humidity in Central Virginia have been oppressive this month, but Ranallo's passion for her work shines through, even in a phone interview.
"We're having so much fun," she said, laughing, "but I'm not sure if that's from being out in the sun and being a little dehydrated."
Ranallo, who has two degrees from Benedictine University in Illinois, where she played basketball, came to UVA after two years at Stanford University. Her position is a new one at UVA, which until this summer never had a dietitian devoted solely to football.
Randy Bird, UVA's director of sports nutrition since 2010, spent countless hours with football, but he also was responsible for two dozen other varsity teams.
"He was spread too thin," said Carla Williams, UVA's director of athletics.
"When it's one guy trying to run multiple sports, you do the best you can, but you're just doing the best you can," said Shawn Griswold, UVA's director of football development and performance.
In 2019, its fourth season under head coach Bronco Mendenhall, Virginia won the ACC's Coastal Division for the first time. To help the program continue its ascent, Williams created a new position: a full-time dietitian for football. Ranallo applied for the job, even though she initially knew nothing about the University.
"Google search is a beautiful thing nowadays, especially Google Maps," she said. "Even though I had never been to Charlottesville and I had never been to Virginia, it was so evident that was the program for me, just because of what they instill in their staff and in their athletes, and how they really value mentoring individuals, something that I really believe in."
At Stanford, where she worked with a variety of teams, including football, Ranallo served a sports nutrition fellowship for one year before becoming an assistant sports dietitian. She sees similarities between Stanford and UVA.
"Both are obviously very high-caliber in terms of academics, so the population of student-athletes is very similar," Ranallo said. "They're very intelligent emotionally and academically, which is awesome, because you can educate them more, you can really fill them in on the details of sports nutrition, and they absorb it all. They're able to absorb it and retain it and, obviously, apply it."
At UVA, she found another athletics department whose values aligned with hers, Ranallo said, "and I really wanted to get that specialization with football sports nutrition. That's what I'm passionate about, and that was the move for me. It was kind of a no-brainer decision."
The opportunity to work with Bird appealed to her, too.
"Randy is obviously very, very well-known in the field of sports nutrition," Ranallo said, "so knowing that I was going to have the experience of working with him was a huge, huge deciding factor.
"Collaborating with Randy is awesome. Anything I have questions on, he's willing to collaborate or look for different ideas or find different solutions. He's a problem-solver, he's a hard worker, and he's a great person to have on your side."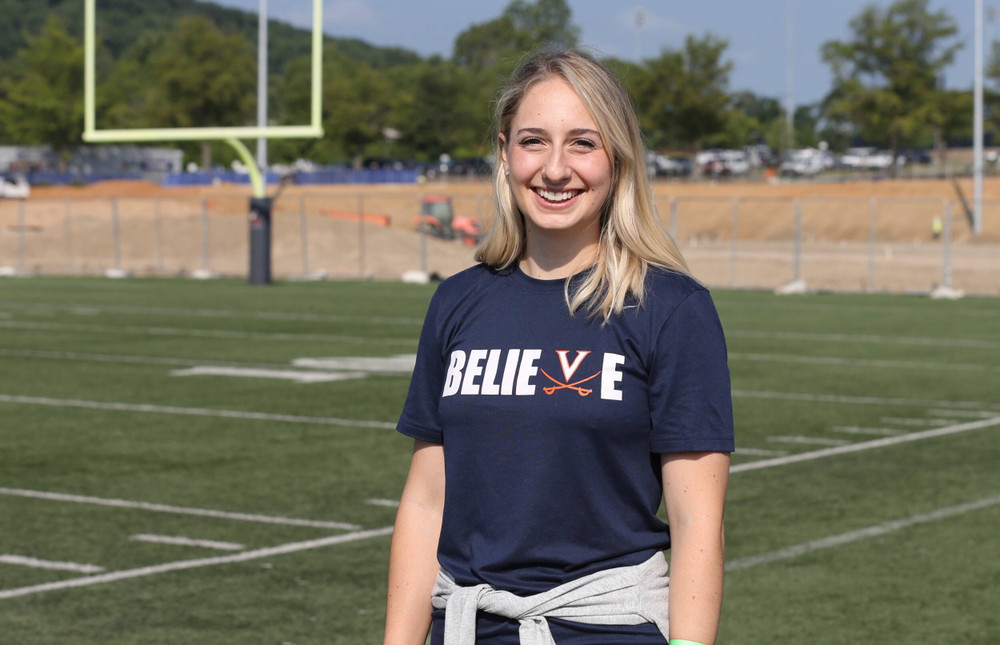 Ranallo's first official day at her new job was May 11. She arrived in Charlottesville late last month, and Mendenhall's players returned to Grounds on July 5 to start workouts.
"I remember the first couple days, she sent out something like 20 surveys, just because she wanted to learn and make the program better," offensive lineman Chris Glaser said. "She's very enthusiastic about her job."
Ranallo said: "There's no down time, but that's to be expected."
She laughed. "I keep telling everyone, 'What's more fun than three weeks of [training] camp? Six weeks. Because that's what we feel like. We feel like we're in camp mode before camp even starts."
UVA's football players are living at the Copeley Apartments near Klöckner Stadium. Outside Copeley is a tent at which the players pick up all of their meals. Overseeing the food distribution are Ranallo, Bird and UVA's other full-time dietitians, Erin Columbia and Sean Mohney.
"Our No. 1 priority at this point in time is keeping the guys safe and well-fed and happy inside the bubble that football is creating," Ranallo said. "So that means providing three meals a day, seven days a week. For me, what that entails is making sure that the athletes are getting the food, they're eating the food, they like the food, and being present at meals, to make sure that all those standards are being met for them."
She's been meeting with players on Zoom calls, at the meal tent, and on the practice field.
"Everyone's got their precautions," Ranallo said. "They've got their masks on and we're doing our social distancing, but we're still able to coach them [about proper nutrition]. We're still able to get that one-on-one in-person within the restrictions and guidelines that we have in place to keep everyone safe."
Williams said: "I think people sometimes underestimate the impact that support staff can have on the outcome of a program, and those of us behind the scenes know it and can see it. And to know that she is having one-on-one individualized nutrition meetings and preparing individualized nutrition plans for the players is huge. She's already made a difference, because she's identified some things that we can tweak here or there to make a difference.
"We don't have a lot of margin for error, and so when we can identify little things that are actually quite big, and make those better, it makes a huge difference for us. Nutrition is one of those things. We still have some things to do in regards to nutrition, but having someone as talented and as motivated and passionate as Enza in that position has already been a huge help."
Mendenhall agreed.
"I've already seen a difference in culture," he said. "The biggest difference is in individualization, so individualized programming and customization. The quality of our food and the quantity of our food, but more specifically the individual meals for individual players , specifically designed for what their nutritional goals and needs are, is at a very high level.
"Enza is service-oriented and bright, engaging and relationship-driven, and so our players now are having a great contact point for someone who really cares about them, who communicates with them, who's fiercely competent and then can take that data and design specifical and individual programming for each player on our team."
"We don't have a lot of margin for error, and so when we can identify little things that are actually quite big, and make those better, it makes a huge difference for us. Nutrition is one of those things. We still have some things to do in regards to nutrition, but having someone as talented and as motivated and passionate as Enza in that position has already been a huge help." - Carla Williams
Mendenhall coached at Brigham Young University before coming to UVA after the 2015 season. At BYU, he gained an appreciation for the impact nutrition can have in football. BYU players preparing for the NFL draft would spend time training at a facility in Arizona where all their meals were planned for them.
"Many of my players came back before pro day looking better than I'd ever seen them in five years with us," Mendenhall recalled. "And it happened in a very short amount of time, and almost every one of them just said, 'It's the nutrition.'
"They were making no nutritional choices. They were made for them. They were consuming what was prepared, with the exact right calories, the exact right protein, the exact right fats, the exact right carbohydrates, the exact right hydration levels. And it was magical for them to see how fast a body could be transformed with hard work."
The interview process for the football dietitian's position at UVA "had multiple layers," Mendenhall said. "I was the very last layer."
Among those who interviewed Ranallo, Mendenhall said, were Griswold and Kelli Pugh, the head athletic trainer for football. They provided "feedback that I took very, very seriously," Mendenhall said, "and they had to be really endorsing and wanting to work with any candidate, not only from a competency standpoint and a knowledge standpoint, but from a personal standpoint."
Before joining Mendenhall's staff in January 2018, Griswold spent six years as Arizona State's head coach for sports performance. One of his assistant coaches at Arizona State, Tyler Friedrich, oversees strength and conditioning for Olympic sports at Stanford. Friedrich recommended Ranallo highly.
"They absolutely loved her there," Griswold said. "She's super knowledgeable and she's super energetic, and she played basketball, so she understands the sports part of it."
Ranallo works closely with Griswold and his staff, because a lot of players "have body-composition goals," she said. "They either want to lean out or they're looking to gain some muscle, or a combination of both. So we've got to make sure that what they're doing in the weight room correlates very directly to what they're doing [with their nutrition]. So, for instance, if I have an athlete that wants to put on mass, obviously they're going to be training for it, so they're putting in the work in the weight room, but they've got to put in work in the kitchen, too."
Bird laid a foundation that Ranallo is eager to build upon. "Bronco and Griz, they really want that one-one-one personalization, individualized meal plans, and accountability" she said. "That's a huge thing. They want that accountability. They want their players held to this higher standard, and that's what I'm here for. And that's something that I value as well, and once again why it was such a great fit."
Ranallo, who grew up Elgin, Illinois, about 40 miles from downtown Chicago, received her master's degree in nutrition and wellness from Benedictine University in December 2017. Given her background in hoops, "I thought basketball was something that I was going to end up doing," she said, "but very quickly within my fellowship [at Stanford] I was like, 'Nope. I'm going to football.'
"The energy and the culture and the focus that was put into football was something that I was exceptionally drawn to. With football, you need to be able to be on the grind seven days a week, and that's something that I think I do with my career. And so it was really a perfect fit."