2020 Football Schedule | Fact Book | 4TheHoos Initiative | Fans First Ticket Program | Jeff White on Twitter | UVA Football on Twitter  | Subscribe to Jeff White's Articles
By Jeff White (jwhite@virginia.edu)
VirginiaSports.com
CHARLOTTESVILLE –– Among the ACC's 14 football teams, Virginia ranked 13th in rushing offense last season, averaging only 121.2 yards per game on the ground. Quarterback Bryce Perkins, the team's leading rusher in 2019, is now pursuing an NFL career, but offensive coordinator Robert Anae believes the Cavaliers have the pieces to improve in that phase this year.
Since the end of last season, Virginia has added several graduate transfers, among them 6-7, 260-pound tight end Tony Poljan (Central Michigan) and 5-11, 200-pound running back Shane Simpson (Towson University). Moreover, all of the offensive linemen who played significant roles last season are back, as is Wayne Taulapapa, the Wahoos' top running back in 2019.
"We have good enough running backs, we have a much-improved offensive line, and we have a better group of blocking tight ends," Anae said Tuesday on a Zoom call with reporters. "So the running part should be something that we do good to really well. I don't know if we're ever going to be great right now in the run game, but that might not be our strength. It turned out last year that our strength was a nice balance of everything around the board. I think that's going to continue to be our identity: to move the ball around and keep the defense guessing. That is our strength as a group."
In 2018, Perkins (212) had almost as many carries as running back Jordan Ellis (215). In 2019, when the Hoos ranked fourth among ACC teams in passing offense, Perkins (227) had nearly twice as many carries as Taulapapa (116). Perkins' successor at quarterback, Brennan Armstrong, is a capable runner, too, and Anae said it's unlikely any of the Wahoos' running backs will have a dominant role this season.
"For us, we think the strength of our unit is 11 guys working together," Anae said, "and for me as a coordinator and us as coaches [the goal is] to put them in positions that they have a chance to be successful in. So that's our brand of football, so to speak. It is a collective, it is a unified, it is a hard-working team effort."
Armstrong, a redshirt sophomore who backed up Perkins in 2018 and '19, recently was named one of the Cavaliers' captains, along with seniors Terrell Jana, Charles Snowden and Richard Burney.
"You earn the respect of your team with how you perform in the weight room and in the conditioning program," Anae said, and the Cavaliers "are going to rely on [Armstrong] in the leadership area as well."
The left-handed Armstrong appeared in only four games as a true freshman in 2018 and thus was able to retain that year of eligibility. In his two seasons at UVA, he's completed 17 of 25 passes for 258 yards and two touchdowns, with two interceptions.
"He can make all the throws," Anae said. "You name a throw in the program, you name a throw in the game, and he can make it."
TAG TEAM: The Cavaliers' top two tight ends are Poljan, who caught 33 passes for 496 yards and four TDs at Central Michigan last season, and 6-4, 250-pound redshirt sophomore Grant Misch, whose only reception in 2019 went for a 6-yard touchdown.
"Each kid has their own skill set, and we consider both of them starters," Anae said. "With as many plays as we're going to get in a course of a game, there may be times when they're both on the field at the same time … but we're going to have to split that thing up, because you can't have a kid go out there every snap all the way through."
Misch was used primarily as a blocker in 2019, when Tanner Cowley (28 catches for 311 yards and one TD) was the Cavaliers' top receiving tight end. Cowley was a senior last season.
MULTI-TALENTED: Graduate transfers who joined head coach Bronco Mendenhall's program this summer include 6-4, 225-pound Keytaon Thompson, an exceptional athlete who played quarterback at Mississippi State.
With Armstrong set to start the season behind center, Anae said, the Hoos will try to find others way to employ Thompson.
"From our standpoint, that would not be a good idea if one of our better athletes was standing next to me with a clipboard," Anae said, "so we're looking for opportunities to get him on the field and to get him involved."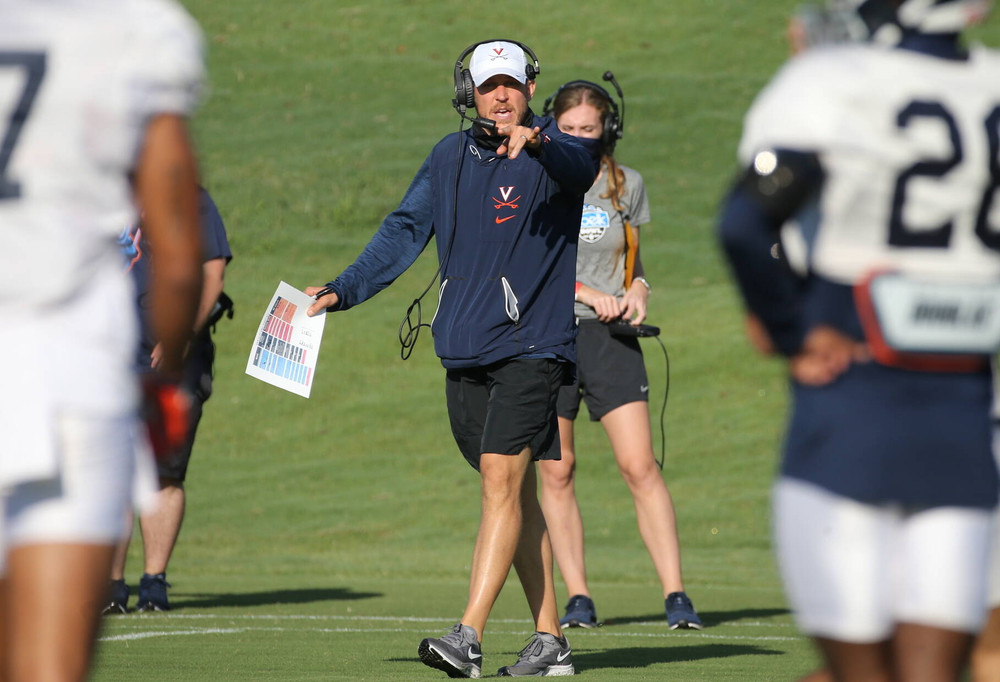 ROOM TO IMPROVE: In Virginia's secondary, the players with the most FBS experience are senior safeties Joey Blount and Brenton Nelson. At cornerback, defensive coordinator Nick Howell's options include seniors Nick Grant and De'Vante Cross (who also plays safety), juniors Darrius Bratton and Heskin Smith, sophomore Jaylon Baker, redshirt freshman Fentrell Cypress and true freshman Elijah Gaines.
UVA's cornerbacks struggled at times in 2019, in part because of injuries to Bratton, who tore his ACL in training camp last year, and Bryce Hall, an All-American who missed the final eight games of the season.
That allowed others to gain valuable experience at cornerback, but "those guys that have played, they have to play better than we did a year ago," Howell, who also coaches Virginia's secondary, said Monday.
"With a year's time, the experience that they had on the field, the offseason training, the mental preparation, the fall camp, we're hoping that the guys play better than we played at the end of last season, and that's going to be necessary for us to be good."
WELCOME ADDITIONS: The arrival this summer of lineman Adeed Atariwa and safety D'Angelo Amos, graduate transfers from FCS power James Madison University, bolstered an already stout UVA defense.
Atawira, who's from Northern Virginia, recorded 16.5 tackles for loss in his three seasons at JMU. Amos, who's from the Richmond area, also played three seasons for the Dukes. He totaled 6.5 tackles for loss, two interceptions, 11 pass breakups, four blocked kicks, three fumble recovers and one forced fumble.
Howell said the former JMU stars are transitioning well to the FBS.
"If you look at their background, those guys have played in 15- and 16-game seasons, with playoffs," Howell said. "I think the more you play football, [the better]. I don't think it matters what level it's at. And those guys have had a tradition of expecting to win, and so that's good. They've also played in important games that mean a lot."
Howell added that he believes "if you're a good athlete and you're a true competitor, you want a shot at playing against better competition. So this is proving grounds for them as well: 'Hey, this is my shot. I can show what I can do.' I think they've got a lot of good stuff going for them. I think the biggest thing for them coming in here in just learning what Coach Mendenhall's culture is like and playing really hard all the time. Coach Mendenhall is good at putting physical stress on guys, and I don't think it's normal, so they've had to adapt to that. But I think they're in good shape."
TUNNEL VISION: With the addition of Abilene Christian, which will visit Scott Stadium on Nov. 21, the Cavaliers are scheduled to play 11 games this season, starting Sept. 19 against Virginia Tech in Blacksburg.
Howell knows many significant tests await UVA this season, but for now 10 games are of secondary importance to him.
"I just want to beat Virginia Tech right now," Howell said. "I don't really care about the rest of the schedule right now, honestly."
HIGH MOTOR: Zane Zandier, who's wearing jersey No. 0 this season, is a three-year starter at inside linebacker. At 6-3, 230 pounds, he's a strong athlete who sets a standard for his teammates with his physicality.
"Zane is not always doing the right thing," Howell said, laughing, "but he's always going really hard. We've talked about [how] as long as we hold the edge, meaning we don't let the ball get around us, Zane's going to run inside-out and try to hit you. He does have a physical edge presence. Our guys really respect that, and we try to get all of our guys to do that. There is a presence, and it's necessary, and we rely on him for that."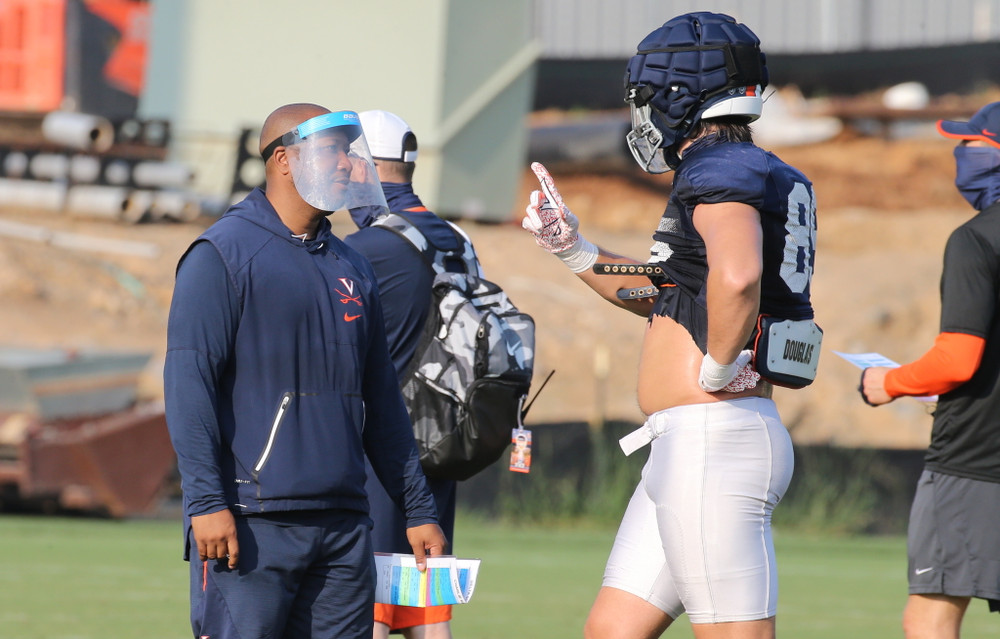 WEALTH OF OPTIONS: Joe Reed, whose prowess on kickoff returns earned him All-America honors in 2019, is now with the NFL's Los Angeles Chargers. Even so, special teams coordinator Ricky Brumfield likes the Cavaliers' potential in the return game.
"We do have some great candidates," Brumfield said Wednesday, "way more candidates than we've ever had in the program."
Options on kickoff returns include juniors Tavares Kelly and Billy Kemp, redshirt sophomore Perris Jones, and senior Shane Simpson, a graduate transfer from Towson University.
Kemp handled punt returns for the Hoos in 2019, but he's battling Simpson and D'Angelo Amos, a graduate transfer from JMU, for the job this year.
In 2018, Simpson made the All-Colonial Athletic Association second team as a kick returner and the third team as a punt returner. Amos ran back five punts for TDs in his three seasons at JMU, where he averaged 16.6 yards per return.
"We're still trying to key in on that one," Brumfield said of punt returns, "and I think in a couple days we'll get that narrowed down."
Kemp, also a talented wide receiver, returns 23 punts for 137 yards last season, with a long of 22 yards. Brumfield said the addition of Simpson and Amos hasn't fazed Kemp.
"He's stepped up to the challenge," Brumfield said. "He's probably the one that has stepped up to the challenge more than anybody else. He never said anything, he never had any bad attitude or anything, but his demeanor was almost like he was insulted, like 'I'm going to show you what I'm about.' And that was really impressive, because he's done a great job, and he's been even better [this summer]."
Brumfield, who also coaches UVA's tight ends, makes a point of discussing incoming transfers with the holdovers at the positions he oversees.
"I always talk to the players, because I think a lot of the game in my personal opinion is psychological," Brumfield said. "I know some people don't believe that, but I always tell a kid, 'Hey, this is what's going on. This is who we're bringing in, this is why we're bringing them in. '"
He did that with Kemp, Brumfield said, and with tight end Grant Misch.
"When we brought in Tony [Poljan], I called Grant and said, 'Hey, we're bringing in Tony and this is why we're bringing him in, this is what we're doing, '" Brumfield said. "Same thing with Billy: 'This is why we're bringing this guy in. It's not because you're not good. We need depth. We need to bring in competition, and competition brings the best out of every single person.' And also, you have to have depth. [Kemp] was aware of why. He understood why."