UVA Game Notes | Louisville Game Notes | ACC Weekly Release | UVA Football on Twitter | Jeff White on Twitter | 4TheHoos Initiative | Fans First Ticket Program
By Jeff White (jwhite@virginia.edu)
VirginiaSports.com
CHARLOTTESVILLE –– Antonio Clary underwent reconstructive knee surgery on Nov. 5, 2019, after which he began the long rehabilitation process. Four months later, the COVID-19 pandemic intervened.
In mid-March, the University of Virginia shifted to online classes, and most students were asked to go home. Initially, student-athletes recovering from major injuries––a group that included Clary, a safety on the football team who'd torn his left anterior cruciate ligament––were to stay in town and rehab at the McCue Center. But that option soon was eliminated.
"The plans changed so quickly as the pandemic's seriousness elevated," said Kelli Pugh, UVA's associate athletics director for sports medicine.
The McCue Center was closed, and Clary returned to Jacksonville, Florida, where he'd starred at Sandalwood High School. He'd been cleared to start straight-line running, but not cutting. The Cavaliers' athletic trainers sent him workouts to do at home and checked in with him regularly on FaceTime and Zoom, but Clary didn't have access to the equipment he'd been using daily at the McCue Center.
"So that kind of set me back a little bit," Clary, a 6-0, 200-pound sophomore. "The first two months [at home] I was on my own, because nothing was open, and I'd never been through an injury like this, so I didn't know what to do. I didn't know what to expect. I didn't know how my knee was supposed to feel."
On his own in Jacksonville, Clary said, there "were some tough times in the rehab where my motivation wasn't there. There were just days where I didn't want to do anything. There were days where I was thinking in the back of my head, 'Why am I doing this? Why me? Why do I have to go through this?' I was just second-guessing myself about playing football, because I'd never been through anything like this."
Pugh said she and her staff worried about how rehab would go for student-athletes at home.
"When they're on Grounds, we can see them multiple times a day, multiple times a week, six days a week," Pugh said. "There's just a difference in the intensity of the therapy that they get when they're here. Some of them had no access to a gym, so no access to any resistance training until June. So there's no question that it set some student-athletes behind in their progression.
"As we were monitoring student-athletes, if they weren't hitting the milestones we would expect, that's when we would start asking, 'Do we need to get this person into therapy?' So that's exactly what happened with Antonio."
For the final month he was in Jacksonville, Clary worked with a physical therapist, "and that's when I started making progress again," he said. That progress accelerated when, in early July, he resumed working with athletic trainers and strength and conditioning coaches at UVA.
He wasn't cleared for contact until September, and with seniors Joey Blount and Brenton Nelson back at safety, Clary began the season as a reserve. But in the Wahoos' fourth game, an Oct. 17 loss to Wake Forest, Blount and Nelson suffered injuries in the first half, and neither has played since.
Clary and D'Angelo Amos, a graduate transfer from James Madison University, took over for them in the secondary. Each is expected to make his third straight start Saturday when UVA (2-4, 2-4) hosts ACC rival Louisville (2-5, 1-5) at Scott Stadium. The 3:30 p.m. game will air on ACC Network.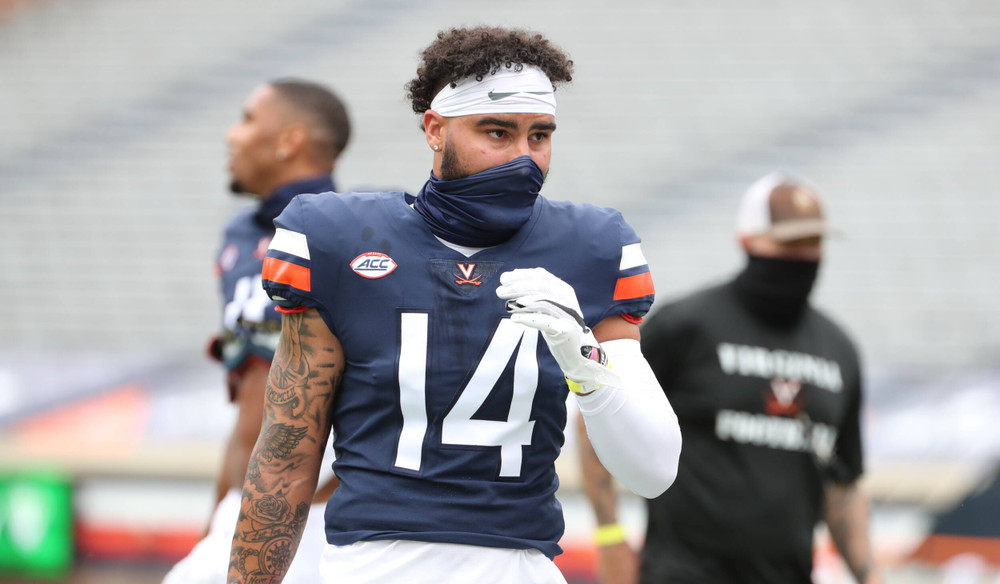 Virginia head coach Bronco Mendenhall said he came into the season hoping Clary would "have more time to recover, become completely healthy, and learn and grow as an understudy to either Brenton or Joey. That just wasn't possible."
Clary said: "When my number is called upon, it's my time to step up, it's a must. I'm just embracing it, enjoying my time out here, and trying to get better every day."
Amos said he's trying to help Clary "really relax and get comfortable, because at that point then the game just comes to him, and he's played better and better each time. The more reps he gets, the more plays he has, he's playing better."
Clary entered the year with little experience. He enrolled at UVA in January 2019 and went through spring practice a few months later, but he suffered a severe injury to his hamstring that August during training camp.
Not until Virginia's fourth game last season, a 28-17 win over Old Dominion at Scott Stadium, did Clary make his college debut. He appeared in each of the next four games, but his season ended prematurely when he tore his left ACL against Louisville on Oct. 26, 2019.
The pandemic forced the cancellation of UVA's spring practice this year, and Clary wouldn't have been able to participate anyway. He'd hoped to be cleared in time for training camp in August, but after his rehab stalled at home, that was no longer a possibility, and his development slowed.
"I was just focusing on strengthening my leg rather than working on my technique and my craft," said Clary, who lives with Dontayvion Wicks, a talented wide receiver who's sidelined this fall with a foot injury.
Clary's first start came on Oct. 24 against then-No. 11 Miami, which amassed 444 yards, 322 of them in the air, in a 19-14 win over UVA at Hard Rock Stadium. A week later, then-No. 15 North Carolina totaled 536 yards, 443 of them in the air, at Scott Stadium, but Virginia came away with a 44-41 victory.
"I was thrown into the fire, basically, against great offensive teams," Clary said. "But I'm embracing it. I'm enjoying it and definitely a lot of learning along the way, and I'm just ready for this week against Louisville."
Blount's status for the game remains uncertain, but he continues to mentor Clary.
"Joey's just a big brother to me," Clary said, "and I'm learning from him. Even on the sideline during games, he'll tell me what I'm doing right, tell me what I'm doing wrong, all his knowledge. I'm just soaking it all in, really."
Early in the season, Clary said, the game was moving "fast, fast, fast" for him in the secondary. "And then once I started getting my feet wet a little bit, it started slowing down, and then my butterflies were gone, and I started to see things more and feel more comfortable out there. There's still a lot of learning to do, but it's definitely slowing down."
Clary had a career-high seven tackles versus Miami. Against UNC, he made two tackles, one of them for loss.
"Is he getting better? Yes," said defensive coordinator Nick Howell, who also coaches the Cavaliers' secondary. "It's fun. I think it's exciting. You recruit a kid, you bring him in, and it's time to go and see what he can do.
"There's a lot of enthusiasm there. He's working hard every day to get better. Young players take time to get where they need to go, so assignments, communication, all that stuff, it's going fast. The game goes slower the more reps you get. Hopefully these game repetitions are helping him do that."
Mendenhall said Clary is "really smart. He understands the game really well. He's a capable tackler. He has a really strong sense of competence. His football IQ, which is kind of a catch term, I think is really high. And so it's just a matter now of gaining experience and becoming completely healthy."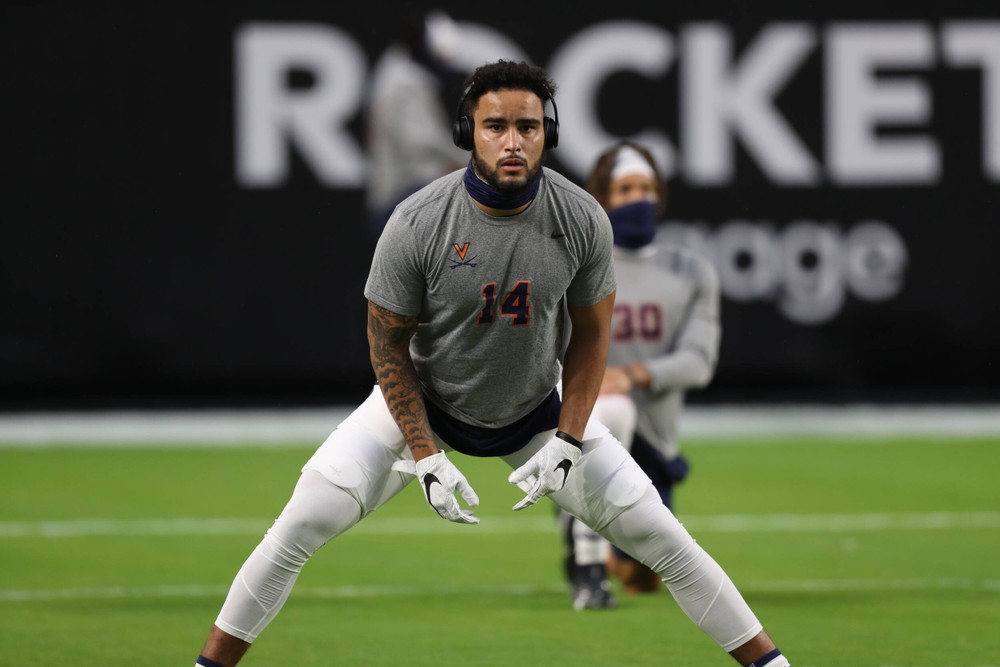 Clary works regularly with assistant athletic trainer Ashley Doozan and associate football development and performance coach Dwayne Chandler. "I've still got some strengthening to do in my quads and my hamstrings and stuff like that, but my knee is 100 percent," Clary said.
"He's doing great," Pugh said.
As frustrating as his rehabilitation was at times, Clary said, it "really opened my mind up about how you have to keep going no matter what type of day you're having. You're going to have bad days when your body is not going to feel good, but you've just got to keep taking care of it and keep working, and it's going to get better."
Clary shed his knee brace last month after meeting with Dr. David Diduch, who performed the surgery on him last year.
"I asked him if I could take it off," Clary said, "and he was like, 'It's up to you. If you feel great, you can keep it off. If it's starting to bother you again, put it back on.'
"The whole week I [practiced] without it, and the Wake Forest game I played without it, and it felt great. I'm feeling pretty confident in my knee right now."
Clary, who also had scholarship offers from such schools as Boston College, Purdue, South Florida and Duke, committed to UVA in April 2018. He has relatives in Petersburg but no family ties to the University.
"I didn't really know too much about the school," Clary said. "But when I came up here on my official visit, instantly it felt like home, the connection I had with the coaches, the relationship I had with them. When I met them, it was like I'd known them for five years."
To receive Jeff White's articles by email, click here and subscribe.