By Jeff White (jwhite@virginia.edu)
VirginiaSports.com
CHARLOTTESVILLE –– For the University of Virginia football team, De'Vante Cross' versatility has been a godsend. For Cross, however, his ability to slide between positions has come at a personal cost.
"It's absolutely affected his performance," Virginia head coach Bronco Mendenhall said, but "he has such a good attitude and he's such a good athlete that luckily we had him. As the program is and was building, growing, maturing, we just needed players at certain spots. With his metrics, when you look at his testing numbers, any time you needed a good athlete who was smart and willing, he would just do whatever we asked him."
The 6-2, 215-pound Cross has reached blue, the second-highest level, in the Cavaliers' strength and conditioning program. His natural position is safety, but injuries to other defensive backs have forced Virginia's coaching staff to periodically use him elsewhere. Cross, who didn't move to defense full time until the 2018 season, started five games at cornerback in 2019, when UVA won the ACC's Coastal Division, and all 10 games at cornerback last year.
"Has that hurt his performance and production at any one spot?" Mendenhall said. "Certainly it has, because he's learned just enough at each spot to perform but not really excel. And we're so hopeful that starting from this spring going all the way through the fall he can play one position. We're so hopeful. I wish I could promise, but injuries always affect that."
Virginia opened spring practice on Tuesday. The Wahoos' returning cornerbacks include Nick Grant, Darrius Bratton and Fentrell Cypress II, and a graduate transfer from Louisville, Anthony Johnson, joined the program this semester.
"Hopefully that will solidify and allow De'Vante just to play one spot and not have to play multiple spots," Mendenhall said. "Again, injury and wear and tear of the season could still affect that, but for his sake, because he's a team-first player if there is one. He's so unselfish."
The 6-2, 215-pound Cross competed as a fifth-year senior in 2020 and under normal circumstances would have exhausted his eligibility at season's end. In response to the COVID-19 pandemic, however, the NCAA granted an extra season of eligibility to players, giving Cross an option he hadn't considered earlier in the year.
Back then, Cross said Tuesday, "I was like, 'This is it for me.' I was playing really well, it was my fifth year, and I felt prepared to go on to the next level. I felt like I had a great opportunity there. But it just so happened at the end of the season, after talking with Coach Mendenhall and my family, it was the best decision for me to come back and get another year of experience under my belt and give myself an even better opportunity for the next level."
When he met with Mendenhall after the season, Cross said, he didn't request to play safely exclusively, even if that would be his preference.
"That's where I feel most comfortable," Cross said. "That's where I feel my skill set really is, but at the end of the day it's a team. As you've seen in my career, I've been doing everything to help the team, and it's the same here. If they need me to play corner again, I'll do it. That's what it comes down to. At the end of the day it's a team sport; it's not an individual sport."
Of the players who were on the team in 2016, Mendenhall's first season at UVA, only two remain on the roster: Cross and Grant, who has started 24 consecutive games at cornerback.
Grant and Cross are good friends, but each arrived independently at his decision to return for a sixth year.
"I wasn't going to let anyone else influence my decision, other than Coach and my family," said Cross, who has a bachelor's degree in history. "It was really an in-house thing for me. I feel like I made a great decision. I'm going to be able to get my master's while still on scholarship and get another year of experience, while getting better.
"Everybody's got their own path, and this is just mine. If it takes six, it takes six."
In his meeting with Mendenhall, Cross recalled, "I said, 'Coach, do you think I would really benefit from a sixth year?' And he told me straight up that he thought I would. He said, 'You have a few flaws in your game, and another spring practice, another fall camp and another season will really help you clean those things up to give yourself an opportunity for the next level.' He gave it to me straight, and I just used that and my family's input to make a decision for myself."
More than a half-dozen Cavaliers who were listed as seniors in 2020 are back this year.
"When I presented that option for those players, it was a blunt conversation," Mendenhall said. "They weren't to come back unless they were passionate about becoming more than they already were and helping the team become more than it already was. Otherwise, it wasn't OK for them to come back."
He's loved what he's seen from Cross this offseason. "He's just fierce in how hard he's trying," Mendenhall said.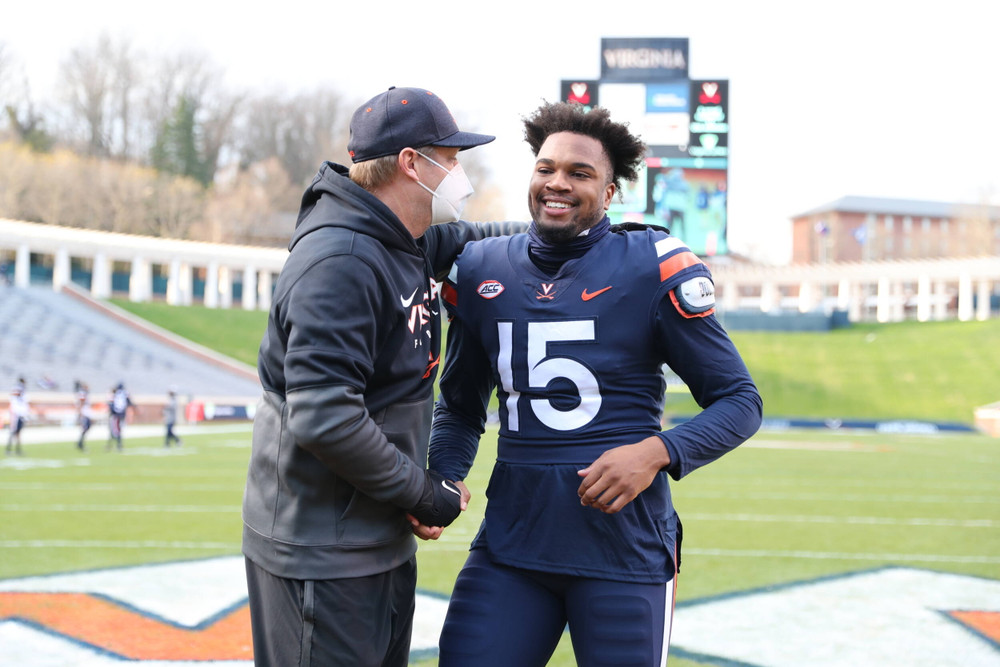 Cross, who's on track to earn a master's degree from the School of Education and Human Development this year, has followed an unconventional path as a UVA football player. A graduate of Parkland High School in Allentown, Pa., he came to Charlottesville as a dual-threat quarterback and practiced at that position while redshirting in 2016.
The following spring, however, Cross began working at wide receiver. In September 2017, Cross started practicing at cornerback, too, after Tim Harris suffered a season-ending injury, while also remaining in the mix at quarterback.
Cross played on both sides of the ball that season. On offense, he rushed five times for 27 yards and had one reception. On defense, he made three tackles. But Cross finished the season with a nagging foot injury that required surgery and forced him to miss spring practice in 2018.
When he was cleared to play again, Cross began working solely at wide receiver. Five games into the 2018 season, however, he was moved to safety, where the Hoos had little depth. Cross started one game that fall, against Liberty, and had eight tackles and an interception in Virginia's 45-24 victory at Scott Stadium.
In 2019, he started the first six games at safety in a secondary that was playing at a high level. Then came season-ending injuries to starters Bryce Hall and Brenton Nelson, forcing defensive coordinator Nick Howell to shift other players around, including Cross.
Injuries hammered the secondary again in 2020, with starting safeties Blount and Nelson each missing significant time. For the second straight year, what was projected to be an area of strength for the Cavaliers became a weakness late in the season.
Led by quarterback Brennan Armstrong, the offense increased its productivity during the second half of the season, and Virginia carried a four-game winning streak into its 2020 finale against Virginia Tech in Blacksburg. The Hokies ended that streak in emphatic fashion, totaling 464 yards in a 33-15 victory.
"Honestly, we didn't play our best football," Cross said. "You don't ever want to lose to your in-state rival. You don't want to lose a game at all. Yeah, it stings. But at the same time, we just started spring ball, and that's what we're working toward. We don't want to have to feel those things."
Cross was among the Cavaliers who struggled that night at Lane Stadium. A foot injury sidelined him in the second half, and he made a costly mistake in the final minute of the first half.
After Virginia Tech wide receiver Tayvion Robinson caught a pass near the sideline, Cross missed what appeared to be a routine tackle. Robinson sprinted to the end zone for a 60-yard touchdown that pushed the Hokies' lead to 27-7.
Cross said he misjudged how close Robinson was to the sideline.
"I was like, 'I'll just push him out,' and then when I got there I was like, 'Wow, he's really not out of bounds,' " Cross said. "For people that play sports, sometimes it's like that in the heat of the moment. It's terrible that it happened in that situation, there's no excuse for it really, but that's the facts of what happened. I thought he was out. I thought I just needed to give him a quick little push. I thought that was it, and it wasn't."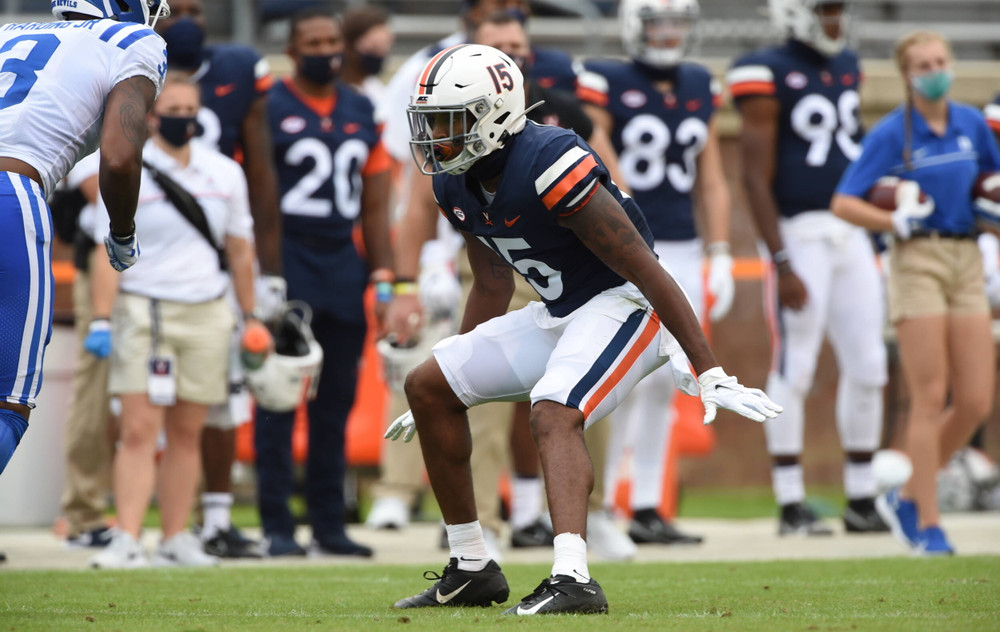 In the offseason, after reviewing his team's 2020 performance, Mendenhall concluded that the defense needed more resources. "I think probably two more games were winnable a year ago," he said, "but the number of big plays we allowed through the air just simply didn't allow that to happen."
To help strengthen the defense, Mendenhall shifted some coaching assignments early this year. Howell still oversees the defense, but Ricky Brumfield is now coaching the cornerbacks and Shane Hunter the safeties.
Brumfield, who remains the Cavaliers' special teams coordinator, worked with the tight ends last year, and Hunter previously coached the inside linebackers.
"Coach Hunter's been here," Cross said. "You always heard his voice, just because he was coaching the linebackers. Well, the linebackers and safeties always have to work together, so really we're used to him in a way. We always heard him. Now, it's no different. He's a great coach. He's very schematic-focused, he's effort-oriented, and that's what our program is based on. So, honestly, it's just another coach that's going to put us in a great position to succeed."
Cross noted that he, Grant and Blount have been part of superb secondaries at UVA.
"We know what it looks like, and honestly we're going to get back to it," Cross said. "Everybody can doubt us. That's fine. But clearly we've got something to prove, and that's what we're going to do. We've been one of the better groups on the team, and we're going to get back to that."
To receive Jeff White's articles by email, click here and subscribe.