By Jeff White (jwhite@virginia.edu)
VirginiaSports.com
CHARLOTTESVILLE – The arc of a football team's season can change quickly. Late last month, after a second straight one-sided loss, the Virginia Cavaliers were in a precarious position. Since then, however, UVA has won three straight to climb back into the race for the ACC's Coastal Division title.
The Wahoos (5-2 overall, 3-2 ACC) have won 20 of their past 23 games at Scott Stadium, and that's where they'll meet Coastal rival Georgia Tech (3-3, 2-2) at 7:30 p.m. Saturday.
In the face of adversity, the Hoos didn't crack. Head coach Bronco Mendenhall's challenge now is to make sure his team deals with prosperity well, too.
On his weekly Zoom call with reporters, Mendenhall noted Monday that "most of us with success have a tendency to become more comfortable, less urgent, and a little bit more self-important, and so I think that's just kind of human nature.  I work hard just to make sure, as an antidote to that, that things remain the same in terms of our routine, that there's not a giant high or a giant low, and the focus is on improvement."
He's counting on the Cavaliers' captains and other leaders to exhibit that same mentality with their teammates.
"It always is the most impactful leadership if it comes peer to peer," Mendenhall said.
In the Coastal Division, No. 23 Pittsburgh (5-1, 2-0) is the only team without at least one ACC loss. The Cavaliers have moved into second place in the Coastal, but they're determined not to get ahead of themselves.
"I think as a team, we're very good at not feeding into any of that and just locking in," running back Devin Darrington said.
"Each day, each week, each game is just a new day in the ACC," linebacker Hunter Stewart said. "As we've seen in previous years, the ACC is always chaotic, so each game is really an ACC championship game. And that's really the model we've been trying to follow so far through the season: each game is [for the] ACC championship, and you've just got to fight."
The Hoos are coming off a 48-0 victory over Duke, their second shutout win of the season. Though the Blue Devils don't have a dynamic offense, the game was more evidence of far UVA's defense has come since allowing 699 yards and 59 points in a Sept. 18 loss at North Carolina.
Mendenhall credited what he called the "relentless work" of Virginia's defensive players and coaches.
"I have high expectations that I've shared with all of our coaches and our players, and those are unyielding," Mendenhall said. "There's not much empathy or sympathy, but there is care and there is instruction and there is everything I can possibly do, but the standard is the standard, and they know that. So they've just worked––yeah, tirelessly is the right word––to continue to improve, and I'm talking coaches and players alike. I've really been impressed and just thankful to see the results, tangible results that they can link to the way they've been training, which has been really challenging."
The 59-39 loss to UNC caused some "culture shock" among the Cavaliers, Stewart said, but they've steadily improved defensively since then, "and the confidence just keeps getting greater and greater each week."
The defense's problems against North Carolina and, six days later, in a 37-17 loss to Wake Forest were all correctable, Stewart said. "It was just missed assignments or missed alignments that led to big plays that just led to points."
The defense has been worked harder and longer in practice during the Hoos' winning streak, and that effort is being rewarded.
"If you treat every practice like it's a game and every rep like it's a game rep, that's where consistency is built," Stewart said. "But once you get into that habit [of thinking], 'It's just practice. I'll make that play in the game,' that's when you start to lose your consistency as a defense."
PREMATURE ENDING: Virginia went into the season with Adeeb Atariwa as one of its starting defensive ends. But Atariwa, who joined the program last summer after graduating from JMU, has missed five of UVA's past six games with an injury and isn't expected to play again this season.
"It's a significant loss for us," Mendenhall said, "because he is such a good player and a great person. But he's also really, really motivated academically, and that was a huge reason for him to come to UVA, so I'm not concerned about his future at all off the field, but he's certainly being missed on the field."
Atariwa is on track to earn a master's degree in systems engineering in December. His absence has meant more playing time for younger linemen, including Aaron Faumui, Jahmeer Carter, Nusi Malani, Ben Smiley, Jordan Redmond and Olsunkonmi Agunloye.
"They're getting more experienced and more comfortable," Mendenhall said.
At this point of the season, most teams have lost key players to injuries, and UVA is no exception. "But the next person steps up and does the best they can, and we adjust and develop and work and adjust and develop and work, and that's what's been happening," Mendenhall said.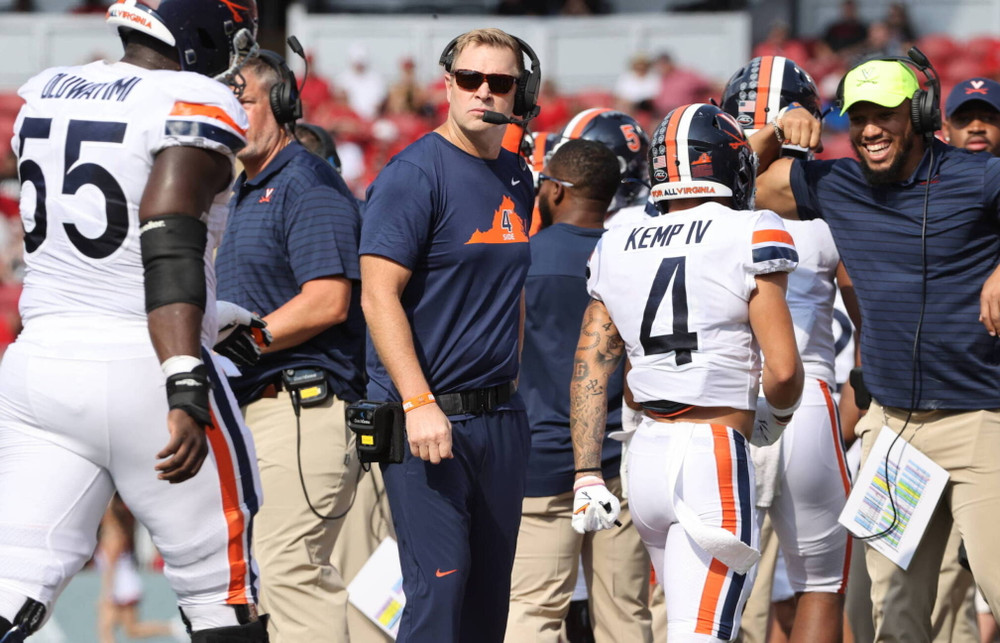 OFF AND RUNNING: Against Duke, graduate transfer Devin Darrington gained 41 yards on back-to-back runs, the first of which went for 34 yards. "It was one of my favorite plays of the year," Mendenhall said.
Moments later, the 5-foot-9, 215-pound Darrington ran 7 yards for his first touchdown as a Cavalier.
"Harvard education with a UVA education with touchdown carries," Mendenhall said, smiling. "That's a good spot to be in."
Darrington, who's from the Washington, D.C., area, enrolled at UVA after graduating from Harvard in May with a bachelor's degree in government. He's in a master's program in the Frank Batten School of Leadership and Public Policy.
"I'm loving it here," he said.
For the season, he's carried 19 times for 131 yards and one TD. Running back is the team's deepest position, and Darrington, who wears jersey No. 26, is competing with Wayne Taulapapa, Mike Hollins and Ronnie Walker Jr. for playing time in a pass-heavy offense.
"Any time a player arrives, especially if they don't arrive mid-year as a grad transfer, it's tough to get up to speed and within the scheme and adjusted and execution-sound," Mendenhall said, "especially if there's competition early season, and so Devin is just coming into his own. The capability has always been there, it's just getting adjusted and having the opportunities and earning the opportunities. But, man, he ran really well on Saturday."
When he was weighing his options, Darrington said, he saw UVA had a stable of running backs. But he also knew that wherever he transferred "there would be a battle for competition," he said. "So on that aspect, I'm not afraid of it. I was just really excited to come to the program just make a difference and leave my mark and just help anyway I can."
With the pandemic ongoing, Harvard canceled its 2020 season. "Just having a chance to play ball again and touching the rock just felt great," Darrington said, "so getting back out there and being able to play football on such a high level is a great thing and just a blessing."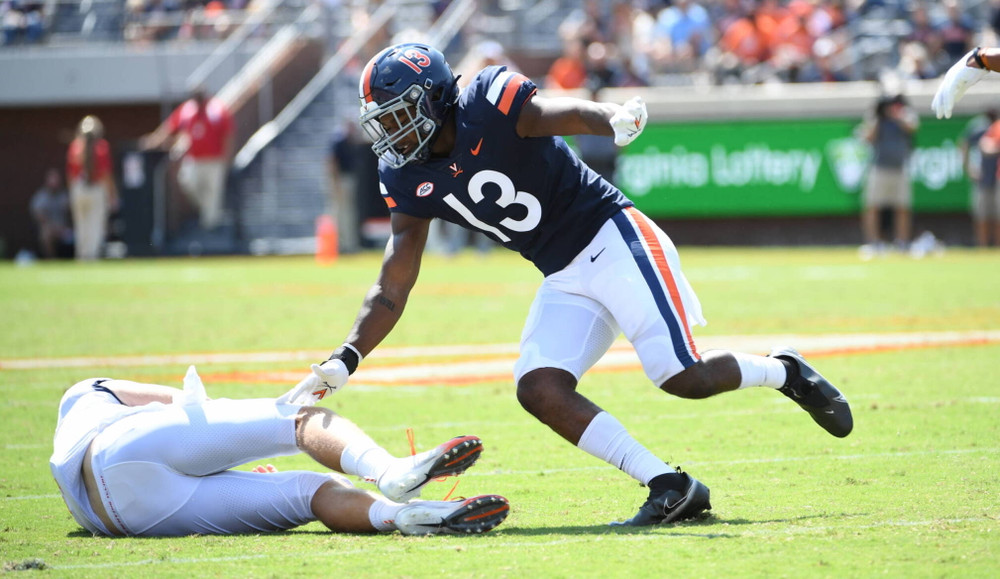 He'd love to get the ball more, Darrington acknowledged, but he's focused on helping the team win. "Whenever my number's called, I've just got to make sure I do what I have to do to make sure I make the best out of my opportunity."
His touchdown came with 11 seconds left in the third quarter. His parents, who had attended each of the Cavaliers' first six games, were not at Scott Stadium to witness it.
"So I told them, I was laughing, I was like, 'Y'all got to stay home every week,' " Darrington said. "It's funny, but it felt great seeing [teammates] after I scored just embracing me and congratulating me, it just felt great , and I want to do it again and again and again and again and again and again."
WAITING IN THE WINGS: In Brennan Armstrong, UVA has one of the nation's top quarterbacks, and he needed only three quarters to pass for 364 yards Saturday, after which he gave way to his understudies. True freshman Jay Woolfolk, who had appeared in only one of UVA's first six games, played much of the fourth quarter against Duke and showed why the coaching staff is so high on him.
On his first snap, Woolfolk had a 14-yard run. On his second, he rushed for 12 yards. He finished with 38 yards on five carries. On the only pass the 5-foot-11, 200-pound Woolfolk threw Saturday, a Duke defender was called for interference, so it didn't count as an attempt.
"He's really skilled as a runner, as a decision maker, as a football player, and he throws it really well," Mendenhall said. "I couldn't be happier about his development and where he stands and sits, and currently as the successor to Brennan, [there is a] really bright future ahead for him and us."
Woolfolk, who graduated from Benedictine College Prep in the Richmond area, is also an outstanding pitcher who plans to play baseball at UVA. His father, Peter Woolfolk, starred in basketball at the University of Richmond.
To receive Jeff White's articles by email, click here and subscribe.