By Jeff White (jwhite@virginia.edu)
VirginiaSports.com
CHARLOTTESVILLE –– For the Virginia Cavaliers, the two-game stretch that will determine whether they win the ACC's Coastal Division does not start until Nov. 20, when they play at Pittsburgh. A week later, in the regular-season finale, UVA hosts Virginia Tech at Scott Stadium.
First, however, comes a visit to Scott Stadium from a top-10 team, something that doesn't happen every year. At 7:30 p.m. Saturday, in game to be nationally broadcast on ABC, Virginia (6-3) hosts No. 7 Notre Dame (8-1). The Wahoos have a chance to defeat a top-10 opponent for the first time since 2005, when they knocked off No. 4 Florida State at Scott Stadium.
"It's a big deal," tight end Jelani Wood said, and there's more to come this month.
The Cavaliers "have three big games ahead of us," defensive lineman Mandy Alonso said, "two of them being ACC games."
Virginia won the Coastal Division for the first time in 2019. Amid the COVID-19 pandemic, the ACC altered its format last season and didn't crown division champions.
For the Hoos, head coach Bronco Mendenhall said, this "is really a brand-new season, with every single goal that we set out with at the beginning of the year still available."
UVA has won 21 of its past 24 games at Scott Stadium. In each of those victories, however, the Cavaliers' No. 1 quarterback was available. That might not be the case Saturday night.
Brennan Armstrong, who ranks No. 2 nationally in passing yards per game (395.2), suffered a rib injury in UVA's most recent game, an Oct. 30 loss to BYU in Provo, Utah. Asked Monday about Armstrong's status, Mendenhall politely declined to offer any specifics.
"I'm planning on him being our quarterback," Mendenhall said on his weekly Zoom call with reporters. "I probably won't have an update until the ball is kicked off and we all look out there and see who our quarterback is."
Fans and media members, as well as the Fighting Irish, may want to know if Armstrong will play this weekend, but Mendenhall's priorities lie elsewhere.
"It helps our football team best to let Brennan heal, recover, and our team get ready to play," Mendenhall said.
It might end up being a game-day decision for Armstrong, who's in his second year as the Cavaliers' starter. He wouldn't necessarily have to practice this week in order to play against Notre Dame.
"Brennan has earned every opportunity to play, even if he just looks out over the field from the balcony," Mendenhall said. "He trains so hard in mental reps, etc., so it literally is day-to-day, and we're going to give him every minute right until the ball is kicked off to be our quarterback.
"The team knows that. I know that. He knows that. He's earned that chance."
If Armstrong isn't available against the Irish, Virginia might turn to Jay Woolfolk, a true freshman from the Richmond area. Woolfolk, who like Armstrong is a dual-threat quarterback, has played in three games this season, completing 2 of 6 passes for 35 yards. He's carried seven times for 44 yards.
Woolfolk impressed Mendenhall with his poise when he was thrust into the game against BYU.
"He's just going out there to play," Mendenhall said. "That endears him to me as a young person, but, man, he's really capable. Bright, bright future ahead for him."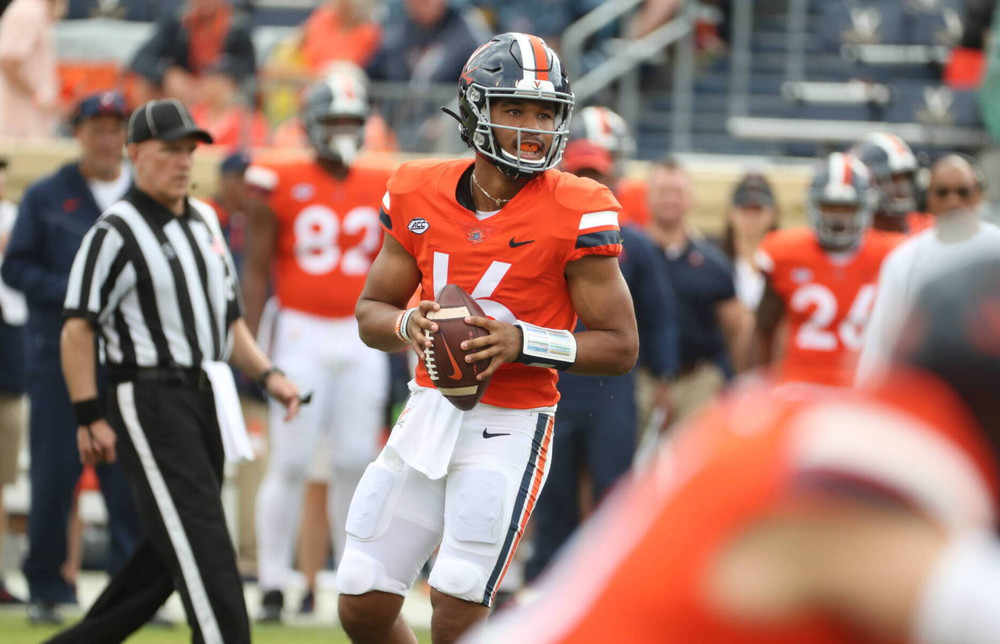 Another option at quarterback is Ira Armstead, who's also been practicing at wide receiver. Armstrong, who's from South Bend, Ind., not far from the Notre Dame campus, appeared in four games as a true freshman in 2020 before suffering a season-ending knee injury.
Woolfolk is more similar in playing style to Armstrong than Armstead is, and that "allows us to train consistently, or more consistently," Mendenhall said. "That doesn't mean we don't like Ira, because I really do. He throws well and runs well and is active, dynamic … So Ira is still training at quarterback, as well as the other positions, but there is more carryover [with Woolfolk]. So that really was one of the main determinants."
Woods said the Cavaliers have confidence in all of Armstrong's backups. "Right now they're doing a really good job of handling what they've been dealt with," Woods said, "as an offense, we're really hot right now. There's no stopping, no stoppage anywhere. We're fine."
UVA has five players with at least 445 yards receiving each this season, led by wide receiver Dontayvion Wicks (42 catches, 972 yards, nine TDs).
The Cavaliers are averaging 38.9 points per game. Offensive coordinator Robert Anae "does a really good job with the playbook and how it's built around being able to get the ball to the playmakers," said Woods, who's caught six touchdown passes this fall. "So whoever is at quarterback will be able to have the same success."
When Woolfolk replaced Armstrong in the BYU game, Woods said, "he took control immediately, and you really didn't see too [many] rookie mistakes. Right now he does a really good job in practice of handling everything. We throw a lot of stuff at him, and especially with the offense we have, there's a lot of stuff thrown at you. I feel like he's done a really great job with that."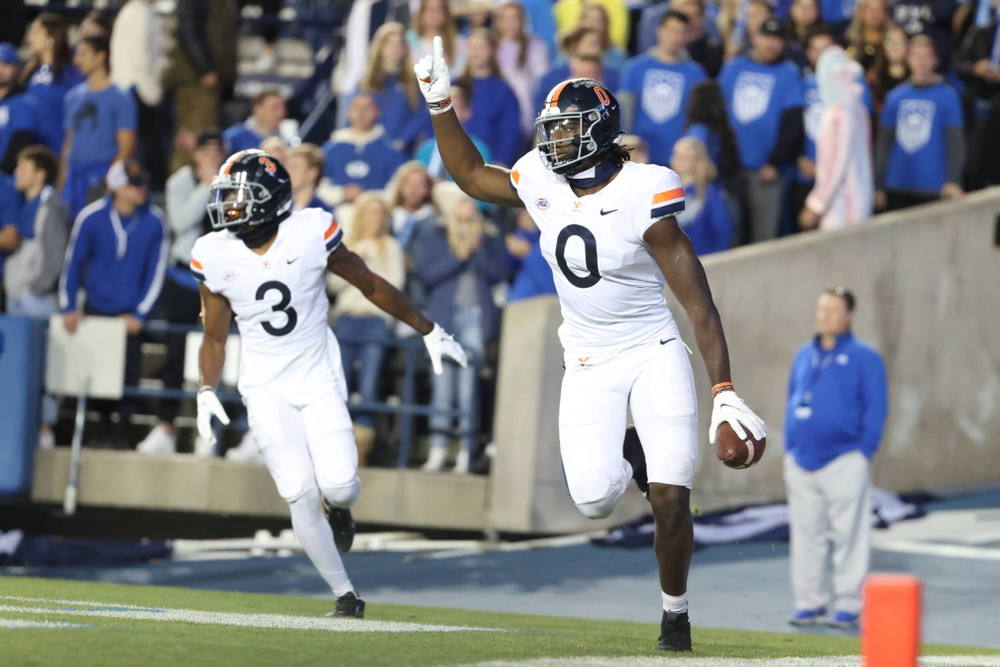 After flying home from Provo, the Cavaliers had their first bye week of the season. The top priority, Mendenhall said, was the players' "rest, recovery, and renewal," but the coaches were well aware that the defense had problems that needed to be fixed.
Against BYU, UVA allowed 36 first downs, 734 yards and 66 points and forced no turnovers. The Cougars struggled on defense for much of the night, too, but they came up with three takeaways, and that was probably the difference in the game, Mendenhall said afterward.
The Cavaliers are giving up an average of 30.8 points per game and have only nine takeaways this season, the third-fewest among ACC teams.
"It's been kind of a roller coaster," Alonso said, "and I think that [the bye] week really put into perspective where we're at right now as a defense and what we need to do to help our team win these last few games and to actually do the things that we said we were gonna do at the beginning of the season. I think that the offense has done more than enough, and we need to provide for them, and we need to show up for the offense. Whether they score 10 points or whether they score 60 points, it doesn't matter. We need to be able to show up and play the defense that we are capable of."
Alonso said he believes having extra time last week "was the best-case scenario for our whole team, especially for the defense, to be able to soak it in and hold ourselves accountable and dive in. Because on regular weeks we'll go over the film and see the big things [from] the last game, good or bad, and then we move on to the next opponent."
The Hoos have posted two shutouts this season and held Illinois to 14 points, so the defense has had some excellent moments. But Virginia has allowed more than 500 yards four times.
It can be challenging to stay positive through adversity, Alonso acknowledged, "but I think that's our strength: that we are able to bounce back and able to band together and not just point at a certain position group or each other and stuff like that. I think we do a good job of banding together and trying to assess and fix the problem right away, rather than getting on each other or the offense getting on us, DBs getting on the D-line or the D-line getting on linebackers. I think we do a good job of just handling our responsibilities and just trying to fix it, instead of pointing fingers."
The Cavaliers haven't played an ACC opponent since Oct. 23. The stakes will be high when Virginia (6-3, 4-2) finally returns to conference play. If they Hoos beat Pitt (7-2, 4-1) and Virginia Tech (4-5, 2-3), they'll represent the Coastal in the ACC championship game.
The team couldn't ask for a better opportunity, Alonso said. "One hundred percent. This is what you train for all season. You want to be in these positions. We've put our team in a good enough position to have our goals in reach, and I think Coach is real happy with us right now, and we're in a good position to [achieve] what we wanted to do at the start of the season."
To receive Jeff White's articles by email, click here and subscribe.