By Jeff White (jwhite@virginia.edu)
VirginiaSports.com
CHARLOTTESVILLE –– More than three months have passed since Tony Elliott was named head football coach at the University of Virginia. He's observed his players in their strength and conditioning workouts, but Elliott has yet to lead his team through a practice.
That's about to change. The Cavaliers open spring practice Tuesday morning, and much has changed since the end of an up-and-down season in which they finished 6-6.
In early December, Bronco Mendenhall announced that he was stepping down after six seasons as Virginia's head coach, and Elliott was hired about a week later. He retained three assistant coaches from Mendenhall's staff––Marques Hagans, Garett Tujague and Clint Sintim––and hired seven others, including coordinators Des Kitchings (offense), John Rudzinski (defense) and Keith Gaither (special teams).
Elliott is no novice when it comes to spring football. He came to UVA from Clemson, where he spent 11 seasons on head coach Dabo Swinney's staff, and he's also been an assistant at South Carolina State and Furman.
Still, Elliott said, this spring "is different, because I'm not going in with a ton of expectations. Typically at Clemson, you would kind of get ahead of yourself, trying to figure out how the position battles from a competition standpoint were going to play out. You had an idea of who you thought the leaders were. Here, you start with a clean slate."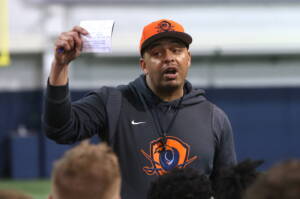 In Brennan Armstrong, Elliot knows he has an elite quarterback, and the Wahoos' receiving corps also ranks among the best in FBS. At most other positions, however, the coaching staff will be trying to see "how it's going to work out," Elliott said, "to see how the players respond to the style of coaching, the different systems that we're installing on offense, defense and special teams."
His main goals for the spring?
"One, to get a lot of quality work in and stay healthy," Elliott said, "because numbers-wise, from that standpoint we're not where we need to be. So that's first and foremost."
Next, Elliott said, he wants to lay the foundation for his system, with the installation of all three phases, "and come out feeling good about where the guys are from a comprehensive standpoint."
Finally, he said, "I want to establish a physical mindset, both offensively and defensively, in the trenches, because that's where it starts. We want to be able to establish the line of scrimmage and run the football and be able to stop the run, be able to protect the quarterback, and then also be able to get after the quarterback."
At Clemson, Elliott worked with the offense, "so I wasn't really concerned about the defense," he said, laughing. "Now I'm the head coach, and I want to have success on both sides of the ball. I want to be able to run the ball and stop the run. That's going to be difficult. One side is going to have the advantage, but I want to be able to create a physical mindset in the trenches with the personnel we have."
Elliott's first game with the Cavaliers––Sept. 3 against Richmond at Scott Stadium––is still more than five months away. Spring practice will give him a clearer idea of what to expect from his team in the fall.
"It's like the potter and the clay," Elliott said. "We've got the clay, and we're going to have a chance to try and mold it a little bit. In football, the workouts are great, because we get a chance to see, from a mental-toughness standpoint, who can push through and who your leaders are, and you get to see them do some football movements. But other than that, everything has been a walk-through, and there's been no pads. The intensity level will go up, and you get to see how they're going to respond. So we'll know a lot more once we get through the spring."
COMING AND GOING: Four newcomers enrolled at UVA and joined the program in January: quarterback Davis Lane Jr. and linebacker Steve Bracey, freshmen from Lynchburg and Atlanta, respectively; wide receiver Devin Chandler, a transfer from Wisconsin; and defensive end Jack Camper, a graduate transfer from Michigan State.
Virginia has signed four other grad transfers—defensive linemen Kameron Butler (Miami-Ohio) and Paul Akere (Columbia) and offensive linemen John Paul Flores (Dartmouth) and Mac Hollensteiner (Georgetown)––but they won't enroll until after the semester and so aren't participating this spring. That'll mean extra reps for the Cavaliers' returning linemen on both sides of the ball.
Tujague is back for his seventh season as UVA's offensive line coach, and he faces a monumental rebuilding project. Gone are his top six linemen from last season: Olu Oluwatimi, Chris Glaser, Ryan Swoboda, Ryan Nelson, Bobby Haskins and Joe Bissinger. Their understudies included Derek Devine, Ty Furnish, Jestus Johnson III, Noah Josey, Jonathan Leech, Charlie Patterson, Logan Taylor and Zach Teter, all of whom are still on the roster.
The returning O-linemen are inexperienced, but many of them figure to be in the rotation in the fall, and so this is a pivotal spring for them.
"It's a great opportunity for those guys to be able to show what they're capable of," Elliott said, "because there was a lot of experience on the offensive line last year that walked out of the program, whether it was graduation or it was transfers. I think there's some young, intriguing guys, but we gotta see them in action. So I'm excited about that.
"Right now there's two [grad transfers] coming that we know of, and we're still chasing another grad transfer on the offensive line. If you're projecting that those guys are going to be able to come in and play, you still gotta have three other guys that have got to step up. So you've got to make sure that those guys get reps and stay healthy [this spring], but at the same time, too, that they can be evaluated fairly by being given opportunities."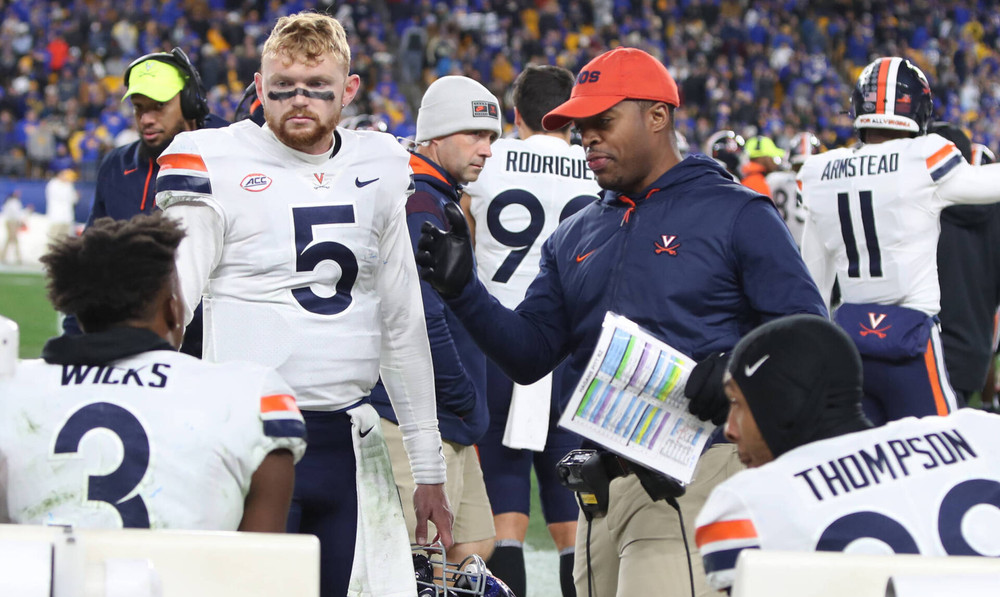 POSITION OF STRENGTH: The Cavaliers are deepest and most talented at wide receiver, where such players as Billy Kemp IV, Keytaon Thompson, Dontayvion Wicks, Lavel Davis Jr. and Malachi Fields are back, along with their position coach, Hagans.
"In our room, we sit at a round table," Hagans said. "There's head of the table. No one person is more important than another. So we all work, we all grind, and whoever makes the plays makes the plays. We're going to support our culture; that's the most important thing. We try to drive that every day, just to remind each other that we're here for each other and whatever the team needs.
"One day you might get eight [targets], one day you might get two, one day you might get 20. I understand that it's a position where everyone wants the ball, but our ultimate goal is to help the team win, whether that's offensively or on special teams."
The competition in his group is fierce, Hagans said, and that's a good thing.
"Every opportunity will be maxed out," he said, "because everybody is going to want that opportunity to prove they're deserving of that moment. Every rep is extremely competitive, and that's what you want."
LIMITED OPTIONS: At quarterback, Armstrong is coming off a record-setting season in which he passed for 4,449 yards and 31 touchdowns in 11 games. (He also rushed for nine touchdowns.) There's no mystery about what Armstrong can do, but Kitchings and quarterbacks coach Taylor Lamb, both new to the program, need to learn more about the others at that position this spring: Lane, Jay Woolfolk and Jared Rayman, who ran the scout-team offense last year.
Woolfolk, who as a true freshman backed up Armstrong last season, is also a gifted pitcher who's playing for UVA head coach Brian O'Connor's baseball team this spring. Woolfolk won't be a full-time participant with football during baseball season, but that's OK with Elliott.
"He's been tearing it up in baseball, and as long as he's contributing and helping Coach O'Connor and those guys, we'll figure out a way to get him some [football] work," Elliott said. "We'll practice in the mornings, so we'll have to work around his classes, but I don't want to hurt baseball, especially because he's contributing. I wouldn't want to hold him back there."
NEW LOOK: For the first five years of Bronco Mendenhall's tenure at Virginia, his base defense was a 3-4. The Cavaliers shifted to a 3-3-5 last season. Elliott said Rudzinski's defense will offer multiple looks, with a four-man front at times and a three-man front at others. Until spring practice starts, however, the coaching staff won't know which scheme it will employ most often.
The focus on defense, Elliott said, will be to "see what we've got and see what the guys can do, what can they comprehend, and then see how we can be multiple, how can we help them schematically. So I know it'll be different than [the defense] that Bronco went to last year, but it'll be a combination of the three-down and four-down."
In winter workouts, Elliott said, defensive linemen Aaron Faumui and Jahmeer Carter have impressed him with the way they "move around and the leadership they're showing. So that's encouraging, and hopefully we'll get some guys to step up coming off the edge."
Candidates for that role include Mike Green, who impressed at outside linebacker as a true freshman last season. "I'm excited to see where Green is going to be," Elliott said. "I think he's a guy that can give us some speed off the edge into the boundary, but then also the versatility to drop when you bring field pressure. So I think we've got some pieces. We've just got to put it all together."
Two of the freshmen who enrolled at UVA last year, Hugh Laughlin and Javin Burke, are working on the defensive line and in the secondary, respectively, Elliott said. The staff had considered moving them to offense, but for now they'll be on defense.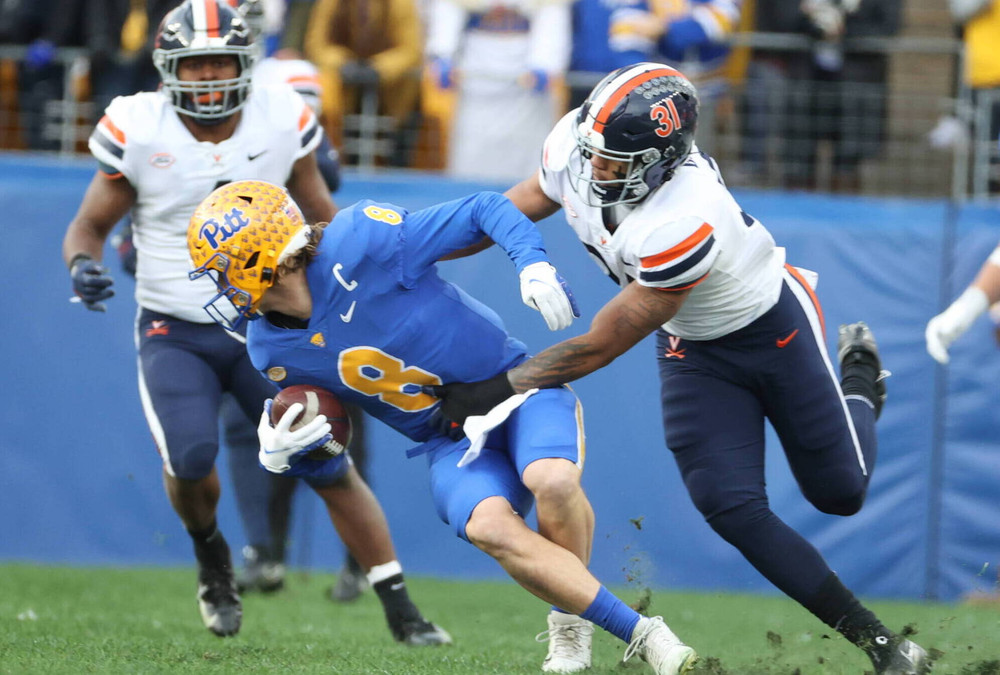 SPRING FINALE: The Cavaliers' Blue-White Game is set for April 23 at 4 p.m. at Scott Stadium. Its format will depend on how many players are available that day, but Elliott's preference is for a traditional game in which it's not starters versus reserves, but rather "you split the team up and try to have a little bit of competition," he said.
"I know this year with the quarterback situation, Brennan will probably have to play a little bit for both teams, but we'll keep him in an orange jersey and not let him get touched, and then let Lane and Rayman go and battle it out in the second half.
"We'll see where the depth is. I'd like to make it more of a true interactive game and have a little bit of fun. It's also an opportunity for the coaches to grow. That was one thing that I'm grateful that Coach Swinney did for me. Early in my career, when I was not the coordinator, he said, 'You're calling plays for the offense,' and it helped me to prepare. So there's a lot of things that will go into it. I think it'll be fun for the fans, too. This year it might not look like the end product down the road, just because of the depth situation, but hopefully in the future we can make it a good, festive event, and competitive as well."
HOLE TO FILL: Virginia returns its top two kickers, Brendan Farrell and Justin Duenkel, from 2021. But Jacob Finn, the Cavaliers' punter last season, is out of eligibility, and his successor might well come from the transfer portal.
"We're going to try and see if we can get somebody by the time we get ready to kick it off for fall camp," Elliott said.
That might not be the only transfer UVA takes this spring, but "it's got to be the right guy," Elliott said, "in fairness to the guys that we signed, the young guys, numbers-wise We've got some developmental guys, but I think there's some really, really good young talented guys that we've brought in, so in fairness to managing the roster, I just don't want to load up on a position and then leave the other positions short. I've manage the roster. Hopefully everybody will stay intact once we finish the spring and we won't have any attrition. Maybe we can supplement a no-doubt guy on the offensive line, but it's not necessarily a priority, other than the [grad transfer] that we're pursuing."
COMING ATTRACTION: UVA and James Madison University announced on March 10 that their football teams would meet on Sept. 9, 2023, at Scott Stadium.
The schools are about 55 miles apart, but their football series consists of only three games, the most recent of which was played in 1983. JMU, which has become an FCS power, announced last fall that it was transitioning to the FBS and would join the Sun Belt Conference.
"I don't necessarily know the history behind [JMU football]," Elliott said, "but I think it's good for the state. Definitely they've had a lot of success, and I think it's the right thing to do."
To receive Jeff White's articles by email, click the appropriate box in this link to subscribe.