By Jeff White (jwhite@virginia.edu)
VirginiaSports.com
CHARLOTTESVILLE – When the final second ticked off the scoreboard clock, a jubilant scene erupted at Scott Stadium. It was Nov. 29, 2019, and fans streamed out of the stands and onto the field to celebrate UVA's 39-30 victory over Virginia Tech.
Malachi Fields was among the throng.
"That was awesome," he recalled this week at the George Welsh Indoor Practice Facility.
Fields was then a junior at nearby Monticello High School, where he'd become a standout in football and track & field. For all his athletic prowess, though, he attracted little interest from major-college football programs.
That didn't deter UVA's coaches. They offered Fields a scholarship, and he committed to the Cavaliers in March 2020.
"It just felt like home," said Fields, who grew up in Keswick, in the eastern part of Albemarle County. "When the coaches were talking to me, they really cared about my future beyond football. So that just sold me."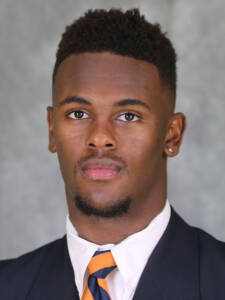 Fields stands 6-foot-4, and as a Monticello senior in 2021, at the Virginia High School League's Class 3 state indoor track & field meet, he won the 500 meters, placed second in both the high jump and the shot put, and finished fifth in the long jump. Even so, Rivals rated him as a two-star prospect in football.
"I'm glad they ranked him that, and I'm glad everybody passed on him," UVA wide receivers coach Marques Hagans said, "because we're very lucky to have him."
Fields said: "I'm just grateful for what I've got. I do the most I can with what I've got."
At Monticello, Fields primarily played quarterback and defensive back, but he was always going to be a wideout at Virginia. The transition to a new position takes time, and when Field signed with the Wahoos in February 2021, it seemed unlikely that he would play much as a true freshman. That changed when wideout Lavel Davis Jr. tore his ACL last spring.
"Once we lost Lavel, that kind of opened up another opportunity," Hagans said.
Fields appeared in 11 games and caught 11 passes for 172 yards last season. His longest reception went for 51 yards in UVA's comeback victory at Louisville.
"I just expected to come in and learn everything I could, try to be the best I could," Fields said, "and when the opportunity came, I stepped in and did my job."
For all the plays Fields made, Hagans said, there were others he "left on the field. He knows that."
They've talked about the passes Fields dropped and the touchdowns he could have scored, Hagans said. "But it was a learning experience for him on the fly. Sometimes you get to develop and sometimes you get thrown right into the fire. I thought he did well, but there's a lot of improvement for this year."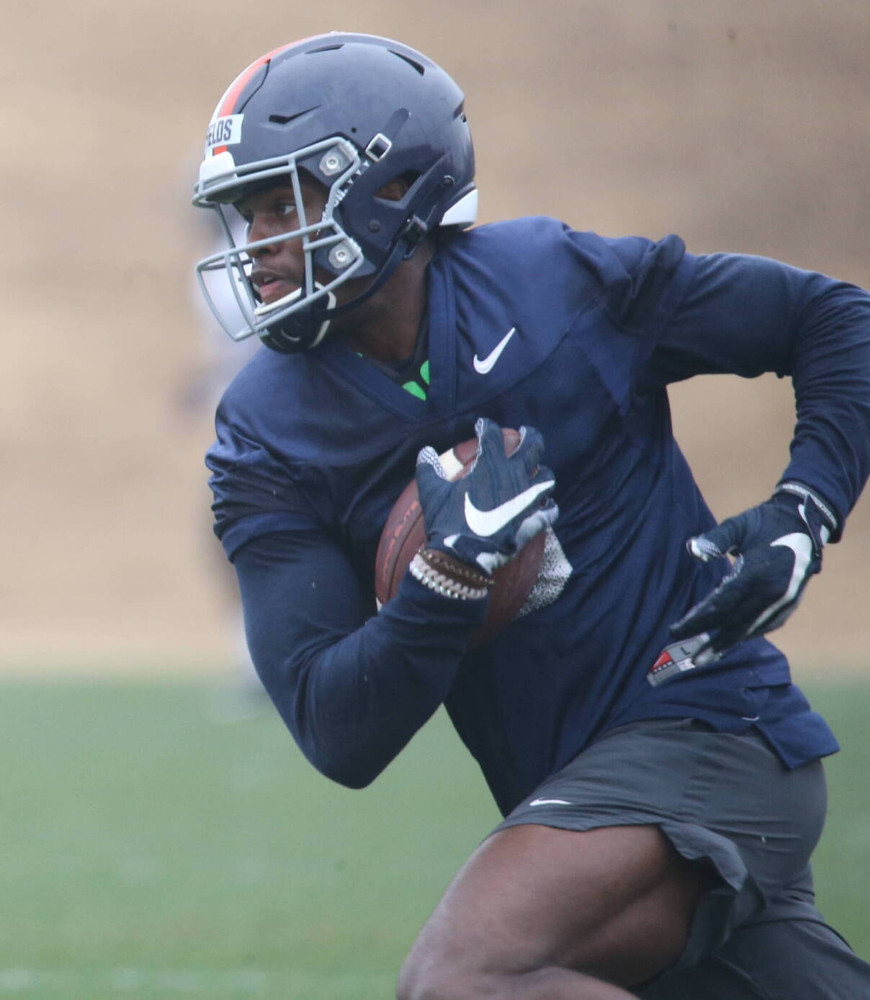 In Billy Kemp, Dontavyion Wicks, Keytaon Thompson, Ra'Shaun Henry and Fields, Virginia had a wealth of talented wideouts last season, and that group helped quarterback Brennan Armstrong break several of the program's passing records. Henry is out of eligibility, but Kemp, Wicks and Thompson are back, as is Davis, who's healthy again.
To have so many mentors "is awesome," said Fields, who lives with linebacker Steven Bracey, a freshman who enrolled at UVA this year. "They're just always trying to teach me what to do and get me right. They want the best for me. They want me to get better than them when they leave, so I can do the same for the next guy."
Hagans said: "I think you take something from all the guys and put your own piece on it, to make it your personality and your skill set. But I think there's some really good guys, older guys, in our group, and Malachi can lean on any of them."
Armstrong said Thursday that he expects Fields "to be a big asset for us this coming season. With all the weapons we had last year, he had some good [moments], but this year he's going to have to play a bigger role in our offense, and I think he's developed so far really well … Malachi has been a great target for me already in spring ball."
This is not a typical offseason for the Hoos, who opened spring practice early last week. They have a new head coach, Tony Elliott, who took over for Bronco Mendenhall in December. Elliott retained three assistants from Mendenhall's staff––Hagans, Clint Sintim and Garett Tujague––but the Cavaliers have a new offensive coordinator, Des Kitchings, and the players are adjusting to a new system.
"I'm excited to see as we transition out of that learning phase into [a phase where they] actually play some ball without thinking so much, in fall camp," Armstrong said. "So that's when I really want to see a lot of improvement [from Fields] and see how he's really balling out on the field during that time. Right now, it's just a lot of learning. You just never know how fast they're going to learn it and then how they're going to perform once they get it down."
Elliott is a former Clemson offensive coordinator, and his attention to detail has stuck out to Fields. "He's really big about the little things," Fields said. "He's just pushing us to do every little thing better and to always finish."
Fields isn't the only player from the Charlottesville area in the Cavaliers' first-year class. Safety Jonas Sanker, a graduate of the Covenant School, appeared in nine games last season.
Sanker and Fields met when they were in high school. "I didn't know him as well until I got here," Fields said, "but when I heard that he'd decommitted from Boston College and was coming here, we started to get in touch more, so we became friends before we got here."
Hagans was one of the UVA coaches who pushed for Fields to receive a scholarship offer. Not only was Fields excelling at Monticello, he'd impressed at a UVA camp, and "he was a local kid," Hagans said.
"He's an in-state kid, he fit all the criteria, and he was a big athlete. And I just thought to myself, 'If I can get a chance to really work with him, I could develop him.' Coach [Mendenhall] trusted me to go after him, and I'm glad we got him."
When the Cavaliers played at home, Fields' family makes the short drive from Keswick to Scott Stadium. He's loved playing in a place where he used to attend games.
"It's just right here at home," Fields said. "I grew up around it, so it's awesome."
Does he take his laundry home? "No," Fields said, smiling. "I used to, but now I'm washing it on Grounds."
As a true freshman, Field wore jersey No. 86, but he's switched to No. 8, which he wore at Monticello. His goals for this season are straightforward.
"Be the best that I can, make plays when I can, step in, take advantage of every opportunity," Fields said. "Nothing to lose."
Fields has the tools and mindset needed to be successful, Hagans said. "He's learning how to work. He's learning what to do. Now he's just got to learn how to do it consistently."
To receive Jeff White's articles by email, click the appropriate box in this link to subscribe.