By Jeff White (jwhite@virginia.edu)
VirginiaSports.com
CHARLOTTESVILLE — When he looks out into the audience Friday night at Old Cabell Hall, Langston Long hopes to see a lot of familiar faces: those of fellow UVA football players.
Long, a sophomore who spent much of his childhood in Woodbridge, has been working with the first-team defense at safety this spring. At 6-foot-2, 215 pounds, No. 27 is hard to miss in the secondary. He stands out even more on stage with the Virginia Gentlemen, UVA's oldest a cappella group.
"It's a really great place for me to just be more than an athlete," said Long, who joined the Virginia Gentlemen this semester. "I can show that in the classroom as well, but when there's a classroom with 300 students, I'm just another student at that point. I'm trying to be a Renaissance man, multi-faceted, in every way I can be."
Long, a tenor, sang the national anthem with the Virginia Gentlemen before a women's basketball game at John Paul Jones Arena in February. He sang The Star-Spangled Banner solo on March 4 before a UVA baseball game at Disharoon Park.
"It was nerve-wracking," Long said. "I didn't think it was the best, because there was an echo, and I wasn't really ready for it, and I was a little nervous."
He survived the experience, however, and is looking forward to the Virginia Gentlemen's spring concert this weekend. "I really like to sing," he said.
Long goes by Lex, a nickname he picked from a classmate in Texas when he was a boy. From an early age, he showed an interest in, and a talent for, musical theater.
"I got my first role in the third grade," Long said. "I was the hare in The Tortoise and the Hare. I stopped doing musicals like that till I got to fifth or sixth grade, when I was Prince Charming in Cinderella. And then I was I was a constable in Sherlock Holmes."
Long laughed. "Till the day I die I'll probably be hurt about fact that I wasn't Sherlock Holmes. I was a different detective. And then my freshman year [of high school], I was Sebastian the Crab in The Little Mermaid, and my sophomore year I was Uncle Fester in The Addams Family. So musical theater has always been a part of me."
At UVA, his football obligations would make it almost impossible for Long to devote the necessary time to a drama production, but a cappella works well with his schedule, he said. The Virginia Gentlemen practice twice a week, on Sundays and Wednesdays.
UVA cornerback Anthony Johnson can vouch for Long's singing ability. They have adjoining lockers in the McCue Center, "so I hear him harmonizing sometimes. He's really legit," Johnson said.
"He's a very fun guy. He's a big personality guy. He can sing, he can dance, he brings a great energy. He's just an overall well-rounded kid."
Long's father, Rendell Long, is a U.S. Army veteran, and for years the family moved often, with stops in Alabama, Kansas, Texas and Virginia, among other places.
"I switched schools 10 times," said Long, who was born in Dothan, Ala.
In Virginia, Long has lived in Arlington and Alexandria as well as in Woodbridge. He's an extrovert by nature, and that's helped him navigate so many new environments.
"I think it was like in third grade or something, I figured out that the go-to move was, 'Hey, my name is Lex. Nice to meet you. Can we be friends?' " Long said. "And from then on, it was really easy. I was always doing some type of something, so I was known in different areas and fields, and eventually it just kind of became very easy to make friends. It was never hard for me to move to a different school after a while."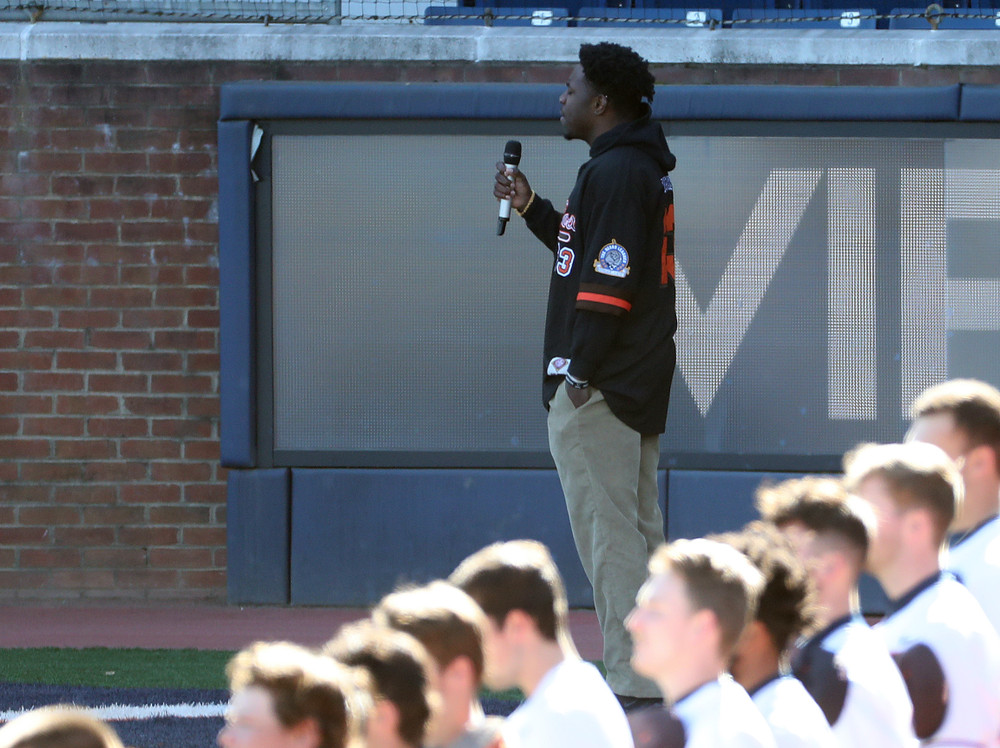 As a junior in 2018-19, Long attended Hylton High School in Woodbridge. In the summer of 2019, however, he enrolled as a boarding student at the Christ School in Arden, N.C., and reclassified to the Class of 2021.
He'd starred in football at Hylton, "but I think I needed just more of the total learning environment, a place I could be a student and an athlete," Long said, "and I feel like that was best found in Christ School."
By reclassifying, Long figured he would attract more interest from Power 5 programs, and that's what happened. He committed to UVA in March 2020 after also considering Virginia Tech and Kansas, among other schools.
"I came for my unofficial visit the day before I committed," Long said. "I felt loved. I just felt appreciated. I consider Virginia my home state, so it was kind of like a homecoming moment."
Long has a sister, Lauren, who played volleyball at Troy University in Alabama. Their father played football at Florida State, and he was a fullback on the team that lost to UVA at Scott Stadium on Nov. 2, 1995. For FSU, that was its first conference loss as an ACC member.
"He was on the sideline that game," said Langston Long, whose parents still live in Woodbridge. "He was telling me, in more colorful words than I can use currently, that he was very 'flabbergasted' as to the outcome."
For years, Long said, he dreamed of becoming a Seminole, too, but "I remember one day my dad pulled me aside and said, "It ain't my story no more. It's your story, and I'm going to root for you regardless of where you go.' When I committed [to UVA], I think he was really happy, and I was really happy. My whole family was really happy, and we're still really happy, and we're going to work to be happier."
Long enrolled at the University in January 2021 and participated in spring practice last year. He played sparingly in the fall, appearing in eight games and making four tackles. Still, Long said, the experience was invaluable.
"You can't overstate the importance of that," he said. "It's ridiculously helpful just to understand the flow of the game, how fast it is and all the factors that you wouldn't be able to understand in practice. I didn't get too many reps, but being on the field and just understanding that the caliber has changed from high school to college is very important. And I'm excited to use that knowledge this year."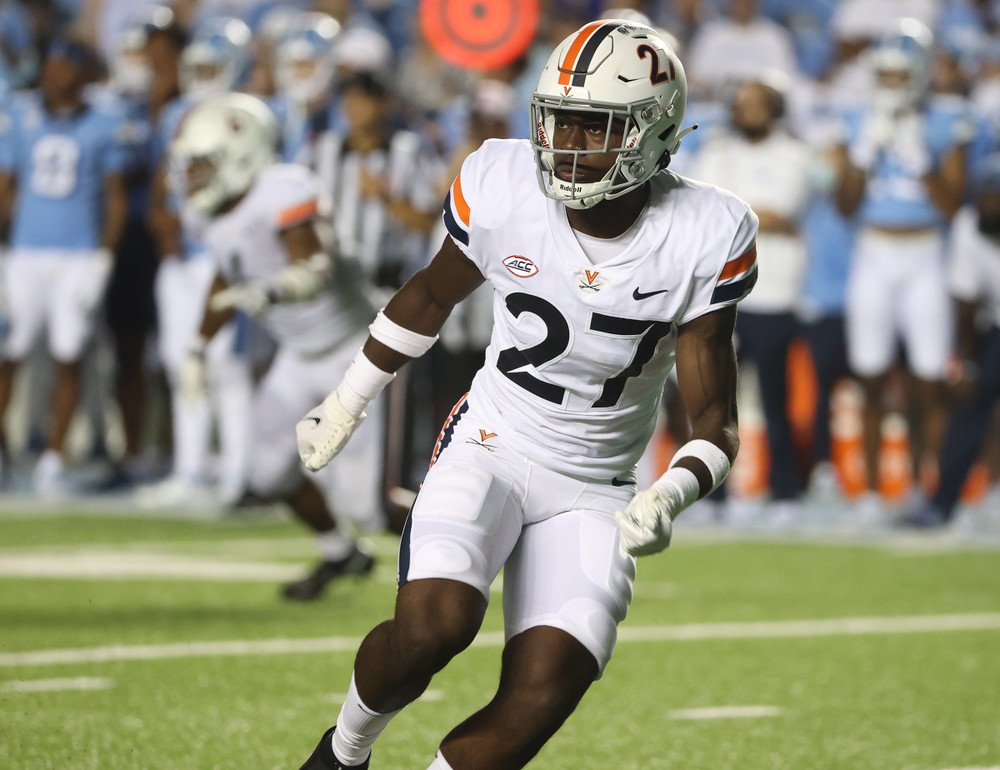 The program underwent a major change in early December, when Bronco Mendenhall announced he was stepping down after six seasons as the Wahoos' head coach. Eight days later, Tony Elliott was hired as his successor.
Elliott retained three assistants from Mendenhall's staff, but Long is playing for a new secondary coach (Curome Cox) and a new defensive coordinator (John Rudzinski).
"Nothing is worse, or better," Long said. "I think everything's just different. I think both staffs did great jobs in their respective areas. I'm learning new things and new methods to do things, and it's very beneficial. I'm just really excited really.
"There was definitely initial fear coming into it. What's going to happen? I didn't commit to Coach Elliott, so it was kind of like the rug was being pulled from under me, but they came arms open. They're trying to build something here and I'm on board."
Cox and Rudzinski came to UVA from the Air Force Academy. When they arrived, Cox said, the coaches reviewed video cut-ups of the Cavaliers' returning players.
"We did it as a defense, we did it individually by position," Cox said. "But the reality was, just based on the group coming back, there really wasn't much film to watch on a lot of the guys."
Given that, Cox said, "I just think we start with a clean slate for everybody. But I think the biggest thing with the young guys is starting from scratch with a mentality, a work ethic, a mindset, a grind, and just kind of showing them what it takes and holding them to that standard."
Johnson said Long "has great energy, and he's a physical player. With him being a little inexperienced, there's a lot he can learn, but he's coming along really well. He's showing growth, he's showing his commitment to the game. He's showing that he can learn playbooks and systems, and he does a good job tackling the ball in space."
Long, who lives with teammate Hugh Laughlin, said he came into 2022 "with the mindset that I was going to do everything I could to be in the starting rotation or whatever you call it."
The Cavaliers have often lined up with five defensive backs this spring: Johnson and Fentrell Cypress II at cornerback; and Long, Coen King and Antonio Clary at safety. Of that group, Long has by far the least experience.
"It's definitely great to be out there with those guys," he said. "They're super knowledgeable. They carry so much experience and wisdom, and they pass it on to me. And, yeah, I'm a young dude, but I know my playbook pretty well. It's a new playbook, so we're all starting from the same spot. I don't feel too young, especially in terms of the playbook. But there's things that they kind of understand that come with time, and it's taking me a little while to catch up on. But they're great mentors out there, and they're shaping me up for success."
To receive Jeff White's articles by email, click the appropriate box in this link to subscribe.