By Jeff White (jwhite@virginia.edu)
VirginiaSports.com
CHARLOTTESVILLE —Offensive tackle Jonathan Leech has started two games in his University of Virginia football career. That's two more than the rest of the Cavaliers' offensive linemen combined.
"He's the most experienced guy, as scary as that sounds," Virginia offensive line coach Garett Tujague said of Leech, a rising senior who grew up in the Atlanta area.
From a team that finished 6-6 in 2021, the Wahoos lost their top six O-linemen. Chris Glaser, who exhausted his college eligibility, is pursuing a career in pro football, as is Ryan Nelson. Bobby Haskins, Ryan Swoboda, Olu Oluwatimi and Joe Bissinger entered the transfer portal in December, not long after Bronco Mendenhall announced he was stepping down as UVA's head coach, and ended up at Southern California, Central Florida, Michigan and SMU, respectively.
"I didn't expect all of them to leave," Leech said. "It's weird being the older one now. I've had all those older guys the entire time I've been here, and then they all just kind of left at once. It was a big change, and I get surprised sometimes when younger guys are asking me questions about things. I'm like, 'Oh, I guess I do know that.' Usually I'd be the one asking that."
The Cavaliers' first spring under Mendenhall's successor, Tony Elliott, concludes Saturday with the Blue-White Game at Scott Stadium. More offensive linemen will join the program once this school year ends, but the Hoos are extremely short-handed up front this spring. That's meant countless repetitions for Leech and Virginia's other healthy O-linemen.
"Leech is Ironman," Tujague said.
"Ever since I've been here, there's always been at least 15 linemen, usually 20, so this year is pretty weird," Leech said. "I think we have total of maybe 12 linemen, and five of them are hurt. So we're practicing with about seven right now, and practice is pretty tough right now.
"We all give as much as we can. I know I'm one of the older ones and more experienced ones, so I try to be in there the most and try to encourage them the most. I'm trying to lift them up by showing, 'I'm gonna be in here with you the whole time.' Usually I get one or two plays off after about 15 to 20 plays and then I go right back in. So at the end of practice, I'm just completely dead. I'm tired."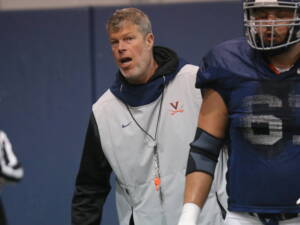 Leech, who appeared in two games as a true freshman in 2019, played in six as a sophomore. In 2021, he started two games: one (Miami) at left tackle and one (Georgia Tech) at right tackle. That experience, Leech said, was invaluable.
"The big thing is it takes out the nerves of your first college start and really being in a game," he said, "because when they put us in as freshmen or sophomores, it's in the fourth quarter and there's not a lot of pressure. We're up by a lot. But going in at the start of the game when everyone's fresh and the defense's fresh, you get their best, and it really shows you what it's like and what to expect and what to prepare for."
A graduate of Mill Creek High School, the 6-foot-4 Leech weighed 245 pounds when he arrived at UVA in the summer of 2019. He knew he needed to gain weight to thrive at this level, but it was a struggle for him. O-linemen in FBS often look a little sloppy, and that didn't appeal to Leech.
"There was hemming and hawing about whether not he wanted to gain the weight, because he didn't want to be fat," Tujague said. "He just wanted to make sure he could trust the people that were asking him to do it and that it was going to be healthy weight. He wants to know what he's putting in his body."
As a freshman, Leech said, "I really didn't want to put on that weight. I didn't want to carry it around." But after discussions with Tujague and the strength and conditioning staff, Leech said, his attitude changed.
"It's not that big of a deal," he said. "I'm fine with being at this way right now, and I know I can lose it after I'm done with football."
The team's offseason workouts were grueling and included "a lot of running," Leech recalled, which initially made it difficult for him to gain weight, and "I did struggle with eating for a while. Eating was a job for me. It was painful to eat. I ate as much as I could, but I feel like a lot of the running took off the weight."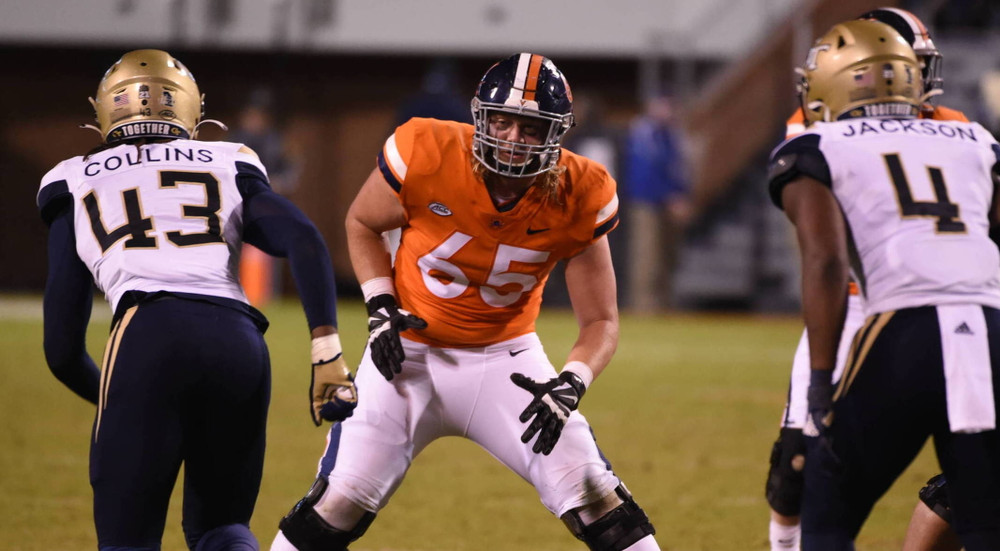 Bulking up has been a gradual process for Leech, a sociology major. He played at about 250 pounds in 2019 and 265 as a sophomore. He got up to about 275 pounds last season, and he's listed at 292 on the Cavaliers' spring roster. "With all the reps we're taking right now in practice," Leech said, he's closer to 285, "but I'll be able to gain it back."
In December, Elliott was hired eight days after Mendenhall announced he was stepping down. Two more weeks passed, however, before Elliott announced he was retaining three assistants from Mendenhall's staff: Tujague, Marques Hagans and Clint Sintim.
"It was a moment of uncertainty," Leech said of that interval. "I was a little concerned, but I kind of felt like the whole time Tujague was going to be able to stay and be here with us. It definitely helps a lot. We have to learn a new offense, with new coaches and how they teach and how they scheme and everything, but having your position coach that you've been with for three years now, you know how he teaches and the language that he uses, his terms and everything."
Tujague has long been high on Leech's potential, and he likes what he's seen from No. 65 this spring. Leech's body language can make him tough to read at times, Tujague said, but "he's very articulate and smart. You think he doesn't care, but he's also the one who's texting me at night saying, 'Coach, how can I fix this? How can I fix that? What do you think of this?' Obviously, it matters to him at a high level."
The Cavaliers' returning offensive linemen have "realized that there's nobody that's going to come in and save the day," Tujague said. "They're like, 'I have to be that guy now.' And so Leech has stepped up to that, and it's been fun to see him kind of be a nasty guy on the field, within the rules. He's taking pride in finishing guys and getting downfield and helping receivers up. Those are things he's never done before, and now he realizes that he has to model that, so I've been really excited with that. He doesn't need to be a bang-your-chest, vocal-leader guy, but he needs to be a leader through his example, and he's done a good job of that."
UVA's head coach has noticed.
"I'll tell you what, I'm proud of Leech," Elliott said Thursday after the Cavaliers' penultimate practice of the spring. "Leech has really, really progressed, and he progressed quickly, and he looks like he's back to having fun and enjoying it."
Leech's teammates at Mill Creek High included offensive lineman Tyler Fannin, who went on to play at UVA, too. Georgia has been well-represented in the Cavaliers' program in recent years, and players on the 2022 roster from the Atlanta area include Leech, linebackers Nick Jackson and Steven Bracey, quarterback Jared Rayman, kicker Brendan Farrell, and offensive linemen Charlie Patterson and Ty Furnish.
"When I got here, I was very surprised, because I only knew Tyler from Georgia," Leech said.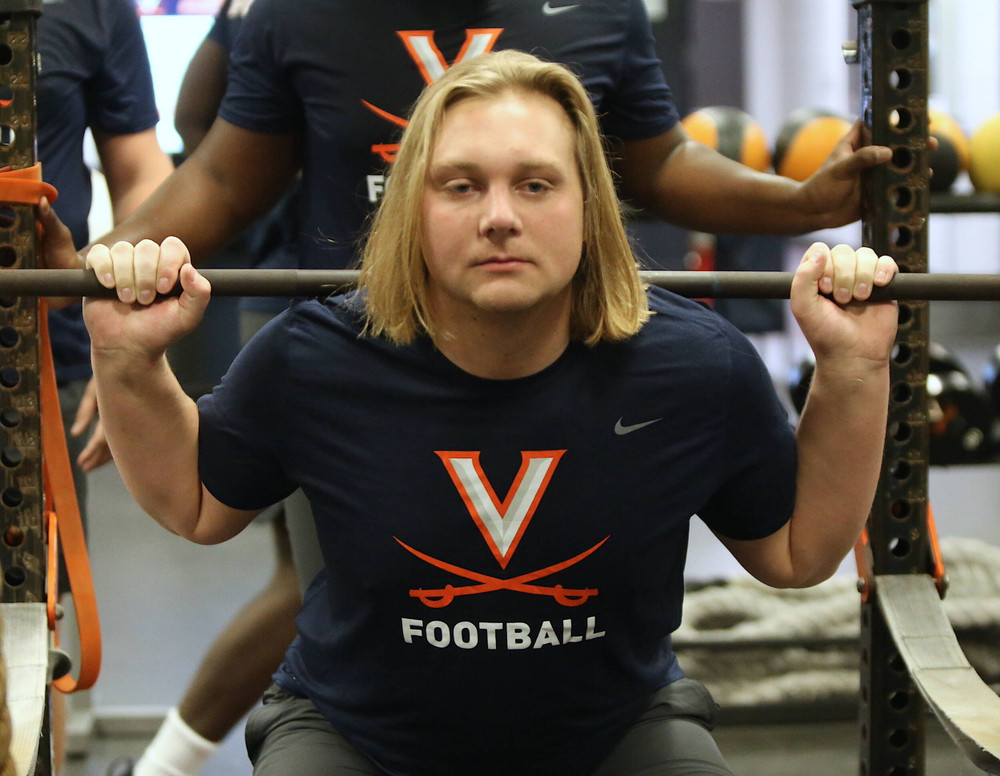 His UVA experience has been a positive one, Leech said. "I've made some really good friends that I call brothers. Lifelong friends, for sure."
He's eager to see what the offense can do this year. Led by quarterback Brennan Armstrong, Virginia had one of the nation's most productive passing games last season. Armstrong is back, along with a talented group of wide receivers, but Elliott and new offensive coordinator Des Kitchings want to establish a strong running game this year, too.
"I think it helps us as O-linemen to have a mixture," Leech said. "Last year and in the years before, I feel like the defense and the defensive ends could just tee off on the tackles, because they knew it was going to be a pass [most] of the time. They really didn't have to protect the run. So I think this year, it's just going to help a ton."
Opposing defenses will still have to respect the Cavaliers' passing game, but "they can't go off thinking it's a pass every time," Leech said.
Leech has done considerably more run-blocking this spring than in recent years, "and so it's been invaluable for him," Tujague said. "and he and I spoke about it. He said, 'Coach, I'm just worried. I'm not doing well.' I said, 'Listen, no you're not. By the time spring ball is over you're going to have a thousand reps of running this, you're going to have a thousand more reps of running that.' "
He knows Leech can pass-block, Tujague said. "I don't care about that right now."
In John Rudzinski, UVA has a new defensive coordinator, too, and he's thrown a multitude of schemes at the offense this spring.
"It's just been every day, constant, different," Tujague said. "Which is good, because it's allowed my guys to get looks that are going to cover the whole spectrum of our season. So I've been really excited about that."
With so few offensive linemen available, Leech and Patterson will play for both teams in the Blue-White Game. This has been an excellent spring for Leech, and he wants to end it with a solid performance.
"I think I've made a lot of strides in my mentality and how I need to act and how I need to play, definitely," he said. "Also physically, I think I've really taken a good step forward from where I was, and I'm hoping to finish off strong."
He laughed. "I hope I have the energy to take 80 plays."
To receive Jeff White's articles by email, click the appropriate box in this link to subscribe.