By Jeff White (jwhite@virginia.edu)
VirginiaSports.com
CHARLOTTESVILLE — The season opener is fast approaching for the University of Virginia football team and its new head coach. Tony Elliott's debut comes Sept. 3 at Scott Stadium, where Virginia hosts Richmond in a 12:30 p.m. game.
The Cavaliers wrapped up their first training camp under Elliott on Monday afternoon, and it was a learning experience for the coaches as well as the players.
About 20 scholarship players joined the program after the 2021-22 school year ended, so UVA was "a different team from the spring" during camp, Elliott said. He wasn't sure exactly what to expect, but much of what he saw pleased him, especially his players' mindset.
"I like the attentiveness they've had in the meetings, the embracing of a different approach to building team that we've brought in as a staff," Elliott said, "so I feel good about where we are as a team. Now, physically we've got two weeks to get ourselves ready to play. I don't think we're ready to play today, and I gotta do a good job of making sure that that I help these guys embrace the outside-of-practice things that they need to do to be ready to play fast on September 3rd."
UVA's players need "to learn how to take care of their body a little bit better," Elliott said. "I was anticipating that they would be a little bit more in tune with the recovery aspect of the process. Practice was structured different, maybe, than what they were used to. So I've got to do a better job of helping create that mindset and just a culture that embraces nutrition fully and embraces the process of recovering as you go."
Elliott knew heading into camp that the Wahoos have an elite quarterback in Brennan Armstrong and a host of talented wide receivers, including Dontayvion Wicks, Keytaon Thompson and Billy Kemp IV. The defensive line was a question mark, but the addition of transfers Kam Butler (Miami-Ohio, Paul Akere (Columbia) and Devontae Davis (South Carolina) this summer significantly improved that group.
Another transfer, defensive end Jack Camper (Michigan State), enrolled at UVA midyear, and he looked good in camp after a spring in which an injury limited his participation. Returning players on the line include Ben Smiley III, Aaron Faumui and Jahmeer Carter.
"What I liked coming out [of camp] is that we got functional depth on the D-line," Elliott said. "I didn't know initially how the transfers were going to mesh with the guys that were already on the roster. But that's been a very, very smooth transition and made the competition in that position even better."
Depth on the line is essential, new defensive coordinator John Rudzinski said, as is "the volume management of those guys throughout a long season. We only have so much tread on our tires, so it's making sure that we're smart in our preparation, and then also making sure we get a bunch of guys in that rotation, which ultimately allows some other guys to step up and make some plays."
Injuries sidelined several players during camp, but most of them should be ready for the Richmond game, Elliott said. The exceptions include running back Amaad Foston, who recently had season-ending knee surgery, and wideout Malachi Fields, who'll miss most, if not all, of the season while recovering from foot surgery.
Offensive tackle Jonathan Leech might not be cleared for the opener, Elliott said, but his hand injury "doesn't look like it's going to be long term. I'm hoping that it's a couple weeks."
PLAYING CATCH-UP: Sophomore safety Jonas Sanker missed spring practice with an injury and wasn't available at the start of the camp. He's been cleared for a couple of weeks, though, and his return has bolstered the secondary.
"He gives us some flexibility," Elliott said. "He's a physical guy."
Sanker, who's listed 6-foot-1, 204 pounds, is from Charlottesville and graduated from the Covenant School. He appeared in nine games as a true freshman last season.
Rudzinski noted that Sanker hasn't taken many "full-speed reps … and so there's been a learning curve for him. But I've been really impressed with his ability to be diligent with studying the game and then looking for opportunities to get better every day."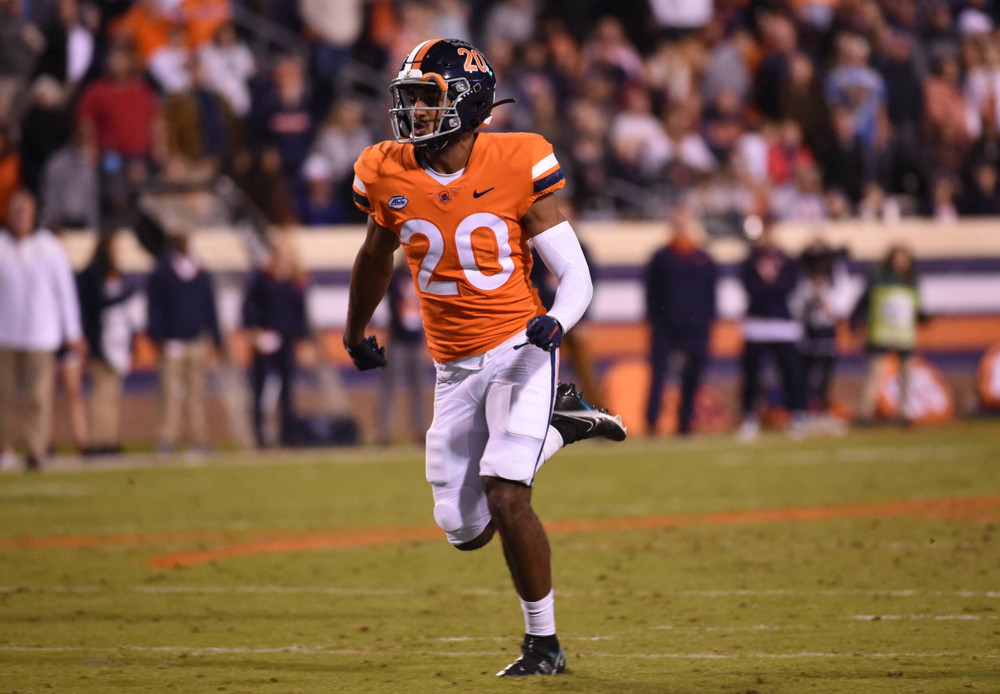 TEAM KICK: Virginia's new special teams coordinator, Keith Gaither, said Monday that punter Daniel Sparks "has done an unbelievable job. He's got a big leg, super hang times."
Sparks, a transfer from Minnesota, is competing for the starting job with Brendan Farrell, who backed up Jacob Finn last season.
That's not the only battle Farrell is waging. He's looking to retain the place-kicking job he took over in the second half of the Cavaliers' fourth game last season.
In nine games, Farrell made 11 of 13 field goals and all 34 of his extra points, and 37 of his 45 kickoffs were touchbacks. Farrell finished the season with a team-high 67 points. With Justin Duenkel recovering from a season-ending knee injury, Virginia has two healthy kickers: Farrell and true freshman Will Bettridge.
"Brendan is actually ahead of Will as of right now," Gaither said. "It's pretty competitive, though."
Quarterback Jared Rayman returns as the Wahoos' No. 1 holder. At long-snapper, Aidan Livingston has a slight edge on Lee Dudley, Gaither said, "but all in all it's a pretty tight competition. We've got another week before we can solidify true starters in those positions, but I am impressed based on where we were in the spring and where we are now."
Elliott said he'd be fine if the same player is clearly the best option on punts, kickoffs and field goals and extra points. "But I also understand that's a [heavy] workload. I'd prefer guys to take a little bit of work off of each other. And then if that one guy goes down, then you're in trouble. So I think we're in a good spot kind of heading into this last week. I think there's finally been a little bit of separation at both of the spots."
Billy Kemp will return punts again, and the coaches like what he offers in that role, Gaither said. "Behind him, we're searching … and the same could be said in the kickoff return game also."
Demick Starling would be the Cavaliers' top kick-returner if the season started today, Gaither said, "but I'm not satisfied with that aspect right how … I'm just not at the point that I feel really good about the return game, just to be totally transparent and honest with you."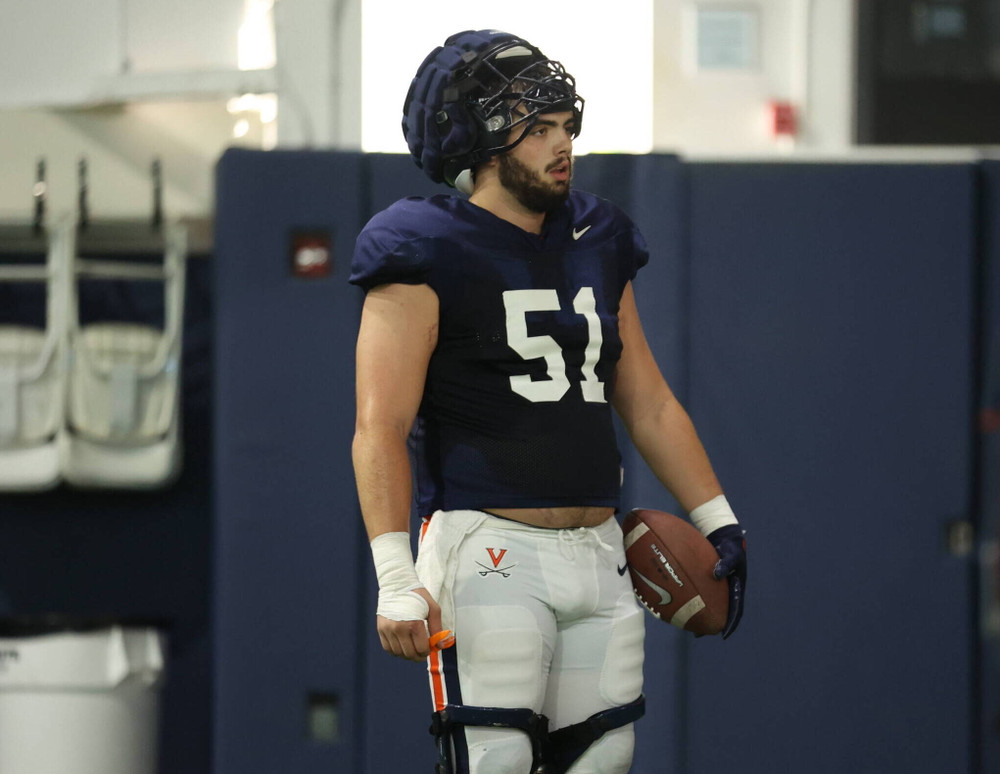 STEPPING UP: The Hoos lost their top six offensive linemen from 2021, including Olusegun Oluwatimi, a three-year starter at center who was a second-team All-ACC selection last season. His successor is likely to be Ty Furnish, who appeared in three games as a true freshman last year.
"Center was a big, big question mark for us, and I think expectations-wise we thought it would be Jestus [Johnson], a bigger body," Elliott said. "But Ty's really, really taken over there and given us confidence that even though he might be a little bit undersized, he's gonna scrap, he's gonna fight. He's smart. He can set the table and make all the calls."
Furnish, who's from Woodstock, Ga., near Atlanta, was listed at 250 pounds when he signed with UVA in December 2020. He's now closer to 280.
"He's done a good job of getting himself to a position where he can be able to [battle FBS defensive linemen]," said Des Kitchings, Virginia's new offensive coordinator. "We've got to be smart, if there's a match-up that's not favorable to him, to help him in that situation. But Ty has done a good job of battling every day."
Furnish may not be as big as some centers, but he has "some quick twitch to him, and he can play with leverage," Kitchings said. "As long as he plays with that and gives us a chance, we'll be successful."
RED-ZONE FOCUS: Elliott came to UVA from Clemson, where he was offensive coordinator and associate head coach last season. From day one, he's made clear that the running game will be an integral part of the Cavaliers' offense. That's especially true, Elliott said, when Virginia is inside the opponent's 20-yard line.
"I think anybody who's close to the game knows how demoralizing being able to run the ball at will is," he said, "and then when you run the ball in from that close, it's a mindset. You've a shortened field, and they've got extra hats on defense. If you can run the ball in, it just sends a message."
To Elliott and Rudzinski, being able to stop the run in the red zone is critical, too.
"That's the background I came from," Elliott said. "I always wanted to run the ball in as much as I could. And it's the same thing here. I don't want [opponents] to run the ball in. If they're going to score, they're gonna have to throw it to beat us, which gives us a better chance for shortened field in the pass game."
With Foston out, the Cavaliers' running backs are Perris Jones, Mike Hollins, Xavier Brown and Cody Brown, a transfer from the University of Miami. Jones had a 75-yard touchdown run in the Cavaliers' spring game on April 24, and if the season began today, he'd be the starter.
"I don't know if we have a back right now that's a big home-run hitter, like a Travis Etienne," Elliott said, referring to the former Clemson great. "Travis was an eraser. That's kind of unfair to compare those guys to him, but I think we got some guys that can definitely hit some big runs, and that's what you've seen so far, and I hope that it carries over and translates into the season. We haven't had the big home runs like Perris had in the spring game. But there's been a good amount of 15-, 20-, 25-yard runs, which allows us to be balanced, stay aggressive and then now the defense has to honor the play-action pass."
Jones, who came to UVA as a walk-on in 2018, has "really exceeded some of my expectations," Elliott said. "I knew that he was a guy that had a good feel for the outside zone. The question I had is, just how tough is he gonna be? Is he gonna put his foot in the ground and stick it up in there? And he's shown that so far."
To receive Jeff White's articles by email, click the appropriate box in this link to subscribe.