By Jeff White (jwhite@virginia.edu)
VirginiaSports.com
CHARLOTTESVILLE — Upon further review, his football team's performance in its second game looked no better to University of Virginia's first-year head coach than it had in real time. UVA gained only 222 yards and lost 24-3 at Illinois on Saturday.
"What was more evident when I watched the tape [was that the] guys didn't respond well to the adversity," Tony Elliott said Tuesday during his weekly press conference at John Paul Jones Arena.
"I felt like especially on the offensive side of the ball, just being transparent, Illinois punched us in the mouth, and the guys were reeling the entire game. You were hoping that somebody was going to step in and say, 'Hey, fellas, follow me, I'll find us a way out of this situation,' but when you watch it on tape, I was trying to find some positives, but there wasn't a ton of positive."
The Cavaliers' defense produced all of the highlights, forcing four turnovers and keeping the Fighting Illini from blowing the game open early.
"A lot of encouragement from what I saw defensively, confirmation that the guys competed until the end," Elliott said, "but just it was a piece of humble pie for all of us offensively."
Of the five offensive linemen who took the field first for the Wahoos, only guard John Paul Flores had started a college road game, and that was when he played for Dartmouth in the Ivy League. The Fighting Illini sacked UVA quarterback Brennan Armstrong five times and pressured him on almost every pass play.
"We have to be better," sophomore center Ty Furnish said of the offensive line. "Everyone on the offense has to be better. [As for the line], we're meeting at night more, going over everything, making sure we have all the blitzes down, all that stuff, just getting on top of it."
The Hoos, who opened the season with a 34-17 victory over Richmond at Scott Stadium, are back home Saturday. At 2 p.m., Virginia (1-1) hosts Old Dominion (1-1) in a game to air on ACC Network.
The Cavaliers have practiced twice since losing at Illinois' Memorial Stadium, and Elliott likes what he's seen. It shouldn't take a loss, however, for UVA's players to practice with urgency, he said.
"Every day when you show up, you've got to make a decision, and that decision is what is your effort going to be, what's your focus and intensity going to be, and then are you going to be aggressive?" Elliott said. "They've got to make a decision every single day. I'm going to remind them and challenge them and try to create an atmosphere that fosters that, but each one has to make a decision.
"I think after the victory [over Richmond the players were] like, 'OK, we've got it. OK, now I see this is what Coach is talking about. We've got it, so, hey, let's just go through the process.'
"No, you've got to attack the process. You've got to attack what we're doing every single day, and you've got to have a certain level of execution, a certain level of precision, and we didn't have that intensity that we needed in a couple of the practices last week. You could tell that some of the guys felt like—I'm just being transparent and honest from my perspective—that some of the guys felt like, 'OK, we've got this.' If you want to be great, you can never have that mindset. You've always going to be humble."
ODU, which lost at Scott Stadium in 2019, is 0-1 all-time against UVA. But the Monarchs have upset Virginia Tech twice in recent years, first in 2018 and then again early this season in Norfolk.
"First and foremost, they're confident," Elliott said. "They've already beaten a Power Five [opponent]. They're prideful. They want to win the state, just like we want to win the state. They've got a leg up on everybody because they've already got one victory in state. They're capable. They're very, very, very capable. They've proven that."
Elliott said he expects the Monarchs, who lost Saturday at East Carolina to come to Charlottesville full of confidence. "They have no reason not to be. They're going to come in here and sense that there's blood in the water and they're going to come after us. We've got to have our minds in the right place and show up Saturday ready to go."
ON THE MEND: Punter Daniel Sparks, who sat out the second half of the Illinois game for health reasons, is doing better, Elliott said, and UVA hopes to have him against ODU, Elliott said.
Sparks, a transfer from Minnesota, has punted nine times as a Cavalier, and he's averaging 47 yards per kick.
BIG TARGET: Old Dominion tight end Zack Kuntz, who made the All-Conference USA first team last season, is listed at 6-foot-8, 260 pounds.
"Just play big, I guess," UVA safety Antonio Clary said with a smile Tuesday when asked how to defend Kuntz.
Clary, who's listed at 6-foot, 190 pounds, noted that he practiced last season against 6-foot-7 tight end Jelani Woods, who's now in the NFL. "So I got used to playing a big guy," Clary said.
The key to defending tight ends of that stature? "Be physical with them," Clary said, "because if [you're not] physical with them, they're gonna take advantage of you. So just be big, play physical with them, match their physicality. But the height is the height. You can't change that."
UNFAZED: On the depth chart released Tuesday, Perris Jones is again listed as Virginia's starting tailback, with Mike Hollins as his backup. Don't be surprised, though, if Xavier Brown gets his share of carries.
Brown is a 5-foot-9, 186-pound true freshman from Lexington, Ky. Through two games, he's carried eight times for 34 yards. Jones has rushed 26 times for 130 yards and one touchdown, and Hollins has run 13 times for 36 yards and a TD.
"He's a guy that he knows one speed, and I love the way that Xavier practices," Elliott said. "Because he's full speed all the time, it allows him to play bigger than what he actually is. He has shown that the lights aren't too bright. You often worry about freshmen that do well in practice, you throw them in the game, it's moving a little bit faster, are the lights too big?"
Hollins played well against Illinois, but UVA will continue to use multiple tailbacks, Elliott said, and "when you're doing it by committee … it's going to be the guy that gets the hot hand. But [Brown is] proving it in practice and he's proving in the game that he's a guy we can count on."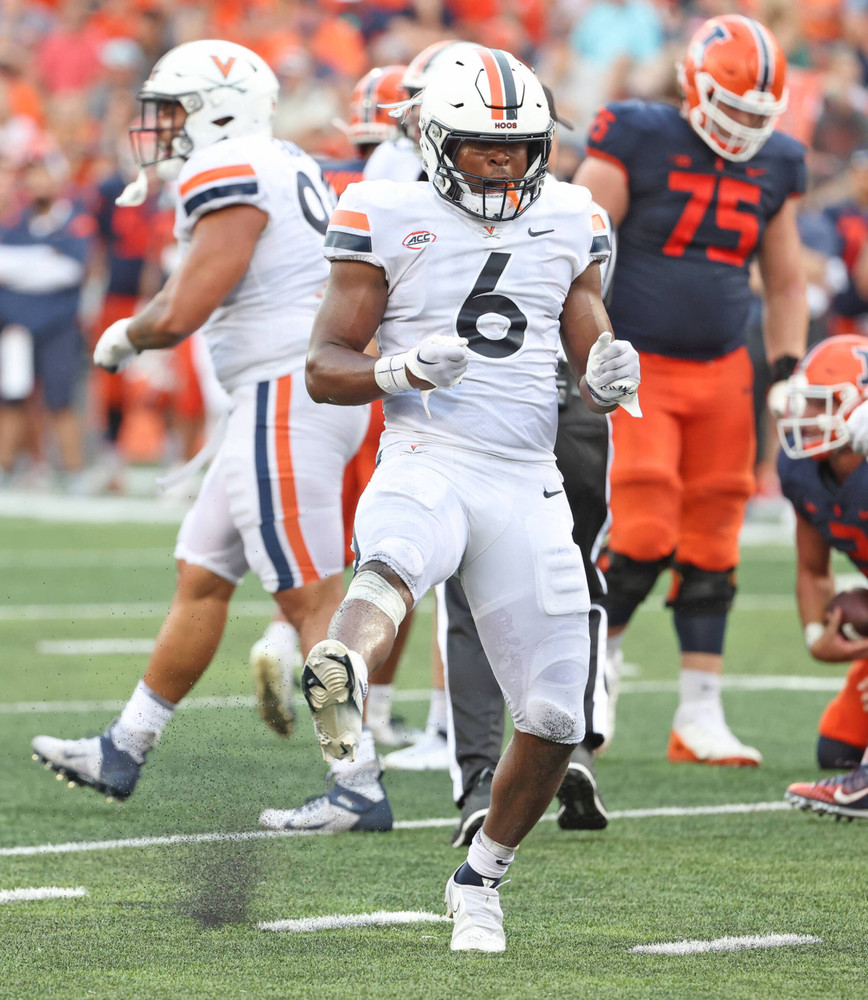 NEW ROUTINE: After each of the Cavaliers' first two games, the team has stayed on the field to sing the "Good Old Song" before heading to the locker room.
Elliott said it's about "paying respect and paying tribute and honoring the institution that we play for and just showing pride and pageantry and all the things that I think are special about college football … Part of my vision for [the players] is to have a great appreciation for the experience that they have here at UVA. So you need to know the 'Good Old Song.' "
Moreover, Elliott said, the Hoos are also "paying tribute to the fans and just everybody that supports us. But more so to create a sense of pride in what we play for and giving these guys things that they can believe in, that makes their experience special, that will add that extra fuel and that extra fire for them to go that extra mile to be the best version of themselves."
LOCKED IN: Senior linebacker Nick Jackson, who as usual leads Virginia in tackles, said the team has practiced well this week.
"When you lose a game, it puts a lot of things in perspective and opens up a lot of holes that you don't really see, even when you win," Jackson said. "So [the focus has been on] coming back here and just coming to work every single day. We've tried to do that for the past two days, and we got to build on that."
As one of the team's leaders, Jackson knows he must help set the standard.
"Practice is important," he said. "Everyone's looking at you [at] practice, so if I'm slacking, if I'm walking around on the practice field, everyone's gonna look at me and say, 'That's okay, that's what we're supposed to do.' So every day I've got to come back to work and let people know that, yeah, we lost the game … It happens. It doesn't need to happen, but it happened and there's nothing we can do about it. So we don't want to let that one loss transpire into more losses."
Elliott has cautioned the players not to "let Illinois beat you twice," Clary said. "You've just got to keep your head up. That was in the past and now we've got to move forward. And that's everybody's mindset right now, just moving forward, just trying to get better and focus on ODU."
In 2020 and again last year, the Cavaliers ranked much higher statistically among ACC teams on offense than they did on defense. To some degree, the roles have been reversed this season, but the defense doesn't spend time thinking about that, Clary said.
"We just focus on what we control," he said. "Coach always says: Control what you can control. We're here to encourage the offense. They do what they've got to do. We do what we've got to do. So if they have a good game, they have a good game. If they don't, they don't. We're gonna do our job no matter what."
To receive Jeff White's articles by email, click the appropriate box in this link to subscribe.