By Jeff White (jwhite@virginia.edu)
VirginiaSports.com
CHARLOTTESVILLE — In the first quarter of Virginia's season-opener on Sept. 3, wide receiver Lavel Davis Jr. celebrated in the end zone after catching a 56-yard touchdown pass from Brennan Armstrong. Watching from the Cavaliers' sideline at Scott Stadium, Chico Bennett Jr. appreciated better than most Davis' overflowing emotions.
Like Davis, Bennett missed the 2021 season while recovering from a torn anterior cruciate ligament.
"It was kind of a surreal moment when he scored his touchdown against Richmond," Bennett recalled this week. "I just hugged him afterwards in the locker room and was like, 'This is what we prepared for.' He's going to continue to make plays, and vice versa."
Early in spring practice last year, Bennett hurt his left knee, and Davis hurt his right. A transfer from Georgia Tech, Bennett had enrolled at UVA in January 2021 and, at that point, didn't know Davis well. That would change.
"I shot him a message on Instagram," Bennett said, "and I was like, 'Hey, it's gonna be us [rehabbing with the athletic trainers], so we might as well go ahead and get to know each other.' It was a tough deal, so we had each other to lean on and push each other."
Davis said: "It was great to have somebody with me, to work out with, to challenge and keep me on my toes. I'd be feeling bad one day and he'd be like, 'Bro, you got to get it done. You gotta go.' And if he felt like that one day, I'd be like, 'Bro, you got to get it together. You gotta go.' "
Bennett plays Bandit in new coordinator John Rudzinski's defense. It's a hybrid position that's part defensive end and part outside linebacker. The 6-foot-4, 252-pound Bennett made his first start as a Cavalier last weekend. and recorded a career-high six tackles, including a sack, in a 24-3 loss at Illinois.
Virginia (1-1) hosts Old Dominion (1-1) at 2 p.m. Saturday at Scott Stadium, and Bennett, who wears jersey No. 15, is expected to make his second straight start.
"He's getting better," said Chris Slade, who coaches Virginia's defensive ends. "He's a great kid. He has a good heart. He wants to do well. He's just got some bad habits that we're trying to get him to break. But he has a lot of potential. He looks the part. He has all the physical attributes that you want in an outside edge rush guy. He has long arms, he moves pretty well, he's got good instincts. Now he's just got to learn the game."
When Bennett joined the program, Bronco Mendenhall was Virginia's head coach. At the end of last season, however, Mendenhall stepped down, and Tony Elliott took over as the Wahoos' leader. Elliott put together a staff whose new members included Slade, one of the greatest players in program history.
The coaching change didn't faze Bennett, who'd been through something similar at Georgia Tech. He committed to the Yellow Jackets in June 2018, expecting to play for head coach Paul Johnson. But Johnson retired after the 2018 season, and Geoff Collins was Georgia Tech's head coach when Bennett arrived in Atlanta in 2019.
At Virginia, Bennett has a distinguished mentor in Slade, who still holds the ACC record for career sacks (40) and had a long NFL career.
"He's a great teacher, mentor, great guy all around," Bennett said, "so I'm blessed to have him as a coach. We joke around, but whenever it's time to get serious, we do that."
Wide receiver and defensive end are probably the Cavaliers' deepest positions, Elliott noted Tuesday, which makes Bennett's rise to the top of the depth even more impressive.
"So he's been pushed, but he's worked every single day," Elliott said. "His confidence is as high as it can be. He's really buying into the relationship with Coach Slade and understanding that Coach Slade can help him. There's nobody better to teach you how to rush the passer and play that position than Coach Slade."
Bennett's "progression went from the spring, trying to build confidence back in the knee, to now you don't see any issues," Elliott said. "The biggest thing for him is getting him to do a great job of taking care of his body, because he's a guy that has to hydrate well. He's a heavy sweater. He's had a couple cramping issues at times. That's really the only issue with Chico, and I'm proud of how physical he's trying to play in holding the edge, and he's being a leader for us, too, which is big."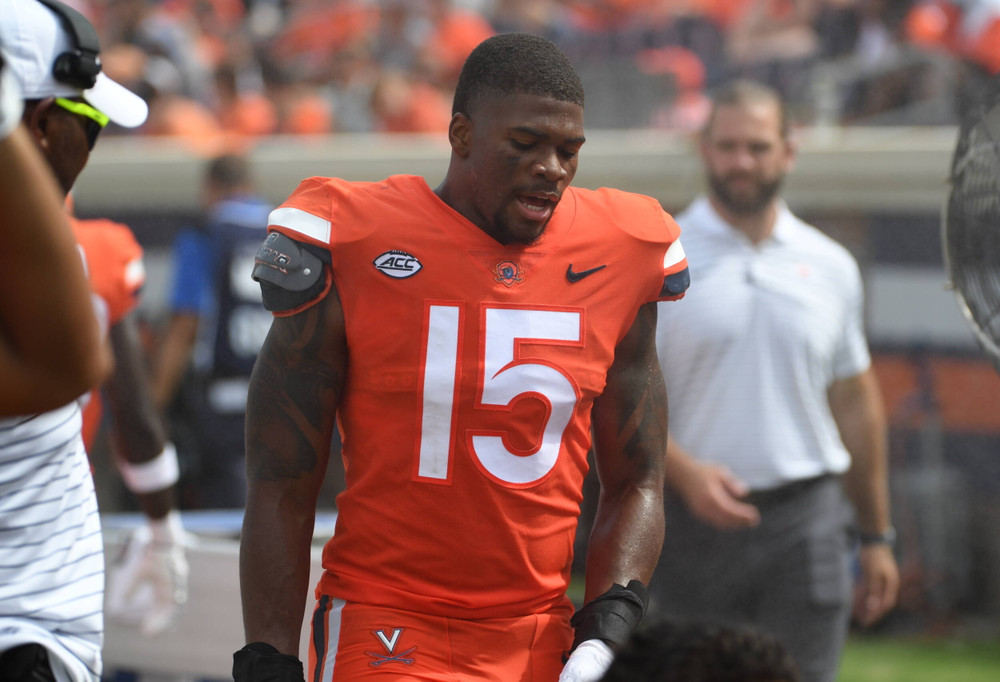 A shoulder injury cut short Bennett's 2019 season at Georgia Tech. In 2020, a season played under strict COVID-19 protocols, he appeared in nine of the Yellow Jackets' 10 games. But Bennett's family lives in Ashburn, a city in Loudoun County, and after the 2020 season he decided he wanted to be closer to home.
"That was a big key for me," Bennett said. "It's only a two-hour commute, and it's literally a straight shots, so that makes it even easier. My parents, they've always been supportive, so they would always fly [to games], no matter what. We're a big travel family. But this definitely makes it easier, especially for the home games. They're able to come visit."
Bennett, whose father served in the U.S. Army, was born in Killeen, Texas, about 70 miles north of Austin, but soon thereafter moved with his family to Germany.
"I was young, so I don't remember much," Bennett said. "But then we came back to the States and moved all around."
In the U.S., he's lived in Kansas, Kentucky and Virginia. Bennett attended Rock Ridge High School in Ashburn as a freshman and sophomore but then transferred to Battle Ground Academy in Franklin, Tenn., near Nashville. Bennett lived at first with a cousin and an uncle in Tennessee but then moved into an apartment with his mother.
As a boy, Bennett also played basketball and ran track. "Baseball wasn't my thing, or soccer," he said, smiling. "But basketball was my go-to if I didn't find football as my calling."
That he grew into a standout athlete was no surprise. His mother played basketball at Texas State, and his father played football at the University of Hawaii. One of Bennett's uncles, Leon Moore, played in the NFL.
From his father, Bennett also inherited an interest in Egyptian gods. That's clear from the artwork on his arms and chest. "I always wanted tattoos," Bennett said, "but I was like, 'Let me find something that's meaningful but also will look cool as well.' "
After tearing his ACL in the spring of 2020, Bennett rehabbed diligently and was able to take part in spring practice this year. Once he cleared that hurdle, Bennett said, he went into training camp with no tentativeness.
"I was like, 'OK, I can kick it in a high motor and keep getting better and get the other guys better as well through competition,' " Bennett said.
"There's no rust," Slade said. "He's ready to go."
His first year at UVA didn't go as Bennett envisioned, but he made the most of it. "I think it was a necessary learning curve," he said, "and it was still a good experience, just being able to sit back while still being involved with teammates."
A sociology major, Bennett is on track to graduate in the spring, but he'll be eligible to return for the 2023 season. He's quickly become a key member of a defense that's determined to improve after struggling in 2021.
"I think these guys are coming to work every single day," senior linebacker Nick Jackson said, "trying to get ready for new opponents, and just taking the challenge, and we know it's a day-by-day process. Rome wasn't built in a day. So we keep reminding ourselves that we have to come to work every single day. There's no complacency."
Slade's position group includes Bennett, graduate transfers Kam Butler (Miami-Ohio), Paul Akere (Columbia) and Jack Camper (Michigan State), as well as Bryce Carter and D'Sean Perry, who also has worked at linebacker.
"We're improving every day," Slade said. "I think we got some guys that have some potential, but we've got a long way to go.
"A couple guys got some sacks last game, but we missed a few. In the first game against Richmond, we missed a couple opportunities. We're just trying to get better every day."
To receive Jeff White's articles by email, click the appropriate box in this link to subscribe.