By Jeff White (jwhite@virginia.edu)
VirginiaSports.com
CHARLOTTESVILLE — In a matter of seconds, a kickoff return can swing momentum in a football game. That was evident Sept. 17 at Scott Stadium, where University of Virginia junior Demick Starling's 37-yard return against Old Dominion set up the drive that ended with Brendon Farrell's game-winning field goal as time expired.
It was apparent again last Saturday night at Wallace Wade Stadium, where Starling hurdled a defender at the end of a 38-yard return late in the first quarter and lost the ball. Duke recovered. The drive that followed gave the Blue Devils a 21-0 lead, and UVA ended up losing 38-17.
"Every day, every practice, we prioritize ball security, just making sure we've got the five pressure points on the ball," Starling said Wednesday. "During the moment, I didn't prioritize that, and it came back and bit me, because I fumbled the ball."
Mike Hollins took over as the Cavaliers' lead returner for the rest of the game, but Starling figures to get more opportunities on special teams.
The key for Starling, head coach Tony Elliott said Tuesday, was to "go out and have a good week of practice and show just improvement with his attention to detail with the ball security. Again, that probably won't happen again. That's one of those anomalies, [where Starling fumbled] on air because he jumped over somebody."
The Wahoos turned to Starling with 1:02 left against ODU, Elliott said after that game, because "he's the guy right now on kickoff return that has the ability to take it a long way. And so I'm just glad that he was able to field the ball and give us a spark that kind of put us in better field position."
Starling, who's averaging 28.1 yards per return this season, said he's recommitted himself to securing the football, "because the ball is the most important thing. I can run as fast as I can and juke as many people and hurdle as many people as I want, but if the ball is not in my hand, it doesn't really matter. So I'm just prioritizing the ball, just to show [the coaches] that they can still trust me and believe in me."
A native of Nashville, Tenn., the 6-foot, 188-pounder Starling in his third year at UVA, where he's majoring in African-American and African studies.
His goal is to contribute on offense as well as on special teams. Starling, who wears jersey No. 6, has yet to catch a pass this season, but he came into the year with career totals of eight receptions for 113 yards and two touchdowns. One of those TDs, against William & Mary last year, covered 65 yards and showed off Starling's speed.
In practice, Dontayvion Wicks, Keytaon Thompson, Lavel Davis Jr. and Billy Kemp IV take most of the repetitions with the first-team offense at wideout. Starling generally works with the second-team offense, along with fellow receivers Sean Wilson and Ethan Davis. But each of those backups has an opportunity to earn more playing time.
UVA (2-3 overall, 0-2 ACC) hosts Louisville (2-3, 0-3) at noon Saturday at Scott Stadium. Kemp is expected to miss the game with an injury, and the coaching staff would like to lighten the workload of Thompson, Wicks and Davis.
"All these young guys have got to step up," Elliott said.
The Cavaliers rotated wideouts regularly against Duke, and they'd like to keep doing so, wide receivers coach Marques Hagans said Thursday.
"The first three or four guys are playing the bulk of the game, and we've got to get more guys in to keep 'em fresh," Hagans said. "So we're going to get back to rolling more guys, but those guys won't just be thrown out there for the sake of it. They've got to earn it, and I think that'll allow the guys in front to play better and give more guys behind them an opportunity to prove that they're worthy of being here and that they can make plays as well. We're at our best when everyone's making plays and everyone's fresh."
Starling is more experienced than the other reserve wideouts, but he's "got to be accountable," Hagans said. "We've got to know that we can depend on him. He's one of those next guys. We've got a group of guys that have got to step up."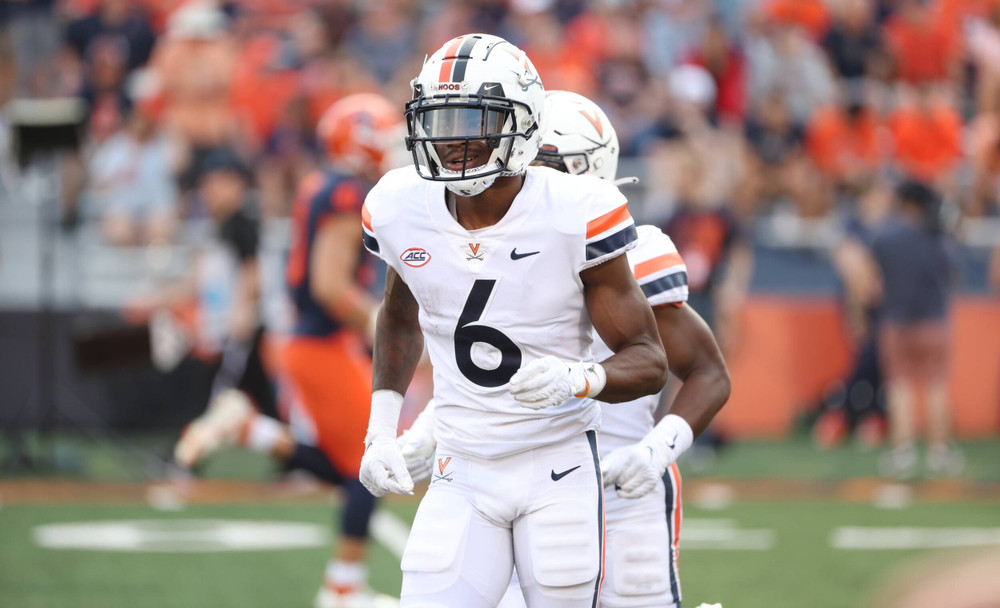 Des Kitchings, who coached the Atlanta Falcons' running backs last year, took over as UVA's offensive coordinator in January. Kitchings said Starling's top priority has to be "consistency in catching the ball. We know Demick can run. He's the fastest on the team. For him, it's about his consistency and learning the information, retaining the information, transferring it to the field and catching the ball."
Starling was an unheralded recruit coming out of East Nashville Magnet High School., where he didn't join the football team until his junior year. He didn't become a starter until he was a senior, when he excelled as a wide receiver and a return specialist.
He had a higher profile in track & field. As a junior in 2019—the COVID-19 pandemic forced the cancellation of his senior track & field season—Starling won a state title in the 400 meters, placed second in the 100 and third in the 200, and tied for third in the high jump.
His athletic prowess earned him a scholarship offer in football from South Dakota State, an FCS power, and Starling visited its campus in Brookings early in 2020.
"All snow," he recalled this week. "It was snowing the whole time."
Starling prefers warmer weather, but South Dakota State was his best option for football, and so he decided to become a Jackrabbit. Then, with signing day approaching, UVA contacted him and said Hagans would be in Nashville to watch Starling work out.
"So after that everything changed," Starling said.
Hagans said he saw immediately that Starling was a "tough kid and hard worker. He had a job working at a hotel, came from a good family, and I felt like he just needed an opportunity and somebody to believe in him. Very raw, but a lot of potential.
"When I watched him work out, you could see he was prepared to work out as long as his coach had him. He probably would have worked out for two days to try to prove he was worthy of an opportunity, and that stood out to me: how hard he worked and just the kind of person he was and what family he came from. I didn't feel like he'd fail."
The interest was mutual, and Starling signed with UVA in February 2020. He appeared in six games as a true freshman and in 11 last year. During the Hoos' first practice for the Wasabi Fenway Bowl, a game from which they later had to withdrew, Starling broke his arm, but he was back for spring practice this year.
He's confident he'll contribute at wide receiver for the Cavaliers.
"I believe it's only a matter of time before that happens," said Starling, who lives with Wicks. "We have a lot of talent in the room, with Tay and K.T. and B.K. and Lavel, just a lot of people to look up, but I'm just trying to earn my respect. No matter how long that takes, I feel like I will do that. But it makes it easier when I have the older guys and the guys in front of me pushing me every day."
In the meantime, he'll continue honing his skills as a wideout and focusing on ball security as a kick-returner. He's also interested in running track in the spring, if his schedule permits.
Starling has found a home at UVA, and he's happy not to be in South Dakota.
"Most definitely," he said, smiling. "I can't do the cold."
To receive Jeff White's articles by email, click the appropriate box in this link to subscribe.