By Jeff White (jwhite@virginia.edu)
VirginiaSports.com
CHARLOTTESVILLE, Va. — He accepted a position on head football coach Tony Elliott's staff at University of Virginia without ever having set foot on Grounds. But Terry Heffernan, who interviewed for the job in Charlotte, N.C., knew something about UVA from his wife.
Jamie Heffernan, who grew up in Bethesda, Md., works for Google, and she'd been to UVA to recruit students for the company. She interviewed them in a suite at Scott Stadium.
"She was like, 'Not only have I been on campus, I've been in the stadium,' so she signed off [on the move to Charlottesville]," Heffernan said this week in his McCue Center office.
Elliott hired Heffernan last month to replace Garett Tujague, who's now at NC State, as offensive line coach. Heffernan spent the 2021 and '22 seasons at Stanford, where David Shaw stepped down in November after 12 seasons as head coach.
Shaw's resignation put Heffernan back in the job market. He didn't know anyone on the UVA coaching staff, but the school's academic reputation appealed to him.
"It was certainly a transition for me at Stanford," he said, "figuring out what it was like to recruit that level of student-athlete and being able to kind of pick through the prospects and say, 'Hey, this kid's great at football, but he's not going to be a fit for us.' And so those two years prepared me in a lot of regards for here, where you're recruiting a similar type student-athlete. That was exciting for me."
The breadth of Heffernan's experience stands out on his coaching résumé, He started as a graduate assistant at Cumberland University, an NAIA school in Tennessee, and later was a GA at Michigan and Louisville, two Power Five programs. He was an assistant coach at Division II Wayne State in Detroit for six seasons. He's coached in the NFL, with the Lions and the Bills, and he was associate head coach and offensive line coach at Eastern Kentucky, an FCS program, for three seasons.
"I've been at the highest level and had five years coaching in the NFL," Heffernan said, "so you get to see what can be done at the truly elite level with the greatest players in the world and the biggest budgets in the world. And then I've got a big chunk of my career where I'm vacuuming the office before an official visit, and that was just what you did. You wear a lot of hats when you're a Division II coach or an NAIA coach, and that's been a big chunk of my career as well.
"Being at some of the bigger places, I think it's really important not to lose that aspect of it. Being a college football coach at some point in my career meant cutting the grass on the practice field and doing the team's laundry. Even though those maybe aren't my responsibility here, I don't want to lose touch with that. College football is changing, so you get a lot of guys who don't come up that way. I'm partial, because that's been my track, but I think there's a huge amount of benefit from working your way up the progression of the profession."
As a boy, Heffernan lived for about eight years in the Detroit area, and he grew up rooting for the NFL's Lions, the NHL's Red Wings and NBA's Pistons. When he was in the seventh grade, his family moved to Chicago, and he caught the end of Michael Jordan's glorious run with the Bulls.
"It was a pretty golden era," Heffernan said.
After graduating from Loyola Academy, a Catholic school in Chicago, Heffernan attended the University of Dayton, where he majored in communications and played football.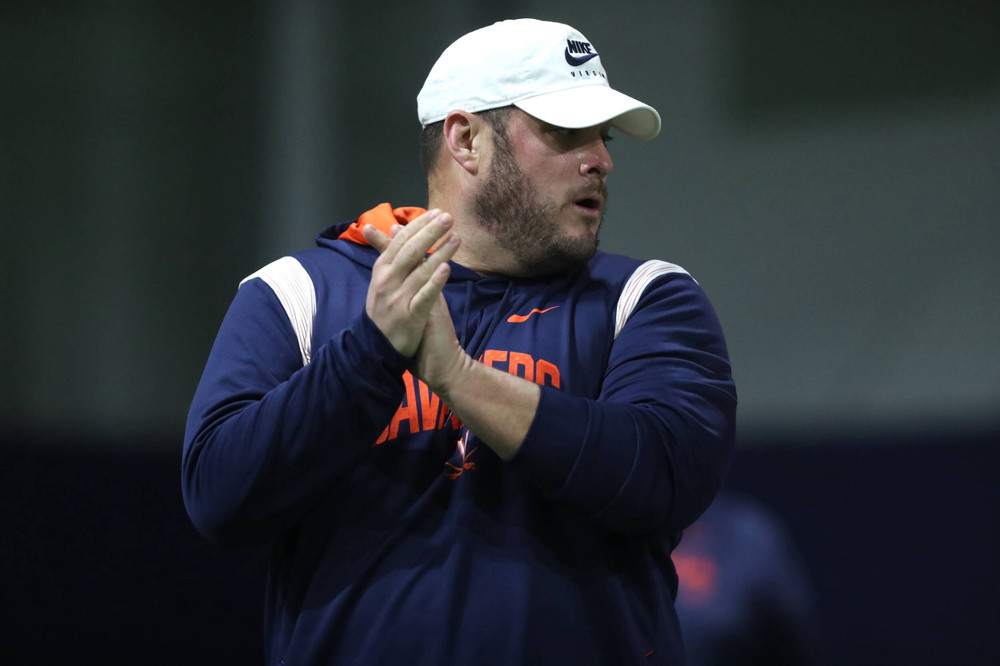 At Stanford, Heffernan worked for a coach, Shaw, whose best teams were known for their powerful offensive lines and productive running games. Those are areas in which Elliott and offensive coordinator Des Kitchings want the Wahoos to improve, and they don't need to convince Heffernan that a potent running game is valuable.
"If you want to consistently win in college football, you have to be able to run the ball," Heffernan said. "There's never a bad day to run the football, whether it's raining or snowing. When you get into late-season games, where you're playing in Boston or something like that, the ability to run the football is always really important. That came up certainly early in my interview process, where they said, 'This is something we're committed to.' "
Heffernan said he'll be asked not only to help his linemen become better run-blockers, but to assist Kitchings "with scheming and figuring out the most efficient, effective ways to run the football."
From its 2021 team, the Hoos lost their top six offensive linemen, and there's been additional turnover in that group since the end of last season. Two starting linemen, Jonathan Leech and Derek Devine, have given up football, and two others, John Paul Jones Flores and Logan Taylor, transferred to Louisville and Boston College, respectively.
"All those things happened before I got here," Heffernan said, "and I don't dwell much on what I can't control. And so this is the group that I've got, and I'm excited to have these guys. I think they're young and they're hungry, and so there's definitely some benefit to that. Guys are excited to have a significant role on the team, to play a lot of snaps. We have an absolute ton of work to do, but that's true in a lot offseasons."
Offensive tackle Ugonna Nnanna, a transfer from the University of Houston, enrolled at UVA last month, and Cole Surber, a 6-foot-6, 285-pound offensive lineman who's a senior at Patriot High in Northern Virginia, will join the program this summer. The Cavaliers' returning linemen include Ty Furnish, McKale Boley, Noah Josey, Jestus Johnson III, Houston Curry, Noah DeMeritt, Charlie Patterson, Blake Steen and Snoop Leota-Amaama.
Several of those linemen redshirted in 2022. Heffernan said he won't spend much time reviewing videotape of those who played.
"When you go somewhere new, you don't know the context," he said. "You can watch the tape of a guy and say he's doing this right or he's doing this wrong, but you don't know what he was told, what he was coached, the context of that play. So I try to not do that when I go to a new place. I want to start fresh. And so really a lot of the tape that I'm going to use in my meetings is of NFL teams, Stanford teams, the Buffalo Bills when I was there, the Detroit Lions when I was there, because I don't want to grab a bunch of clips from last season and say, 'Hey, that was bad,' and not know what was told to that player."
So far, Heffernan said, most "of my time has been spent just getting to know the guys, starting to build the relationships, being around them in the weight room, watching them move and run in the conditioning [workouts]. You get eight hours a week and we've invested that eight hours up to this point really in their physical development, and now we'll start to shift a little bit to more meeting time in preparation for spring ball."
Spring practice begins March 14 and runs through April 15. Once that ends, Heffernan said, the Hoos will look to add two more offensive linemen out of the transfer portal. He expects Virginia's recruiting class for 2024 to include multiple offensive linemen.
"They've got to be good enough students, and they've got to be good enough football players to fit here," Heffernan said, "and that's what we're working tirelessly to build that pool. Recruiting linemen, I think we're going to cast a pretty wide net."
In addition to Lynchburg and other areas in this state, Heffernan's recruiting territory will include Tennessee, as well as prep schools in the Northeast.
Heffernan and his wife have three children—two sons and a daughter—and they've purchased a house near Rio Road. They'd like to put down roots in Charlottesville, and Heffernan wants to re-establish the pipeline of UVA offensive linemen to the NFL.
When he joined the Lions, Heffernan said, he worked out Morgan Moses and Luke Bowanko, both of whom had been standouts at Virginia, and at the McCue Center are photos of such former linemen as D'Brickashaw Ferguson, Branden Albert and Eugene Monroe, all of whom had distinguished careers in the NFL.
"That's an incredible run of prospects," Heffernan said.
To receive Jeff White's articles by email, click the appropriate box in this link to subscribe.