By Jeff White (jwhite@virginia.edu)
VirginiaSports.com
CHARLOTTESVILLE, Va. — The University of Virginia football team will play six games at Scott Stadium this season. The first comes Saturday, and it will be a home opener unlike any other for the Cavaliers, for reasons that extend beyond football.
"It's a big day," UVA head coach Tony Elliott said Tuesday at John Paul Jones Arena. "It's a big milestone."
Nearly 10 months have passed since Virginia last played at Scott Stadium. That game was on Nov. 12. The next night, after returning to Grounds from a class field trip, three members of the team—wide receivers Lavel Davis Jr. and Devin Chandler and defensive end D'Sean Perry—were shot and killed. A fourth UVA player, tailback Mike Hollins, was wounded in the shooting.
At 3 p.m. Friday, a memorial tree will be planted and a plaque dedicated in memory of Davis, Chandler and Perry on the Betsy and John Casteen Arts Grounds between Ruffin Hall and the Drama Education building on Culbreth Road. The event will be streamed live.
UVA (0-1) hosts James Madison (1-0) at noon Saturday in a game to air on ESPNU. At 11:30 a.m., Virginia will honor Davis, Chandler and Perry and their families during a pregame ceremony at the stadium. The theme of the day is UVA Strong.
"We promised the family members that we would never forget their loved ones," athletics director Carla Williams said Tuesday, "and we will keep that promise."
UVA asks that fans wear orange Saturday and cheer on the team at the Wahoo Walk, which starts at 9:30 a.m.
"To the UVA and Charlottesville communities, we encourage you to not only support these players, but to support the families of Devin, Lavel and D'Sean this weekend as we celebrate their legacies," Williams said.
The Wahoos opened the season Saturday with a 49-13 loss to then-No. 12 Tennessee in Nashville. The Hoos played their Blue-White intrasquad scrimmage at Scott Stadium in April, but the atmosphere at the spring game won't compare to what they'll experience Saturday.
"I'm excited to be back in front of our fans, just to extend my gratitude to them for all the support that they've given us throughout the course of this journey since last November," Elliott said. "I'm hoping that that is going to bring some ease to our players, because it's going to be emotional. There's no way around it, and it should be.
"Obviously, everything that's going to be done is what needs to be done, what's supposed to be done in this situation. Then the best way that we can play our part as a team is to go out and play well, and that's my message to the guys. The administration is doing everything they're supposed to do and need to do to honor Lavel, Devin, and D'Sean, to honor their families the way they're supposed to, and then we need to go out and honor them by the way that we play."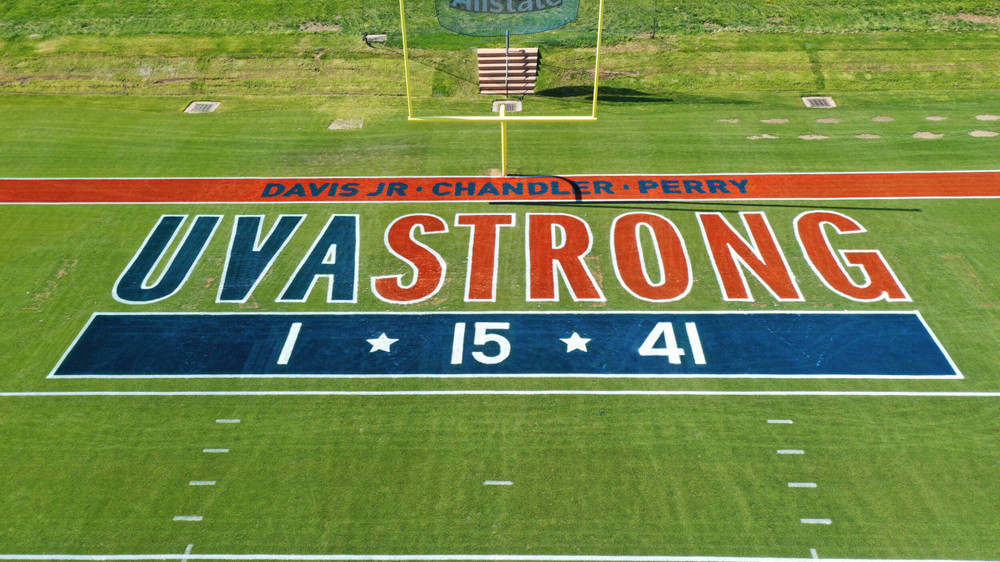 Elliott said he's hoping for a strong turnout of fans at Scott Stadium. "We have an opportunity as a community, as a football program, fan base, to pay respect to the three young men, their families, and then also the other 125 guys that have chosen to stay the course, do what's difficult, and show up every single day."
For his players, honoring their fallen teammates while also preparing for and playing in a much-anticipated game won't be easy, Elliott acknowledged. "You've got to compartmentalize and be strategic with the hours in the day and know when you need to focus on football. They also have academics that they've got to continue to focus on, and then also spending the appropriate amount of time mentally preparing themselves for the emotional roller coaster that they're going to have late in the week and also on game day.
"So it's a delicate balance. You want to make sure that you fill all the buckets properly. There is no formula."
UVA tailback Kobe Pace, a transfer from Clemson, said balancing everything this week will "be tough, but I feel like that's what we're playing for. So I feel like that'll keep us going, just so we can play for those guys who aren't here now."
At his weekly press conference, Elliott provided updates on several players who were injured in Nashville. Starting quarterback Tony Muskett, who hurt his non-throwing shoulder against the Volunteers, is "day to day," Elliott said.
If Muskett can't play against JMU, true freshman Anthony Colandrea will start at quarterback. Colandrea finished the game for the Wahoos after Muskett was injured early in the fourth quarter in Nashville.
"He is a competitor," Elliott said of Colandrea, who enrolled at UVA in January and went through spring practice with the team. "He has leadership qualities as a freshman. He's got playmaking ability. The biggest thing for us, if he is the one that runs out there first, is just making sure that we kind of keep him level-headed and calm and collected so that he can go do his job, which is to distribute and manage the system."
Defensive tackle Olasunkonmi Agunloye suffered season-ending injuries late in the first quarter, rupturing the patella tendons in his knees while celebrating a fumble recovery. "I don't think he really knows what happened, to be honest with you," Elliott said. "It was a freak-type deal."
Tight end Josh Ahern, tight end Sackett Wood and safety Lex Long were banged up against Tennessee, but they could play Saturday, Elliott said. "We won't know until later in the week if we'll have those guys available."
Defensive end Chico Bennett Jr. and safety Antonio Clary, neither of whom played in Nashville, are back at practice this week. They'll be game-time decisions Saturday.
The injuries have forced inexperienced players, including true freshmen Kam Robinson (linebacker) and Jason Hammond (defensive tackle) into larger roles. Elliott's message to them?
"Got to go," he said. "As I tell them, nobody cares that you're a first-year or nobody cares that you're a freshman. You're the next man up … At the end of the day, JMU is not going to care, and nobody is going to care. You have to be ready to play. And we have to do a great job if we're in that situation where we're counting on them to play a significant amount of snaps, and then we have to help them from a coaching standpoint."
In reviewing videotape of the Tennessee game, Elliott said, he saw multiple missed opportunities for the Hoos. Still, he said, "I was really proud of the guys because of the effort on the sideline. You felt like it was really good effort, and then when you watched the tape, there were guys that were straining. There were guys that were playing a lot of snaps, and they were still fighting all the way until the end."
Ellliott said the Cavaliers "got beat in some one-on-one matchups. We lost some one-on-one matchups. And there's not much you can do about that other than go back to work and figure it out fundamentally. [The videotape] also revealed that we still got work to do with our guys to get them to completely trust our fundamentals all the time. It revealed on tape that at times in the heat of the moment we reverted back to some old things that we were trying to eliminate. That's a great opportunity for us to teach our guys that it's fundamentals, fundamentals, fundamentals at all times."
To receive Jeff White's articles by email, click the appropriate box in this link to subscribe.