Virginia Cavaliers Official Athletic Site
Keytaon Thompson
New Orleans, La.
Hometown
Landry-Walker HS
High School
Mississippi State
Previous School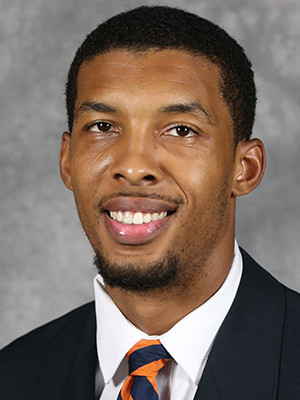 Keytaon Thompson Audio Pronunciation
HONORS
2022 – Third Team All-ACC … Phil Steel Fourth Team All-ACC … Named to the Biletnikoff Award Watch List and the 2023 Reese's Senior Bowl Preseason Watch List … Preseason Second Team All-ACC selection according to Phil Steele and Pick Six Previews (All-Purpose) … 2021 – Second Team All-ACC … Pro Football Focus Second Team All-ACC … Phil Steele Third Team All-ACC
AT VIRGINIA
2022 – Started first eight games of the season before missing final two due to injury … led the Cavaliers in receptions (53) and receiving yards (579) … second in the ACC and 12th in the nation with 6.6 receptions per game … seventh in the ACC in receiving yards per game (72.4).  2021 – Selected for the 2021 ACC All-Academic team … appeared in all 12 of UVA's games with 10 starts… Had at least five receptions in eight games… Finished the season with five straight games of at least seven receptions… Caught a career-high 11 passes with 126 yards against Pittsburgh… Finished the season with three 100-yard games… Led the Cavaliers with 78 receptions… His 990 yards on the season put him 10 yards shy of becoming the 6th single-season 1000-yard receiver in program history… He also rushed for 247 yards and found the end zone four times … according to Pro Football Focus, had the second best elusive rating (a stat that measures the success and impact of a runner with the ball independently of the blocking) – 175.5 of any non-running back with 20 or more rush attempts … his 453 yards after the catch were the third most in the ACC  2020 – Appeared in nine of UVA's 10 games with four starts … caught one pass for three yards and a touchdown at No. 1 Clemson … led UVA with 71 rushing yards on 10 carries at Wake Forest … rushed five times for 24 yards at No. 11 Miami … also caught two passes for 11 yards against the Hurricanes … rushed 10 times for 43 yards and a score against No. 15 North Carolina … sealed the victory over the Tar Heels when he gained five yards and the first down on a fourth-and-3 opportunity when UVA ran a fake punt … caught two passes for 66 yards and a touchdown against Abilene Christian … scored on a 56-yard reception against the Wildcats … rushed nine times for 86 yards and two touchdowns in the win over Boston College … also caught one pass against the Eagles … caught an 11-yard touchdown pass at Virginia Tech … named to 2021 ACC Academic Honor Roll.
PREVIOUS SCHOOL
A 2020 graduate from Mississippi State, earning a degree in Kinesiology sport administration … appeared in 20 career games for Mississippi State over the 2017, 2018 and 2019 seasons … appeared in only one game in 2019 and was able to redshirt … went 2-0 as a starter in Starkville with 18 career touchdowns (10 rushing, eight passing) … first career start was in the 2017 Taxslayer Bowl where he led the Bulldogs to a 31-27 victory over the Lamar Jackson-led Louisville Cardinals, rushing for three scores and tying a MSU bowl record … recruited to Starkville by former MSU head coach Dan Mullen and saw quite a bit of action under Mullen as a true freshman … played in 10 games in 2017, throwing for 388 yards and two touchdowns while also going for 446 yards and six scores on the ground … threw for 458 yards and six touchdowns while rushing for 226 yards and four scores in nine games (one start) in 2018 … owns three 100-yard rushing games and tallied 672 rushing yards, while averaging 6.8 yards per rush for his career … passed for 846 yards and eight touchdowns for his career.
HIGH SCHOOL AND PERSONAL
Combined for three state championships in football and basketball … consensus four-star recruit out of Landry-Walker High School in New Orleans where he was coached by Emanuel Powell … No. 1 QB recruit in Louisiana according to 247Sports and a Parade All-American honorable mention … became the first player in Landry-Walker history to be named Louisiana Gatorade Player of the Year following an incredible senior season in 2016 … 2016 District 8-5A MVP and finalist for the Gatorade National Player of the Year … 2016 LSWA Class 5A Most Outstanding Offensive Player … racked up 10,737 yards of total offense and accounted for 149 touchdowns during his prep career … finished his senior season, completing 198-of-331 passes for 3,825 yards and 46 touchdowns while rushing 152 times for 1,434 yards and 26 TDs … amassed 5,259 yards of total offense in 2016 … accounted for 457 yards of total offense and six touchdowns in the 2016 Class 5A state championship game, leading the Charging Buccaneers to a 50-21 win over West Monroe to produce the school's first state title … squad capped the year on a 13-game winning streak and in that stretch he accounted for 66 touchdowns … completed 16-of-27 passes for 303 yards with five touchdowns and carried 23 times for another 154 yards, dazzling fans in the Mercedes-Benz Superdome in the state title game … in five playoff games as a senior, completed 81-of-119 passes for 1,485 yards with 17 touchdowns and two interceptions, while rushing for 534 yards and 11 scores … as a junior, directed the Charging Bucs to a 10-3 record, a share of the District 8-5A championship and an appearance in the 2015 Class 5A state quarterfinals … four-year starter at QB and a three-year starter in basketball … the two led Landry-Walker to back-to-back Class 4A state championships in 2014 and 2015 … a knack for making big plays, Thompson drained the game-winning bucket in the 2015 LHSAA Top 28 Class 4A championship game … nickname is "K.T." … son of Naffateria and Kintay Thompson … has one sibling, Kayden … is an avid chess player … first name is pronounced KEY-tahn … currently working on a master's degree in higher education… recipient of the 2022-23 James P. Soper III Football Scholarship.