Virginia Cavaliers Official Athletic Site
Jake Gelof
Rehoboth Beach, Del.
Hometown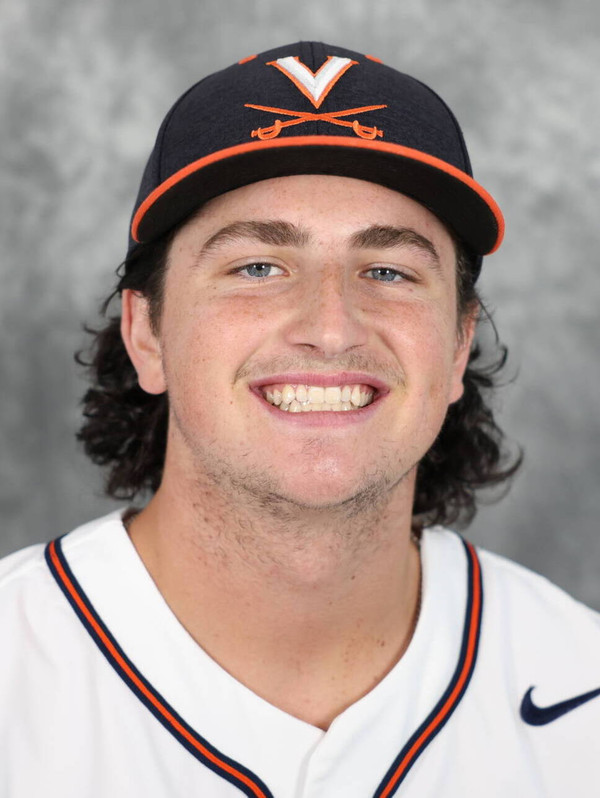 Jake Gelof Pronunciation
CAREER
• Became UVA's all-time home run leader on April 11 with his 38th career home run, a solo shot in the fifth inning against Richmond.
• Broke UVA's single season RBI record with 81 in 2022 and again in 2023 with 90. He is the only player with 70 or 80 RBI in two different seasons in program history.
• Recorded a school record, five multi-homer games in 2022 – 2/25 vs. Cornell,  3/6 vs. Penn State, 3/11 at Duke, 3/19 vs. Boston College and 6/5 vs. Coastal Carolina. He's the first UVA player to collect four-multi homer games in a season since Jon Benick in 2001.
• Broke UVA's 29-year-old single-season home run record with 23 in 2023. With his 21 long balls in 2022, he is the first player in school history with two 20-homer seasons.
• As a sophomore in 2022, slugged .764, the third highest in school history and accumulated 162 total bases, the fourth most in a single season by a UVA hitter.
• Tied UVA NCAA Tournament single-game records with two home runs, five RBI and eight total bases against Coastal Carolina on June 5. A Cavalier has compiled eight total bases on four occasions in the postseason, he's done it two of the four times.
• Has six career NCAA Tournament home runs, the most in program history.
2023
• Drafted in the second round (60th overall) by the Los Angeles Dodgers in the 2023 MLB Draft.
• Named a Second Team All-American by Collegiate Baseball Newspaper and NCBWA. A Third Team All-American by Perfect Game.
• One of 25 semifinalists for the the Golden Spikes Award, the second Cavalier ever (Danny Hultzen – 2010 & 2011) and the 35th player in the award's history to be a semifinalist in multiple seasons.
• Named a semifinalist for the Dick Howser Trophy for the second-straight season. He's the second UVA player ever to be a semifinalist twice (Danny Hultzen – 2010 & 2011).
• Named the College Sports Communicators (CSC) Academic All-America Team Member of the Year and was a First Team College Sports Communicators Academic All-American, for the second-straight season.
• One of 12 Cavaliers on ACC Academic Team and included on the ACC Academic Honor Roll.
• Listed on Charlottesville Regional All-Tournament Team (3-for-11, 2B, HR, 4 R).
• First Team All-ACC selection at third base, for the second-straight season. The 11th Cavalier to garner first team honors twice in a career.
• First Team ABCA All-Atlantic Region selection at third base.
• Broke his own single-season RBI record on May 20 at Georgia Tech with a 2-run homer in the first inning.
• Along with teammate Kyle Teel was one of 45 players included on Golden Spikes Award Midseason Watch List.
• Named the ACC Player of the Week for the second time in his career and was featured on Collegiate Baseball Newspaper Team of the Week on April 11 after going 7-for-14 with a double, triple and three home runs in a three-game series sweep of Miami.
• Repeated on the CBN Team of the Week (April 17) after he went 7-for-16 with a double,  four home runs, 9 RBI and scored six runs over 5 games.
• Preseason: Collegiate Baseball Newspaper, NCBWA and Perfect Game Preseason First Team All-American; D1Baseball Second Team Preseason All-American; Perfect Game Preseason All-ACC; included on Golden Spikes Award Watch List and the Bobby Bragan Award Watch List
SUMMER 2022: Invited to USA Baseball Collegiate National Team Training Camp … played seven games for the Harwich Mariners in the Cape Cod League before reporting to Cary, N.C. for camp.
2022
• Semifinalist for the Dick Howser Trophy presented by the NCBWA, UVA's first since Adam Haseley in 2017.
• Semifinalist for the Golden Spikes Award, the first UVA sophomore since Nathan Kirby in 2014 to be included.
• Earned All-America honors from ABCA/Rawlings (Second Team), Perfect Game (Second Team), NCBWA (Third Team), Collegiate Baseball Newspaper (Third Team), Baseball America (Third Team) and D1Baseball.com (Third Team).
• First Team ABCA/Rawlings All-Atlantic Region honoree.
• First Team CoSIDA Academic All-American, the 7th in UVA history and first since 2011.
• A First Team All-ACC selection at third base.
• One of 13 baseball student-athletes from the Virginia, North Carolina and Tennessee region to earn a spot on the CoSIDA Academic All-District Team.
• Named to the Greenville All-Regional Team after going 5-for-11 with two home runs (HR 1 & HR 2) and seven RBI.
• Started all 58 games (56 at 3B, 1 at 1B, 1 at DH)
• Ranked in the top-10 nationally in RBI (6th – 81), RBI per game (4th – 1.40) and slugging percentage (10th – .764).
• Amongst his ACC cohorts was second in RBI (81), second in slugging percentage (.764), fourth in batting average (.377), fifth in on-base percentage (.477), seventh in total bases (162), seventh in sacrifice flies (5), eighth in home runs (21), 12th in runs (65) and 12th in walks (41).
• Batted .376 (41-for-109) with 37 runs scored nine doubles, 10 home runs and 35 RBI in 30 ACC games.
• Kept his batting average over .400 for the first 31 games of the season and stayed above the .373 mark from games three through 58.
• Was the country's leader in home runs from March 20 -April 7
• D1Baseball.com and Perfect Game Midseason Player of the Year.
• Named ACC Player of the Week, NCBWA National co-Player of the Week and listed as a Collegiate Baseball Newspaper Player of the Week on Feb. 28 after going 9-for-10 with four home runs and 15 RBI in four games.
• On Feb. 27, hit for the cycle against Cornell in four at bats and five innings played. It was the first cycle by a Cavalier since Hunter Wyant against High Point on March 12, 2001. He homered in the first inning, doubled in the second, tripled in the fourth and singled in the fifth.
• Drove in eight runs on his birthday in series opener against Cornell on Feb. 25, most in a game by a UVA hitter since Kenny Towns drove in eight against East Carolina on Feb. 15, 2013 and tied with Jacob Burke (Miami) and Brock Wilken (Wake Forest) for the most in a game by an ACC player in 2022. Was 3-for-3 with a three-run homer in the first inning, a three-run shot in the second, an RBI double in the third and sac fly in the sixth.
• Hit a home run off the bull at the Durham Bulls Athletic Park as part of a 3-for-4, three run, two-homer, four RBI day against Duke (March 11)
• Reached the double-digit home run mark in the 19th game of the year with home run numbers 10 and 11 in the middle game against Boston College on March 19.
• Homered in his third-straight game and recorded his 13th home run of the season with solo shot against against Towson on March 22.
• Was the first player in the country to hit 14 home runs in 2022 after an opposite field shot against Georgia Tech (April 3).
• Became the second member of UVA's 70-RBI club with a two-run homer against Clemson on May 15
• Moved into second place on UVA's single-season home run list with his 19th of the year, a three-run homer against Louisville on May 20
SUMMER 2021: Played 32 games for the Kalamazoo Growlers of the Northwoods League, alongside UVA teammate Alex Tappen … batted a team-best .370 (44-for-119) with 10 doubles, a triple, five home runs and 21 RBI … put together a total of 16 multi-hit efforts … in his third game of the summer went 3-for-3 with two home runs and four RBI against the Traverse City Pit Splitters on July 5
2021
• Appeared in 38 games and made 29 starts (24 at 1B, 3 at 2B & 2 in RF) as a true freshman
• Started the final 24 games of the season at first base, taking over for the injured Devin Ortiz. UVA went 16-8 in those 24 contests.
• Went 28-for-111 (.252) with eight doubles, two triples and four home runs and 15 RBI at the plate for the season.
• Named to the All-Columbia Regional Team after scoring a team-high six runs and going 5-for-18 (.278) with two doubles, two home runs and three RBI over five games.
• Made his collegiate debut as a pinch-hitter against UConn on Feb. 20
• Recorded his first collegiate hit, a single against Notre Dame on March 13, also his first start of the season.
• Homered in the same game as his brother Zack twice – the first time against Notre Dame in the ACC Tournament and again in the NCAA Regional opener against South Carolina on June 4. The home run against Notre Dame was the first of his career.
• Hit a walk-off single against Wake Forest on May 15 to clinch the series, part of a 2-for-5, 3 RBI night
• Reached base nine times in the Wake Forest series, was 5-for-11 with four runs scored, two doubles, a triple, three walks and five RBI
• Went back-to-back with Alex Tappen in the fifth inning of game one of the Super Regional against Dallas Baptist on June 12
• Hit a two-run homer in the sixth inning of an NCAA Regional elimination game against Jacksonville on June 5. He was 3-for-4 with two doubles, a home run and four runs scored in the contest. The two doubles, four runs scored and eight total bases matched UVA single-game NCAA Tournament records.
• Tied the game with a solo homer in the third inning against South Carolina on June 4
• Went 3-for-6 with two doubles and two RBI in UVA's 18-1 victory at Virginia Tech on April 30
• Listed on the ACC Academic Honor Roll
IMG ACADEMY/CAPE HENLOPEN HIGH SCHOOL
• Attended Cape Henlopen High School from 2016-18 before transferring to IMG Academy (Bradenton, Fla.) for his final two years
• Top ranked overall player and No. 1 shortstop in Delaware's 2020 class according to Perfect Game
• Prior to transferring to IMG, helped CHHS to state championship as a sophomore. Batted .571 and led the team with seven RBI and recorded a save in the title run
• Played two years of soccer at CHHS, earning All-Conference honors his sophomore year as a goalkeeper after eight shutouts. Made two saves in PK shootout to help CHHS advance to state semifinal match
• An Academic All-Conference selection in both baseball and soccer at CHHS as a freshman and sophomore
• Selected to play in MLB East Coast Pro and Rivalry Classic
• Played travel ball for Canes Baseball (2016-2020) where he won two Wilson Classic Championships, WWBA tournament and achieved 2019 final Perfect Game #1 team in Nation ranking.
PERSONAL
• Born in Rehoboth Beach, Del.
• Son of Adam and Kelly Gelof
• His brother Zack was a member of the UVA baseball team from 2019-21 and was a second round pick of the Oakland Athletics in 2021.
• A Media Studies Major
• Recipient of the 2022-2023 G. Richard Fletcher, Jr. Bicentennial Scholars Fund