By Jeff White (jwhite@virginia.edu)
VirginiaSports.com
CHARLOTTESVILLE –– Collectively, they span multiple generations, and they played quarterback in different systems at the University of Virginia. They're linked, however, by the success they had leading the Cavaliers' offense. These alumni share something else: a keen appreciation for the play of Brennan Armstrong, UVA's current starter.
"He's been phenomenal," said Andy Hitt, who led the ACC in passing in 1976, and that's the consensus among former UVA greats Don Majkowski, Shawn Moore, Matt Schaub, Marques Hagans, Kurt Benkert and Bryce Perkins, too.
"It's been really inspiring to watch," Schaub said.
Hitt lettered for the Wahoos from 1974-76, Majkowski from 1984-86, Moore from 1987-90, Schaub from 2001-03, Hagans from 2002-05, Benkert in 2016 and '17, and Perkins in 2018 and '19.
Armstrong, a 6-foot-2, 215-pound left-hander, is in his second year as Virginia's starter. He had a strong season in 2020, passing for 2,117 yards and 18 touchdowns in nine games. This year? He's shattering records.
"It's just crazy the numbers he's putting up," Hitt said.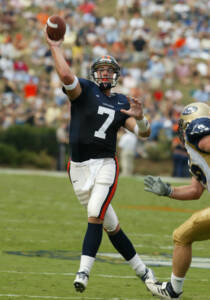 Through nine games, Armstrong has passed for 3,557 yards, the most ever by a Cavalier in a season. He's thrown 27 touchdown passes, one shy of the school record set by Schaub in 2002, and completed 64.3 percent of his attempts. Moreover, Armstrong has rushed for 271 yards and seven TDs.
"I think he's been phenomenal, just in terms of the numbers he's been putting up," said Moore, who finished fourth in voting for the Heisman Trophy in 1990. "As people have alluded to, what he's doing sounds like video-game numbers. It's crazy."
Schaub, who retired in January after a long NFL career, lives in the Atlanta area. He's had more time to watch more UVA games than in recent years, and he likes what he's seen from Armstrong.
"He's playing awesome," Schaub said.  "His toughness shows. I love how he stands in there when guys are bearing down on him and still delivers the football. He's accurate. He gives his guys chances to make plays.
"One thing I've noticed over the years is the skill-position talent that's around him is really good. He's got three or four guys, last year and this year, that he can throw the football to and that are making plays for him. And when he needs to, he shows his toughness running the football."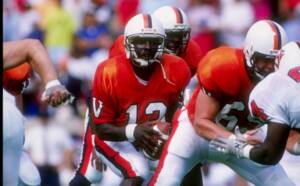 Perkins, who's now with the NFL's Los Angeles Rams, set a UVA single-season record by passing for 3,538 yards in 2019. That mark stood for less than two years, a development that doesn't shock Perkins.
"I always knew he was going to do big things," Perkins said of Armstrong, his understudy in 2018 and '19. "I remember watching him practice when I got hurt in camp my last year, and everything just looked easy for him. Proud of what he has done and is going to do moving forward."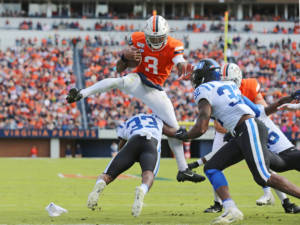 Armstrong, who this week was named of the 15 semifinalists for the Maxwell Award, presented annually to the top player in college football, leads FBS in three categories: passing yards (3,557), total offense (3,828 yards) and points responsible for (212).
He's surpassed 300 yards passing eight times this season, and he's thrown for more than 400 yards four times. He passed for 337 yards and four touchdowns against BYU last weekend before leaving the game with a rib injury in the fourth quarter, and he also rushed for 94 yards and two TDs. Virginia (6-3 overall, 4-2 ACC) is off this weekend.
Armstrong's numbers astound. He passed for a school-record 554 yards against North Carolina in September, and that's also the most by an FBS quarterback this season.
"Brennan has just got what you're looking for," said Hagans, who backed up Schaub in 2002 and '03 and then started the next two seasons. "He's got the feel, he's got the arm, he's just got that 'it factor.' The great ones, they make everyone around them better, and everyone feels like we have a chance every time he's on the field and he has the ball.
"I think the guys work hard for him. They block for him, they run and get open, and the running backs protect. Everybody does their part to help him be successful. On top of that, he's really good. He's just playing at a high level, and it's fun to be a part of and witness."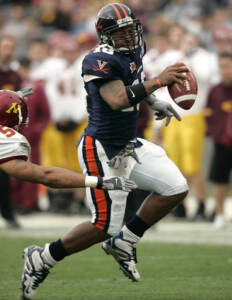 Hagans has a unique perspective on Armstrong's progress. He's in his ninth season as the Cavaliers' wide receivers coach, and his group has been instrumental in Armstrong's success.
Five Cavaliers have at least 445 yards receiving this season, led by wide receiver Dontayvion Wicks with 972. Keytaon Thompson has 663, wideouts Billy Kemp and Ra'Shaun Henry have 562 and 493, respectively, and tight end Jelani Woods, who missed one game with an injury, has 446.
"I tell you what, the weapons he has are phenomenal," said Moore, who's now an associate director of development for the UVA athletics department.
In 1990, when Moore passed for 2,262 yards, his top target was wideout Herman Moore (no relation), who caught 54 passes for 1,190 yards, still a school record.
"I was fortunate to have a guy like Herman who could make plays and was unguardable," Shawn Moore said, "and we had a bunch of role players, guys like [Derek] Dooley and Terry Tomlin, and [tight end] Bruce McGonnigal was always a threat too. But it's amazing [the receivers] Brennan has, and then to keep them happy is always a tall task."
With such a talented group of receivers, Armstrong usually has several good options when he drops back to pass, "and that's so hard for college defenses," Schaub said. "There's so much space that you can create that [the Hoos are] going to get a lot of matchups that you like when you have guys that you trust to get the football to like that."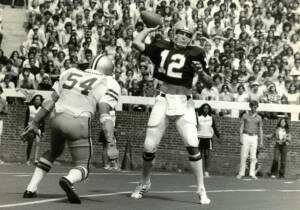 Hitt, who passed for 1,222 yards as a UVA senior, raves about Thompson, who wears jersey No. 99 and is listed as "football player" on the roster.
"That is an NFL talent, for sure," said Hitt, who lives in Raleigh, N.C. "With his athleticism and the way he goes after the ball, he's a great player, and you're fortunate to have somebody like that as a quarterback, and [Armstrong has] more than one. He's got great talent from his receivers, and he's got a good line. He's got time. But even when he doesn't have time, he's very mobile, so that's great as well. He's just got all the right ingredients. It's fun to watch."
Majkowski, who played 10 seasons in the NFL, loves the way Armstrong carries himself on the field.
"The first thing I really noticed about him, and I really like it, is his swagger," said Majkowski, who lives in the Atlanta area. "He's got a little edge to himself, like a lot of the great quarterbacks, and I think you need that. I can see that his teammates follow him and respond to him as a leader. You can just see it.
"The second thing I noticed is, physically, he throws the ball really well. Obviously, he's got enough mobility and he's just a real tough kid. He can sit in the pocket, and he also can make plays with his feet. He anticipates pretty well and he's pretty accurate. He's done a heck of a job of leading this offense this year and making the right reads. I've enjoyed watching him play, this year especially."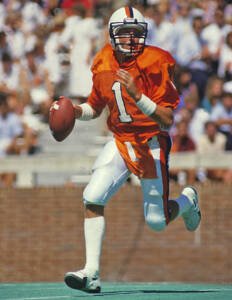 In offensive coordinator Robert Anae's system, Virginia passes more than it did when most of Armstrong's predecessors played. The Cavaliers have attempted 421 passes this season. They've run the ball 262 times, and several of those were pass plays on which Armstrong was sacked. UVA's quarterbacks coach is Jason Beck, who also mentored Benkert and Perkins.
"It's a totally different philosophy now," Majkowski said. "It looks a lot more fun for a quarterback. I'm a little jealous."
So is Hitt. "You think back to how much fun it would be to have played like that back then, to have thrown it as often as he does: 40, 50 times a game. For a quarterback, that's a dream come true. It's great. Good for him."
Benkert, a graduate transfer from East Carolina, was the starting QB on head coach Bronco Mendenhall's first two teams at UVA. A pro-style quarterback, Benkert attempted 406 passes in 2016 and a program-record 509 in 2017. With three regular-season games remaining, Armstrong has thrown 406 passes this fall.
"I have a blast watching him play, because he can do it all," said Benkert, who's with the NFL's Green Bay Packers. "He's multi-dimensional and gritty on top of it. And I catch up with him every other week or so. He's a good kid."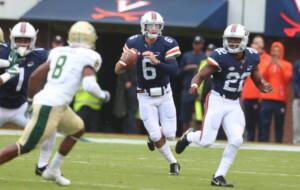 Hagans echoed that comment. Most of his conversations with Armstrong "are just talking about the position and how it was when I played and how it was when I was here," Hagans said, "or he asks me questions about how guys see things at receiver. But it's easy. He might come over and say, 'Coach, do you think the guys can do this?' And I'll say, 'We'll get it done, Brennan.'
"He's kind of like a coach on the field. Coach Beck does a really good job of coaching him up with the fundamentals of seeing the game. Coach Anae does a really good job of calling good plays and putting him in position. And then it's just up to our guys to be there and make the plays. That relationship is fun, but then off the field, just watching Brennan develop and grow, he's a great person, and I'm glad he's our quarterback."
Hagans laughed. "I might be one of those who wish I could come back and do it again and play in this offense. From Kurt to Bryce to Brennan, those guys deserve all the accolades they get, and they're playing in a really good system that highlights their ability. Honestly, I'm just happy to witness it and be a part of it. There's no bigger cheerleader than me on the sideline, rooting for those guys day in and day out to the best and write their own place in history."
To receive Jeff White's articles by email, click here and subscribe.