Virginia Cavaliers Official Athletic Site
Brennan Armstrong
Shelby HS
High School / Club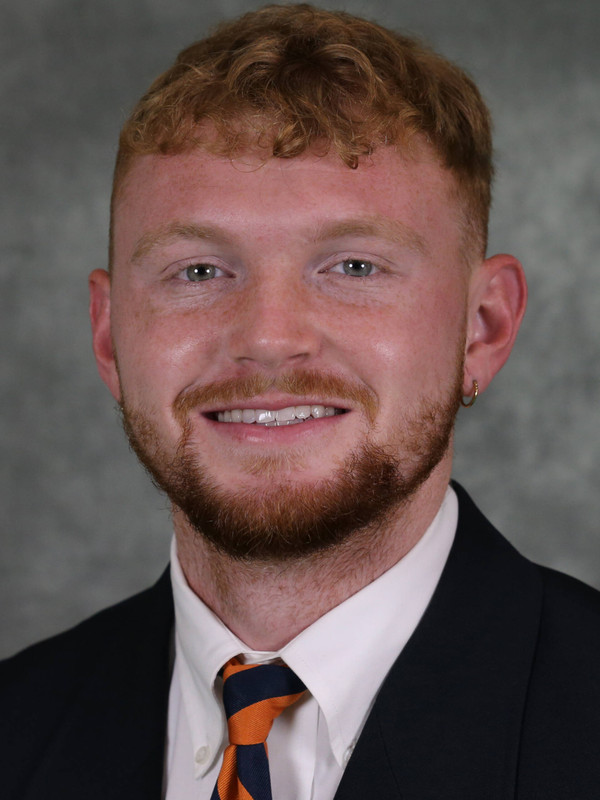 Brennan Armstrong Audio Pronunciation
HONORS
2021 – Johnny Unitas Golden Arm Award watch list… Maxwell Award watch list… ACC Quarterback of the Week (9/7, 9/13, 10/11)… Included on the Davey Brien Award's Great 8 list on Sept. 13 and Oct. 11… Pro Football Focus Offensive Player of the Week (9/12)… Davey O'Brien Award midseason watch list… 2020 – Pro Football Focus All-ACC (HM).
AT VIRGINIA
2021 – One of UVA's four captains, first two-time captain at UVA since Micah Kiser and 2nd two-time captain under Mendenhall… Won ACC Quarterback of the Week on 9/7 and 9/13, the first UVA QB to win the award in back-to-back weeks since 1990… In season opener against William & Mary threw for 339 yards, the most by a UVA quarterback in a season-opening game… Established career highs in completions (27), yards (405) and touchdowns (5) against Illinois on 9/11… Became the 4th UVA QB to pass for 400 yards in a game and the second to throw for 400 yards and five touchdowns. 2020 – One of UVA's four captains … tied for the FBS lead with most single-season games (6) with 200+ yards passing and 45+ yards rushing … also tied for the FBS lead with most single-season games (4) with 200+ yards passing, 45+ yards rushing yards, 1+ passing touchdowns and 1+ rushing touchdowns, going 4-0 in such games … No. 3 in the ACC and No. 18 in the nation with 296.6 yards of total offense a game … No. 8 in the nation among non-option quarterbacks with 552 yards rushing … No. 3 in the ACC and No. 25 in the nation with 15.6 points responsible for per game … started nine of UVA's 10 games … missed the Wake Forest game with an injury … became just the second left-handed quarterback to start a game at UVA after making his first career start against Duke, joining Jameel Sewell … threw for 269 yards and two touchdowns against the Blue Devils … his 269 yards rank No. 2 all-time at UVA among quarterbacks making their first career start … trailing by three points (20-17) entering the fourth quarter he was 8-of-9 passing for 144 yards and two touchdowns … became only the second UVA quarterback (joining Matt Blundin) to throw for 200+ yards in his first two career starts after finishing with 270 passing yards at No. 1 Clemson … he also threw for three touchdowns and rushed for a team-best 89 yards to become the only player since 2000 to throw for 225+ yards, rush for 70+ yards and throw for 3+ touchdowns against Clemson … was knocked out of the NC State game in the second quarter with an injury … was 6-of-9 passing for 57 yards against the Wolfpack before the injury … returned to action at No. 11 Miami and threw for 181 yards and two touchdowns … rushed for 91 yards against the Hurricanes … threw for 208 yards and three touchdowns in win over No. 15 North Carolina … also rushed 20 times for 66 yards and a score against the Tar Heels … passed for 203 yards and a touchdown in home win over Louisville … also rushed for 60 yards and two scores against the Cardinals … was 16-of-23 passing for 383 yards and four touchdowns against Abilene Christian … added 52 rushing yards against the Wildcats … rushed for a career-high 130 yards against Boston College … with 417 yards of total offense against Boston College, he became the first UVA quarterback in program history with 400+ yards of total offense in back-to-back games … added 287 passing yards and one passing touchdown against Boston College and was graded as the top quarterback in the nation by Pro Football Focus for week No. 14 … was 25-of-46 passing for 259 yards and two touchdowns at Virginia Tech.  2019 – Appeared in seven of UVA's 14 games … missed the Florida State, Old Dominion, Notre Dame and Miami games with an injury … against Pitt he appeared on punt coverage … he was 9-of-10 passing for 103 yards against William & Mary … rushed three times for 13 yards against the Tribe … completed his only pass at North Carolina on a fake field goal … his five-yard pass to Tanner Cowley recorded a first down in the first quarter that led to a touchdown … was 3-of-4 passing for 73 yards and one touchdown in win over Liberty. 2018– Appeared in four of UVA's 13 games … one of 13 UVA true freshmen to see action in 2018 … one of eight true freshmen to make collegiate debut in the season opener against Richmond … seeing all his action in the fourth quarter, he rushed three times for 11 yards against the Spiders, while going 1-of-2 for six yards in college debut … in limited action against Louisville in the ACC opener he ran for 50 yards, including a 34-yard sprint in the second quarter … led the UVA offense for one drive at Georgia Tech after Bryce Perkins went down with an injury … was 1-of-2 passing and connected on his first career passing touchdown to Joe Reed for 56 yards … also rushed twice for 13 yards against the Yellow Jackets … appeared in one offensive play against South Carolina in the Belk Bowl, lateraling the ball to Bryce Perkins on a pass play … retained redshirt under new NCAA rules.
HIGH SCHOOL AND PERSONAL
Was a January enrollee and took part in 2018 spring practice … played quarterback at Shelby High School for head coach Erik Will … four-year starter … led Shelby to a 13-1 record and an appearance in the Division IV state semifinals … in 11 games he completed 100-of-165 passes for 1,933 yards and 30 touchdowns … rushed for 1,105 yards and 22 touchdowns … named first-team Division IV OPSWA All-State … co-Richland Source Offensive Player of the Year … in 2016 he threw for 2,321 yards and 19 touchdowns and rushed for 1,065 yards and 18 touchdowns … accounted for nine touchdowns in a game as a freshman, losing 83-82 to Tiffin Columbian, helping tie an Ohio High School Athletic Association  record for combined points scored in a game … completed 21-of-36 passes for 358 yards and five touchdowns in that game … also rushed for 191 yards and four touchdowns in the record-tying game … rated a four-star recruit by ESPN.com … rated a three-star recruit by Rivals.com, 247Sports.com and Scout.com … major is American studies … recipient of the 2021-2022 Rogers Family Bicentennial Scholarship Fund.