Virginia Cavaliers Official Athletic Site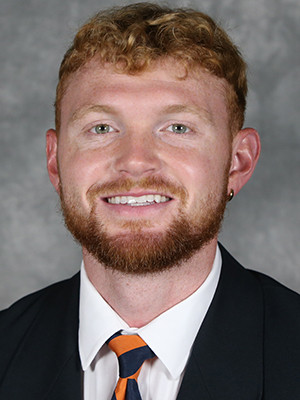 Brennan Armstrong Audio Pronunciation
Armstrong Among UVA All-Time Leaders
| | | |
| --- | --- | --- |
| | |  Rank |
|  Single-Game Passing Record |  554 vs. UNC (2021) |  1 |
|  Season Passing Record |  4,449 (2021) |  1 |
|  Career Passing Yards |  9,034 (2018-22) |  1 |
|  Single-Game Total Offense |  538 vs. UNC (2021) |  1 |
|  Season Total Offense |  4,700 (2021) |  1 |
|  Career Total Offense |  10,301 (2018-22) |  1 |
|  Single-Game Passing TDs |  5 vs. Illinois |  T-2 |
|  Season Passing TDs |  31 (2021) | 1 |
|  Career Passing TDs |  58 (2018-22) | 1 |
|  Consecutive Games with Passing TD |  18 (2021-22) | 1 |
|  200-yard Career Passing Games |  25 (2018-22) | 1 |
|  300-yard  Career Passing Games |  12 (2018-22) |  1 |
|  400-yard Career Passing Games |  6 (2018-22) | 1 |
|  Season Pass Completions |  326 (2021) | 1 |
|  Season Passing Attempts |  500 (2021) | 2 |
|  Career Passing Attempts |  1,131 (2018-22) | 1 |
|  Single-Game TD Responsible For |  6 vs. BYU (2021) | T-1 |
HONORS
2022 – On the preseason watch list for the Maxwell Award, the Davey O'Brien Award, the Manning Award, CFPA National Performer of the Year Trophy, the Johnny Unitas Golden Arm Award and the Reese's Senior Bowl … named to 2022 preseason All-ACC Third-Team Offense by Athlon Sports and All-ACC Fourth Team by Phil Steele … ranked No. 93 on Pro Football Networks Top 100 College Football players (preseason) … 2021 – Maxwell Award semifinalist … Davey O'Brien Award semifinalist … Johnny Unitas Golden Arm Award Top 10 finalist …  Manning Award Finalist … CFPA National Performer of the Year Trophy midseason watch list … Honorable Mention on Pro Football Focus and Phil Steele All-America teams… Third Team All-ACC … Associated Press, Pro Football Focus and Phil Steele Second Team All-ACC … Dudley Award Winner… Touchdown Club of Richmond Offensive Back of the Year … no. 34 on Pro Football Focus' 101 best college football players of 2021 list … ACC Quarterback of the Week (9/7, 9/13, 10/11, 10/18), one of two quarterbacks in UVA history to win ACC QB of the Week four times in one season (Shawn Moore – 1990)  … Included on the Davey Brien Award's Great 8 list on Sept. 13 and Oct. 25 … Manning Award Top 8 QB of the Week (Sept. 13 & Oct. 11) … Pro Football Focus Offensive Player of the Week (9/12) …  2020 – Pro Football Focus All-ACC (HM).
AT VIRGINIA
2022 – One of five team captains voted on by the players at the end of the season … started all 10 games … ranked fifth in the ACC with 258.1 yards of total offense per game and fifth in passing yards per game (221.0) …  rushed for 105 yards in season-opener against Richmond, combined with running back Perris Jones (104) yards to become the 2nd Cavalier duo ever to each rush for 100 yards in the first game of the season … broke UVA's career total offense record with a 64-yard touchdown run against Richmond on Sept. 3, the 6th-longest run ever by a UVA quarterback … school-record streak of 18-straight games with a touchdown pass came to a close against Illinois on Sept. 10 … broke UVA's career passing record with a 17-yard completion to Lavel Davis Jr. in the fourth quarter against ODU … His 202-yard passing effort on Oct. 1 at Duke was his 21st 200-yard game of his career, breaking Matt Schaub's UVA mark … Threw for 313 yards and recorded two touchdowns (1 pass, 1 rush) on Oct. 8 against Louisville, his 12th 300-yard game of his career. His 40-yard passing touchdown to Dontayvion Wicks in the contest tied UVA career TD mark … Broke UVA's career passing touchdown record on a 44-yard pass to Wicks against Georgia Tech on Oct. 20. Both Armstrong & Matt Schaub (in 2003) broke the program's career TD record in 38th game and against Georgia Tech … became the ACC's all-time leader in passing yards by a left-handed quarterback (9,034) and 12th most by a left-handed quarterback in FBS history.  2021 – One of UVA's four captains, first two-time captain at UVA since Micah Kiser and 2nd two-time captain under Mendenhall… In season opener against William & Mary threw for 339 yards, the most by a UVA quarterback in a season-opening game…  Threw for 405 yards and a career-high five touchdowns against Illinois on 9/11…. Became the 4th UVA QB to pass for 400 yards in a game and the second to throw for 400 yards and five touchdowns… Set the UVA single-game passing record (554 yards) and single-game total offense mark (538 yards) at North Carolina, both totals were the highest in a single-game by anyone in FBS through Nov. 16… He threw for 364 yards in the first half against UNC, also a program-record… Threw for 400 yards in three-straight games – Illinois (405), UNC (554), Wake Forest (407)… Prior to that, a UVA quarterback had not thrown for 300 yards in three consecutive games… Compiled 487 yards passing while erasing a 17-point fourth-quarter deficit in a 34-33 win at Louisville. It was the second-highest single-game passing total in program history… In the fourth quarter, he threw for 183 yards and two touchdowns, including the game-winning score, a 1-yard touchdown pass to Grant Misch… The last minute victory was UVA's first since 2012… Playing just three quarters against Duke, threw for 364 yards and two touchdowns against Duke… Accounted for 495 yards of total offense (396 passing, 99 rushing) in a 48-40 win over Georgia Tech, the second highest total in program history… His 99 yards rushing were a season-high and included at the time, UVA's longest rush of the season, 45 yards in the second quarter… Suffered an injury at BYU after accounting for six touchdowns (4 pass 2 rush) and 337 yards passing to go along with 94 yards on the ground… broke the school record for passing yards with an eight-yard completion to Jelani Woods in fourth quarter… The 300-yard passing performance at BYU was his ninth of his career, breaking Matt Schaub's school record of eight.
2020 – One of UVA's four captains … tied for the FBS lead with most single-season games (6) with 200+ yards passing and 45+ yards rushing … also tied for the FBS lead with most single-season games (4) with 200+ yards passing, 45+ yards rushing yards, 1+ passing touchdowns and 1+ rushing touchdowns, going 4-0 in such games … No. 3 in the ACC and No. 18 in the nation with 296.6 yards of total offense a game … No. 8 in the nation among non-option quarterbacks with 552 yards rushing … No. 3 in the ACC and No. 25 in the nation with 15.6 points responsible for per game … started nine of UVA's 10 games … missed the Wake Forest game with an injury … became just the second left-handed quarterback to start a game at UVA after making his first career start against Duke, joining Jameel Sewell … threw for 269 yards and two touchdowns against the Blue Devils … his 269 yards rank No. 2 all-time at UVA among quarterbacks making their first career start … trailing by three points (20-17) entering the fourth quarter he was 8-of-9 passing for 144 yards and two touchdowns … became only the second UVA quarterback (joining Matt Blundin) to throw for 200+ yards in his first two career starts after finishing with 270 passing yards at No. 1 Clemson … he also threw for three touchdowns and rushed for a team-best 89 yards to become the only player since 2000 to throw for 225+ yards, rush for 70+ yards and throw for 3+ touchdowns against Clemson … was knocked out of the NC State game in the second quarter with an injury … was 6-of-9 passing for 57 yards against the Wolfpack before the injury … returned to action at No. 11 Miami and threw for 181 yards and two touchdowns … rushed for 91 yards against the Hurricanes … threw for 208 yards and three touchdowns in win over No. 15 North Carolina … also rushed 20 times for 66 yards and a score against the Tar Heels … passed for 203 yards and a touchdown in home win over Louisville … also rushed for 60 yards and two scores against the Cardinals … was 16-of-23 passing for 383 yards and four touchdowns against Abilene Christian … added 52 rushing yards against the Wildcats … rushed for a career-high 130 yards against Boston College … with 417 yards of total offense against Boston College, he became the first UVA quarterback in program history with 400+ yards of total offense in back-to-back games … added 287 passing yards and one passing touchdown against Boston College and was graded as the top quarterback in the nation by Pro Football Focus for week No. 14 … was 25-of-46 passing for 259 yards and two touchdowns at Virginia Tech.
2019 – Appeared in seven of UVA's 14 games … missed the Florida State, Old Dominion, Notre Dame and Miami games with an injury … against Pitt he appeared on punt coverage … he was 9-of-10 passing for 103 yards against William & Mary … rushed three times for 13 yards against the Tribe … completed his only pass at North Carolina on a fake field goal … his five-yard pass to Tanner Cowley recorded a first down in the first quarter that led to a touchdown … was 3-of-4 passing for 73 yards and one touchdown in win over Liberty.
2018– Appeared in four of UVA's 13 games … one of 13 UVA true freshmen to see action in 2018 … one of eight true freshmen to make collegiate debut in the season opener against Richmond … seeing all his action in the fourth quarter, he rushed three times for 11 yards against the Spiders, while going 1-of-2 for six yards in college debut … in limited action against Louisville in the ACC opener he ran for 50 yards, including a 34-yard sprint in the second quarter … led the UVA offense for one drive at Georgia Tech after Bryce Perkins went down with an injury … was 1-of-2 passing and connected on his first career passing touchdown to Joe Reed for 56 yards … also rushed twice for 13 yards against the Yellow Jackets … appeared in one offensive play against South Carolina in the Belk Bowl, lateraling the ball to Bryce Perkins on a pass play … retained redshirt under new NCAA rules.
HIGH SCHOOL AND PERSONAL
Was a January enrollee and took part in 2018 spring practice … played quarterback at Shelby High School for head coach Erik Will … four-year starter … led Shelby to a 13-1 record and an appearance in the Division IV state semifinals … in 11 games he completed 100-of-165 passes for 1,933 yards and 30 touchdowns … rushed for 1,105 yards and 22 touchdowns … named first-team Division IV OPSWA All-State … co-Richland Source Offensive Player of the Year … in 2016 he threw for 2,321 yards and 19 touchdowns and rushed for 1,065 yards and 18 touchdowns … accounted for nine touchdowns in a game as a freshman, losing 83-82 to Tiffin Columbian, helping tie an Ohio High School Athletic Association  record for combined points scored in a game … completed 21-of-36 passes for 358 yards and five touchdowns in that game … also rushed for 191 yards and four touchdowns in the record-tying game … rated a four-star recruit by ESPN.com … rated a three-star recruit by Rivals.com, 247Sports.com and Scout.com … major is Education … recipient of the 2022-2023 Rogers Family Bicentennial Scholarship Fund.