By Jeff White (jwhite@virginia.edu)
VirginiaSports.com
CHARLOTTESVILLE, Va. — When baseball season ends at the University of Virginia and Jay Woolfolk becomes a full-time football player again this summer, Anthony Colandrea may well drop on the depth chart at quarterback.
But with baseball occupying much of Woolfolk's time for the five past weeks, Colandrea got plenty of work during the Cavaliers' 15 football practices this spring, the last of which was the annual Blue-White game at Scott Stadium.
A true freshman from St. Petersburg, Fla., Colandrea completed 18 of 29 passes for 218 yards and one touchdown Saturday, with one interception.
"He balled out today," wide receiver JR Wilson said. "He actually surprised me the plays and throws he made, the shots he took. With his arm talent, there's no knowing what he could do … He really showed that he's going to be a great quarterback in the future."
Colandrea, who's listed at 6-foot, 182 pounds, is small for an FBS quarterback but has "that 'it factor,' " UVA offensive coordinator Des Kitchings said after the spring game.
The Cavaliers' head coach agreed. "He's a ball player," Tony Elliott said.
Colandrea does not lack confidence, and fans at the Blue-White game got "to kind of see his swagger come out," Elliott said.
"That's been me my whole life," said Colandrea, who starred at Lakewood High School.
Colandrea enrolled at the University in January, as did another quarterback, Tony Muskett. A graduate transfer from Monmouth University, Muskett worked extensively with the first-team offense this spring. Both quarterbacks are football junkies, Kitchings said, and "to have those guys wired that way, as a coach, you love that, because now they become a true extension of you out on the field."
Colandrea said: "I just want to be a sponge."
Muskett said Colandrea "reminds me a lot of myself when I first came into college. He's a fun-loving kid. You can see he can sling it out there. He's got a ton of arm talent. I love being around him on a daily basis. He makes things fun for me."
Woolfolk backed up starter Brennan Armstrong in 2021 and '22, and he'll compete for the starting job when the Wahoos open training camp in August. But this spring allowed the offensive coaches to get a long look at Muskett, who twice made the All-Big South first team at Monmouth, and he impressed.
"His spring has been really, really good," Kitchings said.
In the Blue-White game, Muskett completed 11 of 14 passes for 149 yards and one TD, with no interceptions. He teamed with Wilson on a 68-yard touchdown pass in the first touchdown.
"Tony's super talented, got great composure," Virginia defensive coordinator John Rudzinski said. "The production that he had [at Monmouth] speaks for itself, and throughout the spring he did a great job."
Kitchings said Muskett has "been very, very accurate with the football in spring practice. He's had really good command of the offense. You saw today here, he made some plays for us, like the nice throw to JR down the field on the post [pattern]. Intermediate, short, deep, he's been really, really good at throwing the ball for us, so that's really exciting. And the guys outside are making plays for him."
Muskett, who starred at West Springfield High in Northern Virginia, is excited about having talented targets like Wilson, Malachi Fields, Malik Washington, Demick Starling and Jaden Gibson.
"I think of myself as a point guard," Muskett said. "I have so many skill players out there … They can all make great plays. And so when my O-line does what they do and they protect well and we run the ball well, it's just my job to get them the ball in space, because they're the ones that are the great athletes."
He smiled. "I don't even know if I could jump and touch the rim anymore, but they're the ones out there making the great plays and running super far. So whatever I can do to get them the ball in space and let them shine, that's what I'm gonna do."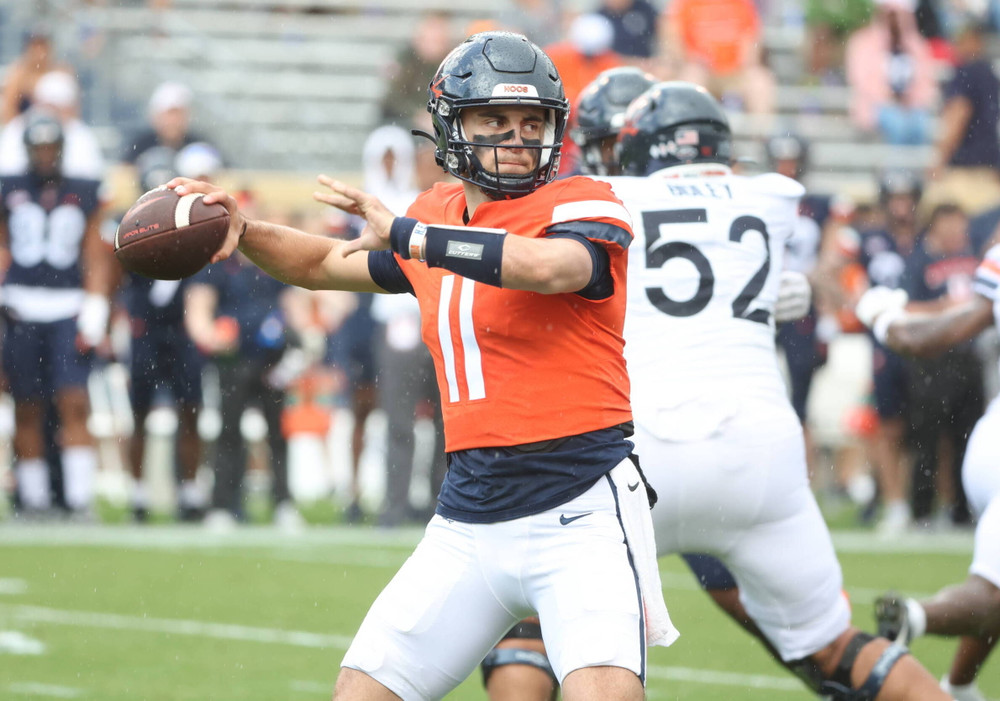 FULL SPEED AHEAD: The risk of injury can make college coaches hesitant to have full-contact practices in which players are tackled to the ground, but the Cavaliers had live periods through the spring, with only the quarterbacks off-limits to defenders.
Rudzinski and his wife, Lauren, have five children, and to learn math, he said, "they've got to do the multiplication tables over and over and over again. It's the same thing for us as a defense. We've got to do the fundamentals really, really well. And that's getting off the blocks and tackling, and so that's we're gonna do as a football program. We're going to play football, and we're going to learn to play football by playing ball."
The Hoos came out of the Blue-White game in excellent health. A number of key players had limited roles this spring while recovering from injuries, including defensive ends Chico Bennett Jr., defensive tackles Olasunkonmi Agunloye and Aaron Faumui, linebacker Josh Ahern, cornerback Elijah Gaines, safety Jonas Sanker and offensive guard Noah Josey, but no one was hurt seriously during the 15 practices.
"There was a stretch [of] probably about six, seven days where most of the days we were getting after it and the guys didn't have much of a break," Elliott said. "But I tell you what, they came with that energy, that joy, that tenacity, and we were able to get good work in. I think also what I've learned as a coach, more times than not when you're going full speed, it's not when you get injured. It's when you're not going full speed. So we knew that we had to push this group to develop them, and the only way you can develop them is playing football."
NAME TO REMEMBER: The departure of Nick Jackson, the Cavaliers' leading tackler in 2020, '21 and '22, has created opportunities for other linebackers, including Trey McDonald, who made a game-high 10 tackles Saturday at Scott Stadium.
"It's gonna be fun to see him throughout the years contribute a lot for the Virginia defense," Rudzinski said.
The 6-foot-3 McDonald, who's from Chattanooga, Tenn., played in only three games as a true freshman last fall, so he still has four seasons of eligibility.
"Trey McDonald has been making plays all spring," Elliott said, "and so it's been really good for him, with Ahern not being able to practice, to get all of those reps. Same thing with [fellow linebacker] Stevie Bracey."
McDonald, who weighed 212 pounds when he arrived on Grounds last year, is up to 230. He bulked up by adhering to the plans laid out for him by strength and conditioning coach Adam Smotherman and by following a healthy diet.
"I just took it from there and saw some weight gain and saw some strength gain, and I really feel it in my game, taking on blocks, tackling," McDonald said. "I like it. I feel faster than ever. I love that feeling that I'm getting. I'm confident in my body, and I'm excited for this year."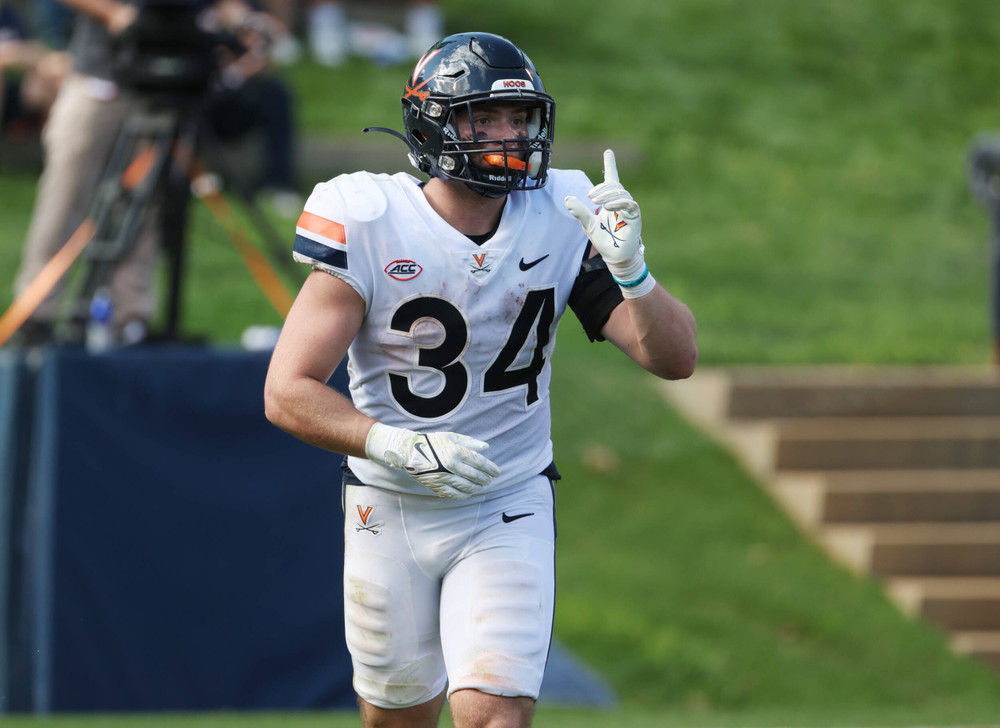 MAKING HIS CASE: After graduating from Chantilly High School in Northern Virginia, Jack Griese joined the Cavaliers as a preferred walk-on last summer. He didn't appear in any games last fall, but the 6-0, 224-pound Griese shined Saturday, rushing 12 times for 90 yards and two touchdowns. His first TD went for 34 yards and his second for 35.
The Hoos are well-stocked at running back, with Mike Hollins, Perris Jones, Xavier Brown, Kobe Pace and Cody Brown, among others. Even so, Kitchings said, Griese could "absolutely" carve out a role for himself, if not on offense then on special teams. Griese also made a tackle on a kickoff Saturday.
"He's done a good job taking care of the football during spring practice," Kitchings said. "We know football is a physical game, and running backs get hit every play. Unfortunately, you don't want it to happen, but somebody's going to get nicked up during the course of your season. So we have belief in Griese that if we get to that point, he can go in there and play for us."
Starting at the bottom of the depth chart is "a grind," Griese said. "As a walk-on, you're going to get the opportunities last. The main thing is just getting mental reps. Just focusing when you're not in, not goofing around. Because we have a really deep running back room, and trying to get reps is very difficult, so taking mental reps is very important and just paying attention to what's happening and what [the coaches are] trying to do."
Griese grew up around the game and around the University. His parents are UVA graduates, and his father, Scott, played defensive back for head coach George Welsh. Jack's grandfather, Bob Griese, starred at quarterback for the Miami Dolphins and is the Pro Football Hall of Fame.
"I just love the UVA community," Jack Griese said. "I remember coming to games when I was a little kid and just playing around on the hill during the games. It means a lot to be in the UVA community, and it's such a tight-knit community that it's amazing to be a part of."
IMMOVABLE FORCE: Defensive tackle Jahmeer Carter, who's listed at 6-foot-2, 313 pounds, might be the most physically imposing player on the team, and his work ethic is unsurpassed.
"We might have to buy some more weights," Rudzinski said, smiling. "I might have to get with [athletic director Carla Williams] to see if we can buy some more weights for the weight room, because that's how hard he'll attack the weight room as we go. He's an unbelievable young man to be able to work with. He brings it every day and he's one of those guys you've got to rein back sometimes. He'll push it to limits that he can't even go to."
Elliott said his advice to Carter, who's heading into his third year as a starter, is to "just make sure that you keep your life simple. Don't try and do too much. Because if you know anything about Jahmeer, he doesn't need much motivation. He's one of those guys that you got to say, 'Whoa.' You're not telling him to go."
Lining up behind Carter on defense is "amazing," McDonald said. "You see that big butt in front of you, and you're like, 'I am not getting touched this play,' and I love that."
To receive Jeff White's articles by email, click the appropriate box in this link to subscribe.