By Jeff White (jwhite@virginia.edu)
VirginiaSports.com
CHARLOTTESVILLE, Va. — The list of defensive players who missed spring practice at UVA this year while recovering from injuries was a long one, and it included tackles Aaron Faumui and Olasunkonmi Agunloye, end Chico Bennett Jr., linebacker Josh Ahern and safety Jonas Sanker.
The defense is no longer so short-handed. Faumui and Bennett have yet to be cleared for contact, but they're close to returning, and Anguloye, Ahern and Sanker were full participants Wednesday afternoon during the first practice of training camp.
"I haven't been on the field since October, so it was good to be back out there," Ahern said. "It was definitely good work."
Ahern, a graduate student in the School of Education and Human Development, is heading into his fifth year at the University, and he's coming off a trying season.
It started on a promising note. In the season opener against Richmond, Ahern sat out the first half because of a targeting penalty he'd incurred in the 2021 finale, then turned in big play after big play at Scott Stadium. He recorded his first career sack and finished with five tackles, one of which was a fourth-down stop at the Wahoos' 36-yard line.
"He was all over the field," fellow linebacker Nick Jackson said afterward. "Josh is going to be a weapon for us this year."
Tony Elliott was similarly effusive after his debut as Virginia's head coach.
"Ahern, he's a football player," Elliott said.
A graduate of Lake Braddock High School in Northern Virginia, Ahern started the next five games alongside Jackson and was having his best season as a Cavalier. On Oct. 8, however, he pulled a hamstring against Louisville at Scott Stadium, and he missed Virginia's final four games.
A knee injury had slowed Ahern for much of the 2021 season, and here was another setback. "It was definitely frustrating," he said Wednesday, "but it's just something you got to deal with."
His hamstring injury wasn't the only hurdle Ahern had to clear before returning to the field. He had offseason surgery to repair a damaged shoulder.
"You're throwing your body in there," Ahern said, "and it just kind of naturally happens over the course of your career."
UVA's injured players worked out together in the spring, and most were subsequently cleared for full participation in training camp. Ahern, who wears jersey No. 33, is the elder statesman of a position group that includes juniors James Jackson and Lex Long, sophomores Stevie Bracey and Trey McDonald, and true freshman Kam Robinson. Jackson moved into a starting role alongside Jackson last season after Ahern got hurt.
"That's one of my best friends," Jackson said of Ahern. "I've learned a lot from him, and I'm still learning from him. So it's great to have him back on the field, somebody who has a lot of experience and has a lot of knowledge about the game, somebody who loves to play football."
Ahern had a decision to make when last season ended. Come back to UVA for a fifth year or move on? He weighed his options, Ahern said, and after "talking with the coaches, talking with my family and friends, I think overall I made the right decision for me. There were more pros than cons, and I'm just happy to be back with this team."
As an undergraduate, Ahern majored in applied statistics, with a concentration in finance. He received his bachelor's degree in May and is starting a master's program—quantitative analytics in education and the social sciences—in the School of Education and Human Development.
"I thought it was a good match with the undergrad degree I got," Ahern said.
He's had to get used to the absence of one of his closest friends. After graduating from the McIntire School of Commerce this spring, Nick Jackson transferred to the University of Iowa, where he'll finish his college football career. Ahern said he and Jackson talk daily.
"He's doing well and constantly asking how the team is doing," Ahern said.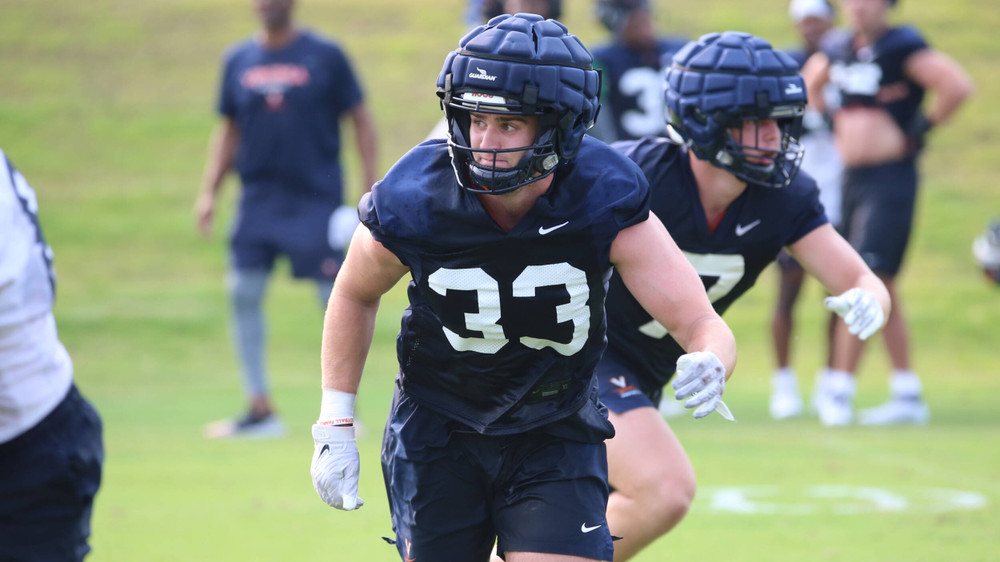 The Hoos are in their second year under Elliott, a former Clemson assistant coach. On and off the field, the 2022 season tested the Cavaliers' strength and resilience, and players and coaches say the program is more unified this year.
"I noticed it building through winter workouts, spring ball and then summer training," Ahern said, "just guys constantly being together, working on team chemistry, focusing on just building bonds and relationships with other people, other position groups on the teams And I feel like it's really kind of paid off. I think we've come on strong. Obviously, it's the first day of fall camp. We got a long way to go. But I think we're in a good space heading forward."
That team spirit was evident Wednesday.
"The guys, you could tell that they wanted to be on the practice field flying around," Elliott said. "There is a different level of intensity when you go from training in the summer with the strength coaches to getting the entire coaching staff, but I thought they responded well to the increase in intensity. We've still got to clean up some of the little details, but I told them as long as we've got the want-to and the passion, we've got 25 practices to get all of the little things cleaned up."
The first practice moved at a fast pace, and that'll be the case throughout camp, said Elliott, whose team opens the season Sept. 2 against Tennessee in Nashville.
"The intent is to make practice tougher than the games, and also having a mindset that we can go all day," Elliott said. "It doesn't matter. And we're going to have the mindset that we're going to attack every drill, and part of developing that attacking mindset is when you're tired, you still run from drill to drill, you practice with tempo.
"I told the guys that from the first whistle to the last whistle it was an hour and 51 minutes. So we're not going to be on the practice field extremely long. But when we're on the practice field, we're going to go and we're going to practice fast."
Was it the first day of Ahern's final camp at UVA? It's too early to say. He played in only three games as a true freshman in 2019, so he retained that year of eligibility, and he received another one in 2020 because of the COVID-19 pandemic. Which means he could return for a sixth year in 2024.
"You never know what's going to happen," Ahern said. "Things change and your mindset changes, and you've just got to do what's best for you in the moment."
For now, he's intent on helping UVA's defense, which made significant progress in its first season under coordinator John Rudzinski, elevate its performance again.
"There's always immense room for improvement," Ahern said. "We're just always focusing on the core values, effort, locking in our assignments and playing hard overall, getting after the ball and doing the right thing."
STRAIGHT TALK: The media's preseason poll for ACC football was released Tuesday, and UVA was picked to finish last season. Such prognostications don't faze Elliott.
"Obviously, it got put out, so I've got to address it with the team," he said. "But to be honest, where did we expect everybody to pick us based off of what we did on film last year and how the season ended? I'm not thinking about that, not worrying about that, and truth be told. we can't be externally motivated.
"If our only motivation is where somebody picked us in the poll, then we're not going to have the proper competitive stamina, because then now all we're doing is we're working to the circumstance, the situation, as opposed to [focusing on what] we believe we're capable of, what's it going to take."
Elliott said he's looking to see if his team can come out each day "with the right mindset, the right commitment. Regardless of what the situation is, regardless of how hot it is, what time we're practicing, can we perform to a standard play after play, day after day, regardless of what's going on? Then we'll have a chance to settle it on the field, and all I'm worried about is where we finish. That's all that matters … We're going to go to work and we can eliminate that distraction and we'll have 12 opportunities come the fall."
To receive Jeff White's articles by email, click the appropriate box in this link to subscribe.