Virginia Cavaliers Official Athletic Site
Jonas Sanker
Charlottesville, Va.
Hometown
The Covenant School
High School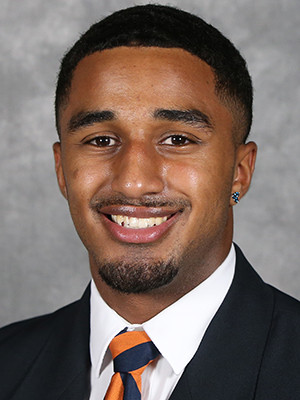 HONORS
2022 – First Team VaSID All-State selection
AT VIRGINIA
2022 – Appeared in all 10 games, starting the first nine of the season … second on the team with 63 tackles and solo tackles (36) … 6.3 tackles per game ranked 24th in the ACC … recorded five or more tackles in eight of UVA's 10 games … had four tackles and forced a fumble at Illinois (9/10) … recorded his first career double-digit tackle effort with 10 (8 solo) at Syracuse (9/23). Also had a fumble recovery and intercepted his first pass in the contest … season-high 11 tackles at Duke (Oct. 1).  2021 – Appeared in nine of UVA's games… made a tackle against Wake Forest… made three tackles against Duke… made a tackle against Virginia Tech… one of 14 true freshmen to appear in 2021.
HIGH SCHOOL AND PERSONAL
Played running back, quarterback and safety at The Covenant School for head coach Seth Wilson … high school team did not compete in fall of 2020 … threw for 1,590 yards and 33 touchdowns and rushed for 1,116 yards and scored 24 touchdowns as a junior … only player in Central Virginia to both run and pass for 1,000 yards during 2019 season … accounted for three touchdowns as a defensive player … had four interceptions and 46 tackles in 2019 … helped Covenant to back-to-back 8-man state titles in the Virginia Independent Schools Football League as a sophomore and junior … accounted for eight scores in 2019 state title game … passed for 295 yards and ran for 217 yards in that game … all-conference and all-state on both sides of the ball in 2019 … led team to 10-0 records as a sophomore and junior … outstanding guard for Covenant basketball team … helped Covenant basketball team to its first semifinal appearance during 2020 VISAA Division III tournament … a three-star recruit by ESPN.com, Rivals.com and 247sports.com … major is Foreign Affairs.