COLLEGE PARK, Md. — It was a one-touchdown game early in the fourth quarter, and Virginia had the football at the Maryland 12-yard line Friday night at SECU Stadium.
From there, everything that could go wrong went wrong for the Cavaliers. On third-and-10, instead of tucking the football and running, true freshman quarterback Anthony Colandrea forced a pass that the Terrapins intercepted in the end zone.
That was the first of four straight turnovers for UVA, and unbeaten Maryland capitalized on those mistakes, pulling away for a 42-14 victory before a crowd of 37,041.
"Obviously, in the second half it just snowballed on us," Virginia offensive coordinator Des Kitchings said.
This was the first game between these former ACC rivals since 2013, and the Wahoos, coming off a heart-wrenching loss to James Madison, started impressively. They scored a touchdown on each of their first two drives to take a 14-0 lead. Tailback Perris Jones ran 13 yards for the first TD, and Colandrea teamed with tailback Kobe Pace on a 19-yard throwback pass for the second.
The lead didn't last. The Terps (3-0) returned a Matt Ganyard kickoff 98 yards for a touchdown to make it 14-7, and they added a second touchdown, at the end of a 97-yard drive, late in the first half.
Maryland went ahead 21-14 with 9:47 left in the third quarter. The Cavaliers (0-3) had a prime opportunity to tie the game on their next possession, but a Colandrea deep ball slipped through the hands of wide receiver Malachi Fields who open behind the secondary on third down and the drive ended with a punt.
It was still 21-14 when the Hoos got the ball back, and they drove from their 14 to the Terps' 12. Colandrea shined on most of the possession, but his ill-advised throw into the end zone swung the momentum back to Maryland. The Terps drove 80 yards for a touchdown that broke the game open.
"The big thing you've seen in the last two weeks is we got to go make the plays," said Tony Elliott, UVA's second-year coach "We can't wait for somebody else to make the play. We can't hope that the team across the field doesn't make the play. We have to go make the play. And so I've got to do a better job of reaching them and teaching them to help them understand the importance of every single play, especially in the fourth quarter.
"It's a mindset. The mindset is that the longer I play, the stronger I get, the better I get, then also understanding that at that point in the game, effort's not enough. There's got to be precision. There's precision and execution. Just going out there and playing hard is one component of it. You got to play hard, but you got to play smart, you got to be precise, and you got to go make the play. Bottom line, you got to go make the plays."
UVA wide receiver Malik Washington made plenty of plays Friday night, catching nine passes for a career-high 141 yards. So did Fields, who finished with seven receptions for 70 yards.
Colandrea was brilliant for most of the first three quarters, and he finished 23-of-39 passing for 263 yards and one TD. But he threw three interceptions and lost a fumble.
"There's gonna be some growing moments for him," Kitchings said. "Love the kid, love his fight, love his ability to make plays. And, unfortunately, those growing moments showed up a lot in the fourth quarter."
It was the second straight start for Colandrea, who took over in the fourth quarter of Virginia's season opener against Tennessee after Tony Muskett injured his non-throwing shoulder. Muskett practiced this week, but the coaching staff decided to hold him out against Maryland.
A transfer from Monmouth, Muskett was available for emergency duty, Elliott said, but it "just felt like another week without getting hit on it would be best for him."
Asked about Colandrea, Elliott said he "made a lot of plays in the football game, first and foremost. In the last two games, he's made a lot of really good football plays for us."
On the first interception, Elliott said, "I guess that's just a situation where he trusted too much in his ability to make a play … That's a young man that wants to win a football game. He's a fierce competitor and he's just trying to make a play, and our job as coaches is to help him learn from situations like that to get better in the future."
On the offensive line, Brian Stevens and Ty Furnish switched places this week, with Stevens taking over at center and Furnish moving to right guard. The Cavaliers finished with 345 yards against Maryland, and the offense turned in multiple big plays.
Virginia's defense had a rougher outing. The Cavaliers were missing defensive end Ben Smiley III and safety Lex Long, among others, and Maryland gained 461 yards. Quarterback Taulia Tagovailoa completed 19 of 30 passes for 342 yards and one TD.
UVA's defense has yet to force a turnover this season.
"We need some takeaways," defensive coordinator John Rudzinski said, "and that's finishing on the football, forcing quarterbacks to make some bad decisions. Compliments to [the Terps' offense]. When the quarterback saw some of the looks that he didn't anticipate tonight, he just ducked the ball and tried to create with his feet. But there's no doubt that creating turnovers creates some short fields for the offense and allows us to play really good complementary football."
Safety Jonas Sanker led Virginia with nine tackles.
"I have full confidence in the offense," Sanker said. "I know what they're capable of, so there's never any doubt, and I know they feel the same away about [the defense]. When we're down like this, losing a tough game like this, that's where that matters the most, just keeping that trust in each other. We're going to do a great job [in practice]. We're going to recover. We're going to attack this next week, and I have a lot of hope and a lot of faith going into this next week."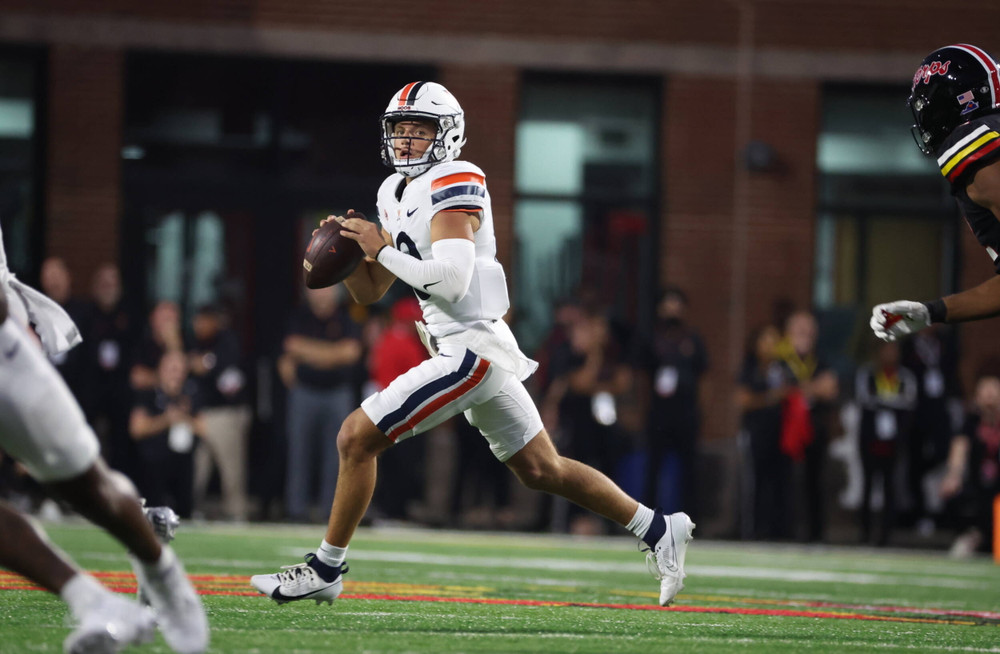 UP NEXT: A second straight Friday night game awaits the Cavaliers, this one at Scott Stadium. Virginia opens ACC play next Friday against NC State in a 7:30 p.m. game that will air on ESPN.
The Wolfpack (1-1) hosts VMI (1-1) at 2 p.m. Saturday in Raleigh, N.C.
NC State has won two straight over UVA and leads the series 36-22-1. In the teams' most recent meeting, the Wolfpack won 38-21 at Scott Stadium on Oct. 10, 2020.
Brennan Armstrong, who was a three-year starter at quarterback for Virginia, now leads NC State's offense. For the season, he's 39-of-73 passes for 415 yards and two touchdowns, with three interceptions. Armstrong has carried 31 times for 122 yards and three TDs.
The Pack's offensive line coach, Garett Tujague, previously held that position at UVA.
POSTGAME NOTES
Virginia Team Notes
Virginia and Maryland met for the first time since the 2013 season. The Terrapins have won three-straight-games against the Cavaliers and own a 45-32-2 advantage in the all-time series that was first played in 1919.
UVA has dropped six-straight games dating back to last season and is 0-3 to start the year for first time since 2016.
Virginia committed four turnovers, including its first fumble in six games dating to last season.
The Cavaliers are 1-9 all-time against Big Ten opponents on the road.
Player Notes
Malik Washington established career-highs in receptions (9) and receiving yards (141). It marked his second-straight 100-yard receiving effort and he is the first Cavalier to record back-to-back 100-yard receiving games since Keytaon Thompson in 2021 (101 vs Notre Dame & 126 vs. Pitt).
The 141 yards receiving by Washington are the third-most ever by a UVA player in a game against Maryland – Billy McMullan – 175 yards 10/6/2001; Mikell Simpson – 152 yards 10/20/07.
Washington has caught a pass in 28 consecutive games.
Jonas Sanker, who came into the contest with the second-most tackles in the ACC, led UVA with nine stops, including seven solo efforts.
Malachi Fields was one catch shy of matching his career-high set last week against JMU. He finished with seven receptions for 70 yards and currently leads the team with 12 receptions.
For the second-straight week, Kobe Pace caught a touchdown pass. He had one touchdown reception. In his first 28 collegiate games and has two in the last two weeks.
Perris Jones scored the game's first touchdown on a 13-yard run to put UVA up 7-0. It was his fourth career rushing touchdown and sixth overall.
True freshman Jaden Gibson was credited with his first career reception, a three-yard catch late in the third quarter.
Kam Butler upped his season sack total to 2.5 with a third-down sack in the third quarter. He finished with four tackles, including two behind the line of scrimmage. He has started 46-consecutive collegiate games and all 13 of his games at UVA.
Freshman quarterback Anthony Colandrea was 23-for-39 with 263 yards passing and a touchdown in his second-straight start. He completed 10 of his first 11 passes that led to UVA's 14-0 lead in the first quarter.