NASHVILLE, Tenn. — In front of a record crowd at Nissan Stadium, Virginia opened the season Saturday afternoon with a 49-13 loss to the No. 12 Tennessee Volunteers.
To keep pace with the high-powered Vols, UVA needed strong production from its offense, but that didn't materialize. At the end of a first half in which the Cavaliers picked up only three first downs, Tennessee led 21-3.
Tennessee (1-0) finished with 499 yards of offense, to 201 for Virginia. Worse for the Wahoos, they lost their starting quarterback, Tony Muskett, when he was sacked early in the fourth quarter and hurt his non-throwing shoulder.
At his postgame press conference, UVA's second-year head coach, Tony Elliott, didn't have an update on Muskett, a transfer from Monmouth who before Saturday had never played in front of a crowd larger than 21,500.
The Hoos didn't break through with a touchdown until late in the third quarter, when tailback Perris Jones scored on a 17-yard run. Will Bettridge's extra point made it 35-10, raising the spirits of the UVA fans in the crowd of 69,507, the largest ever to see a football game at Nissan Stadium, but Tennessee answered with back-to-back touchdown drives to quell the threat.
Bettridge, a sophomore, closed the scoring with 39 seconds remaining, connecting on a 40-yard field goal.
This was the Cavaliers' first game since the Nov. 13 shooting in which three players—wide receivers Lavel Davis Jr. and Devin Chandler and defensive end D'Sean Perry—were killed. Among those wounded in the shooting was tailback Mike Hollins, who carried the 4th Side flag onto the field Saturday and entered the game on UVA's third play.
"He's a walking miracle," Elliott said of Hollins.
A moment of silence was observed before kickoff Saturday, and affixed to each Volunteer helmet was a decal commemorating Virginia's fallen players.
The Vols are expected to contend for the Southeastern Conference title, and they showed why Saturday. They were especially dominant up front, on each side of the ball.
Led by Jaylen Wright (115 yards on 12 carries), Tennessee amassed 287 yards rushing. Another tailback, Dylan Sampson, scored four touchdowns, and quarterback Joe Milton III completed 21 of 30 yards for 201 yards and two TDs.
For Virginia, wide receiver Malachi Fields caught four passes for 63 yards, and Jones and fellow tailback Kobe Pace each rushed for 39 yards. Muskett completed 9 of 17 passes for 94 yards, with no interceptions.
Bettridge, who missed his first field-goal attempt Saturday, connected on his second, a 30-yarder, to make it 14-3 with 1:42 left in the second quarter. But the Volunteers answered with a 75-yard touchdown drive, the final yard coming on a sneak by the 6-foot-5, 235-pound Milton with six seconds to play in the half.
UP NEXT: Virginia's home opener is next Saturday. In a noon game to air on ESPNU, UVA takes on James Madison at Scott Stadium.
This will be fourth all-time meeting between the programs and the first since 1983, when the Cavaliers defeated the Dukes 21-14 at Scott Stadium. UVA leads the series 2-1.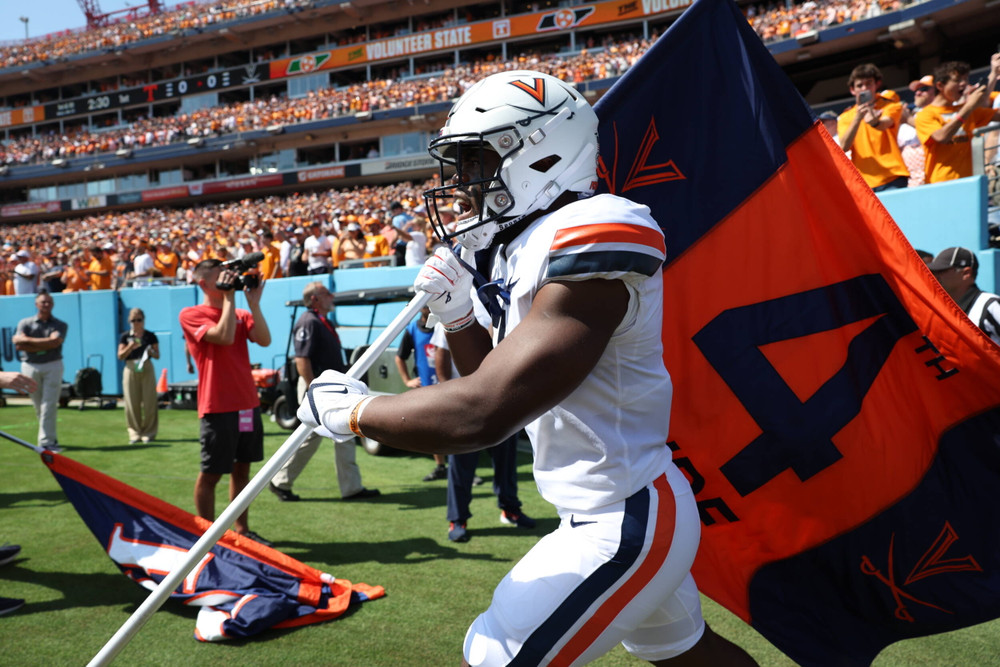 VIRGINIA POSTGAME NOTES
Team
UVA drops to 85-40-9 in season openers and lost for the first time in a season opener since 2016, snapping a six-game win streak.
The neutral site season opener was only the fourth (1890, 1960, 1989, 2023) in the 134 seasons of Virginia football. UVA is 1-3 in neutral site openers.
Saturday marked the fifth meeting between Tennessee and Virginia and the first since the 1991 Sugar Bowl. The Volunteers are 4-1 all-time against the Cavaliers.
Tennessee was UVA's first regular season SEC opponent since 2003 (South Carolina).
Announced attendance at Nissan Stadium was 69,507, the largest crowd in the facility's history. It's the largest regular season crowd UVA has played in front of since 2019 at Notre Dame (77,622).
 Player
Malachi Fields caught four passes for a career-high 63 yards receiving. His 30-yard reception in the second quarter from quarterback Tony Muskett led to Virginia's first field goal.
Perris Jones scored UVA's first touchdown of the season, a 17-yard run the with 7:23 left in the third quarter. It was Jones' third career touchdown and his longest touchdown run of his career. Jones has recorded a rushing touchdown in each of the last two season openers.
Punter Daniel Sparks, a preseason All-ACC selection, punted a career-high nine times and accumulated 398 yards. His 62-yard punt in the second quarter was the second-longest of his UVA career. He has four 60-yard punts in his last two games played for the Cavaliers (three 60-yard punts in 2022 season-finale vs. Pitt). He also matched a career-high with three punts downed inside the 20-yard line.
Linebacker Stevie Bracey led the Cavalier defense with a career-high 10 tackles, including seven solo efforts.
All eight of Kam Butler's tackles were of the solo variety, the most tackles in a game he's made in 11 games at UVA. His career-high is 11 while at Miami (Ohio) against Army in 2021.
Butler and Olasunkonmi Agunloye was combined for UVA's lone sack on the afternoon. Agunloye also recovered a fumble on a Tennessee punt return, the first recovery of his career.
Kicker Will Bettridge was 2-for-3 in field goal attempts converting from 30 and 40 yards. He improves to 4-5 from 40 or more yards in his career.
19 Cavaliers made their collegiate debuts in the contest: DT Anthony Britton, DE Mekhi Buchanan, LS Luke Byrne, QB Anthony Colandrea, OG Noah DeMeritt, RB Amaad Foston, K Matt Ganyard, WR Jaden Gibson, RB Jack Griese, WR Suderian Harrison, DT Jason Hammond, OL Noah Hartsoe, S Davis Lane, OT Charlie Patterson, LB Kam Robinson, DB Aidan Ryan, OL Blake Steen, CB Dre Walker, WR Eli Wood.