Cavaliers on 2021 Preseason Watch Lists
August 19 – Johnny Unitas Golden Arm Award
The semifinalists, finalists, and award recipient are selected by the distinguished Johnny Unitas Golden Arm Selection Committee, a group of prominent college football journalists, commentators, announcers, and former players. Candidates are chosen based on player performance on-and-off the field.
Armstrong is entering his second year as the Cavalier starting quarterback. The dual threat is also on the watch list for the Maxwell Award. Armstrong started all but one game for Virginia in 2020. He accounted for 2,117 yards through the air and another 684 on the ground. Armstrong was No. 3 in the ACC and No. 18 in the nation with 296.6 yards of total offense a game.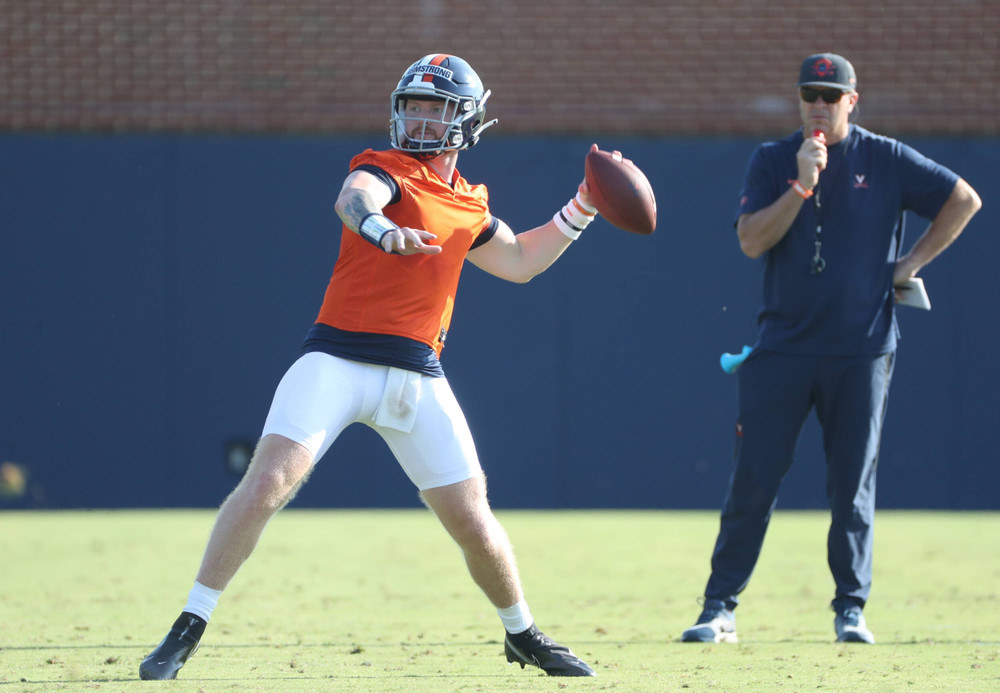 July 26 – Butkus Award – Nick Jackson
Jackson was a third team All-ACC selection as a sophomore in 2021. He started all 10 games at linebacker for the Cavaliers last season. His 105 tackles were the second most in the ACC and sixth-most in the nation. He averaged 5.5 solo tackles per game, the second most in the nation and ranked No. 16 in the country.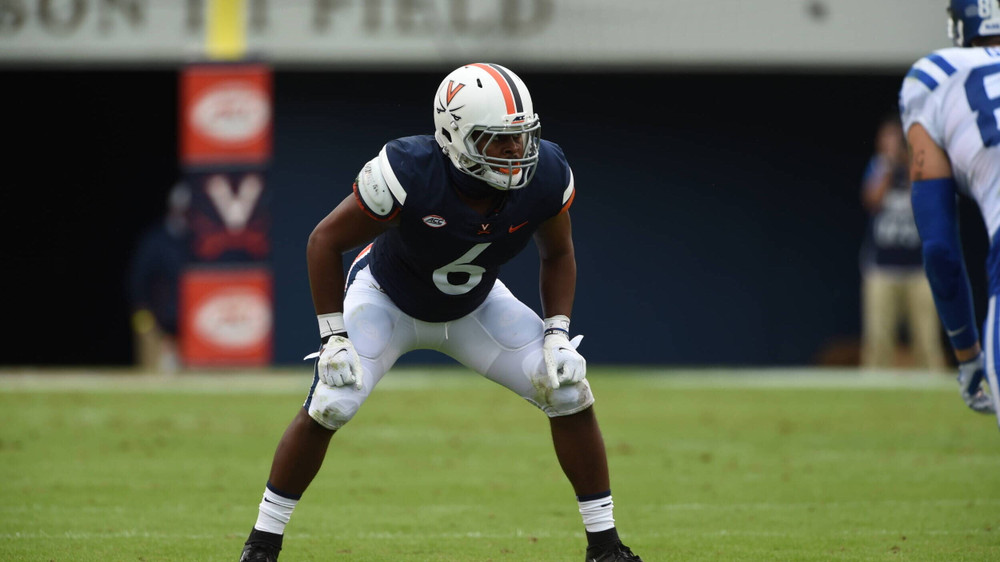 July 23 – Rimington Award – Olsegun Oluwatimi
Oluwatimi is on the preseason watch list for the second-straight season. The Cavalier center spearheaded an offensive line that ranked No. 1 in the ACC and No. 12 in the nation in tackles for loss allowed (4.2), while also ranking No. 2 in the ACC with 2.0 sacks allowed a game. Oluwatimi has started all but one game at center for Virginia over the last two seasons. In nine ACC games in 2020, he allowed only one sack and had 20 pancake blocks in one-on-one blocking situations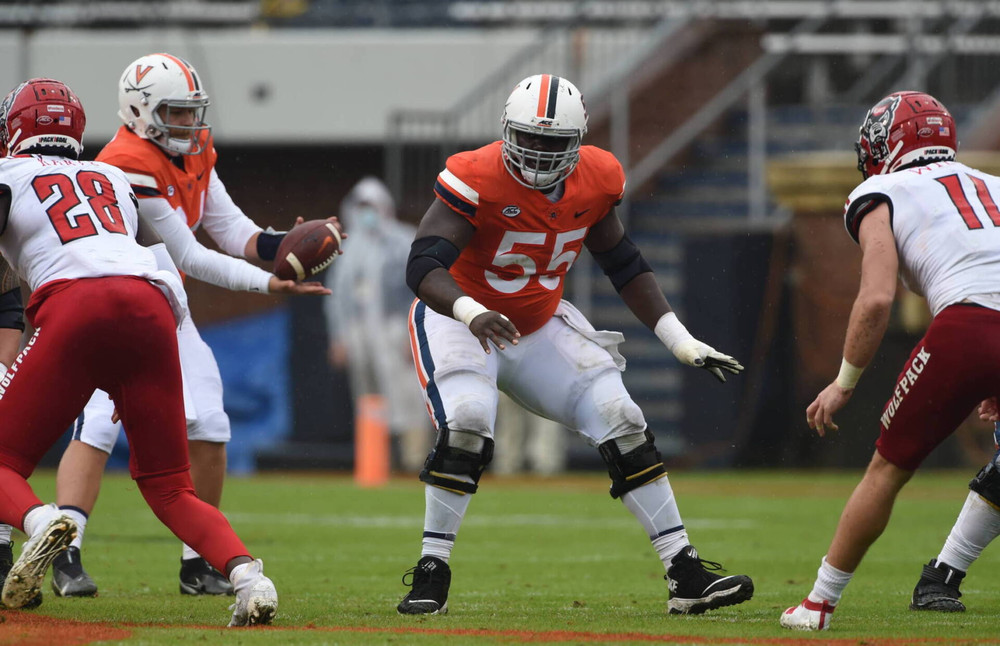 July 23 – Mackey Award – Jelani Woods
A transfer from Oklahoma State, Woods will play his first season as a Cavalier in 2021. In two seasons for the Cowboys, Woods finished with 31 career receptions for 361 yards and four touchdowns. He was an honorable mention All-Big 12 selection in 2018 and 2019. Last season at Oklahoma State he hauled in nine passes for 129 yards and a touchdown .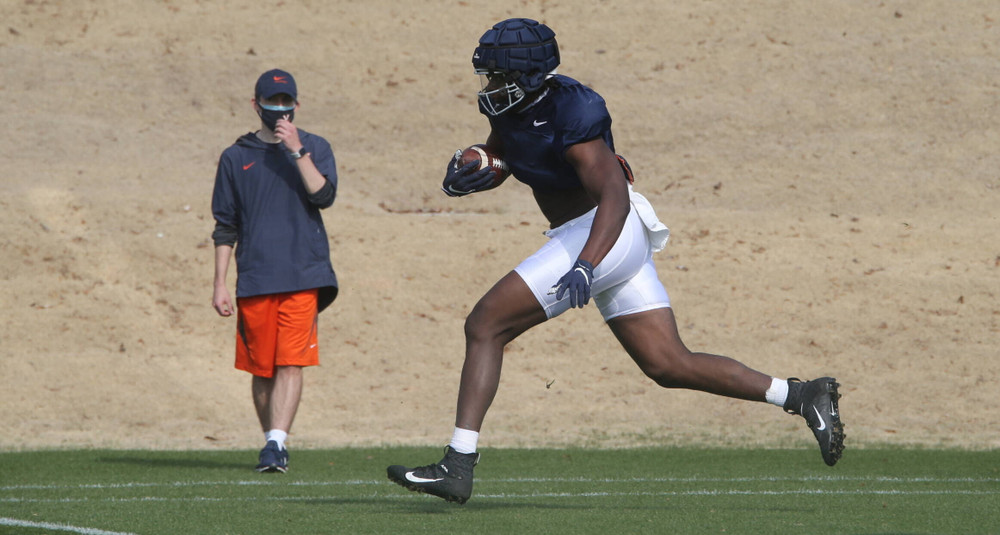 July 22 – Biletnikoff Award – Billy Kemp IV
Kemp IV was Virginia's leading pass catcher last fall, hauling in 67 passes for 644 yards and a touchdown. He ranked No. 2 in the ACC and No. 18 in the nation with 6.7 receptions per game last season. He caught 10 passes twice in 2020, against then-No. 1 Clemson and again against NC State becoming just the fifth Cavalier to catch 10 or more passes multiple times in the same season. Kemp IV enters 2020 with 102 career receptions and his 67 yards shy of 1,000 yards.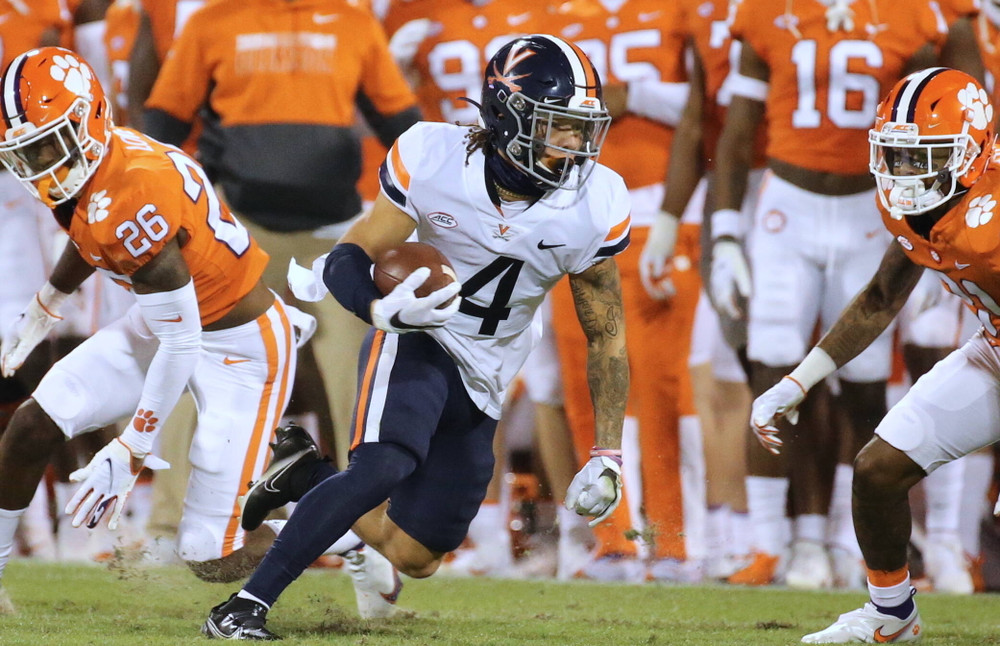 July 21 – Wayne Taulapapa – All-State AFCA Good Works Team
The award recognizes the extra efforts made by college football players and student support staff off the field.
Taulapapa is heavily involved in Virginia's "Thursday's Heroes", a program that was initiated upon Bronco Mendenhall's arrival at UVA. Every Thursday during the spring and fall seasons, Thursday's Heroes has recognized an individual that was going through a difficult circumstance and invited them to practice, for a tour of the facilities and were presented with a variety of gifts. Prior to coming to UVA Taulapapa served on a two-year LDS mission to Managua, Nicaragua.
On the field, Taulapapa has appeared in 30 games in a Cavalier uniform and amassed 868 rushing yards over the past two seasons. He has rushed for 17 career touchdowns including 12 on Virginia's 2019 Coastal Division Championship team.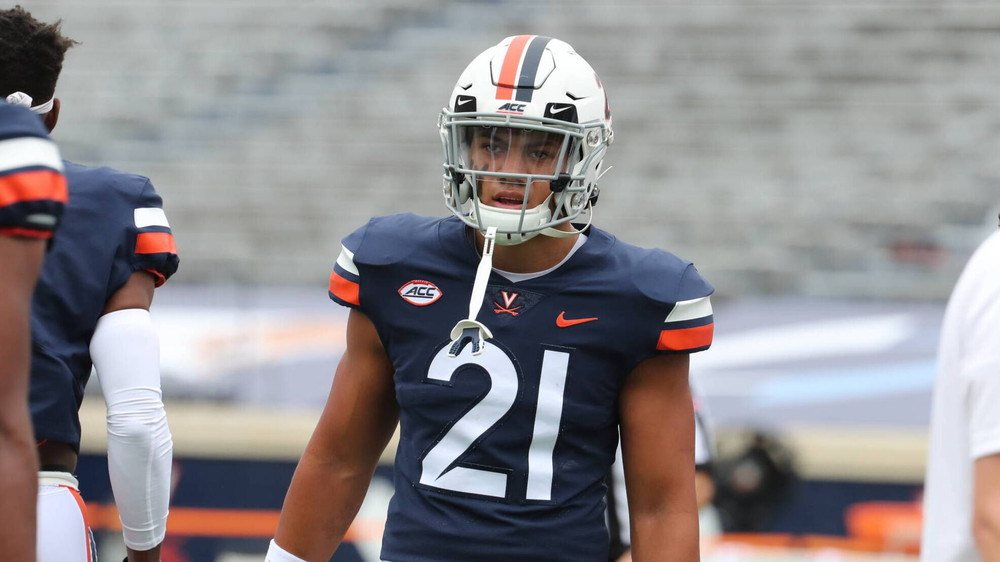 July 21 – Brennan Armstrong – Maxwell Award
Awarded to America's College Player of the Year since 1937. Maxwell's contributions to the game of football were extensive, including time as a player, a sportswriter and an official.
Armstrong started all but one game under center for the Cavaliers in 2020. As a sophomore last season, he threw for 2,117 yards and 18 touchdowns. On the ground, the dual-threat rushed for 684 yards and five additional scores. Armstrong tied for the FBS lead with the most single-season games (6) with 200+ passing yards and 45+ rushing yards. Armstrong ranked third in the ACC and No. 18 in the nation with 296.6 yards of total offense per game. Pro Football Focus listed him as an honorable mention All-ACC selection.