By Jeff White (jwhite@virginia.edu)
VirginiaSports.com
CHARLOTTESVILLE — While the first portion of the proceedings wrapped up nearby on Thursday morning, assistant coaches Clint Sintim, Chris Slade, Kevin Downing and Curome Cox sat around a table and chatted in the George Welsh Indoor Practice Facility.
At this time last summer, they were scattered around the United States—Sintim in Charlottesville, Slade in Atlanta, Downing in Annapolis, Md., and Cox in Colorado Springs, Colo. Now they're colleagues on head coach Tony Elliott's first staff at the University of Virginia.
An FBS team is allowed to have 10 full-time assistant coaches, not including the strength and conditioning staff. Elliott retained three of predecessor Bronco Mendenhall's assistants—Sintim, Marques Hagans and Garett Tujague—and Slade is a former UVA great who knows his way around Grounds. The other six, however, were new to Charlottesville and, in most cases, to each other when they were hired after last season.
Cox (secondary) and defensive coordinator John Rudzinski coached together at the Air Force Academy last season, but Downing (defensive tackles) was at Navy, Taylor Lamb (quarterbacks) at Gardner-Webb, Keith Gaither (special teams coordinator/running backs) at Army, and Des Kitchings (offensive coordinator/tight ends) with the NFL's Atlanta Falcons.
Elliott, of course, came to UVA from Clemson, where he spent 11 seasons under head coach Dabo Swinney. At his staff's media availability Thursday, Elliott said the process of blending all these different personalities and coaching philosophies has been enjoyable.
He was one of four new assistants at Clemson when he joined Swinney's staff after the 2010 season, but he'd never been through anything on this scale before coming to Virginia.
"It's been pretty cool to watch everybody come together," Elliott said. "I've tried to allow it to be as authentic as possible. Facilitate what you can but let the relationships develop. But I think the quality of people is where it starts and you guys had a chance to talk to the coaches. You'll have an opportunity to visit with the players at some point, and the feedback that you'll get is [the assistants are] just good people. And if it starts there with good people, the chemistry will come over time."
Rudzinski, Cox, Downing, Sintim (linebackers) and Slade (ends) are on the defensive side. On offense are Kitchings, Gaither, Lamb, Tujague (line) and Hagans (wide receivers).
Hagans, like Sintim and Slade, starred at UVA as a player. He returned to his alma mater as a graduate assistant in 2011, became a full-time assistant in 2013, and has worked under three head coaches: Mike London, Mendenhall and, now, Elliott.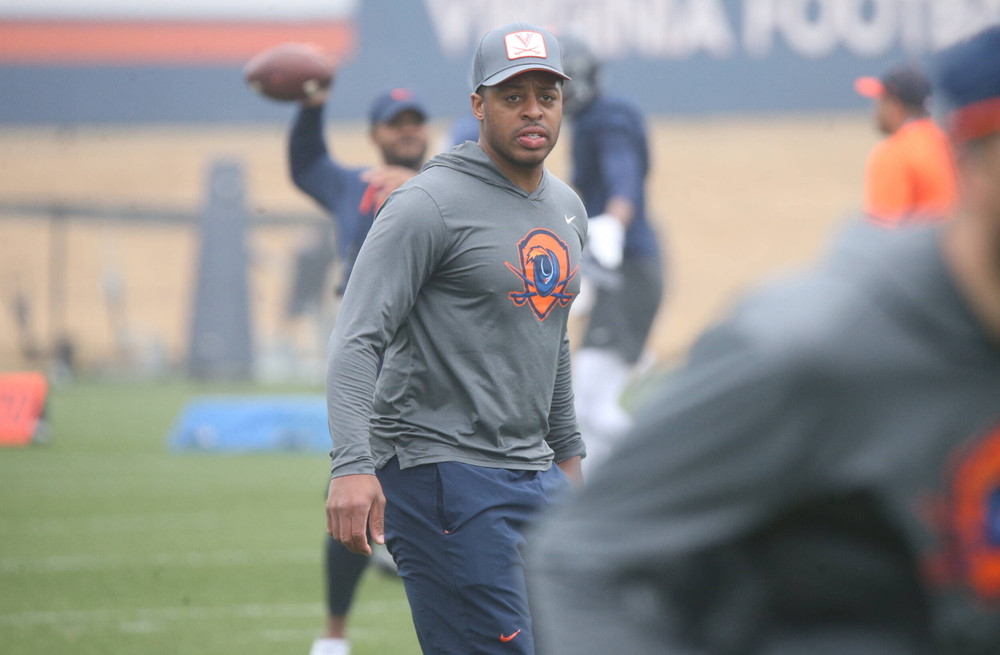 One of Elliott's first moves at UVA was to promote Hagans to associate head coach. Hagans' knowledge of the University and experience in the program are invaluable, Elliott said, and "to be able to tap into that, that's been awesome."
Kitchings has leaned on Hagans, too.
"More than just the football piece, it's: How does this university operate? What kind of guys can we really target here to recruit? How do they survive here? What's been the history of that student-athlete?" Kitchings said.
Slade and Sintim offer similar perspectives, and "it's been really, really helpful to have those guys to bounce ideas off of," Elliott said, "because this is such a unique place, which makes it so special. And there's a lot of tradition, there's a lot of history, and I want the players to know that, too. I think when you see Marques, when you see Clint when you see Chris, they have a lot of pride in in this in this institution, not just the football aspect of it, but in the institution as a whole. They came here as young guys, and this place has helped them transition into becoming men ready for life. And that's what this program is all about."
The decision to retain Tujague wasn't a tough one for Elliott. "He's a hungry guy. He's a passionate guy. He loves his players. He loves ball, and he's a really good fit for me from a personality standpoint, and that's what I like."
When Mendenhall came to UVA after the 2015 season, he brought seven assistants with him from BYU, including Tujague. Welsh adopted a similar approach when he took over at Virginia after the 1981 season, bringing six assistants with him from Navy.
Elliott, by contrast, is coaching with his assistants for the first time, though he knew several of them, including Slade and Kitchings, before hiring them.
"What Coach Elliott did is super unique in our industry," Rudzinski said. "Curome and I have worked together, and then Tujague and Marques have worked together. But other than that, all these new pieces are working together [for the first time], which is really beneficial for guys to be able to look at it from a holistic perspective. My job on the defensive side of the ball is to be able to take all those different ideas and be able to meld them into who we are identity-wise. So that's been one of the fun things from a schematic and personnel standpoint."
Rudzinski said he's loved "the commitment of the staff and the excitement that they've brought, but then also the diversity of thought and big-picture perspective that we have in that room, and it's fun to be able to see who we can be on defense as we take all these great ideas and meld them into one."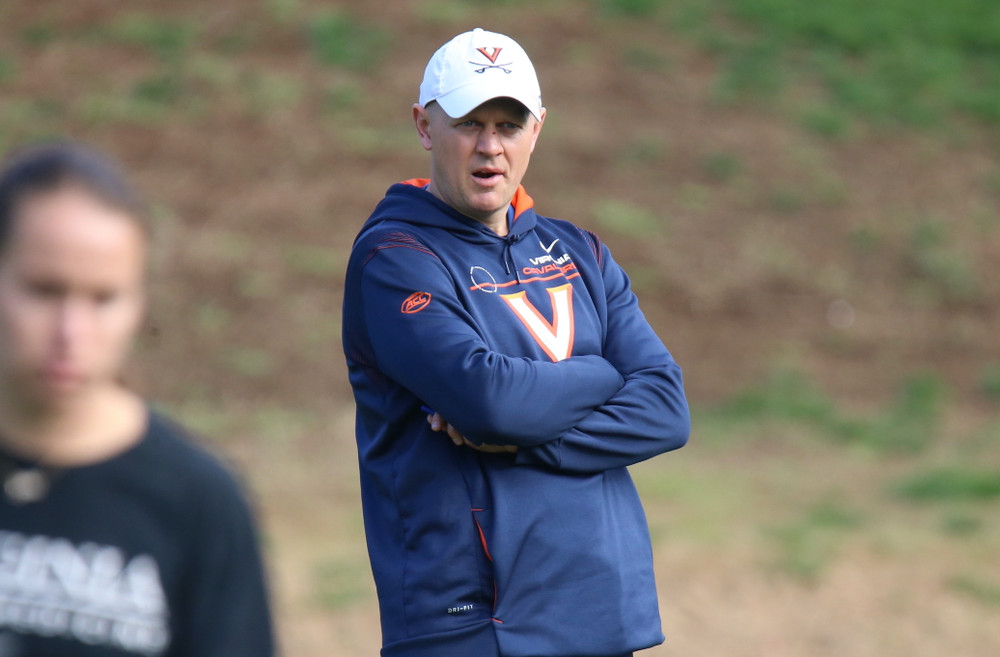 The new staff went through spring ball together, and that strengthened the coaches' bonds with each other. But their education continues.
For the first part of this week, Elliott said, "we've been locked away in meetings trying to get everybody on the same page with every aspect of the program. And I always was nervous about the time when I had to do it [as a first-time head coach], but I tell you what, it was a really, really good exercise for me, a really, really good exercise for the staff, for everybody to get on the same page, because football is what we do. I think we all know that. But for me, it's why we do it. And that's what the last four days has been about: Why do we do what we do? And I think if we understand that … the how and the what will take care of itself, and then the end product will be a reflection of the investment that we put into these young men."
That several of the new assistants coached against each other at service academies adds a twist to their relationships. In 2021, for example, Air Force defeated Navy 23-3 but lost in overtime, 21-14, to Army. Navy closed the season by upsetting Army 17-13.
"We've got a lot of stories," Gaither said of the coaches involved in those fierce rivalries. "Here's what I think: If we can win at any of those institutions, we can win here, and we do it at a high level, on a consistent basis."
Downing, who coached with Gaither at Winston-Salem State and Elon, agreed.
"It's difficult to win consistently there, but all three of the service academies have done it," Downing said. "They've been successful. So, kudos to those guys. They're great kids. They're selfless. They want to go fight for the country. I enjoyed my time [at Navy] and enjoyed coaching the kids there, but I'm definitely excited about this new chapter, love Charlottesville, excited about coaching the kids here and working with the staff here."
The program's new head coach for strength and conditioning, Adam Smotherman, followed Elliott from Clemson to UVA. His boss raved Thursday about the players' strides under Smotherman.
"I watched them run this morning," Elliott said. "Different looking football team than when we left in the spring. We definitely had some additions, so the numbers look a lot better. But the body types, the bodies, they look really good. You can tell these guys have bought into the strength and conditioning and nutrition aspect of the program and put in a lot of work."
Preseason practice starts Wednesday for the Wahoos, who finished 6-6 in 2021. Virginia opens its first season under Elliott on Sept. 3 against Richmond at Scott Stadium.
Elliott, who helped Clemson win two national championships, knows he's now the face of UVA's program, but it's "not about me," he said Thursday.
"It's about working as hard as I can so this staff, this administration, this team, this program and this fan base can experience some of those moments, because those moments are great. I also know that the real beauty of it is the journey along the way, but those moments are pretty special … I'm just ready for the journey to start and excited to see how it plays out with this staff and this team."
To receive Jeff White's articles by email, click the appropriate box in this link to subscribe.